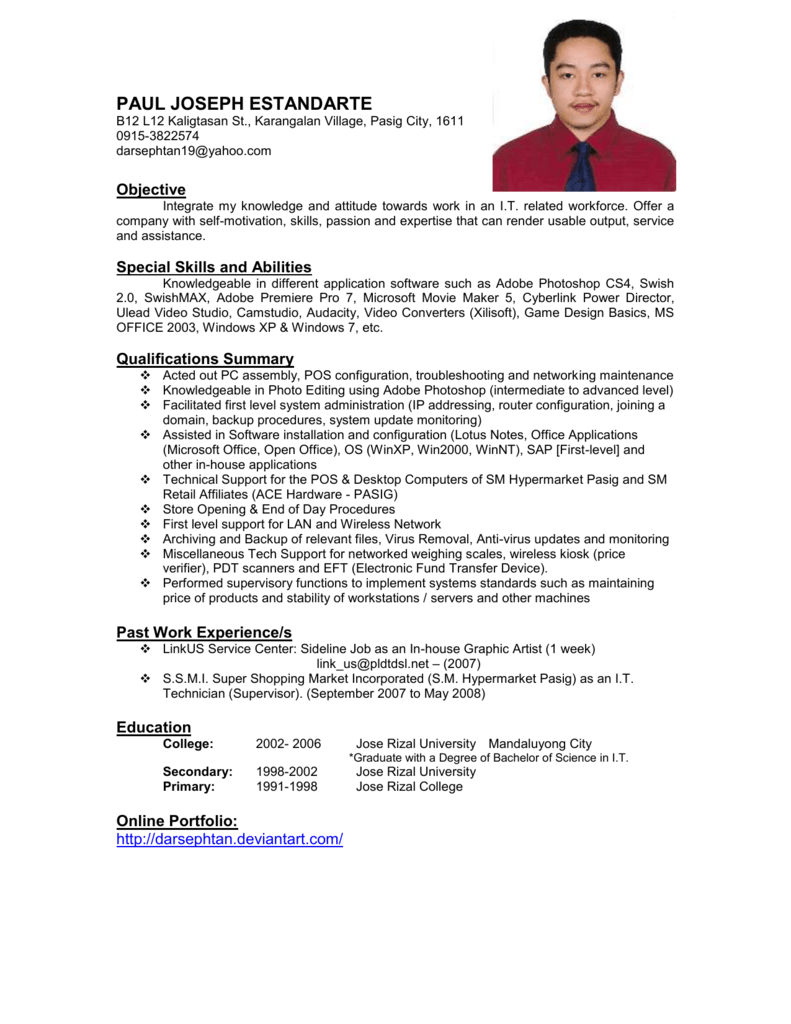 PAUL JOSEPH ESTANDARTE
B12 L12 Kaligtasan St., Karangalan Village, Pasig City, 1611
0915-3822574
[email protected]
Objective
Integrate my knowledge and attitude towards work in an I.T. related workforce. Offer a
company with self-motivation, skills, passion and expertise that can render usable output, service
and assistance.
Special Skills and Abilities
Knowledgeable in different application software such as Adobe Photoshop CS4, Swish
2.0, SwishMAX, Adobe Premiere Pro 7, Microsoft Movie Maker 5, Cyberlink Power Director,
Ulead Video Studio, Camstudio, Audacity, Video Converters (Xilisoft), Game Design Basics, MS
OFFICE 2003, Windows XP & Windows 7, etc.
Qualifications Summary
 Acted out PC assembly, POS configuration, troubleshooting and networking maintenance
 Knowledgeable in Photo Editing using Adobe Photoshop (intermediate to advanced level)
 Facilitated first level system administration (IP addressing, router configuration, joining a
domain, backup procedures, system update monitoring)
 Assisted in Software installation and configuration (Lotus Notes, Office Applications
(Microsoft Office, Open Office), OS (WinXP, Win2000, WinNT), SAP [First-level] and
other in-house applications
 Technical Support for the POS & Desktop Computers of SM Hypermarket Pasig and SM
Retail Affiliates (ACE Hardware - PASIG)
 Store Opening & End of Day Procedures
 First level support for LAN and Wireless Network
 Archiving and Backup of relevant files, Virus Removal, Anti-virus updates and monitoring
 Miscellaneous Tech Support for networked weighing scales, wireless kiosk (price
verifier), PDT scanners and EFT (Electronic Fund Transfer Device).
 Performed supervisory functions to implement systems standards such as maintaining
price of products and stability of workstations / servers and other machines
Past Work Experience/s
 LinkUS Service Center: Sideline Job as an In-house Graphic Artist (1 week)
[email protected] – (2007)
 S.S.M.I. Super Shopping Market Incorporated (S.M. Hypermarket Pasig) as an I.T.
Technician (Supervisor). (September 2007 to May 2008)
Education
College:
2002- 2006
Jose Rizal University Mandaluyong City
*Graduate with a Degree of Bachelor of Science in I.T.
Secondary:
Primary:
1998-2002
1991-1998
Online Portfolio:
http://darsephtan.deviantart.com/
Jose Rizal University
Jose Rizal College
Academic Awards
Loyalty Award – S.Y. 2005-2006 – Gold Medal
3rd Honorable Mention – S.Y. 1998-2002 – Bronze Medal
Loyalty Award – S.Y. 1998-2002 – Gold Medal
Seminars Attended
 Familiarization with Computer Hardware, JRU Auditorium:
August 31, 2004
 Adobe Photoshop CS, JRU Auditorium: September 27, 2004
 Microsoft Movie Maker, JRU Auditorium: December 9, 2004
 SAP Basics (Company Training): December 2007
Group Affiliations / Memberships
JRU Computer Society – Member: Committee Chairman of the Society's Web Team.
School Year: 2003-2004, 2004-2005, 2005-2006
History Society – Bonafide Member
School Year: 2004-2005
Personal Data
Date of Birth: February 19, 1986
Age: 24
Civil Status: Single
Citizenship: Filipino
Sex: Male
Height: 5'5 ½"
Weight: 150 lbs
Father's Name: Manolo V. Estandarte
Mother's Name: Shirley R. Estandarte
Occupation: Seaman (Retired)
Company Name: N.Y.K.
Occupation: Teacher (Retired)
Company Name: J.R.U.
Character References
Mr. Orlando "Orly" Basco
I.T. Officer
Mrs. Milani Austria
Assistant Dean
Mr. Rhene Ryan John Obra
I.T. Personnel (Jr. Net Engr.),
Computer Instructor (ICCT)
S.S.M.I. (Super
Shopping Market Inc.)
0919-4631956
Jose Rizal University (53188—31 to 35)
0916-4365073;
0939-3929233
Mr. Charlon Cue
Store Owner
0905-3203434
I hereby certify that the above information is true and correct to the best of my knowledge.