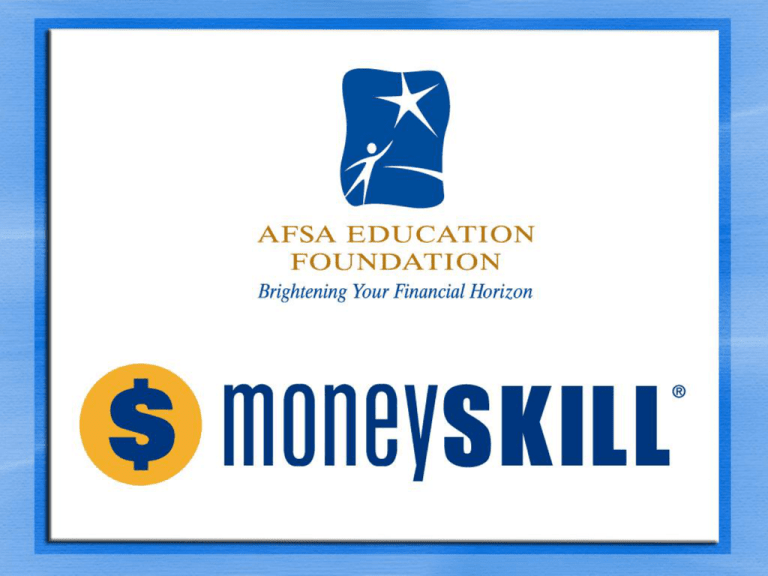 TEENS SPENDING POWER
$216.3 BILLION DOLLARS
25.3 MILLION TEENS ( AGES 13-18)
PRODUCTS AND SERVICES
U.S. Census Bureau
61%
OF TEENS OBTAIN MONEY FROM THEIR
PARENTS AS A SOURCE OF INCOME
IT'S FREE!
On-line, interactive course
 High School
 College
 Junior High/Middle School
Personal finance concepts
 Income
 Expenses
 Saving and Investing
 Credit
 Insurance
AGE
• Start working
• Married
• Purchase home
• Retirement
BUDGET
• Housing/Utilities
• Food
• Transportation
• Insurance
• Entertainment
HOW LONG DOES IT TAKE
TO COMPLETE?
 20-40 minutes a module
 12-24 hours all modules
HOW IS IT INTERESTING
TO STUDENTS?
 Follows storyline of 3 high
school students – Andrew,
Maria, and Jamie
• Designed to be used in
business, economics, math,
social studies or personal
finance
• Self study
• Homework, project outside
class or during class as a
group
Entirely web-based
• Pre- and Post-tests
• Modules
• Life Simulation
• Grade book
• Class/student setup
• Module retake
 Select/order modules
 Duplicate course
 Import class roster
 Date for release and
completion
 Print modules/scores
 Student module retake
 Add modules
 Completion Certificate
 Easier to read
 List of modules to
complete, score and
overall average
 Adjust font & audio
 Calculator
 Monthly survey
question
 Email teacher
•
How would you evaluate the
curriculum?
Very Good to Excellent
•
How would you evaluate the
technology?
Very Good to Excellent
•
How would you evaluate the student
reaction to curriculum and
technology?
Good to Very Good
•
•
•
•
Identity Theft Modules
Used in colleges
Offered as part of GED
Changes to Web site and
technology in 2011
–
–
–
–
–
–
–
Hand held devices/tablets
Browsers
Jump around in modules
Email student score to parents
Student email teacher question
Manage font size/audio options
Simulation
10. Adaptable for the teacher's use,
curriculum and technology changes.
9. 24/7 toll-free number for teachers and
online technology support.
8. Teacher suggestions are given top priority
as to future changes in technology, admin
site and curriculum.
7. Provides understanding of the importance
of taking control of one's financial life .
6. Life simulation incorporates student's life
plan into the curriculum.
5. Teachers do not require training or
expertise to use the course with
students.
4. Students can complete the course
outside class room.
3. Tests students' understanding of each
concept as it is presented.
2. Comprehensive personal finance
curriculum.
1.
ITS FREE!