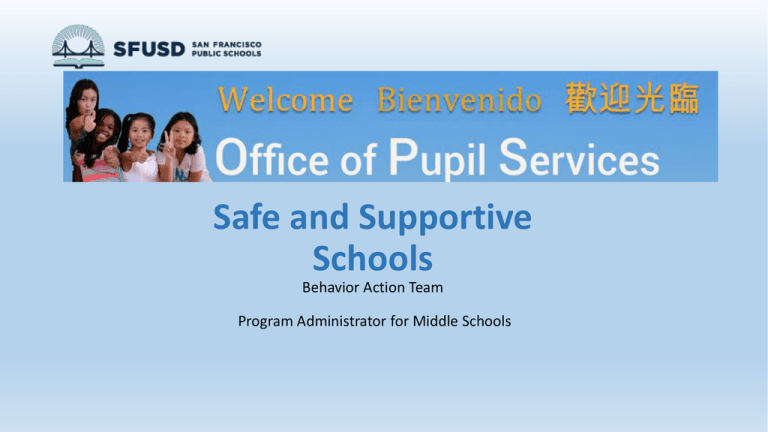 Safe and Supportive
Schools
Behavior Action Team
Program Administrator for Middle Schools
"For children to learn to their full potential, and for us to make
inroads in reducing dropout rates, students need to feel safe at,
supported by, and connected to their schools."
-TOM TORLAKSON
State Superintendent of Public Instruction
Timeline
Positive Behavioral
Interventions & Support
(PBIS)
Restorative Practices (RP)
Response To Intervention
(RTI)
2011- 2012
2013- 2014
2014-2016
HUMAN CAPITAL
Safe and Supportive Schools
On-site support is provided to sites from, BCBA
behavioral specialists, PBIS and RP coaches.
On-Site Counseling Conference A referral
system to assist sites with interventions for
students experiencing the following ongoing
issues:
• serious and chronic behavioral concerns in
classes and in school resulting in at least two
suspensions
• engaging in severe at-risk behavior
HUMAN CAPITAL
Behavioral Action Team
Behavior
• Behavior Analyst
• Board Certified
Behavior Analyst
(BCBA)
Attendance
• School Attendance Liaison
• Child Welfare Attendance
Liaison (CWAL)
• Head Counselor
• Head Counselor
Positive Student Engagement
Positive Behavior
Interventions &
Supports (PBIS)
Peer Resources
Restorative
Practices (RP)
Head
Counselor
What do we do?
Professional
Development
School Site Support &
Coaching
Student & Family Support
•
•
•
•
•
•
•
•
•
•
•
•
•
•
•
•
•
•
•
•
•
•
•
RP
RtI
CPI
Pax
Peer Resources
SAP/SST
Second Step
RP
PBIS
Pax
Attendance/ A2A
Peer Resources
SAP/SST
COR/ Intervention Tracker
RP
Counseling
CBO referrals
Attendance support
FYIT
Peer Resources
Second Step
Juvenile Justice support
Counseling Center @ Civic Center
How to access BAT services
Family & Community
Support > Services >
Office of Pupil
Services
Pupil Services New Site
BAT Referral System
Contact Information
Elementary School
Nicole Fricke-Pothier
Fricke-PothierN@sfusd.edu
Middle School
Morenike O'Neal
Onealm@sfusd.edu
High School
Corky Susan Kern
kerns@sfusd.edu
So how can we help you?
Questions?