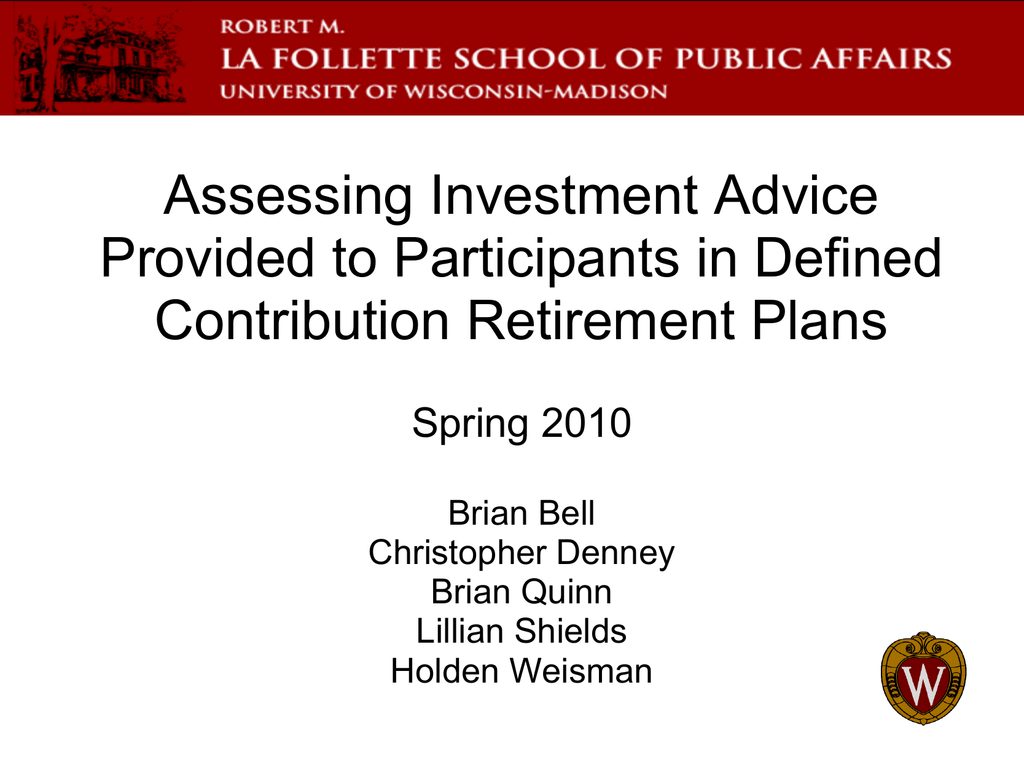 Assessing Investment Advice
Provided to Participants in Defined
Contribution Retirement Plans
Spring 2010
Brian Bell
Christopher Denney
Brian Quinn
Lillian Shields
Holden Weisman
Overview
In this presentation, we will...
• Explain our research question
• Provide background information
• Discuss our four key findings
• Highlight recommendations for further research
Research Question
• Study commissioned by the Government
Accountability Office
• What is the status of investment advice available to
participants in defined contribution retirement
plans?
o
Sources of advice?
o
Level of participant comprehension?
o
Level of utilization of advice?
o
Extent to which advice affects investment outcomes?
Background
• Recent shift from defined benefit plans to defined contribution plans
• Structure of a defined contribution plan
Deficiencies in Retirement Savings
• Assumptions for determining "adequate" retirement savings
• Average account balances lower than recommended
• Why are balances low?
o
Low contribution rates and plan design
o
Mistrust of financial institutions
o
Failure to rebalance
o
Responses to market shocks
Legal Structure
• Employee Retirement Income Security Act of 1974 (ERISA)
o
Fiduciary duties
o
Prohibited transactions
• SunAmerica Opinion - 2001
• The Pension Protection Act of 2006 (PPA)
o
Fee-leveling
o
Computer model
o
Regulations pending
Findings
• Goals of the report
o
Identify issues and concerns
o
Present opportunities for future research
• Methodology
o
Interviews
o
Literature review
Finding 1: Participants Receive Advice From a
Variety of Sources
• Lack of research on sources of investment advice
• Participants receive advice from a variety of sources
o
Human Resources
o
Peers - informal advice
o
Online sources
o
Financial advisors
Finding 2: Women and Participants With Higher
Incomes Are More Likely to Seek Advice
• Lack of research on participant willingness to seek advice
• Demographic groups who are more likely to seek advice:
o
Women
o
Participants with higher incomes
o
Increases with age
o
Participants with more education
Finding 3: Most Participants Have a Poor
Understanding of Fees
• Most participants do not fully understand:
o What fees are charged
– - Fees are not itemized
– - Fees are expressed as an expense ratio
o The significant effect fees have on returns
Finding 3 (continued): Most Participants
Have a Poor Understanding of Fees
• Many employers also do not fully understand vendor fees
• Most plan sponsors do not use a level of services
commensurate with the fees charged
• Some evidence suggests that plan sponsors are attempting to
reduce their fees
Finding 4: Effect of Investment Advice on Plan
Outcomes Is Ambiguous
• Hewitt Associates study: advice has a large, positive effect
on outcomes
• RAND: automatically provided advice has negligible impact
• Long term effects of target date and target risk funds have
yet to be determined
• Some evidence suggests that plan sponsors are improving
plan design to increase plan assets
Conclusions: The Big Picture
• Lack of data and standardized research methodology
• Lack of access to adequate advice
• No standardized process for receiving advice
• Many participants lack basic financial literacy skills including
understanding the impact of fees
• Automatically provided advice is not effective
• The importance of plan design
Recommendations for Further Study
• Standardized methodological approach
• Advice sources and effectiveness
• Final Pension Protection Act regulations
• Financial literacy
• Post-retirement advice
o
Portability of DC plans
o
Effectiveness of changes at different levels
o
Plan sponsor vs. participant
Many Thanks to...
• Government Accountability Office
o Sharon Hermes
o Anjali Tekchandani
o Amber Yancey-Carroll
• UW-Madison La Follette School of Public Affairs
o Andrew Reschovsky
o Karen Holden
o Karen Faster
• UW-Madison Department of Consumer Sciences
o Rob McCalla
o Michael Collins
• Hewitt Associates
o Yan Xu
Questions?