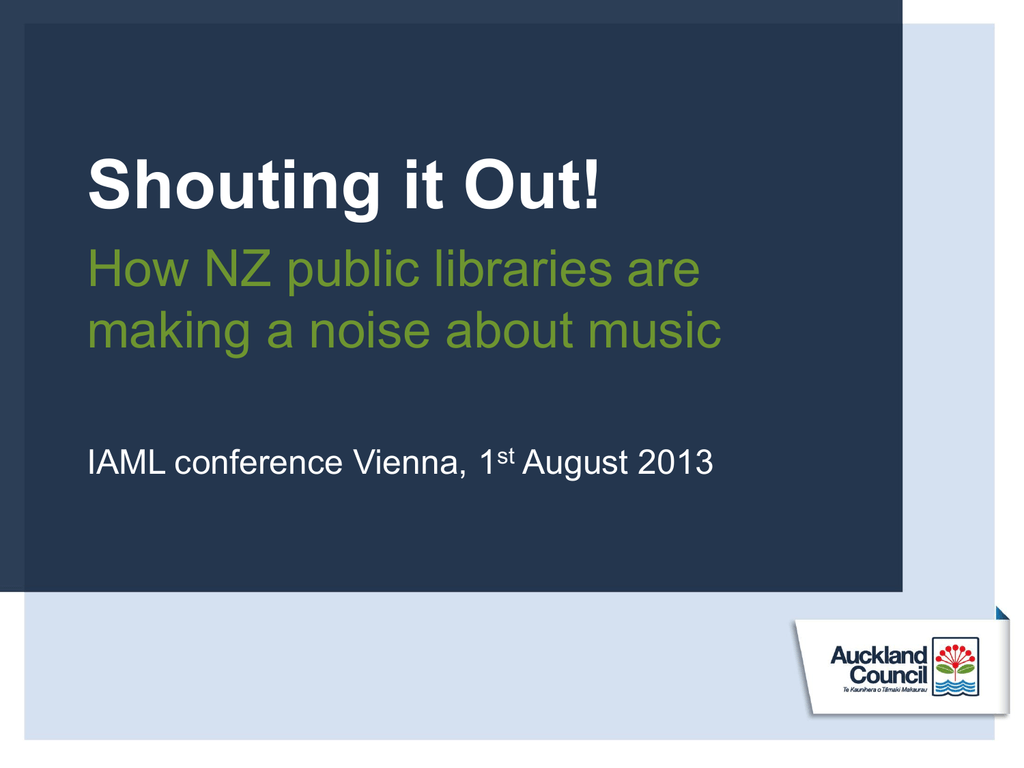 Shouting it Out!
How NZ public libraries are
making a noise about music
IAML conference Vienna, 1st August 2013
"There is a vast array of cultural engagement and interactions that
libraries can offer to connect people with the world of information
and ideas. Live music, poetry, art, dance, theatre, writing and many
more ways that connect libraries with their communities and people
with experiences that help inspire their imaginations and capacity for
learning.
Libraries also have the ability to provide people with a space in which
they share their own cultural innovations and creations with their
wider communities through performances and exhibitions."
Future Directions
•Engagement with the community connecting people with the world of
information and ideas through innovative programmes
•Library spaces changing to be a creative and exciting community
space.
NZ Music Commission
National Music Council 1982
".....nation-wide participation by music groups of all kinds,
national and regional orchestras, choirs and bands and
smaller groups of performers, amateur and professional,
in many different genres, popular and classical. State
and Private radio stations as well as television will be
able to play an important role in what the Council hopes
will be a real national music festival, in which New
Zealand works will figure appropriately, but where
emphasis will be on New Zealand performers."
NZ Music Month
Auckland City
Mission statement
NZMM at Auckland Libraries provides an opportunity to:
• promote our music collections,
• music staff expertise,
• and learning activity programmes
and feature libraries as a community space that
• supports creativity
• and allows customers to experience music in libraries.
Objectives
•
•
•
•
Attract more visits
Music resources highlighted
Library space
Literacy and learning
Pakuranga's got talent
Panmure Youth Kickout!
APO Young Achievers
Herbs Unplugged
Witnessing Parihaka
Ukuleles!!
A Insert presentation title and date here. (A = slide number)
Ukulele Lessons for young and old
Music Advisory
Me hanga to ake waiata!
write your own song!
Pop up piano
Friday night Live
D.S.I.R man
Questions?