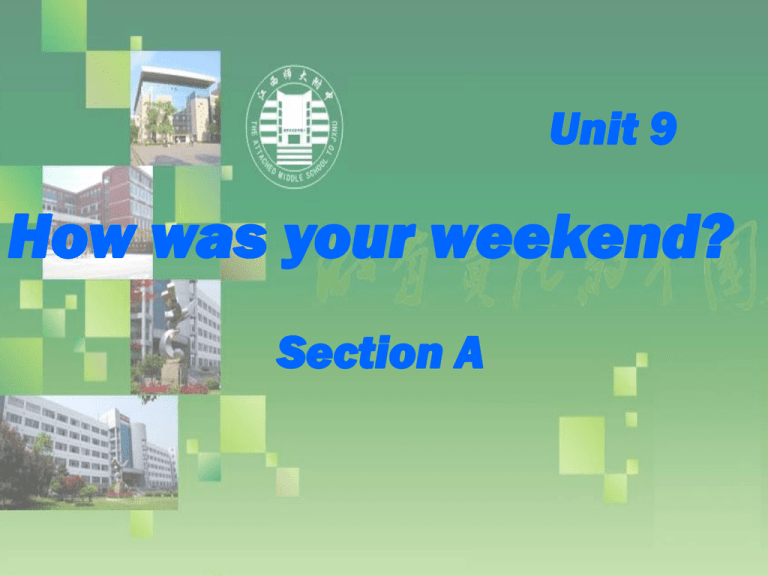 Unit 9
How was your weekend?
Section A
How am I? What do
do I look like? How was I? What did
did I look like?
You are a little bit heavy.
have long curly black hair.
You have
You were
were thin.
You had short straight brown hair.
Please say: " True" or "False".
1.If I use the past form of a verb,it means I want to talk
about something in the past.(
)
What did I look like?
You had short straight brown hair.
Please say: " True" or "False".
2. All the past forms of verbs are regular .I just write -ed
at the end of the verbs.(
work-----worked
)
clean-----cleaned
play-----played
visit-----visited
3.Some other verbs are regular. They only change a
little.(
)
dance-----danced
practice-----practiced
hope-----hoped
study-----studied
carry-----carried
worry-----worried
stop-----stopped
shop-----shopped
plan-----planned
Please say: " True" or "False".
4.Some other verbs are irregular. We have to remember
them one by one.(
am/is-----was
sing-----sang
make----made
give-----gave
)
are-----were do-----did go-----went have/has-----had
get-----got
eat-----ate see-----saw say------said
come-----came take----took tell-----told write-----wrote
buy-----bought drink-----drank
teach-----taught
Please say: " True" or "False".
5.Only when we say "last Sunday" ,do we use the
past
tense.(
)
last week/weekend/month/year/spring/May/
yesterday/the day before yesterday
just now=a moment ago
two days/weeks/months/years ago
in 1999
stayed at home
practiced English
visited the friend
did some reading
studied for the test
had a party
Don't drive
after drinking!
Oh,my god! I
will not do it
any more!
May15
What did your parents do for you?
And what did you do for your parents?
Write down what
your friends or
teachers do for you!
Then give it to them
now!
Don't wait!
Come on!
Thank you!
Please guess why!
—Lisa was thin.
●
I think she did…
●
I think she …
—Yunsong went away from Lisa's friend list.
●
I think he didn't want …to…
●
I think he …
When is Mother's Day?
What did your mother do for you?
What did you do for your mother?
Lisa:Did he open his mouth?
Students:Yes ,he did.He opened his
mouth.
Lisa:How was I?
Students:You were thin and good-looking.
Lisa:Did you go away?
Yunsong:Yes,I did.I went away.