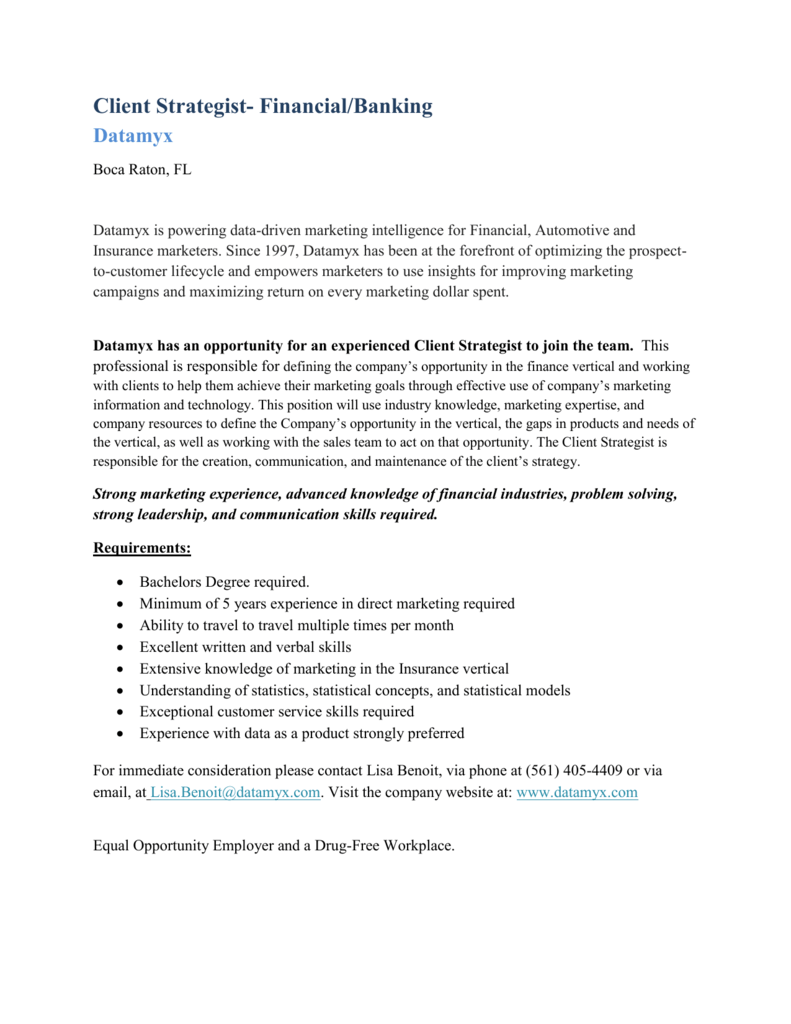 Client Strategist- Financial/Banking
Datamyx
Boca Raton, FL
Datamyx is powering data-driven marketing intelligence for Financial, Automotive and
Insurance marketers. Since 1997, Datamyx has been at the forefront of optimizing the prospectto-customer lifecycle and empowers marketers to use insights for improving marketing
campaigns and maximizing return on every marketing dollar spent.
Datamyx has an opportunity for an experienced Client Strategist to join the team. This
professional is responsible for defining the company's opportunity in the finance vertical and working
with clients to help them achieve their marketing goals through effective use of company's marketing
information and technology. This position will use industry knowledge, marketing expertise, and
company resources to define the Company's opportunity in the vertical, the gaps in products and needs of
the vertical, as well as working with the sales team to act on that opportunity. The Client Strategist is
responsible for the creation, communication, and maintenance of the client's strategy.
Strong marketing experience, advanced knowledge of financial industries, problem solving,
strong leadership, and communication skills required.
Requirements:








Bachelors Degree required.
Minimum of 5 years experience in direct marketing required
Ability to travel to travel multiple times per month
Excellent written and verbal skills
Extensive knowledge of marketing in the Insurance vertical
Understanding of statistics, statistical concepts, and statistical models
Exceptional customer service skills required
Experience with data as a product strongly preferred
For immediate consideration please contact Lisa Benoit, via phone at (561) 405-4409 or via
email, at [email protected] Visit the company website at: www.datamyx.com
Equal Opportunity Employer and a Drug-Free Workplace.