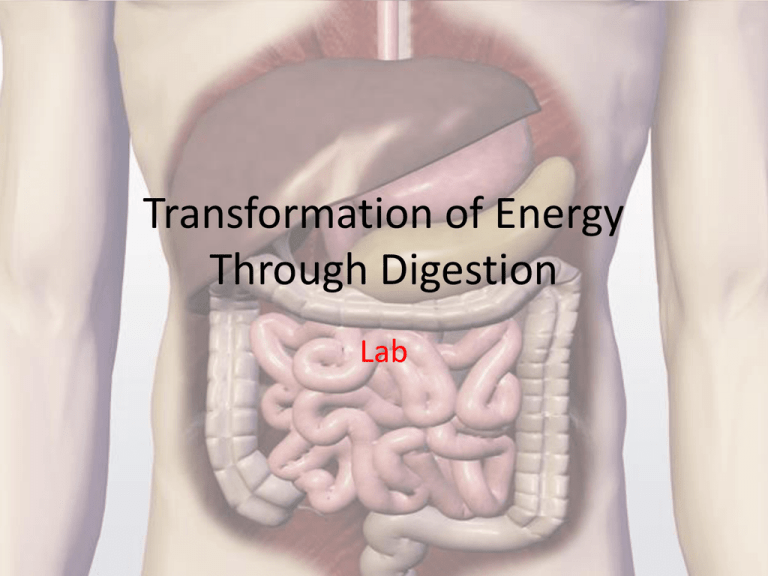 Transformation of Energy
Through Digestion
Lab
Energy Transformations
Energy transformation is the process of
changing energy from one form to another.
Energy transformations take place constantly
around us. Radiant energy from the sun is
converted to chemical energy by plants;
chemical energy in gasoline is converted to
mechanical energy when our cars move; and
our own digestive system converts our food
into energy.
Today, we are going to focus on our digestive
system converting chemical energy in our food,
into chemical, thermal and mechanical energy in
our bodies.
Digestion involves both physical and
chemical changes. During digestion, the
chemical energy found in our food can be
converted to many different forms. The
chemical energy in food can be converted
to another form of chemical energy when
it is stored as glucose or fat. It can be
converted to thermal energy because our
body produces heat when digesting our
food. The chemical energy in our food can
also be converted to mechanical energy in
the form of muscle movement.
View the following link:
http://prezi.com/s22gll-jmbtt/energytransformation-during-digestion/
Materials
raw chicken or beef liver
Scissors
Beaker
thermometer
75 mL hydrogen peroxide (H2O2)
stopwatch
gloves
goggles
cracker
Safety
Procedure
1. Break your cracker into two pieces.
2. Take one half and break it apart in your hand. Is
this a physical or chemical
change?____________________
3. Now, take the other half of the cracker and chew
it well. Don't swallow right away. You should
taste a slight saltiness then after the cracker is
well chewed, it should taste sweet. Is this a
physical or chemical change? ________________
Procedure
4. Create a data table to record initial
temperature and six temperatures taken at 30
second interval.
5. Put on your safety goggles. If you are
handling the liver, put on gloves.
6. Cut the liver into small pieces with the
scissors.
Procedure
7. Pour 75mL of hydrogen peroxide into the
beaker.
8. Place the thermometer in the beaker of
hydrogen peroxide. Record the
initial temperature.
9. Place the liver pieces in the beaker of
hydrogen peroxide.
Procedure
10. Record the temperature every 30 seconds
for three minutes and write it down on your
chart.
11. Clean Up –Pour off the hydrogen peroxide
and dispose of it according to your teacher's
instructions. Remove the liver from the
bottom and throw it in the trash can.
12. Wash your hands thoroughly.