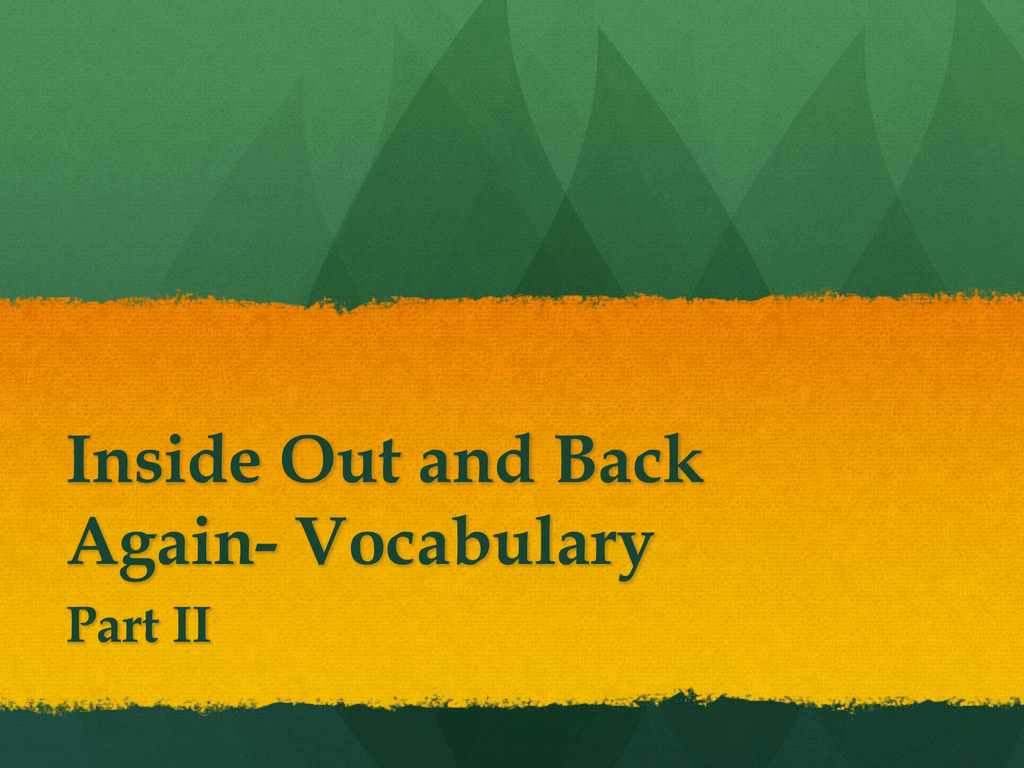 Inside Out and Back
Again- Vocabulary
Part II
justify
 Verb
 To make something seem reasonable;
to explain something
 It was hard for Brother Koi to justify
the family's moved from Saigon to
America.
migration
 Noun
 Movement from one place to another
 The migration of the Vietnamese
refugees to America had many
positive and negative effects.
obvious
 Noun or Adjective
 Clear, evident, easily recognized or
understood
 It was obvious to the students in Ha's
new school that she was not from
Alabama.
giddy
 Adjective
 Excited to the point of almost feeling
dizzy or light-headed; silly and
excited
 When the refugees on the boat finally
saw land in the distance, many felt
giddy and jumped up and down.
solitude
 Noun
 Privacy; isolation; separateness
 Although Ha loved being with her
mother, when she had solitude, she
thought back to happier times in
Saigon.
flaunt
 Verb
 To show something in a "show-off"
kind of way
 Ha and her family were humble and
did not flaunt their Christmas gifts
they received from the cowboy and his
wife.
chiding
 Verb
 Scolding; blaming; reprimanding
 One of Ha's wishes is that Mother will
"stop chiding" her to "stay calm".
idle
 Adjective
 Not active; not working; at rest;
unemployed
 Mother wanted her children to be
active learners and workers rather
than be simply idle.
contorted
 Verb or adjective
 Twisted; bent; crooked
 The contorted body of Brother Khoi's
baby chick made both Ha and her
brother very sad.
superstitious
 Noun
 Thoughts and actions related to
traditional and magical beliefs
 The Vietnamese people may be
described as superstitious with their
actions during Tet.