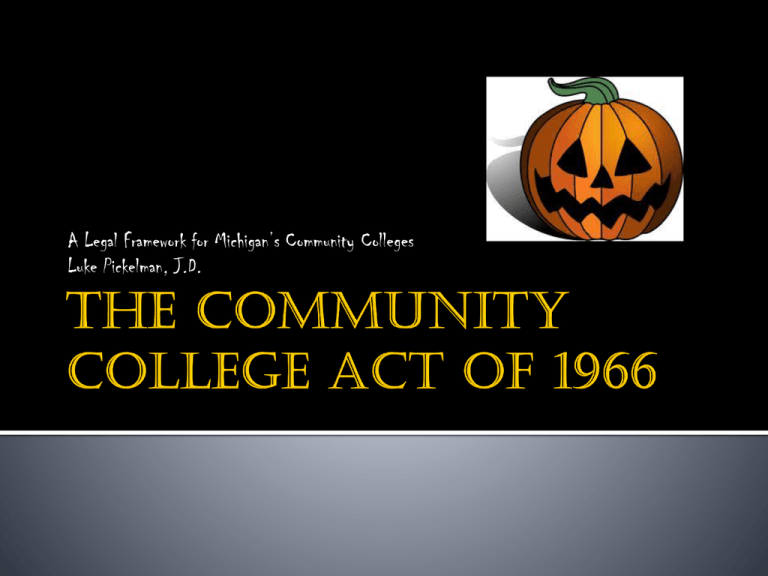 A Legal Framework for Michigan's Community Colleges
Luke Pickelman, J.D.

Article VIII § 7
The legislature shall provide by law for the establishment and
financial support of public community and junior colleges which
shall be supervised and controlled by locally elected boards. The
legislature shall provide by law for a state board for public
community and junior colleges which shall advise the state board
of education concerning general supervision and planning for such
colleges and requests for annual appropriations for their support.
The board shall consist of eight members who shall hold office for
terms of eight years, not more than two of which shall expire in
the same year, and who shall be appointed by the state board of
education. Vacancies shall be filled in like manner. The
superintendent of public instruction shall be ex-officio a member
of this board without the right to vote.
Community College Act
 Part 1: Establishment by county, school district or
intermediate school district; board elections;
taxation; annexation
 Part 2: Powers and duties of districts and Boards
of Trustees; Michigan New Jobs Training Program



12 cc's organized on a county basis
5 cc's organized on school district (K-12) basis
11 cc's organized on an ISD basis



Organizational election and board
composition
General and Special Elections
Annexation

One or more contiguous counties, school
districts or ISDs via:
 State Board approval (Superintendent for ISDs)
 Electoral approval (majority) of proposed district,
maximum annual tax rate, and inaugural board
election

PA 62 (2005) eliminated language in CC Act
dealing with community college elections,
specifying that community college board
candidates are to be nominated and elected
in accordance with Michigan's Election Law.



First Board of Trustees: 7 members with
staggered terms from 6 years to 2 years long
Future Board of Trustees members: 6 year
terms
Any qualified elector residing within the
district is eligible to be a cc board member


Remaining members must fill vacancy by
majority vote immediately and that person
will hold seat until next election
If not filled within 30 days, the ISD for that
district will fill the vacancy by appointment
(MCL 389.152)


District looking to expand serviced region
must follow CC Act annexation procedures
Who can annex what?
 PA 488 (2000) amended CC Act to remove limits
on annexation opportunities





Board resolution
Superintendent approval
Electoral approval from the entity to be
annexed
Election timing for proposal
Board composition implications

Generally:
 CC's are corporate bodies, they can sue and be sued,
take, condemn, use, hold, sell, lease, and convey real
property
 Implied Powers:
▪ In addition to the powers expressly stated in this act, a
community college district and its board of trustees may
exercise a power implied by or incident to any of its powers
expressly stated in this act and, except as otherwise provided
by law, may exercise a power incidental or appropriate to the
performance of any function related to operation of the
community college district in the interests of educational and
other programs and services offered by the community
college district.*


Power is in the collective – majority vote of
members elected and proper record of vote
Compliance with Open Meetings Act










Tuition and fees
Annual budget
Tax levies
Audits
Hiring administration and employees
Acquire, purchase or lease sites
Programs of study
Borrow money
Energy conversation improvements
Care and custody of property/facilities


PA 135 (1997) - Included the implied and
incidental powers language and provided for
specific delegation.
Powers that may be delegated:





Select and employ personnel
Pay claims and demands
Purchase, lease, and acquire personal property
Invest
Accept gifts and contributions







Adoption of a budget
Establishing tuition and fees
Levy of taxes
Audits
Acquisition of real estate and construction
Borrowing money
Setting programs of study


CC Act exempts all community college
district property from taxation and
assessment
Board may agree with local municipality to
pay for special assessments or local
improvements

CC Act defines a "community college" as:
an educational institution providing collegiate and noncollegiate level education primarily to individuals above the
twelfth grade age level within commuting distance. The term
includes an area vocational-technical education program that
may result in the granting of an associate degree or other
diploma or certificate, but not an educational institution or
program granting baccalaureate or higher degrees.


PA 359 (2008) – allows community college
district boards to enter into training
agreements with employers who are creating
new jobs in the state
Community colleges are paid back via the
diversion of income taxes from new
employee wages
Luke Pickelman
luke@mcca.org
HAPPY HALLOWEEN!