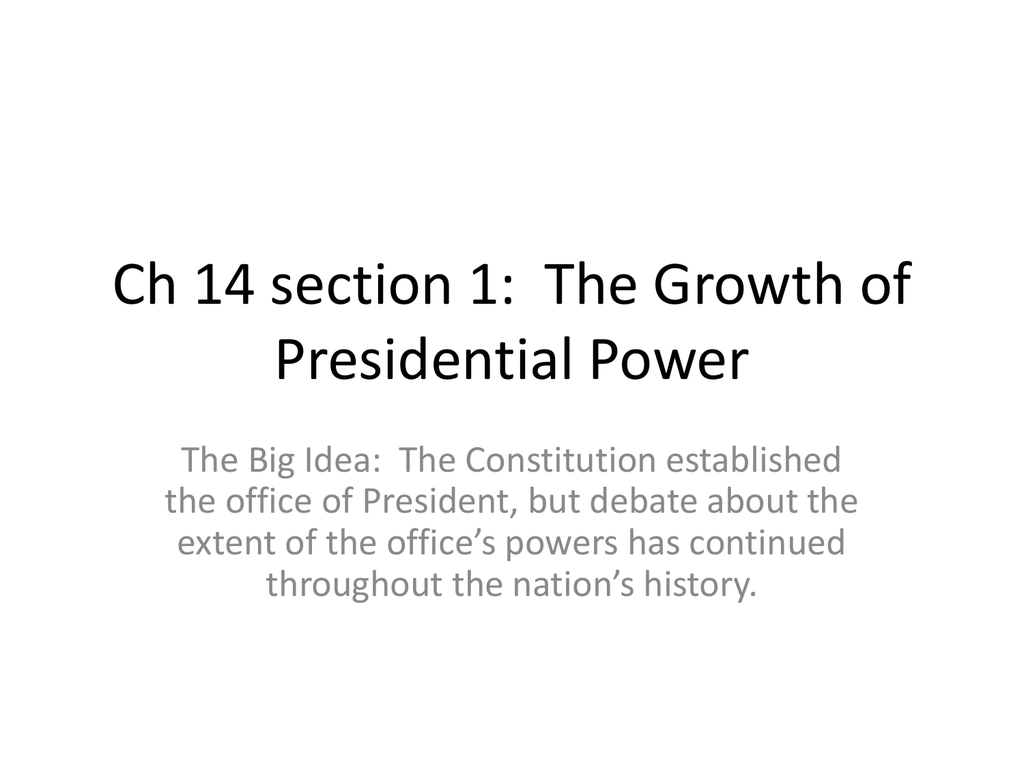 Ch 14 section 1: The Growth of
Presidential Power
The Big Idea: The Constitution established
the office of President, but debate about the
extent of the office's powers has continued
throughout the nation's history.
vocabulary
• Executive Article
• Mass media
• Imperial presidency
Notes
• What does Article II of the US Constitution
outline?
• How has the power of the president grown
over the years?
• How does the President's person views affect
how the power of the president changes?
Chapter 14 Section 2: The
President's Executive Powers
Big Idea: The President has great power
to give orders, to decide how laws are
carried out, ant to appoint federal
officials.
vocabulary
• Oath of office
• Executive order
• Ordinance power
notes
• How does the President have the power to
execute or enforce federal law?
• How does the President obtain the ordinance
powers?
• List the top ranking officials that the President
appoints:
• How does the appointing process work?
• Summarize the historical debate of the
removal power:
Chapter 14 Section 3: Diplomatic
and Military Powers
Big Idea: While the President shares
various diplomatic and military powers
with Congress, in some areas his power
is almost unlimited.
Vocabulary
•
•
•
•
Treaty
Executive agreement
Recognition
Persona non grata
notes
• How are treaties made and approved?
• Why and how are executive agreements
made?
• Give 2 historic examples of "power of
recognition"
• What does the role of "Commander in Chief"
mean?
Chapter 14 Section 4: Legislative
and Judicial Powers
Big Idea: As part of the system of
checks and balances, the Constitution
gives the President important legislative
and judicial powers.
Vocabulary
•
•
•
•
•
•
Line-item veto
Reprieve
Pardon
Clemency
Commutation
Amnesty
notes
• What are the President's two major legislative
powers?
• How are these powers important to the
system of checks and balances?
• What are the President's major judicial
powers?