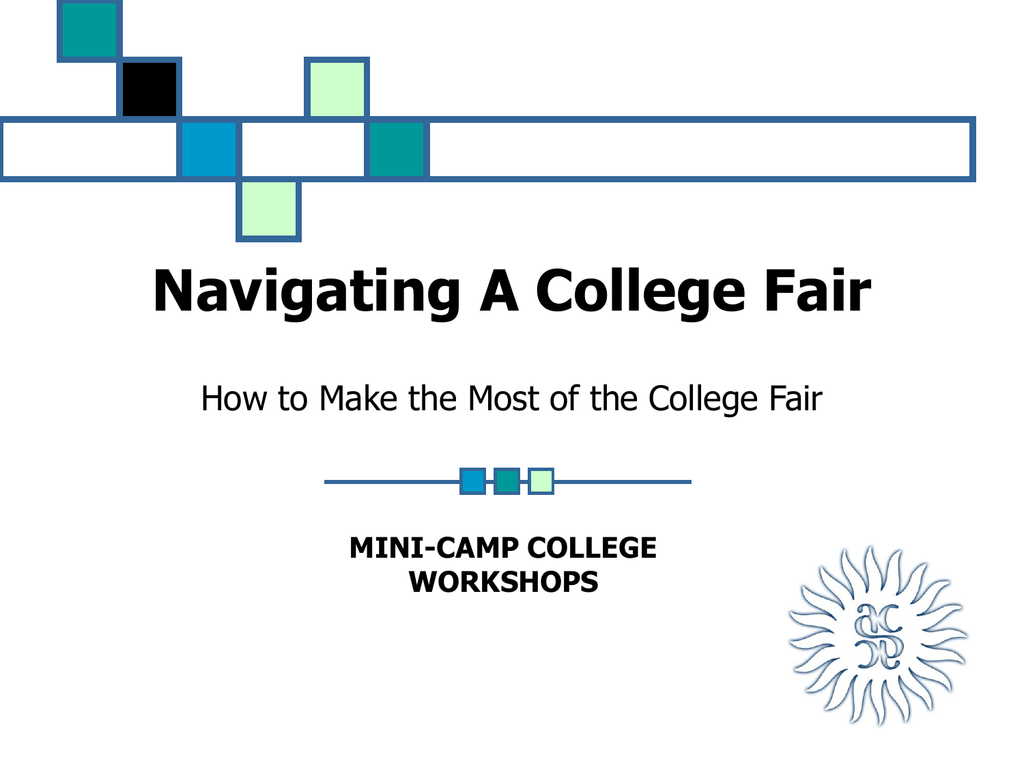 Navigating A College Fair
How to Make the Most of the College Fair
MINI-CAMP COLLEGE
WORKSHOPS
What is A College Fair?




Representatives from many different colleges
are gathered together in one place
There are rows of college tables, staffed by
representatives to answer your questions
Some may take your name and address in order
to send you materials after the fair
Many fairs also offer useful sessions about
financial aid, admission testing, etc.
How to Prepare for the
College Fair


Think about what you want in a college
Look through the list of colleges attending




Are there any you are already considering?
Are there others that meet your criteria?
Make a list of colleges that interest you most
It's useful to write down questions in
advance.
What to Bring to The
College Fair




Bring your lists of colleges & questions
Bring a pen and notebook to take notes
If possible, make labels including:
Name & Address
Email Address
High School Name
Phone Number
Year of Graduation
Areas of Interest
(academic & non)
Bring a bookbag (the fair may provide bags,
but be prepared just in case)
What to Do When You
Arrive



Pick up a bag (if needed) & a college fair
directory
Check out the floor plan & map out a route to
be sure you visit all the colleges on your list
Note when & where special sessions are offered
– PLAN TO ATTEND ANY THAT LOOK
USEFUL!
How To Talk to College
Reps




Start off by introducing yourself ("Hi, my name
is …. I'm a junior at XXX High School"). If your
parents are with you, introduce them as well.
Have specific questions
Fill out information cards (if available)
Thanks them and ask them for their business
card
So What Would I Ask?
Here are a few general areas to consider …

Admission requirements
 What a typical admitted student looks like –
 GPA
 Curriculum
 SAT/ACT
 Required high school preparation & testing
 Application deadline
 Role of activities, recommendations,
and/or interviews
Questions about
Academics

Academic programs







Specific majors that you are considering
Popular majors
When do you have to choose a major?
Availability of internships
Size of classes (esp. freshman year)
Availability of professors & support services
Career placement
More questions …






Financial aid & scholarships
 Cost of tuition, room & board (food)
 Financial aid deadline & required forms
 Merit scholarships & application procedures
Activities that interest you
Housing & other facilities
Campus visits & open houses
The surrounding city or neighborhood
ANYTHING ELSE THAT INTERESTS YOU!
Additional Opportunities


Take notes & pick up any useful handouts at the
special sessions
Arrange to talk with a college counselor at the
Counseling Center if you have any general
questions about your college search or the
application process
After the College Fair



Look through the materials & your notes
Weed out colleges that aren't a good fit
Follow up with colleges of interest –
 Return information cards
 Email the representative with questions
 Look into visit options
 Do more research
Thanks to …


MaryAlice Katon of Communities in
Schools, Charlotte, NC
The NACAC website
for providing many ideas for this
presentation.