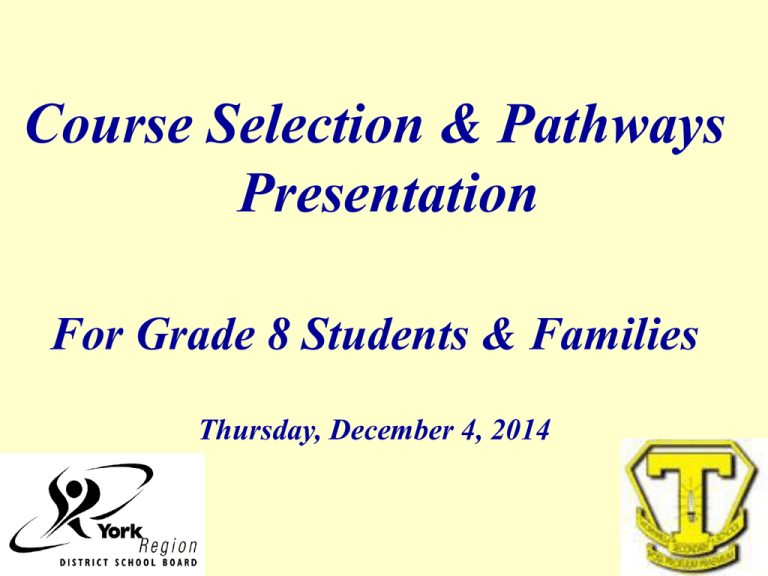 Course Selection & Pathways
Presentation
For Grade 8 Students & Families
Thursday, December 4, 2014
Your Guidance Counsellors:
Mr Belman A-G
Ms Schuur H-Me
Ms Blicker Mi-Z
Mrs Shepherd – Student
Success
Diploma Requirements (O.S.S.D.)
for the 4 year program
12 Optional
Credits
Successful
completion of
Ontario School
Literacy Test
40 hours of
Community
Involvement
18 Compulsory
Credits
O.S.S.D
18 Compulsory Credits
4
Credits in English (1 credit per grade)
1
Credit in French as a Second Language
3
Credits in Mathematics (at least 1 in Gr. 11 or 12)
2
Credits in Science
1
Credit in Canadian History
1
Credit in Canadian Geography
1
Credit in the Arts
1
Credit in Health and Physical Education
.5
Credit in Civics & .5 Credit in Career Studies (grade 10)
Plus………..
Compulsory Credits (cont'd)
Plus:
Group 1: 1 additional credit in English, or French
as a Second Language, or a Native
Language/Studies, or a Classical or an
International Language, or Social Sciences and
the Humanities, or Canadian and World Studies, or
Guidance and Career Education (including
Learning Strategies), or Cooperative Education*
Group 2: 1 additional credit in Health and
Physical Education, or Business Studies, or the
Arts (music, art, drama), or French as a Second
Language or Cooperative Education*
Group 3: 1 additional credit in science (grade 11
or 12) or technological education (grades 9-12),
or French as a Second Language or Computer
Studies or Cooperative Education*
The Grade 10 Literacy Test
• A Diploma requirement. Administered in March of the
grade 10 year
• A test based on language and communication (reading
and writing) expectations of curricula up to and
including grade 9
• Accommodations, deferrals and exemptions may be
appropriate for some students
• If standard not met in first attempt, schools will
provide remedial support; test is re-administered until
student successfully completes the test or the Grade
12 Literacy Course
Community Involvement
• A diploma requirement
• Encourages civic responsibility, promotes
community values and reinforces importance of
volunteerism
• Complete 40 hours before graduation
• Can start in summer of grade 8
• Student responsibility to keep record of activities
• Guidelines and forms will be provided to help track
community involvement
• A good way to explore career interests
COURSE PATHWAY TYPES
IN Gr. 9 & 10
APPLIED
ACADEMIC
OPEN
LOCALLY
DEVELOPED
PATHWAY
ABILITY
APPROACH
APPLIED
Working at or above
grade level
Step by step approach to learning
using theory and practical
examples.
ACADEMIC
Working at or above
grade level
Theoretical and independent
approach to learning with a focus
on critical thinking skills
ESSENTIAL/
Working below grade
Guided approach to learning using
LOCALLY DEVELOPED level in Math, English and practical examples and concrete
Science
objects.
OPEN
Available to students
working at all levels
An opportunity to explore an area
of interest for all students
GIFTED
Working at or above
grade level
(Formal Identification
through IPRC process
Theoretical and independent
approach to learning with a focus
on critical thinking skills.
Enrichment opportunities provided
Course Types
Applied,
Academic
or Gifted
English
Math
English
Locally
Developed
Math
Science
Science
French
History
History
Geography
Physical Education is the same for all
students. Classes are divided by Male and
Female.
OPTIONAL COURSES FOR GRADE 9
STUDENTS
Technological
Studies
Business
Studies
The Arts
Broad
Based
Technology
Visual
Computer
Studies
Drama
Music
Learning
Strategies
Family
Studies
Choosing Courses for Grade 9
 Parents and students will select courses in collaboration with
elementary school teachers, guidance counselors, student
success/support teachers and administrators
 It is important that students do an honest self-assessment,
matching their ability with their interests and aptitudes
 Students often choose a combination of course types to
support different learning interests and styles
 Remember that initial decisions made in grade 8 are not
"final" decisions. There are many pathways to initial postsecondary destinations
Secondary School Planning
Important to know:





How students learn best
Student interests
Diploma requirements to graduate
Prerequisites for courses
How to plan for experiential learning
opportunities
 Admission requirements for post-secondary
opportunities (college, apprenticeship, university,
workplace)
 Preparing for school-work
GIFTED COURSES
 Students must be identified as 'gifted' prior to arrival at
Thornhill S.S.
 Students must choose at least 4 gifted courses to stay in
program.
 Available in gr. 9 & 10 (Engl., Math, Geog., Hist., Science
& French)
ADVANCED PLACEMENT COURSES
 Senior courses (Gr. 11 & 12)
 Academically challenging
 Courses offered in Math, Biology, English, Chemistry,
Economics and Computer Science
 Recognized for advanced placement in universities
Collaborative
Team
Choosing
Appropriate
Pathways
Ongoing
Monitoring
Student
Success
Emotional
and
Academic
Support
Caring Adult
School Timetable
PERIOD
1
Homeroom
2
3(A) or LUNCH
3(B) or LUNCH
3(C) or LUNCH
4
After School Programs
(optional participation)
TIMES
8:50-10:05 (75 min.)
10:05-10:10
10:15-11:30 (75 min.)
11:30-12:10 (40 min.)
12:10-12:50 (40 min.)
12:50 - 1:30 (40 min.)
1:30 - 2:45 (75 min.)
2:45 - 4:00 (75 min.)
SCHOOLS ZONED FOR TSS ARE...
•
•
•
•
•
•
Baythorn
E.J. Sands
Glen Shields
Henderson
Thornhill P.S.
York Hill
 We will be visiting you at the end of January
for registration and course selection at TSS.
For More Information…
Course selection for September 2015 will be done online
through Career Cruising.
www.careercruising.com
Visit our school website and click on "Guidance" at
www.thornhill.ss.yrdsb.edu.on.ca
York Region District School Board
www.yrdsb.edu.on.ca
For policies programs and curriculum documents:
www.edu.gov.on.ca
QUESTIONS?