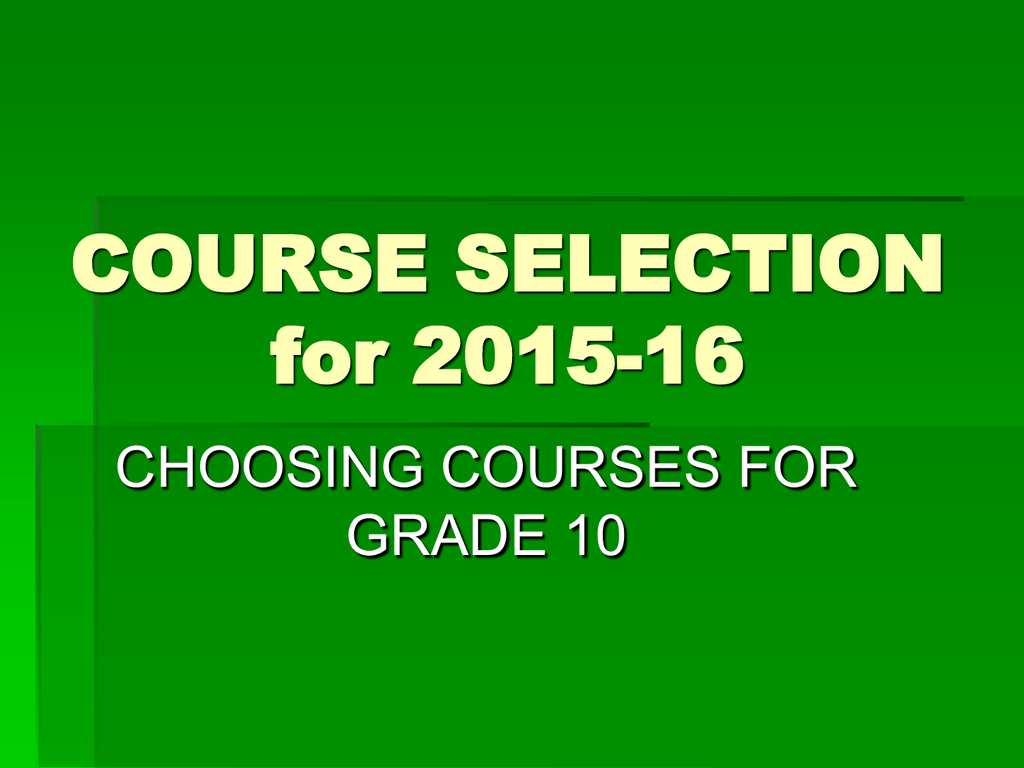 COURSE SELECTION
for 2015-16
CHOOSING COURSES FOR
GRADE 10
PLANNING FOR SUCCESS
 Map out a plan for Grade 10 to 12 on
Educational Planner sheet
 5 compulsory credits have been filled in; you must
decide the level to take them at
 3 optional credits need to be selected by you
 Choose 8 courses total
OSSD COMPULSORIES
 Group 1: One additional credit in English, or French as a second
language,** or a Native language, or a classical or an international
language, or social sciences and the humanities, or Canadian and
world studies, or guidance and career education, or cooperative
education***
 Group 2: One additional credit in health and physical education,
or the arts, or business studies, or French as a second
language,** or cooperative education***
 Group 3: One additional credit in science (Grade 11 or 12), or
technological education (Grades 9 – 12), or French as a second
language,** or computer studies, or cooperative education***
OSSD
 Maximum of 2 credits in Coop and 2
credits in French can count as
compulsory credits
 40 hours of community service
 Successful completion of the OSSLT or
OSSLC
French Immersion
The F.I. Certificate requires 10 courses.
Four are REQUIRED:
FIF1D1I
FIF2D1I
FIF3U1I
FIF4U1I
Choose 6 ELECTIVES from:
MPM1D1I
MPM2D1I
BDI3C1I
IDC4U1I
SNC1D1I
SNC2D1I
HSP3C1I Co-op
CGC1D1I
CHC2D1I
HSP3U1I
GPP3O1I
ADA1D1I
AVI2O1I
PPL3O1I
CHV/GLC2O3I
International
Baccalaureate
 Enriched Programming in Grades 9 & 10
is recommended
 IB codes (11 & 12) end with the letter 'B'
 Students must apply during Grade 10 to
be registered in the IB Diploma Program
 See school website under Student
Services and International Baccalaureate
or see Mr. Kevin Clark
PATHWAYS
 Courses at the Grade 10 level:




Academic (D)
Applied (P)
Open (O)
Enriched (E)
PATHWAYS
 Applied courses – lead to C (college)
level courses in Grade 11
 Academic courses –lead to
M(college/university) or U (university)
level courses in Grade 11
SUMMER SCHOOL
 Use in class or online summer school to
 Get ahead in credits
 Make up missed credits
 Upgrade your skills and mark
 When choosing your courses for next year,
assume YOU ARE NOT ATTENDING
SUMMER SCHOOL
 Course Info available June 1
Students will get the
following handouts in their
homeroom Tues Feb 17:
 Choosing Your Courses Instruction Sheet
with your username and password for
Career Cruising
 Westdale Educational Planner
 Westdale Course Offerings By Grade
Course Selection due date
 February 27, 2015
 See your Counsellor if you
need help!