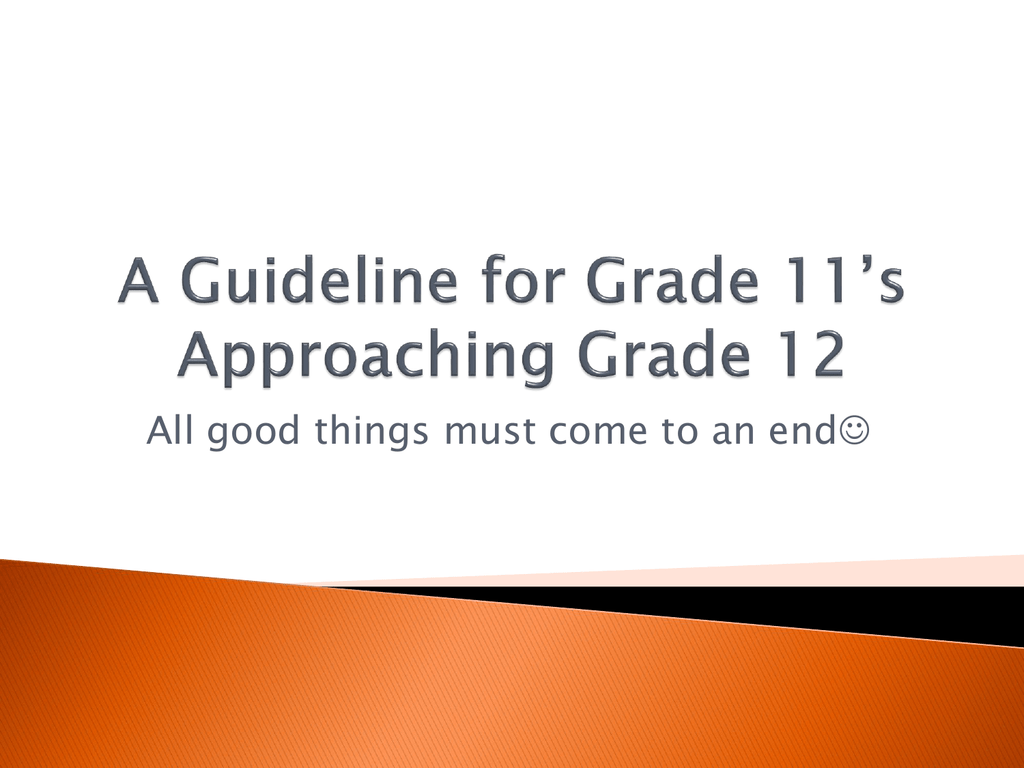 All good things must come to an end
• Grade 11 students must take 4 courses per semester
• Grade 12 students must take a minimum of 3 courses each semester
(Balance your workload!!)
• Check for compulsory course prerequisites for the courses you have
chosen for next year as well as for your post secondary choices
• A mark of at least 70% in ENG2D0 and ENG3U0 is a good indicator of
success in courses such as English, History, Geography, Economics and
Law
• All students are encouraged to consider Co-op
• Teaching programs (especially concurrent ed programs) may require a
Grade 12 4U math credit
Reminder – O.S.S. Diploma Requirements
30 credits
18 compulsory credits
12 optional credits
40 hours of community involvement
Provincial grade 10 test of reading and
writing (OSSLT)
4
credits in English (1 credit per grade)
 1 credit in French as a second language
 3 credits in mathematics (at least 1 in grade 11 or 12)
 2 credits in science
 1 credit in Canadian history
 1 credit in Canadian geography
 1 credit in the arts (music, art, drama, or dance)
 1 credit in health and physical education
 1/2 credit in civics & 1/2 credit in career studies
(grade 10)
Plus…..
Plus:
 Group 1: 1 additional credit in English, or French, or a
native language, or a classical or an international
language, or a Social Science, or Canadian and World
Studies, Guidance or Co-op

Group 2: 1 additional credit in Health and Physical
Education, or Business studies, or the Arts (dance, music,
art, drama), French or Co-op
Group 3: 1 additional credit in Science (grade 11 or 12)
or Technological Education (grades 9-12), or Computer
Studies, French or Co-op…
(French to be used only twice)

Students in Ontario have many options for post secondary
training…Choose from…
 28+ colleges (for diploma and degrees)
 20 Ontario universities (and many more outside of Ontario)
 Hundreds of private career colleges (ie. Metalworks, Max the
Mutt)
 Over 100 apprenticeship opportunities
 Right into the workplace…
Three math credits are required for your diploma BUT....
• MCF3M0 is required for MCT4C0 (Math for College Technology).
• MCT4C0 is not offered at Cawthra but is available through night school
and is required for many college tech programs
• MHF4U0 Advanced Functions is required for most university science and
business programs, and some social science programs (Prerequisite is
MCR3U0)
• MCV4U0 Calculus and Vectors is required for science, engineering,
architecture and computer science programs (Prerequisite is MHF4UO)
•MDM4U0 Data Management my be used for admission to some business
and social science programs. It can now also be used for some engineering
programs (Prerequisite is MCF3M0)
You are strongly advised to have at least 70% in 3U Science
courses to be successful in 4U Science courses
 For college diploma sciences....there is only one Biology
(SBI3C0), one Chemistry (SCH4C0) and one Physics (SPH4C0)
Cawthra offers Biology but Chemistry and Physics must be taken
through night school or summer school.
University/Degree Programs
 - students considering
university must have a
minimum of 6 U or M
courses to qualify for
admission. ENG4U0 is
required for all programs

- many universities
dictate which U/M courses
are required
Do your research now!
College Diploma Programs
 - students considering
college must have at
least 6 Grade 11 and/or
12 courses. ENG4U0 or
ENG4C0 is required
(higher mark is better)

- many college programs
dictate required courses
Do your research now!
ontariocolleges.ca -info on Ontario Colleges
 electronicinfo.ca - info on Ontario Universities
 Individual college and university calendars
 Apprenticeship pamphlets and documents
 Internet resources
 Cawthra Guidance website
 myBlueprint





Consider a realistic course load for Grade 12.
Dropping a course 2-3 weeks into a semester will
not be an option.
Changes to current selections may be possible.
Consult with your guidance counsellor
Work hard ...be optimistic about your future! There
are many paths to the same destination
Do your research and ensure you have the correct
information.