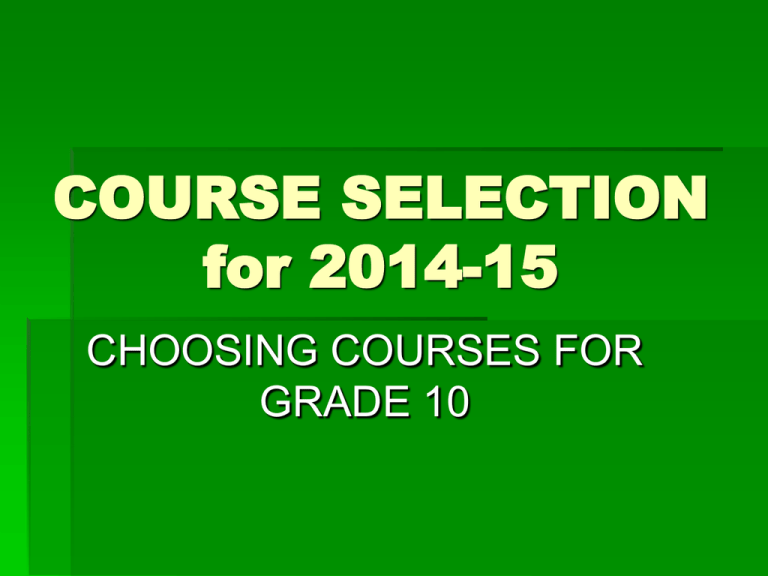 COURSE SELECTION
for 2014-15
CHOOSING COURSES FOR
GRADE 10
PLANNING FOR SUCCESS
 Map out a plan for Grade 10 to 12 on
Educational Planner sheet
 Compulsory credits have been filled in for you; you
decide what level to take them at
 Optional credits need to be selected by you
 Choose 8 courses
 Apply for a study period only after you have earned
20 credits
OSSD COMPULSORIES
 Group 1: One additional credit in English, or French as a second
language,** or a Native language, or a classical or an international
language, or social sciences and the humanities, or Canadian and
world studies, or guidance and career education, or cooperative
education***
 Group 2: One additional credit in health and physical education,
or the arts, or business studies, or French as a second
language,** or cooperative education***
 Group 3: One additional credit in science (Grade 11 or 12), or
technological education (Grades 9 – 12), or French as a second
language,** or computer studies, or cooperative education***
OSSD
 Maximum of 2 credits in Coop and 2
credits in French can count as
compulsory credits
 40 hours of community service
 Successful completion of the OSSLT or
OSSLC
Secondary School
completion in four years
 Students are encouraged to plan for four
years of secondary education
 Boards will receive full funding for up to
34 credits per student
 Individual situations where more than 34
credits are required will be submitted to
the superintendent
 Students on IEP are exempt
French Immersion
F.I. Certificate requires 10 courses, three at the
senior level :
FIF1D1I
FIF2D1I
FIF3U1I
FIF4U1I
MPM1D1I
MPM2D1I
BDI3C1I
EAC4U1I
SNC1D1I
SNC2D1I
HSP3C1I Co-op
CGC1D1I
CHC2D1I
HSP3U1I
GPP3O1I
ADA1D1I
AVI2O1I
PPL3O1I
CHV/GLC2O3I
International
Baccalaureate
 PreBacc (10) and IB courses (11 and 12)
end with the letter 'B'
 Students must be registered in the IB
Program to be enrolled in a PreBacc or
IB course
 Students can register as Certificate
Students taking IB Courses from a
minimum of 4 areas plus TOK
 See school website under Student
Services and International Baccalaureate
PATHWAYS
 Courses at the Grade 10 level:





Academic (D)
Applied (P)
Open (O)
PreBacc (B)
Enriched (E)
PATHWAYS
 Applied courses – lead to C (college)
level courses in Grade 11
 Academic courses –lead to
M(college/university) or U (university)
level courses in Grade 11
PATHWAYS
 Prerequisites AND achievement critical
for success (e.g. 50% in SNC1D is not
sufficient for success in SNC2D)
 Generally a student should have 75% in
grade 9 academic level courses to
continue on that pathway.
PATHWAYS
 Locally Developed – leads to E
(essential/workplace) level courses in
Grade 11
 Science Pathway – SNC1L in Grade 9
then next Science credit is SVN3E
MATH PATHWAYS

Selecting the right math course depends on what type of studies you plan
on pursuing in post-secondary
 MPM1D to MPM2D to MCR3U
 Leads to MHF4U or MCV4U or MDM4U in Grade 12
 Required for programs like Engineering, Sciences,
Business, Mathematics, Kinesiology, etc.
 MPM1D to MPM2D to MCF3M
 Leads to MDM4U
 Required for specific programs within the Faculties of
Humanities and Social Sciences
MATH PATHWAYS
 MFM1P to MFM2P ( highly successful) to
MCF3M
 Leads to MCT4C
 Required for college health and technology programs
 MFM1P to MFM2P to MBF3C1
 MBF3C is suitable for some college programs.
Please check the specific requirements.
 Leads to MAP4C1
 MAT1L to MAT2L to MEL3E
 MEL4E Mathematics for everyday life
SHSM PROGRAMS
 Grade 11 and 12 program
 Earn certifications and trainings within
program.
 Speak to a teacher in Visual Arts or
Technology
 Arts and Culture
 8 credit package including 4 Arts courses
 Construction
 10 credit package including 4 Construction
courses
Check College
requirements
ontariocolleges.ca
Check University
requirements
eInfo
eLEARNING
 If you are interested in taking an
eLearning course please make an
appointment to see your counsellor in
Student Services
SUMMER SCHOOL
 Use summer school to
 Get ahead in credits
 Make up missed credits
 Upgrade your skills and mark
 Credits are offered in class and online
 General info
 If taking a prerequisite at summer school you will
have to see your counsellor to choose the following
course for next year.
 Course Info available June 1
HANDOUTS during period
one:




Choosing Your Courses Instruction Sheet
Westdale Educational Planner
Westdale Course Offerings By Grade
Career Cruising Online Course Selection
Instructions

User name - pupil number (6 digits)
Password – your date of birth
monthdayyear
Career Cruising on line
course selection
instructions
Student Services website
 http://schools.hwdsb.on.ca/westdale
 Go to Student Services, Choosing Your
Courses for information
 From Quick links on left click on Career
Cruising
Course Selection due date
 February 28, 2014
 See your counsellor if you
need help!