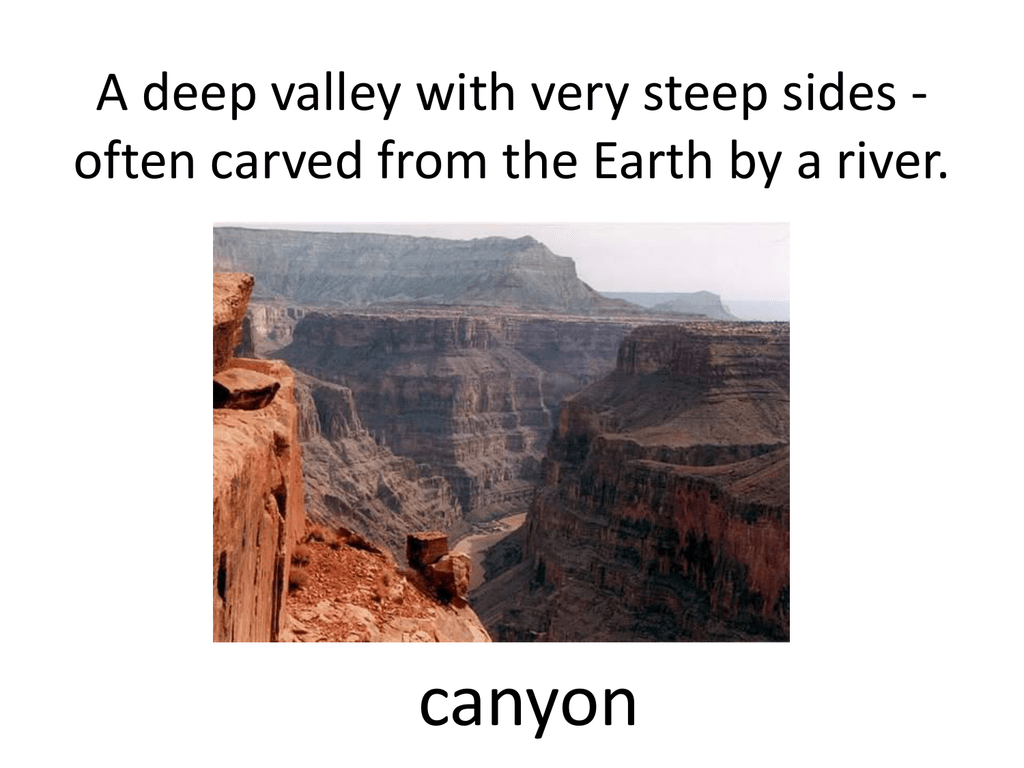 A deep valley with very steep sides often carved from the Earth by a river.
canyon
A body of land that is surrounded by
water on three sides.
peninsula
A type of freshwater wetland that has
spongy, muddy land and a lot of water.
swamp
A hill or a ridge made of sand; shaped
by the wind, and change all the time.
dune
A natural hot spring that occasionally
sprays water and steam above the
ground.
geyser
A flat-topped rock or hill formation
with steep sides.
butte
A ring (or partial ring) of coral that
forms an island in an ocean or sea.
atoll
A body of water that connects two
larger bodies of water; also a part of a
river or harbor that is deep enough to
let ships sail through.
channel
A low, watery land formed at the
mouth of a river. It is formed from the
silt, sand and small rocks that flow
downstream
delta
A long, narrow sea inlet that is
bordered by steep cliffs.
fjord
A pointed piece of land that sticks
out into a sea, ocean, lake, or river.
cape
A low place between mountains.
valley
A narrow strip of land connecting two
larger landmasses, has water on two
sides.
isthmus
Type of freshwater, brackish water or
saltwater wetland that is found along
rivers, pond, lakes and coasts.
marsh
Flat lands that have only small
changes in elevation.
plains
A stream or river that flows into a
larger river.
tributary
The beginning of a river.
source
A shallow body of water that is
located alongside a coast.
lagoon
A large, flat area of land that is
higher than the surrounding land.
plateau
A mountainous vent in the Earth's
crust.
volcano
A body of water that is partly enclosed
by land (and is usually smaller than a
gulf).
bay
• READ PAGES 70-73
• ANSWER SECTION REVIEW QUESTIONS 1,2,4,5
IT IS HOMEWORK IF YOUDO NOT FINISH.