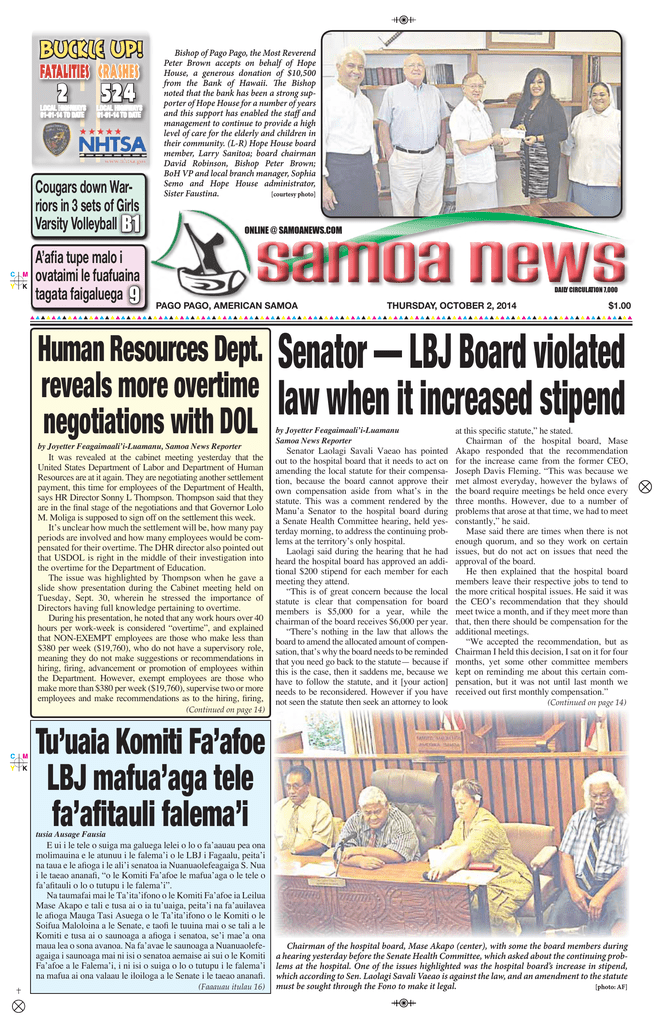 Buckle up!
Fatalities CraSHES
2
LOCAL HIGHWAYS
01-01-14 to date
524
LOCAL HIGHWAYS
01-01-14 to date
office of highway safety
Cougars down Warriors in 3 sets of Girls
Varsity Volleyball B1
C
M
Y
K
A'afia tupe malo i
ovataimi le fuafuaina
tagata faigaluega 9
Bishop of Pago Pago, the Most Reverend
Peter Brown accepts on behalf of Hope
House, a generous donation of $10,500
from the Bank of Hawaii. The Bishop
noted that the bank has been a strong supporter of Hope House for a number of years
and this support has enabled the staff and
management to continue to provide a high
level of care for the elderly and children in
their community. (L-R) Hope House board
member, Larry Sanitoa; board chairman
David Robinson, Bishop Peter Brown;
BoH VP and local branch manager, Sophia
Semo and Hope House administrator,
[courtesy photo]
Sister Faustina.
online @ samoanews.com
Daily Circulation 7,000
PAGO PAGO, AMERICAN SAMOA
Human Resources Dept.
reveals more overtime
negotiations with DOL
by Joyetter Feagaimaali'i-Luamanu, Samoa News Reporter
It was revealed at the cabinet meeting yesterday that the
United States Department of Labor and Department of Human
Resources are at it again. They are negotiating another settlement
payment, this time for employees of the Department of Health,
says HR Director Sonny L Thompson. Thompson said that they
are in the final stage of the negotiations and that Governor Lolo
M. Moliga is supposed to sign off on the settlement this week.
It's unclear how much the settlement will be, how many pay
periods are involved and how many employees would be compensated for their overtime. The DHR director also pointed out
that USDOL is right in the middle of their investigation into
the overtime for the Department of Education.
The issue was highlighted by Thompson when he gave a
slide show presentation during the Cabinet meeting held on
Tuesday, Sept. 30, wherein he stressed the importance of
Directors having full knowledge pertaining to overtime.
During his presentation, he noted that any work hours over 40
hours per work-week is considered "overtime", and explained
that NON-EXEMPT employees are those who make less than
$380 per week ($19,760), who do not have a supervisory role,
meaning they do not make suggestions or recommendations in
hiring, firing, advancement or promotion of employees within
the Department. However, exempt employees are those who
make more than $380 per week ($19,760), supervise two or more
employees and make recommendations as to the hiring, firing,
(Continued on page 14)
C
M
Y
K
Thursday, October 2, 2014
$1.00
Senator — LBJ Board violated
law when it increased stipend
by Joyetter Feagaimaali'i-Luamanu
Samoa News Reporter
Senator Laolagi Savali Vaeao has pointed
out to the hospital board that it needs to act on
amending the local statute for their compensation, because the board cannot approve their
own compensation aside from what's in the
statute. This was a comment rendered by the
Manu'a Senator to the hospital board during
a Senate Health Committee hearing, held yesterday morning, to address the continuing problems at the territory's only hospital.
Laolagi said during the hearing that he had
heard the hospital board has approved an additional $200 stipend for each member for each
meeting they attend.
"This is of great concern because the local
statute is clear that compensation for board
members is $5,000 for a year, while the
chairman of the board receives $6,000 per year.
"There's nothing in the law that allows the
board to amend the allocated amount of compensation, that's why the board needs to be reminded
that you need go back to the statute— because if
this is the case, then it saddens me, because we
have to follow the statute, and it [your action]
needs to be reconsidered. However if you have
not seen the statute then seek an attorney to look
at this specific statute," he stated.
Chairman of the hospital board, Mase
Akapo responded that the recommendation
for the increase came from the former CEO,
Joseph Davis Fleming. "This was because we
met almost everyday, however the bylaws of
the board require meetings be held once every
three months. However, due to a number of
problems that arose at that time, we had to meet
constantly," he said.
Mase said there are times when there is not
enough quorum, and so they work on certain
issues, but do not act on issues that need the
approval of the board.
He then explained that the hospital board
members leave their respective jobs to tend to
the more critical hospital issues. He said it was
the CEO's recommendation that they should
meet twice a month, and if they meet more than
that, then there should be compensation for the
additional meetings.
"We accepted the recommendation, but as
Chairman I held this decision, I sat on it for four
months, yet some other committee members
kept on reminding me about this certain compensation, but it was not until last month we
received out first monthly compensation."
(Continued on page 14)
Tu'uaia Komiti Fa'afoe
LBJ mafua'aga tele
fa'afitauli falema'i
tusia Ausage Fausia
E ui i le tele o suiga ma galuega lelei o lo o fa'aauau pea ona
molimauina e le atunuu i le falema'i o le LBJ i Fagaalu, peita'i
na taua e le afioga i le ali'i senatoa ia Nuanuaolefeagaiga S. Nua
i le taeao ananafi, "o le Komiti Fa'afoe le mafua'aga o le tele o
fa'afitauli o lo o tutupu i le falema'i".
Na taumafai mai le Ta'ita'ifono o le Komiti Fa'afoe ia Leilua
Mase Akapo e tali e tusa ai o ia tu'uaiga, peita'i na fa'auilavea
le afioga Mauga Tasi Asuega o le Ta'ita'ifono o le Komiti o le
Soifua Maloloina a le Senate, e taofi le tuuina mai o se tali a le
Komiti e tusa ai o saunoaga a afioga i senatoa, se'i mae'a ona
maua lea o sona avanoa. Na fa'avae le saunoaga a Nuanuaolefeagaiga i saunoaga mai ni isi o senatoa aemaise ai sui o le Komiti
Fa'afoe a le Falema'i, i ni isi o suiga o lo o tutupu i le falema'i
na mafua ai ona valaau le iloiloga a le Senate i le taeao ananafi.
(Faaauau itulau 16)
Chairman of the hospital board, Mase Akapo (center), with some the board members during
a hearing yesterday before the Senate Health Committee, which asked about the continuing problems at the hospital. One of the issues highlighted was the hospital board's increase in stipend,
which according to Sen. Laolagi Savali Vaeao is against the law, and an amendment to the statute
[photo: AF]
must be sought through the Fono to make it legal.
Page 2
samoa news, Thursday, October 2, 2014
by Joyetter Feagaimaali'i-Luamanu
Samoa News Reporter
MOMENTS IN TIME
The History Channel
 On Oct. 13, 1792, the cornerstone is laid
for a presidential residence in the capital
city of Washington. In 1800, President John
Adams became the first president to reside in
the executive mansion, which soon became known
as the White House.
 On Oct. 15, 1863, during the Civil War,
the submarine C.S.S. Hunley sinks during a test
run in Charleston Harbor, killing its inventor
and seven crewmembers. The Hunley, propelled by
a hand crank that drove the ship's propeller,
would later become the first combat submarine
to sink an enemy warship.
 On Oct. 16, 1916, Pvt. Henry Farr of the
British Expeditionary Force is executed for cowardice after he refuses to go into the frontline
trenches. Farr was one of 306 British soldiers
who were executed for cowardice. They likely
suffered from severe shellshock.
 On Oct. 14, 1939, designer Ralph Lauren is
born in New York. Lauren created the "Chaps"
stonewashed jeans and faded work shirts designed
to appear as if they were from the well-worn
wardrobe of a hardworking Western rancher.
 On Oct. 19, 1958, in Brussels, Belgium,
the World's Fair closes after visits by 42 million people. The U.S. and Soviet exhibition
halls were directly across from one another.
While the Soviet exhibit centered on the technological accomplishments, the U.S. focused on
voting booths, fashions and home furnishings.
Both lost to Czechoslovakia for best exhibit.
 On Oct. 17, 1974, President Gerald Ford
explains to Congress that he gave Richard
Nixon a full pardon for all offenses against
the United States in order to put the tragic
and disruptive scandal behind all concerned.
Ford's decision was condemned and is thought to
have contributed to his failure to win the 1976
presidential election.
 On Oct. 18, 1988, "Roseanne," a television sitcom about a blue-collar American family
starring the comedian Roseanne Barr, premieres
on ABC. Barr's portrayal of the loud, abrasive,
overweight Roseanne Conner was a sharp contrast
to the stereotypical TV housewife in the mold
of "Leave It to Beaver's" June Cleaver.
(c) 2014 King Features Synd., Inc.
ALL PUZZLE ANSWERs on page 14
ELECTION APPEAL HEARING TODAY
The Appellate Division of the High Court
will hear today the appeal to the election challenge brought by Tualauta Candidate Lucia
Bartley against the Chief Election Officer
Tuaolo Manaia Fruean. Last week Associate
Justice John Ward granted a motion allowing
Tualauta Representative Vui Florence Saulo to
intervene in said appeal.
The challenge lodged by Bartley was denied
by the Election Office, noting that Saulo has
satisfied the U.S. National requirement for
candidates for the American Samoa House of
Representatives in accordance with Article II
Section 3 of the American Samoa Constitution.
Bartley then appealed the ruling to the
Appellate Court. Gwen Tauili'ili Langkilde is
the attorney for the Election office and Bartley's attorney is Richard DeSaulles, while
Marcellus Talaimalo Uiagalelei and Toetasi
Tuiteleleapaga represent Saulo.
Last week, Bartley's attorney filed a motion to
supplement the record in accordance with local
statute. The motion, dated September 29, 2014
will be heard tomorrow at 1p.m., along with the
dismissal motion against Barley's petition.
The supplemental motion says that the record
on appeal filed by the Election Office on September 19, 2014 includes exhibits, certified copies
of Saulo's candidate and voter registration file,
however "notoriously absent from Saulo's voter
registration file was any copy of her birth certificate despite a clear, handwritten reference to it on
the list of documents utilized for verification."
The incomplete file presented to the court by
the Election Office appear to be copies of the
same files that petitioner's counsel inspected.
"These documents are still not conclusive
as to the ultimate issue of whether Saulo is a
valid, bona fide US National and subsequently
whether Fruean made the proper determination
regarding her candidacy."
The petitioner states she has reason to believe
that the following agencies and entities do possess
documents relevant to a determination of Saulo's
place of birth: Office of Vital Statistics, Department of Health, Administrative Services, Division of the Archives and Records Management,
Social Security Office for the territory, United
States Army Recruitment Office, Immigration
office and United States Department of State.
Petitioner presented, and the court issued
subpoenas to the Office of Vital Statistics and
DoH on September 18, 2014, however other
subpoenas for other agencies were denied by the
court. Petitioner further seeks the court to grant
motion to issue subpoenas to the Social Security
office, US Army Recruiting office, Immigration
office and United States Department of State.
MOTION TO QUASH
SUBPOENAS BY SAULO'S
In the meantime, Saulo's attorneys, Marcellus Talaimalo Uiagalelei and Toetasi Fue
Tuiteleleapaga have filed a motion to quash the
subpoenas for the Vital Statistic Office and DoH.
According to Saulo's motion, two subpoenas
were issued by the court clerk on behalf of
petitioner. Intervenor Saulo received the filed
copies on September 18, and on September 19,
2014 and the court issued an order directing the
Acting Court Clerk not to issue the subpoenas
that were submitted by Bartley's counsel, "until
or unless the full Appellant Panel has been presented with, heard and decided a motion to supplement the record pursuant to ASCA 4.1043
(a) or motion to correct modify, or otherwise
address the content of the record pursuant to
ACR 1o (e) or both.
Saulo's attorneys argue that while the court
order is clear that the subpoenas should not be
issued until the full appellate has an opportunity
(Continued on page 15)
samoa news, Thursday, October 2, 2014 Page 3
ASDHS to appeal FEMA denial BEST BUY
of Individual Assistance funds
in Nu'uuli (across from Family Mart)
by Fili Sagapolutele, Samoa News Correspondent
American Samoa is conducting a reassessment of the damage done to homes and properties that were affected by this summer's severe
storms, flooding and mudslides, as part of its
plan to appeal the Federal Emergency Management Agency's denial of its Individual Assistance request.
When President Obama declared early last
month that an emergency exists in American
Samoa following the disaster which occurred
between July 29 and Aug. 3, the territory was
only granted Public Assistance and Hazard Mitigation, while FEMA denied Individual Assistance funds.
FEMA said in its denial that the impact to
individual and households during the severe
storms was not of the severity or magnitude to
warrant the designation of Individual Assistance.
which is to help individuals and households that
have suffered losses and have outstanding needs
as the result of a major disaster
According to FEMA, the Public Assistance
program helps fund the repair, restoration, reconstruction or replacement of public facilities that
are damaged or destroyed by a disaster.
It is not to be confused with public welfare
programs.
Eligible applicants include territory and local
governments, Native American tribes, and certain private nonprofit (PNP) organizations that
provide essential governmental services.
Local Homeland Security Department
(ASDHS) Director Iuniasolua Savusa said it's
important for all government departments and
agencies, as well as non-profits to contact his
office at this time if they had any damage during
the recent floods, so that their applications for
public assistance can be reviewed and processed.
During Tuesday's cabinet meeting, ASDHS
deputy director Jacinta Brown revealed that
American Samoa will appeal the denial of Individual Assistance, with Oct. 10 being the deadline to submit the appeal.
She says a team of representatives from government agencies will revisit villages where
homes were damaged by the disaster and information gathered will be a part of the appeal "that
we are pursuing with FEMA" for reconsideration of the denial.
Brown said the purpose is to revisit the
assessment done after the storm to raise awareness to the "uniqueness of our local community"
compared to communities in other states and
territories.
She says calls are constantly being received
by ASDHS from families whose homes were
damaged by the disaster but not covered in the
initial Preliminary Damage Assessments (PDA).
(FEMA spokesman John Hamill had told
Samoa News that the PDAs are 'required' as an
initial step in determining whether supplemental
federal disaster assistance is needed to recover
from an event. However, actual eligibility is not
guaranteed, he said.)
The deputy director also said that other
assessment needs or requirements that are pertinent to the appeal is the impact on potable water
as well any health issues which came about as a
result of the storm. She said that information was
not included in the first assessment, but will be
incorporated into the appeal phase.
Some of the concerns which are being
addressed and raised by agency representatives
involved in this work, are that homeowners may
not have been home during the visitations, which
are held during working hours. Agency representatives will need 'after hour' passes for use of
government vehicles to do this work.
Brown said ASDHS has been informed by
the U.S. Small Business Administration that an
official from this federal agency will not be traveling to American Samoa until the appeal issue
is resolved.
Following Obama's disaster declaration,
the U.S. Small Business Administration (SBA)
announced two weeks ago that it is making lowinterest federal disaster loans available to certain
private, nonprofit organizations (PNPs) in American Samoa.
Meanwhile, FEMA and ASDHS said Monday
in a joint news release that the Public Assistance
process is underway for American Samoa government agencies to get federal help in recovering from the severe storms.
FEMA designated Federal Coordinating
Officer Kenneth Suiso, who is heading the local
recovery, said Public Assistance grants reimburse state and local governments for emergency
measures, debris clean-up, and repair to roads,
bridges and other infrastructure.
"Our mission is to help restore critical infrastructure so communities can recover from a
disaster and support their citizens," he said.
Yesterday, a Joint Field Office (JFO) was
opened in Honolulu where ASDHS, FEMA and
other agencies will continue coordinating support for response and recovery efforts in American Samoa following the severe storms.
According to a statement, the office will be
opened 8a.m. to 4p:30pm. weekdays until further notice. The JFO, which will be for administrative purposes only, will enable effective and
efficient coordination of disaster response and
recovery operations among state, federal and
other agencies.
Yesterday, a Joint Field Office (JFO) was
opened in Honolulu where ASDHS, FEMA and
other agencies will continue coordinating support for response and recovery efforts in American Samoa following the severe storms.
According to a statement, the office will be
opened 8a.m. to 4p:30pm. weekdays until further notice. The JFO, which will be administrative purposes only, will enable effective and
efficient coordination of disaster response and
recovery operations among state, federal and
other agencies.
699-7233
699-7233
EVERYTHING
ON SALE!!
50% OFF
on Marble Granite
Counter Top
USED FAST FOOD
EQUIPMENT AVAILABLE
20% - 50% OFF
on All Other Items
(Windows, Solar A/C,
Ceramic Tiles, Plumbing)
MAKING SPACE FOR NEW STOCK!
IMPORTANT NOTICE
The Fagaima Family will hold a meeting
on Saturday, October 4, 2014
at 3:00 p.m. at Avalogo's resident,
across from Island Image in Tafuna.
All clans of the Fagaima Family
are invited to attend the meeting, for
very important matters will be
discussed.
Please contact Kaio Ah Hing at
731-8136 or 699-7234.
Talofa Video
"KOREAN,
FILIPINO,
MEXICAN
DRAMA
SERIES NOW
FOR RENT"
NEW ARRIVALS
TRANSFORMERS • CHEF
LEPRECHAUN: ORIGINA • PARANORMAL DIARIES
Pavaiai 699-7206 • Nuuuli 699-1888 • Fagatogo 633-2239
"Va'aiga Fou Mo A Taeao!"
"A New Vision for A Brighter Tomorrow!"
Sui Tauva mo Uosigitone
VETERAN'S WELFARE & MILITARY RECRUITMENT
POB 4856, Pago Pago, AS 96799-4856
tel:(684) 677-3182 Landline and Facsimile
Cell: (684) 733-7999
Email: [email protected]om
Website: meleagi4congress.weebly.com
The US Delegate to Washington must maintain a close and effective rapport with the U.S. Department of Veteran's
Affairs. It is imperative that we remain current with all new developments at the VA to better inform our veterans
of those decisions that directly impact their benefits. The much welcomed improvements our new US Secretary of
Veteran's Affairs, Robert McDonald will surely benefit our veterans. Our US delegate to Washington must ensure
that our local office receives sufficient funding to meet the basic needs of our local veteran's, at the very least and
must be committed to further explore other avenues that will assist in providing comprehensive services that our
veteran's deserve. I salute and thank all men and women of our Territory who have served and gave the ultimate
sacrifice, as well as those who continue to serve in our Armed Forces today. I believe our young adults must be
given the opportunity to serve in the Armed Forces if they so choose. I encourage and challenge our military
recruiters to identify, coach and prepare interested students for Congressional nominations to the following United
States Service Academies: United States Military Academy, United States Naval Academy, United States Merchant
Marine Academy and the United State Air Force Academy. The United State Coast Guard Academy compete in a
direct nationwide competitive bidding that has no by-state process. If elected, I shall work hard for our veterans
and military recruitment issues.
MELEAGI SUITONU
PLEASE VOTE FOR
CHAPMAN for Delegate to Congress in Washington, D.C.
Paid for by the supporters of Meleagi for Congress
Page 4
samoa news, Thursday, October 2, 2014
U.S. lawsuit against
Dongwon Industries
for fraud dismissed
Information was not from
'original source' court says
by Samoa News staff
The federal court in Wilmington, Delaware has dismissed a
civil action suit against Dongwon Industries — owner of StarKist
Co., and StarKist Samoa — and four others, who were accused
of using "U.S. citizen straw-people" to fraudulently obtain U.S.
fishing vessel documentation and tuna fishing licenses to fish in
the exclusive economic zone (EEZ) of Pacific Island Nations
for two vessels that are actually Korean owned. Defendants in
the suit include Dongwon, Majestic Blue Fisheries LLC, Pacific
Breeze Fisheries LLC, Jayne Songmi Kim and her sister Joyce
Jungmi Kim, along with their father Jaewoong Kim.
The two sisters listed as owning the two fisheries companies,
i.e. fishing vessels, are the nieces of the Chairman of Dongwon
Industries, Jae-Chul Kim, as Jaewoong Kim is his brother. Court
documents note that Jaewoong Kim used to be an executive of
the South Korean based Dongwon Industries.
The lawsuit was filed in November 2012 by Moore & Company, a Florida based law firm, and included the U.S. government, as plaintiff. The feds, however, declined to intervene in the
case. Plaintiffs claim that the suit arises from false and fraudulent
statements made by defendants to the government for the purpose
of obtaining U.S. vessel documentation and tuna fishing licenses
for two Korean owned and operated purse seiner tuna fishing
vessels. Plaintiffs claim that Majestic Blue and Pacific Breeze
are actually owned by Dongwon, a South Korean company.
Defendants sought dismissal of the suit arguing lack of subject matter jurisdiction and failure to state a claim pursuant to
Federal Rule of Civil Procedure. The defendants also argued
that through its representation, secondhand knowledge of purported information and allegations outlined in the complaint,
Moore & Company brings this action before the court claiming
"it has information of fraud against the government".
However, the defendants assert the lawsuit does not even
profess to have any firsthand, inside information of fraud, but
instead filed the suit based upon publicly available information
and allegations and therefore the complaint should be dismissed
under the False Claims Act's public disclosure bar.
In a 22-page opinion issued early last week, U.S. District
Court Judge Susan Robinson agrees with the defense, on a
number of issues including that Moore & Company "is not an
original source" of information under the FCA.
A footnote in the decision, says the court is "more than a
little alarmed" if the conduct of the defendants, as alleged by the
Moore & Company "goes uncorrected by the government agencies responsible for oversight of the fishing industry."
According to court documents, plaintiffs allege, among other
things, the defendants "set up sham ownership structures using
U.S. citizen straw-people, and fraudulently certified the vessels would be controlled by U.S. citizens. This fraudulent certification allowed defendants to obtain" U.S. certificates, which
allowed them to obtain fishing licenses under the South Pacific
Tuna Treaty (SPTT).
LETTERS TO THE EDITOR
Samoa News welcomes and encourages
Letters to the Editor. Please send them to our
email [email protected]
Box 909, Pago Pago, American Samoa 96799.
Contact us by Telephone at (684) 633-5599
Contact us by Fax at (684) 633-4864
or by Email at [email protected]
Normal business hours are Mon. thru Fri. 8am to 5pm.
Permission to reproduce editorial and/or advertisements, in
whole or in part, is required. Please address such requests to the
Publisher at the address provided above.
© Osini Faleatasi Inc. reserves all rights.
dba Samoa News is published Monday through Saturday,
except for some local and federal holidays.
Please send correspondences to: OF, dba Samoa News,
Box 909, Pago Pago, American Samoa 96799.
Telephone at (684) 633-5599 • Fax at (684) 633-4864
Email advertisements to [email protected]
Email the newsroom at [email protected]
Normal business hours are Mon. thru Fri. 8am to 5pm.
Permission to reproduce editorial and/or advertisements,
in whole or in part, is required. Please address such requests
to the Publisher at the address provided above.
A lone pro-democracy student protester sleeps on an occupied main street outside of the government complex in Hong Kong, Thursday, Oct. 2, 2014. Raising the stakes in their standoff with the
authorities, Hong Kong's pro-democracy protesters threatened to occupy key government buildings
(AP Photo/Wally Santana)
unless the territory's top official resigns by the end of the day Thursday.
NEWS IN BRIEF
Guam businesses look f
orward to carrier visit
HAGATNA, Guam (AP) — Guam businesses are looking forward to an economic
boost when the USS George Washington aircraft carrier visits the island.
The carrier and its 5,500-person crew were
scheduled to dock Wednesday, The Pacific
Daily News reported.
The Washington, which is assigned to Yokosuka Naval Base in Japan, will stop in the U.S.
territory after participating in Valiant Shield
military exercises held near Guam waters in
mid-September.
Past Valiant Shield exercises have always
positively affected the economy of the U.S.
territory, said David Leddy, president of the
Guam Chamber of Commerce.
Visiting military personnel boost business
by going to local restaurants, hotels and shops,
he said.
The visit is expected to bring a spike in economic activity of about $1 million a day.
Residents can help the service members feel
welcome, local business leaders said.
"This can be as simple as extending a warm
'hafa adai' greeting, a friendly smile and courtesy to our tourists. And ... in the case of our
visiting military, thanking them for their service," Leddy said.
The island's military community also has
been preparing for the visit.
This week the Naval Base Guam Facebook
page advised residents to do their shopping on
base before the ships arrive.
Man, hostage dead after
Southern Calif. standoff
HIGHLAND, Calif. (AP) — Authorities
say a hostage standoff at a San Bernardino
County home ended with the shooting deaths
of a woman and a man who was holding her
hostage. Two small children also held hostage
came away safe.
Sheriff's spokeswoman Jodi Miller tells the
San Bernardino Sun that a man called authorities Wednesday afternoon to say his wife,
4-year-old daughter and baby were being held
hostage in their home by a male cousin.
Deputies and a SWAT team responded and
saw the man inside with a shotgun.
They tried to negotiate with the man but
he was defiant, threatening both deputies and
hostages.
Miller says deputies then shot and killed the
man, but gave no further details.
Inside the house they found the woman
dead. Miller says her wounds were consistent
with the man's gun. The children were returned
to their father.
San Francisco to pay $15
Mil. in fatal park hit-run
SAN FRANCISCO (AP) — San Francisco
will pay $15 million to the family of a woman
who was fatally struck by a city pickup truck
last year while she lay with her baby in a public
park. The city's Board of Supervisors approved
the legal settlement Tuesday to 35-year-old
Christine Svanemyr's widower, Vegar, and their
child, the San Francisco Chronicle reported.
Svanemyr was relaxing with her 11-monthold baby and dog in the grass at Holly Park in
the city's Bernal Heights neighborhood on Sept.
5, 2013, when she was run over by a city Recreation and Park Department truck. The parks
gardener who was driving the truck, 58-yearold Thomas Burnoski, was charged with vehicular manslaughter and felony hit-and-run. The
city fired him, and his criminal case is ongoing.
Burnoski says he veered onto the lawn from
a paved pedestrian path to avoid an unleashed
dog. After hitting the woman, he drove to a
work meeting. His lawyer, Robert Waggener,
says Burnoski didn't realize he had hit a person
and that the case was a tragic accident. In
November, the family filed a legal claim against
the city, which is a precursor to a lawsuit.
Former President Carter
celebrates 90th birthday
ATLANTA (AP) — Former President Jimmy
Carter celebrated his 90th birthday Wednesday
in Atlanta, blowing out three candles representing the past, present and future and thanking
family and friends for their support and love.
"It's been a good first 90 years," the 39th president joked before telling the crowd gathered in
a chapel on The Carter Center grounds that he is
looking forward to much more work. Carter and
his wife, Rosalynn, founded the international
health and human rights organization after
leaving the White House.
Carter said his life was most shaped by his
marriage to Rosalynn and growing up in Plains,
Georgia, where he worked and played with black
children who didn't have the same rights as he
because of their race. Carter said he still feels
guilt for not realizing sooner how wrong that was.
Being elected president, he said, was the highlight of his political life. However, he said he's had
the "best times" of his life since establishing The
Carter Center, "this beautiful place on earth that
has set moral and ethical standards that exemplify
what a superpower like America ought to be."
Rosalynn Carter choked up while introducing her husband, telling him she's proud of
him for both his work and the family they built
together. As for what's next, Rosalynn Carter
said only one thing is certain.
(Continued on page 6)
samoa news, Thursday, October 2, 2014 Page 5
PUIPUIA O LE TAMAOAIGA O AMERIKA SAMOA
Na ta'ita'i e Faleomavaega se una'iga tele i le feterale, lea na
lagolago fa'atasi e Kovana Lolo Moliga ma le Fono
Faitulafono a Amerika Samoa ma taofia ai taumafaiga a le
Bumble Bee ma le Chicken of the Sea e fia fa'aofi ai apa
tuna e fai mai i atunu'u 'ese i polokalama o mea 'ai a tamaiti
a'oga a Amerika.
Talu ai lea galulue fa'atasi, ua talia ai na o apa tuna lava e
fa'amama, fa'avela ma tu'u'apaina i Amerika Samoa e
'aufaigaluega i Amerika Samoa e agava'a i le polokalama a
le Malo Tele o le Fa'atauina o Oloa 100% le Gaosia i
Amerika.
Puipui le
Tamaoaiga o
Amerika Samoa
– Palota mo
Faleomavaega
Novema, Aso 4
Talu ai e le mafai ona tauva a tatou falei'a ma kamupani tu'u
apai'a e iai le Bumble Bee ma le Chicken of the Sea, lea e
totogi a latou tagata faigaluega e $0.75 sene i le itula, ua ou
toe talosagaina ai le puipuiga mo a tatou falei'a i lalo o le
tulafono fa'agafua lafoga o le 30A, i se pili ua fa'ato'a pasia
talu ai nei e le Komiti o Tupe a le Senate, lea o le a i luma o
maota e lua o le Konekeresi atoa i le fa'ai'uga o le tausaga
nei.
O lo'o fa'aauau pea e Faleomavaega le taumafaiga mo le
si'itaga o totogi maualalalo mo tagata faigaluega o falei'a,
lea ua si'itia fa'atolu i le .50 sene i le itula, mo ni isi si'itaga
o lo'o fuafuaina i le 2015, ao taumafai Amerika Samoa e
fa'alauteleina lona tamao'aiga.
protecting american samoa's economy
Faleomavaega, with the support of Governor Lolo and the Fono, led a nationwide campaign
opposing Bumble Bee and Chicken of the Sea's efforts to include foreign-cleaned tuna in
America's school lunch program.
As a result of our united stand, only canned tuna cleaned, cooked and canned by American
Samoa's cannery workers qualifies for the USDA's 100% Buy America program.
Because American Samoa's canneries cannot fairly compete against companies like Bumble
Bee and Chicken of the Sea that pay workers $0.75 cents and less per hour to clean their tuna,
Faleomavaega again included 30A tax breaks for our canneries in a bill recently passed by the
Senate Finance Committee, which will be taken up later this year by the House and Senate.
Faleomavaega also continues to address the challenges of minimum wage with wages for
cannery workers having been increased three times by $.50 cents per hour with further wage
increases delayed until 2015 to provide ASG with time to diversify our local economy.
Protecting American Samoa's economy --Re-elect Faleomavaega for the U.S.
Congress November 4 .
This ad is paid for by the Committee to Re-Elect Eni Faleomavaega to Congress
Page 6
samoa news, Thursday, October 2, 2014
➧ NEWS IN BRIEF…
Continued from page 4
Karalina Prendergast, seen here with her little niece Jasmine, on Saturday, Sept. 27 at the
Coast Weeks Family Beach Day, where Karalina had just finished a canoe race as a member of
the All Women's paddling team for Bluesky Communications.
Karalina reported the team had just won their second heat, and later made it to the finals.
She said they all had a great time competing, and the whole day was fantastic!
The canoe races were just one of the many planned activities which made Coast Weeks special
this year. Karalina works as a Customer Service rep at Bluesky, which was one of several private
sector partners that teamed up with the ASG Dept of Commerce to support the community and
[photo: tlh]
celebrate the treasures of our coasts. by B. Chen, Samoa News Correspondent
REGISTRATION NOW OPEN FOR INTERNATIONAL DAY OF THE GIRL
Local women of all ages can now register to be part of the International Day of the Girl (IDG)
celebration set to be held at the Veterans Memorial Stadium on Saturday, Oct. 25.
Activities will begin at 6 a.m. with Tae-Bo, yoga-martial arts, zumba, and combat training
workout sessions. At 10 a.m., a "Walk to Remember" will take place to honor cancer patients,
their families and friends. The Walk coincides with the Breast Cancer Awareness Month campaign spearheaded by the American Samoa Community Cancer Coalition, which is one of the
partners for IDG. Sports demonstrations will follow at 11a.m. for boxing, rugby, handball, basketball, and weightlifting. Health and sports information booths will be open to share nutrition, diet,
training and exercise information.
Mothers and daughters will have the chance to ask questions about opportunities available for
girls to compete locally, nationally, and internationally, as well as learn more about earning scholarships for college from coaches and accomplished athletes. Registration forms are printed in the
Samoa News three times a week. Completed forms must be turned in at the registration booth on
the day of the event, or email them to <[email protected]> or <[email protected]>
SURVEY OF MANU'A BEING CARRIED OUT FOR FIBER OPTIC CABLE PROJECT
Officials from Michels and Paramount Builders traveled to the Manu'a Islands last week to
begin surveying the site in preparation for the laying of the fiber optic cable system there.
The cable is part of the BLAST (Broadband Linking the American Samoa Territory) program
administered by the American Samoa Telecommunications Authority.
Michels is the off island company contracted to carry out the multi-million-dollar project that
is set to be fully completed by February 2015, offering "a high quality telephone, television and
internet system that will be much more advanced than what exists now," said Michels project
engineer Randy Thompson in an initial interview with the Samoa News.
If everything goes as planned, he added, "American Samoa will have one of the best fiber optic
cable systems in the world once the entire project is completed."
Michels has subcontracted local companies Paramount Builders, Maritime Construction, and
Happy Trucking to help them carry out the job. Over a telephone interview with Samoa News
from Manu'a yesterday, a company source said they are currently in Manu'a to survey the island
and once the shipment of supplies and equipment arrive from Tutuila, they will start drilling, digging, and laying the ducts for the new cable system.
The BLAST program, funded by the US Dept. of Agriculture (USDA) Rural Utilities Service (RUS), will transform the territory's legacy copper network into an advanced Fiber-To-ThePremises (FTTP) infrastructure. Simply put, local residents and businesses will have access to this
world class network that will deliver significantly high-speed data, next generation voice services,
and new Internet Protocol Television (IPTV). Samoa News understands that work is already
completed in the Satala area, with Fagatogo to follow suit next week.
Thompson said, "We want to leave behind a legacy for the people of American Samoa, especially the school children who are the ones that will benefit greatly from this new system."
Regarding the local subcontractors, he said, "By taking these locals and training them, American Samoa will have quality people to pick from when we are gone. These people who have
been hired by us will know how to maintain the system and although there is no guarantee that
they will have employment when the project is completed, at least they will have a vast knowledge of how and where everything was placed. They will definitely leave this job with something
that can benefit them for life."
(Continued on page 15)
Judge issues gag order
in case of 5 slain SC kids
LEXINGTON, S.C. (AP) — A judge has issued an order for
all sides to keep quiet about information in the case of a South
Carolina father who authorities say killed his five children.
Local media outlets report Wednesday that Circuit Judge
Thomas Russo approved the gag order in the case of Timothy Ray
Jones Jr. Jones' attorneys wanted pretrial statements by prosecutors, law enforcement officials and potential witnesses kept from
the public. Russo's order also means the children's autopsy reports,
911 calls and Jones' own medical information will not be released.
Deputies think Jones took his children to their Lexington
home and killed them after picking them up from school Aug.
28. Authorities say he later dumped the bodies on a remote hillside near Camden. Jones is charged with five counts of murder.
Man convicted of murder
in killing over loud music
JACKSONVILLE, Fla. (AP) — A Florida man who opened
fire on a carload of black teenagers in an argument over their loud
"thug" music was convicted Wednesday of first-degree murder.
Prosecutors said Michael Dunn, who is white, was shooting to kill
when he fired 10 times into a sport utility vehicle outside a convenience store in November 2012. Jordan Davis, 17, was in the backseat and fatally shot. His three friends in the SUV were not hurt.
Dunn told jurors that he saw Davis, of Marietta, Georgia, roll
down the window and flash what he believed to be a gun after the
two exchanged words. Dunn said he fired in self-defense. "I hear
'.... white boy' just impolite things are being said," Dunn testified.
"I saw the barrel of a gun. I'm petrified. I'm in fear for my life."
Police did not find a gun in the SUV or near the convenience store.
Not guilty plea for man
in White House incident
WASHINGTON (AP) — A man accused of jumping a fence
at the White House pleaded not guilty Wednesday to charges
that he ran into the presidential mansion while carrying a knife.
A lawyer for defendant Omar J. Gonzalez, David Bos,
entered the plea on his client's behalf in a 20-minute proceeding
that grew contentious because of a disagreement between Bos
and U.S. Magistrate Judge Deborah Robinson.
Wearing a standard prison-issue orange jump suit, Gonzalez
sat attentively at the defense table, but did not address the court.
Robinson wants Gonzalez to undergo a forensic screening to
determine whether he is competent to stand trial. Bos opposed
that, telling reporters he does not want to provide the government with an extensive amount of information about his client
that would be revealed by a forensic screening.
Police: Worker hid $1,200
worth of meat in pants
CROTON-ON-HUDSON, N.Y. (AP) — A New York supermarket employee has been accused of leaving the store with
$1,200 worth of meat hidden in his pants.
State police say Gregory Rodriguez, of Ossining, is charged
with fourth-degree grand larceny. Rodriguez works at the A&P
in Croton-on-Hudson. Police were called Monday about the
theft. Rodriguez was arrested Tuesday. A state police spokeswoman, Trooper Melissa McMorris, says the theft occurred in
one day. She did not know if it involved more than one trip to
the store. Rodriguez was arraigned Tuesday night in Cortlandt
and sent to the Westchester County Jail. The court clerk says no
lawyer was present and no plea was entered.
Infamous speed trap town's
police force disbanding
WALDO, Fla. (AP) — The City Council of a tiny north
Florida town known as one of the nation's worst speed traps has
voted to disband its small police force. The Waldo City Council
on Tuesday voted 4-1 to eliminate the department just weeks
after the chief and interim chief resigned because of state investigations into many issues, including an illegal ticket quota.
City Manage Kim Worley told the Gainesville Sun that
a Florida Department of Law Enforcement audit found many
expensive computer and facilities fixes were needed, a cost the
small town cannot afford. The move follows a revolt by five
Waldo officers, who said that they were forced to meet an illegal
ticket quota and that evidence was being stored improperly by
the department's interim chief.
Soldiers, drug gang battle
in Rio de Janeiro slum
RIO DE JANEIRO (AP) — Brazilian soldiers and drug gang
members have engaged in an intense and prolonged gunbattle in
a Rio de Janeiro slum that killed at least one person.
Traffic on a main highway halted at one point, with motorists
sheltering behind cars and buses as soldiers and gang members
traded gunfire Wednesday. The fighting calmed at nightfall, and
authorities confirmed the death of one suspected gang member.
The violence erupted early Wednesday when rival gangs
began fighting in the Mare complex of slums, which have been
patrolled by troops since April. Soldiers then intervened. Mare
is one of several impoverished areas in Rio where police or soldiers have tried to push out gangs and set up permanent posts as
part of efforts to make Rio safer ahead of the 2016 Olympics.
(Continued on page 8)
samoa news, Thursday, October 2, 2014 Page 7
LAND COMMISSION
by Joyetter
Feagaimaali'i-Luamanu
Samoa News Reporter
CAMPAIGN
SPENDING
COMMISSION
A resolution has been submitted seeking the Fono's
confirmation of members to
the Campaign Spending Commission. Governor Lolo submitted the names of Finauvale
Alex Zodiacal, Becca Mageo,
Taui'ili Lauifi, Talaoauau Ah
Sue and Fagamalama Sonoma
Fualaau. Lolo said the nominees are to serve on the Campaign Sending Commission
pursuant to local statute, each
for a four year term, expiring
September 8, 2018.
"Finauvale and Mageo each
previously served with distinction on the Commission from
2008-2012. "I would ask that
you support their respective
reappointments as they desire
to continue to give of their time
and talents to serve the people
of American Samoa."
Lolo said in a letter to the
Fono that he's confident that
these nominees can faithfully
execute the duties and functions
of the Campaign Spending
Commissioner, supervise campaign contributions and expenditures, and ensure compliance
with laws while advocating fair
practices. This resolution was
submitted before the Senate
yesterday morning.
ELECTION BOARD
REGISTRATION
Another resolution submitted before the Senate are
nominations of members to
the Election Board of Registration for Fono approval.
Governor Lolo appointed
Fa'aua'a Kateferu Elisara, Ki
Fatu, Fa'amausili Mau Mau jr,
Rowena I'amanu and Minereta
Thompson
as
members.
According to the Senate Resolution, on September 8, 2010
former Governor Togiola Tulafono in a general memorandum
appointed certain individuals to
said board for four years.
In a letter to the Fono,
Governor Lolo said that each
appointed member is to serve
on the board for four years as
their terms would expire September 22, 2018. Lolo said
Fatu and Fa'amausili are currently serving on the board
with their appointments set to
expire this year.
"It is important to renew
their respective terms of service to ensure the successful
continuation of voter registration operations and appeals. "I
am confident that these nomi-
Ex-Marine who caught jumper
named among Carnegie Heroes
PITTSBURGH (AP) — A retired Marine who caught a
woman as she jumped from the upper deck of a stadium following an Oakland Raiders game was among 21 people honored
with medals and cash from the Pittsburgh-based Carnegie Hero
Fund Commission.
The retired Marine, Donnie Navidad, 61, of Stockton, California, is credited with saving the life of a 20-year-old woman
who dropped from the Oakland Coliseum just after a game on
Nov. 24. Navidad positioned himself to catch the 100-pound
woman and managed to break most of her 45-foot fall.
Navidad was among several people pleading with the woman
not to jump as he maneuvered beneath the woman. She was critically injured, but survived.
"He simply saved her life," Alameda County sheriff's Sgt.
J.D. Nelson said then. "Otherwise, she'd be dead." Navidad was
treated for arm and shoulder injuries, and fully recovered.
Three others honored Tuesday for various rescue attempts died
in the process, so families will receive the awards in their name.
Madison Leigh Wallace, 16, of Vermillion, South Dakota,
and 28-year-old Lyle Eagle Tail, of Sioux Falls, South Dakota,
drowned on March 14, 2013, while saving Wallace's 6-yearold brother, Garrett. The boy fell from rocks into the Big Sioux
River and survived after managing to swim to the riverbank after
slipping from his rescuers' grasp.
Malo Enrique Paul, 16, of Niceville, Florida, also drowned
while rescuing a 15-year-old girl from a rip current off Fort
Walton Beach, Florida, on June 8, 2013.
The other 18 winners were from Georgia, Illinois, Indiana,
Kansas, Montana, New Mexico, North Carolina, Pennsylvania,
Washington, Wisconsin, and British Columbia.
The Carnegie Hero awards are named for Pittsburgh steel
magnate and philanthropist Andrew Carnegie, who was inspired
by stories of heroism during a coal mine disaster that killed 181
people, including a miner and an engineer who died trying to
rescue others.
The commission investigates stories of heroism and awards
medals and cash grants several times a year. It has given away
more than $36 million to 9,718 awardees or their families since
its inception in 1904.
nations can fulfill the function
of the board of registration in
administering policies and procedures while safekeeping the
integrity of the election's registration process in American
Samoa. "I am respectfully
soliciting your support and that
of your colleagues in proving
your consent and approve
for these nominations," Lolo
wrote to the Fono.
NOTICE is hereby given that MATUAIVAOTU OCTOBER MATUA of FAGASA, American Samoa,
has executed a LEASE AGREEMENT to a certain parcel of land commonly known as PAEPAE
TELE which is situated in the village of FAGASA, in the County of ITUAU, EASTERN District,
Island of Tutuila, American Samoa. Said LEASE AGREEMENT is now on file with the Territorial
Registrar to be forwarded to the Governor respecting his approval or disapproval thereof
according to the laws of American Samoa. Said instrument names OKETOPA O. MATUA as
LESSEE.
Any person who wish, may file his objection in writing with the Secretary of the Land
Commission before the 14TH day of OCTOBER, 2014. It should be noted that any objection
must clearly state the grounds therefor.
POSTED:
AUGUST 13, 2014 thru OCTOBER 14, 2014
SIGNED:
Taito S.B. White, Territorial Registrar
KOMISI O LAU'ELE'ELE
O LE FA'ASALALAUGA lenei ua faia ona o MATUAIVAOTU OCTOBER MATUA ole nu'u o
FAGASA, Amerika Samoa, ua ia faia se FEAGAIGA LISI, i se fanua ua lauiloa o PAEPAE TELE, e i
le nu'u o FAGASA i le itumalo o ITUAU, Falelima i SASA'E ole Motu o TUTUILA Amerika Samoa.
O lea FEAGAIGA LISI ua i ai nei i teuga pepa ale Resitara o Amerika Samoa e fia auina atu ile
Kovana Sili mo sana fa'amaoniga e tusa ai ma le Tulafono a Amerika Samoa. O lea mata'upu o
lo'o ta'ua ai OKETOPA O. MATUA.
A iai se tasi e fia fa'atu'i'ese i lea mata'upu, ia fa'aulufaleina mai sa na fa'atu'iesega tusitusia
ile Failautusi o lea Komisi ae le'i o'o ile aso 14 o OKETOPA 2014. Ia manatua, o fa'atu'iesega
uma lava ia tusitusia manino mai ala uma e fa'atu'iese ai.
09/2/14 & 10/2/14
Happy 5th Birthday
to our Beautiful Daughter
Sharlene Hayner
Happy
5th
Birthday
We love you very
much Lene, from your
dad and mom Jefferey
and Pea'e Hayner and
all of your family in
American Samoa,
Samoa, New Zealand,
Australia and the
United States.
ELECTION OFFICE
American Samoa Government
IMPORTANT REMINDER
To ALL Eligible Voters who have not registered to
vote, October 6, 2014 is the LAST day to register
to vote in the 2014 General Election.
For those who have registered, please check your
vote status, either by calling in to the Election Office
at 699-3570/3571 or go online
www.americansamoaelectionoffice.org.
Click on voter status, tab to check your status.
Page 8
samoa news, Thursday, October 2, 2014
C
M
Y
K
C
M
Y
K
This undated photo provided by the Smithsonian and taken from the Washington Monument, shows a giant portrait of a young man, entitle: entitled: "Out of
many, One," created in the landscape of the National Mall, left.
The six-acre portrait by Cuban-American artist Jorge Rodriguez-Gerada was made of sand and topsoil and can be viewed from the Washington Monument, or
(AP Photo/Mark Gulezian, Smithsonian)
from space. The World War II Memorial is in the foreground and the Lincoln Memorial is in the background.
➧ NEWS IN BRIEF…
Artist creates huge dirt
portrait on National Mall
WASHINGTON (AP) — A giant
portrait of a young man's face has
emerged in the landscape of the National
Mall in the first such public artwork
commissioned by the National Portrait
Gallery. Cuban-American artist Jorge
Rodriguez-Gerada created the piece
as a compilation of American faces
after photographing 30 young men on
the National Mall this year, he said
Wednesday. The piece is entitled "Out
of Many, One," the English translation
of E pluribus unum from the U.S. seal.
The six-acre portrait is made of
2,500 tons of sand and 800 tons of topsoil and can be viewed from the Washington Monument — or from space. At
ground level, the artist said it's like a zen
garden. All the materials were donated.
Rodriguez-Gerada said he set out to
create one of millions of possible faces
of America, and he said men between the
ages of 18 and 25 need to be embraced.
It doesn't represent a particular race, he
said, but was a compilation of faces that
were black, brown and white.
The artist used GPS technology to
mark 10,000 points with tiny pegs on
an empty field and then linked them
with twine to create precise lines for the
portrait made of dirt.
Beginning Saturday, visitors will be
able to walk along the portrait's features.
It will be on view through the end of
October. Rodriguez-Gerada has created
similar pieces in the past in Amsterdam,
Belfast and Barcelona, including an
image of President Barack Obama.
The soil and sand eventually will be
reused to improve the National Mall's
turf, park officials said. By November,
the portrait will start to disappear.
"A lot of my work is ephemeral,"
Rodriguez-Gerada said, "because I want
to talk about living in the moment."
Continued from page 6
N. Mexico hopes 'singing
road' curbs speeding
TIJERAS, N.M. (AP) — New
Mexico transportation officials are
hoping a "singing road" along historic
Route 66 will curb speeding. Tigress
Productions is creating the road between
Albuquerque and the mountain community of Tijeras for a new National Geographic Channel series dubbed "Crowd
Control" that will debut in November.
The road uses a series of rumble
strips to create music. The driver will
hear the tune as long as the speed limit
is obeyed. There are only a few such
"singing roads" in the world. Aside
from getting drivers to slow down, state
Transportation Secretary Tom Church
says the rumble strips will keep drowsy
drivers from falling asleep at the wheel.
He says the goal of the experiment is
to change driver behavior in a fun way
by giving them a reward for obeying
the speed limit.
US OKs $1.75 billion
arms sale to Saudi
WASHINGTON (AP) — The
Obama administration has approved
a $1.75 billion sale of Patriot missiles
and associated items to Saudi Arabia to
bolster the air defenses of the key U.S.
ally in the Arab world.
The Defense Security Cooperation
Agency announced Wednesday that
the State Department had approved the
transfer, which includes 202 Patriot
missiles, test targets, launchers, spare
parts and other equipment. It said the
sale would improve the security of
Saudi Arabia, a nation it said has been
an important force for political stability
and economic progress in the Mideast.
In a statement, the agency noted
the move would not change the military balance in the region, where U.S.
policy has long been for Israel to have a
qualitative edge.
Official: 5 kids had contact with Ebola patient
DALLAS (AP) — Authorities say
five students who had contact with a
man diagnosed with Ebola in Dallas
are being monitored but are showing
no symptoms of the disease.
Dallas Independent School District Superintendent Mike Miles said
Wednesday that the students were in
school this week after possibly being in
contact with the man over the weekend.
But he says they're showing no
symptoms and are now being monitored at home. Health officials say the
disease is only spread by people with
symptoms, such as diarrhea or vomiting. As an added precaution, Miles
says additional health and custodial
staff will be at the five schools the students attend. The unidentified man is
the first person to be diagnosed with
Ebola in the U.S. He's been in isolation
at a Dallas hospital since Sunday.
Threat leads to an evacuation of Sandy Hook school
MONROE, Conn. (AP) — A bomb
threat called into Sandy Hook Elementary School on Wednesday led authorities to order students, including many
who lived through the 2012 massacre,
out of the building.
Police checked the school building
and grounds after the threat was received
at 9:30 a.m. and did not find evidence
of danger, according to Monroe Police
Lt. Brian McCauley. He said the evacuation was ordered as a precaution and
the investigation is continuing.
"All students and staff are safe,"
Newtown First Selectman E. Patricia
Llodra said in a written statement. "The
building and grounds will be thoroughly
searched and cleared of any concern."
After the December 2012 shootings, students enrolled at Sandy Hook
Elementary School in Newtown began
taking classes at a school in the neighboring town of Monroe, also called
Sandy Hook Elementary. The original
school building was torn down last year.
Denmark votes to send
jet fighters to Iraq
COPENHAGEN, Denmark (AP) —
Danish lawmakers have confirmed the
government's proposal to send seven
F-16 fighter jets to join an international
coalition to take part in airstrikes against
the Islamic State extremist group.
In a 94-9 vote with 76 absentees,
lawmakers on Thursday sent four operational planes and three reserve jets
along with 140 pilots and support staff
for 12 months.
The fighters will be based in Kuwait
and will not deploy in Syria.
The Danish contribution also
includes some 120 military trainers to
school Iraqi and Kurdish fighters battling the Islamic State group on the
ground. The U.S.-led coalition is contributing a wide range of efforts, from
carrying out airstrikes to providing military assistance and humanitarian aid.
John Wayne's heirs lose
'Duke' legal battle
SANTA ANA, Calif. (AP) — John
Wayne had a two-fisted image but heirs
of the late movie star have lost a legal
throw-down over use of his nickname,
Duke. A federal judge in Southern
California on Tuesday dismissed a
lawsuit that John Wayne Enterprises
filed against Duke University in North
Carolina.
The two have squabbled since 2005
over use of the name. The university
objected last year when Wayne's heirs
tried to register the name "Duke" to
market bourbon and other alcoholic
beverages. Duke University said that
could cause confusion and diminish its
own trademark.
Wayne Enterprises sued, asking the
judge to rule on the matter. But U.S.
Judge David Carter in Orange County
dismissed the suit, saying his court
doesn't have jurisdiction.
Messages seeking comment from
Wayne Enterprises weren't immediately returned Wednesday night.
(Continued on page 12)
A'afia tupe malo i
"OT" le fuafuaina
tagata faigaluega
Lali
Le
tusia Ausage Fausia
C
M
Y
K
Na taua e le Fa'atonusili o le Matagaluega o Tagata Faigaluega a le malo ia Sonny Thompson i le fonotaga a le Kapeneta
i le aso Lua na te'a nei e fa'apea, o le taimi e totogi atu ai e le
malo tupe i tagata faigaluega ona o ova taimi le fuafuaina lelei, o
le a'afia fo'i lea o tupe a le malo ona o le fa'atamala.
O lea saunoaga mai le susuga a Thompson, na tuuina atu ina
ua mae'a ona ia fa'alauiloa le sauni o le malo e totogi atu tupe
mo ova taimi a tagata faigaluega o le Matagaluega o le Soifua
Maloloina, lea ua mae'a ona fa'amautu i lalo o se maliliega sa
faia ma le Matagaluega o Leipa a le malo tele (DOL), ma ua
sauni e tu'uina atu i le alii kovana mo le sainia ma fa'amaonia.
Saunoa Thompson e fa'apea, o le mataupu i ova taimi a tagata
faigaluega, na amata fa'amanatu mai lava i le masina o Ianuari
2013 ina ua fa'atoa tula'i mai le nofoaiga fou lenei, ae foliga
mai o lea lava e to'atele matagaluega ma ofisa a le malo e le o
mulimulita'i i ai, ma o lo o maitauina pea fo'i le fa'asala ai o le
malo o Amerika Samoa e le 'DOL', i le le usitaia lea o ta'iala e
talafeagai mo itula ova taimi.
Na umi se taimi na fa'aalu e Thompson e fa'amalamalama
ai le tulafono o ova taimi, atoa ai ma le auala e tatau ona
fa'atonutonu ai itula ova taimi o tagata faigaluega a le malo, ina
ia taofia ai le tupu soo o le fa'afitauli o le te'i lava ua i ai itula
ova taimi ae le o i ai ni galuega e ono galulue ova taimi ai fua ni
tagata faigaluega a le malo.
"O le ki atoa o le le toe i ai o ni itula ova taimi a tagata faigaluega, o outou ta'ita'i o lo o gafa ma tagata faigaluega, e le
gata e tatau ona outou mulimuli i le tulafono, ae tatau fo'i ona
outou fa'amalosia le tulafono o ova taimi", o le saunoaga lea a
Thompson.
O se fa'ata'ita'iga o le tausisi i le tulafono e pei ona taua
e Thompson, e tatau ona ave taimi o ia tagata faigaluega i le
aoauli, ma ia mautinoa e manava le tagata faigaluega i le taimi
tonu e manava ai.
"E le fa'apea e alu le tagata faigaluega e malolo mo le 15
minute, pe alu fo'i i le fale fa'amasino i se mataupu o lo o
mana'omia mai ai, ae fa'aauau pea ona totogi o ia i itula ia, e
tatau ona fai le mea sa'o, afai e le o faigaluega le tagata i le taimi
lea, e le tatau ona totogia ai fua o ia", o le toe fa'amalosi lea a
Thompson i le kapeneta.
Na taua fo'i e Thompson e fa'apea, o le isi fa'afitauli o lo o
maitauina i ova taimi, e te'i lava ua manu a'e ni itula ova taimi
ma le faaupuga sa faaputu i faila a le ta'ita'i sa i totonu o lana
kesi, ma taumafai e finau i le malo e totogi ova taimi nei, e aunoa
ma le fa'amaninoina po o fea e mafua mai ai nei ova taimi.
(Faaauau itulau 15)
C
M
Y
K
Call today to reserve or place your order 699-2397
samoa news, Thursday, October 2, 2014 Page 9
Saunia: L.A.F./Naenae Productions
MOLIAGA FA'ASAGA I TAMA TAALO O LE MANU SAMOA
Na faaleaoga i le aso ananafi ia moliaga o le faaoolima faasaga i tama taaalo e toalua o le
Manu Samoa Taitoafitu, lea na faaulu i le Faamasinoga Faaitumalo e se alii sa tuuaia i laua i lo
la faaoolima ia te ia. Na tulai i luma o Faamasino Mata Tuatagaloa ia Alatasi Tupou ma Patrick
Faapale ma sa faaulu e le susuga Leuluaialii Malama o le itu a leoleo le talosaga ina ia toe faaui
i tua ia moliaga.
Ina ua fesiligia o ia i le mafuaga, na tali le susuga Leuluaialii e faapea, ua tusi atu le na aafia
ina ia toe faaui i tua lana tagi ona ua uma ona toe faaleleia le latou feeseeseaiga ma i laua ua
molia. Na talia e Faamasino Tuatagaloa le talosaga ae na ia fautuaina i laua ua molia e le 'alo le
tulafono i se faasalaga tatau pe afai la te toe tulai i le Faamasinoga ona o le solia o se isi tulafono.
Na saunoa le tamaitai faamasino, o i laua o ni tagata taaalo ua silafia uma e le atunuu ma o lo o
fai ma sui o Samoa i taaloga faavaomalo, ma e tatau foi ia i laua ona la faia se faataitaiga lelei
mo tupulaga talavou o le atunuu.
O Alatasi Tupu o se tasi o tama taaalo e 12 ua filifilia i le Manu Samoa Taitoafitu ua sauna atu
mo le taamilosaga a le faalapotopotoga o iuni lakapi i le itulagi o le Oceania po o le FORU, lea
na siamupini ai i le tausaga na tea nei, faapea le sauni atu mo le vae muamua o le taamilosaga
taitoafitu faavaomalo a le IRB I Gold Coast Ausetalia i le masina nei.
MAUA FOI LE ISI AUIVI I SAVAII
O lo o i ai nei i le falemai i Motootua se auivi sa maua mai i le vaiaso na tea nei, ma o lo o
faatino i ai suesuega a le vaega faapitoa a leoleo ma fomai. O lea auivi ua faamautu mai e le sui
komesina o le Matagaluega o Leoleo, le susuga Fauono Talalelei Tapu, o se auivi a se tagata
soifua. E faapea le faamatalaga a leoleo, o le vaiaso na tea nei, na logoina ane ai lo latou ofisa i
Tuasivi e nisi o le Ekalesia Katoliko mai Auala, i se auivi sa latou mauaina, ao eli le oneone mo
le faatinoina o le galuega o le latou malumalu tapuai fou lea o lo o galulue ai.
O sui la o le ekalesia sa logoina leoleo, ma oo atu ai loa ma aumai le auivi ma tuuina atu i le
vaega faapitoa suesue a le auaunaga tau le soifua maloloina i Tuasivi. Ua auina mai nei lea auivi
i le falemai i Motootua ma o lo o faatino i ai suesuega a fomai. O le lua ai lenei o auivi ua maua
mai Savaii i lenei tausaga. O le masina o Aperila i le tausaga lenei, na maua ai se auivi o se tagata
mai le afioaga o Gautavai, o lea auivi o lo o talia pea se tali mai i suesuega faapitoa faafomai.
Ua talosgaina foi e le Matagaluega o Leoleo le mamalu ole atunuu, poo se tasi o silafia se
faamatalaga e uiga i lenei mataupu ina ia faafesootai se ofisa o leoleo o lata ane, ina ia mafai ona
maua vave ai se tali o lenei suesuega ma iloa ai le tagata tonu e ona lea auivi.
SU LE MALO MO LE $30 MILIONA
Na feiloai i le Faamasinoga Maualuga i le aso ananafi ia itu o lo o aofia i le mataupu e faatatau
i le su e $30 miliona tala a le tina o Christine Wilson faasaga i le malo, e soalaupuleina tuutuuga
o lenei mataupu. E pei ona lipotia muamua i a tatou tala fou, o lea su faasaga i le malo e mafua
mai i le maliu ai o le alo o lea tina, o Hans Dalton, o se alii e le atoatoa le malosi o lona mafaufau,
ao taofia i lalo o le vaavaaiga a leoleo i le toese i Tafaigata i le 2012.
O le feiloaiga i le aso ananafi o le amataga lea o feiloaiga a le o lo o tagi ma lana loia, le
susuga Leuluaialii Olinda Woodroffe, ma le vaega o Faamasinoga i le iloiloina o itu o lo o
faavae ai le su a lea tina. E lei faatagaina le au tusitala i lea feiloaiga ae na faaalia e Leuluaialii
e faapea, afai e le maua se maliega autasi i le faaiuga o ia feiloaiga, o le a faaauau loa le su i le
Faamasinoga. Fai mai a ia, o lo o ia taumafai ina ia maua se maliega autasi o lea mataupu ina ia
puipuia ai le tamaliiaga o i latou uma ua aafia e aofia ai le ua maliu, o lona aiga ma le atunuu.
O lo o su e le tina le Matagaluega o Leoleo ma Falepuipui ma le Matagaluega o le Soifua
Maloloina i le maliu o lona alo, o Dalton lea na maua atu ua maliu i totonu o se kalone vai i le
toese i Tafaigata i le aso na sosoo ai ma le aso Kerisimasi o le 2012.
MU TELE I VAITELE
Na sasao ane se mu i le afiafi o le aso Lua i Vaitele i le vaimea o lo o i ai le tele o pisinisi ma
fale gaosi oloa. O le taimi o le manava o galuega i le afiafi na tulai mai ai lea faalavelave ma o le
vave atu o le vaega o le tineimu na mafai ai ona taofia le sosolo o le malaia lea na semanu e aafia
ai nisi o pisinisi lalata ane. Na faaalia e le faauluuluga o le Pulega o Tautua Tau Faalavelave
Faafuasei ma Fuimu, le tofa Luailepou Lelevaga Fouina Mupo, o lea fale o se mea totino a le
afioga Muagututia George Meredith, o se tasi o alii faipisinisi sa avea foi ma sui faipule o le
Palemene, ma sa faaaoga i se tasi o ana pisinisi i tausaga ua tuanai.
Fai mai a ia, sa faaaoga lea fale e teu ai mea totino a ana pisinisi. Na faaalia e Luailepou, sa
faigata le latou galuega ona ua sosolo le mu i itu uma o le fale, ma e faatolu ona taumafai atu ma
uma le suavai. Peitai, na iu lava ina manuia a latou taumafaiga ma tineia afi.
Na matua faaleagaina uma le fale na aafia ma mea totino sa i ai i totonu i lea malaia ma o lo
o fa'aauau pea suesuega a le ofisa o le tinei mu i le mafuaaga o lea malaia.
Page 10
samoa news, Thursday, October 2, 2014
Tusia: Akenese Ilalio Zec
Vaega: 80
Fa'atalofa atu i lou alafa'i mai i le manuia i
lenei taeao fou, i le alofa ma le agalelei o lo tatou
Matai oi le lagi. E ao ai ona o tatou fa'apea ifo,
"Le Atua e, e silisili lava Oe i mea uma matou te
manatu i ai, e leoleoina ai i matou mai mala ma
faigata o le soifuaga nei. ia e alofa ma fa'atasi
mai Lou Agaga Pa'ia ma i matou i lenei aso ina
ia i'u ai i le manuia fuafuaga uma, a'o le vi'iga
ma le fa'amanu matou te fa'afo'i atu i Lau Afio e
fa'avavau, fa'avavau lava, amene."
Manatua fo'i, e tau faigofie le malaga atu i
Tula, aua e mo'i lava e mamao, ae e le a'e le
auala, ae o le nu'u o lo'o nonofo ai Paulo ma
Eseta, e tu le pasi i Amanave, ona sopo ai lea
i luga o le mauga, e aga'i atu i le nu'u o lo'o
nonofo ai. Ua taunu'u le pasi i Amanave, ma ua
fai ai le malologa a i latou uma o le a sopo i luga
o le mauga ma aga'i atu ai i o latou aiga. O lea la
ua saofafa'i ifo nei i lalo o le la'au tele o lo'o tu i
talane o le auala e amata ai le ala sopo.
O le taimi atoa lava a'o alu le malaga a Paulo
fa'apea fo'i le malaga a le Fa'afeagaiga i a Sila, o
le taimi lea, ua le ma tu loimata o si o la tuafafine
o Salamasina. O lea ua nofonofo fo'i na o ia i lo
la fale ma lona to'alua Palagi o Larry, ua le mapu
mafaufauga o le teine, e fai o lona popole alofa
i nai ona tuagane, ae o lona popole fo'i i si ana
fanau o lo'o a'o'oga i Amerika, e le i toe maua
mai se tala po'o a mai.
O le tausaga mulimuli lenei o lana tama teine
i lana a'oga o lo'o i ai nei, ma o le teine lenei,
e 'ese le atamai, ma ua iloa lelei lava e le aiga
o Salamasina, na ola a'e lava Caroline Vaitimaleata o ona uiga lelei ma le tausa'afia, sa mata'i
pea e le aiga o Sala. E moni lava ua malaga atu i
atunu'u mamao ona o a'oa'oga ma le sa'iliga o le
poto ma le atamai, ae e sau lava le loto o le teine
lenei i le aiga o lona tina.
O lo'o nonofo le fanau a Salamasina ma
Larry i le aiga o Larry, ma ua avea lea ma ala ua
mafana ai le mafutaga a Salamasina ma matua
o Larry, aua o le upu a le tama'ita'i, a fai loa le
to'alua o le tagata, ua lua ona aiga, o le aiga o
lona to'alua ma lona aiga, ia fai tutusa, 'aua ne i
manatu ifo le tagata ua na o lona aiga, e leai, ia
tutusa le tautua i aiga uma e lua, ona leai lava lea
o se pisapisao.
Ae e moni lava la o le aiga o si tamaloa Palagi,
ae o le 'ese'esega tele o lo'o ta'oto ai nei, e leai
ni fa'alavelave ma ni aga Fa'aSamoa a le aiga o
Larry, a'o Sala, ia e le fia manatua e le teine, ona
o mea uma lava e le mafai ona fa'aletonu ai Sala
i le tautuaina o lona aiga, ae maise o si ona tuagane ua nofo mai i le aiga i tua. Ua fa'asolosolo
nei mafaufauga o Sala, ma ona manatu e fa'apea,
ma'ima'u pe ana tupu mai lenei mea i fanua ma
'ele'ele o lona aiga, ae ua ma'ea mai le a'oga a
lana tama lea o Caroline Vaitimaleata, ona o lo'o
a'oga fa'aloia le tama'ita'i. E le gata i lea, ae tele
fo'i isi mataupu o lo'o tauave e le tama'ita'i lenei.
A'o i ai fanau a Sala ma Larry i atunu'u
mamao mo a'oa'oga, sa o latou maua pea le
avanoa e feiloa'i ai ma fanau a isi tuagane o
Sala o lo'o nonofo i Amerika, ma ua maua le
mafutaga mafana e fetufa'ai ai i mea lelei aua
aiga. O le galuega fo'i lea o lo'o fai e le isi uso o
Paulo o lo'o i Amerika, e vala'au i tamaiti mo sa
latou fa'atasitasiga, ma ua fa'apea lava ona fai.
O le fanau la a Sala, e mamafa lava i ai le loto o
lona tuagane o lo'o i Amerika, ona o le itu lenei.
Manatua fo'i, o tamaiti e 'afa Samoa, 'afa o latou
itu Palagi, e i ai fo'i la taimi e aliali ai itu Palagi
o le fanau a Sala, o le mea la lea na popole lava i
ai lona tuagane lea. Ae peita'i, sa mamau pea le
ama o le va'a na folau, ona ua uma ma ua ma'ea
ona a'oa'o e lo latou tina, mai lava i lo latou laiti
se ia o'o ina matutua.
Fai mai, o tuagane e to'alua o Sala o lo'o i
Amerika, e tiga lava ona le lava le simili a nai
toeai'ina, ae taumafai lava e fai atu se tala i le
fanau a Sala i taimi e fa'atasitasi ai, ae fa'alogo
mai toeai'ina o fa'apea ane i ai tamaiti, "Uncle,
'aua nanu mai oe, fa'aSamoa mai, iloa matou
tautala Fa'aSamoa, malamalama fo'i matou
Fa'aSamoa, 'aua nanu mai oe, le malamalama ai
matou." Ua alu le tali e, a nai toeai'ina ma a la
fanau i lea taimi. "O mea a gei ga ou fai aku ai, o
mea a gei." E faia pea…
Fautua Lolo i le Kapeneta lagolago mataupu "Veto Override"
tusia Ausage Fausia
Ua fautuaina e le alii kovana ia Lolo Matalasi Moliga lana Kapeneta, ina ia galulue fa'atasi
e faia auala uma e lagolago ai le mataupu o le
'veto override', lea ua sauni le atunu'u e palota i
ai i le palota tele o le masina fou.
Saunoa Lolo e fa'apea, o le tuu atu o le malosi
i le Fono Faitulafono latou te suia ai se fa'aiuga
sa faia e le kovana e teena ai se tulafono sa pasia e
le Fono, o le tuuina atu fo'i lea o le malosi i tagata
nuu latou te faia ai fa'aiuga mo i latou lava.
"O le taua o le mataupu lenei, o le a atagia mai
ai le atoatoa o le ituaiga faigamalo fa'atemokarasi
o lo o tatou galulue ai, e ala i le tuu atoa mai lea
o le malosi tatou te faia ai lava e tatou fa'aiuga
mo le atunuu, e pei ona maua e le konekeresi a
le Iunaite Setete le malosi e liliu ai se fa'aiuga
a le peresetene e teena ai se tulafono na pasia e
le konekeresi, e tatau fo'i ona fa'apena le fono
faitulafono a Amerika Samoa", o se vaega lea o
le saunoaga a Lolo.
"Ua silia i le 100 tausaga o pulea tatou e le
faigamalo o lo o tatou i ai nei, sa tatou amata
mai i le faigamalo faamiliteli, sosoo ai ma le
faigamalo mai le Initeria, o le taimi nei, ua tofia
lava e tatou o tatou ta'ita'i, peita'i e le o atoatoa
ai lava le tuuina mai o le malosi tatou te faia ai
fa'aiuga uma mo le manuia o tatou lava tagata",
o le isi lea saunoaga a Lolo. "O le taimi nei, ua
matua manaomia le faia o se suiga, ina ia tuu atu
le malosi i le Fono Faitulafono latou te faia ai
faaiuga, e aofia ai ma le malosi latou te teena ai
se faaiuga sa faia e le kovana i se pili tau faaofi
na pasia a le Fono Faitulafono", o le isi lea saunoaga a le alii kovana.
"Ave le malosi lena i le Fono Faitulafono
latou te faia ai le fa'aiuga fa'ai'u i se mataupu, o i
latou fo'i ua o lo o fai ma leo o le atunu'u i totonu
o le Fono", o le isi lea saunoaga a le ali'i kovana.
Saunoa fo'i le alii kovana e fa'apea, "ou te
iloa e eseese uma lava o tatou lagona e fa'atatau
i le mataupu lenei, ae talu ai o tatou o ta'ita'i, e
tatau fo'i ona tatou tula'i atu ma fai se isi la'asaga
mo le manuia o le atunu'u".
"Ou te talosagaina atu i le tatou kapeneta, ina
ia tatou lagolagoina lenei mataupu, fesoasoani
e fa'amalamalama i o tatou tagata le taua ma le
aano moni o le mataupu lenei, ina ia faigofie ai
ona faia a latou fa'aiuga e tusa ai o le mea ua
latou iloa", o le isi lea ana saunoaga a Lolo, ma ia
fa'alauiloa ai i le kapeneta lona lagolagoina fo'i
o le mataupu e fa'atatau i le 'veto override' e pei
ona tau mafai mai i ai le fono faitulafono.
O le masina na te'a nei na tofia ai e le alii
kovana se Komiti Fa'apitoa e gafa ma le
faia o faatalatalanoaga i luma o le atunu'u, e
fa'amalamalama atili ai le aano o le taumafaiga
lenei, ma ua ia fautuaina foi le kapeneta, ina ia
fesili i le komiti pe afai e i ai ni fesili e fia malamalama atili ai i le mataupu lenei.
MAGALEI — Solomua
tagata lima vaivai le le
tausi soifua maloloina
tusia Ausage Fausia
Na taua e le afioga i le ali'i Senatoa mai le Itumalo o Tualauta
e fa'apea, e solomua lava i tagata lima vaivai le le tausisi i le
tausia lelei o le latou soifua maloloina, ma atili ai ona alu tupe a
le falema'i e togafiti ai i latou, ae fa'aauau ai lava ona "safa tagata
totogi lafoga" i le tau totogiina o le lafoga o totogi e 2% o lo o
fesoasoani i le falema'i.
O lea saunoaga mai ia Magalei Logovi'i, o sana tali lea e tusa
ai o le mataupu lea na fa'amanino e le Komiti Fa'afoe o le LBJ,
i le mafua'aga ua ala ai ona a'e se manatu i le Komiti Fa'afoe e
fa'apau le tau e vaai ai le foma'i i le $5, lea na amata aloaia ananafi.
Na taua e le Ta'ita'ifono o le Komiti Fa'afoe ia Leilua Mase
Akapo e fa'apea, e silia i le to'a 10 tagata mai aiga lima vaivai o
le atunu'u e telefoni atu i le Komiti Fa'afoe ma le falema'i i aso
uma, e talosaga atu pe mafai ona tuutuu i lalo pili a le falema'i, ua
le gafatia e i latou ona totogi le $15 sa i ai.
Na taua e eilua e fa'apea, sa matua iloilo toto'a e le Komiti
Fa'afoe talosaga a le atunuu, toe vaavaai i fuainumera o le 87% o
aiga o le atunu'u e aofia i le lisi o aiga e vaivai le tamaoaiga, ma
faia ai loa le fa'aiuga o le a talia le talosaga ina ia tuutuu i lalo o
le $5 le totogi e vaai ai le foma'i.
Saunoa Magalei e fa'apea, e solomua lava i tagata o lo o
fa'aigoaina o "aiga lima vaivai" le tausisi i le tausiga o le latou
soifua maloloina, o le mafua'aga fo'i lena e faatele ai ona o i le
falema'i e vaai le foma'i.
"O matou nei ua iloa e taugata pili a le falema'i, e tausi lava
taumafa paleni mo le soifua maloloina", o le saunoaga lea a
Magalei.
"E le taitai kea tagata lima vaivai i le tulaga taugofie lea ua i ai
pili a le falema'i i le taimi nei, ae o le a fiafia ai latou i le faigofie
lea ma taugofie le totogi e vaai ai le foma'i", o le isi lea saunoaga
a Magalei.
Ae o le itu e pito sili ona leaga ai le tulaga lea e pei ona saunoa
Magalei, o tagata ia e faitio latou te le gafatia ona totogi le $15, o
i latou na o lo o tumu ai fale Bingo i po uma i le tau o le paketi e
ta'i $20, ao lea lava e safa ma pologa tagata totogi lafoga e totogi
le lafoga o totogi o lo o ave mo le falema'i.
Na saunoa Leilua e fa'apea, talu ona fai suiga i pili a le falema'i
i ni nai masina e lei mamao atu, ua vaaia le faatupulaia o tagata o le
atunuu ua o atu i le falema'i, ma ua mafai ai fo'i ona maua le isi tupe
fa'aopoopo mo le falema'i, e ui o lea ua fa'aitiitia le tupe e totogi.
Na taua fo'i e afioga i alii senatoa ia LeAtualevao Asifoa ma
Laolagi F.S. Vaeao o la atugaluga i le faaiuga ua faia e faaitiitia
ai pili a le falema'i, ona o lo o popole ina ne'i fa'aitiitia atu ai ma
tupe maua a le falema'i.
Saunoa LeAtualevao e fa'apea, na te matua lagolagoina lava
le lafoga o totogi e 2% o lo o tuu atu mo le falema'i, ae afai loa o
le tulaga lea ua i ai le faaitiitia o pili a le falema'i, ona foliga mai
loa lea o le a ia lagolagoina le tatau lea ona taofi loa le toe tuuina
atu o le lafoga o totogi e 2% mo le falema'i.
Na faaiu felafolafoaiga a senatoa ma sui o le komiti faafoe, i le
talosagaina lea e Leilua o afioga i senatoa, e taua tele le fesoasoani
a le 2% mo le falema'i i le taimi nei.
Fesootai mai i le tusitala ia [email protected]
Le afioga i le ali'i Senatoa ia Magalei Logovi'i.
[ata: AF]
samoa news, Thursday, October 2, 2014 Page 11
OFFICE OF THE GOVERNOR
PAGO PAGO AMERICAN SAMOA 96799
Proclamation
DOMESTIC VIOLENCE AWARENESS MONTH
OCTOBER 2014
WHEREAS, every individual deserves to live in a home or place that provides comfort and safety. Many children
suffere or witness abuse in their homes, creating a legacy of abusers and victims. Domestic violence will spill
over into school and the work place, affecting people from all walks of life.
WHEREAS, in our territory there are strict laws intended to hold abusers accountable by bringing them to
justice, but laws are not enough. Awareness and vigilance in identifying abuse as well as reporting such abuse
must be supported and encouraged.
WHEREAS, education and awareness of attitudes or beliefs that perpetuate domestic violence remains the best
defense. A coordinated effort involving community leaders, government agencies, faith based organizations, and
various community groups, is needed to stem out domestic violence.
WHEREAS, the theme for this year's campaign is "STRENGTHENING FAMILIES AND COMMUNITIES".
NOW, THEREFORE, I, LOLO MATALASI MOLIGA, Governor of American Samoa, by virtue of the authority
vested in me, do hereby proclaim OCTOBER 2014, as Domestic Violence Awareness Month in American Samoa. I
encourage all residents of American Samoa to join in this vital cause for the protection of the victims of domestic
violence.
IN WITNESS WHEREOF, I have hereunto set my signature and affix the Seal of my Office on this 15th day of
September, in the year of our Lord two thousand and fourteen.
Poloa'iga Fa'alaua'itele
TALU AI, ona e tatau i so'o se tagata soifua i so'o se aiga ona maua le malupuipuia ma saogalemu lelei. O le
to'atele o tamaiti ua a'afia ma molimau i sauaga i o latou aiga, ua ave aai ma uiga masani le fa'atauga ma le
sauaina. O ia fevesiaiga fa'aleaiga ua pepesi atu i totonu o aoga ma fale faigaluega ua a'afia ai tagata i matafaioi
eseese.
TALU AI, ona o lo tatou teritori o lo'o iai tulafono maumaututu e noatia ai i latou o lo'o faia sauaga e ala i le
tu'uina atu i le fa'amasinoga, ae peitai e le o gafatia lava e ia tulafono. E ao ona lagolagoina ma una'i le iloa ma
nofo uta e matai sauaga ma ripotia vave ia sauaga.
TALU AI, ona o le a'oa'oina ma le nofo uta i uiga ma fa'alavelave e mafua ai ona tutupu o vevesi, o le fofo aupito
sili lea. O lea e mana'omia ai le galulue fa'atasi o ta'ita'i o nu'u, fa'alapotopotoga, vaega eseese o le malo,
ekalesia, ma so'o se fa'alapotopotoga e tafi esea ia fevesiaiga i aiga.
O LE MEA LEA, O A'U O LOLO MATALASI MOLIGA, Kovana o Amerika Samoa, e ala i le pule ua ia te
a'u, ou te fa'alauiloa aloaia ai le masina o Oketopa 2014, e fai ma masina e fa'atauaina ai le Nofo Uta I Fevesiaiga
Fa'aleaiga i Amerika Samoa. Ou te fautuaina ai le mamalu o tagata nu'u uma o lo tatou malo tatou te opogi
fa'atasi ina ia foia ma puipuia e ua a'afia i fevesiaiga fa'aleaiga.
UA FA'AMAONIA LENEI POLOA'IGA, e ala i lo'u sainiaina, faatasi ai ma le fa'amaufa'ailoga a lo'u ofisa ua
faia i le aso 15 lenei o Setema, i le tausaga o le Mesia e lua afe ma le sefulu fa.
"This proclamation is sponsored and paid for by the
American Samoa Alliance Against Domestic & Sexual Violence (ASADSV) and its community partners."
LOLO M. MOLIGA
Governor of American Samoa
Page 12
samoa news, Thursday, October 2, 2014
Rescuers conduct a search operation near the peak of ash-covered Mount Ontake in central Japan, Thursday, Oct. 2, 2014. Saturday's eruption on Mount Ontake
was the worst fatal eruption in postwar history in Japan. (AP Photo/Kyodo News)
➧ NEWS IN BRIEF…
More bodies found on
Japanese volcano; toll 47
OTAKI, Japan (AP) — One body
recovered near the volcano's peak was
in a squatting position and had to be
dug out of a thick layer of ash. Another
was caught between boulders bigger
than large refrigerators. Police who
recovered the bodies Wednesday portrayed a painful scene of death around
the summit where hikers enjoying an
autumn weekend hike were caught by
the mountain's surprise eruption.
The death toll from Saturday's eruption on Mount Ontake in central Japan
rose to 47, Nagano police said in a statement. While ash and gases were spewing
from the crater, searchers wearing surgical masks and helmets carried devices
to measure the toxicity of the gases to
make sure it was safe to be on the slopes
filled with volcanic debris. It was the
worst fatal eruption in postwar history,
exceeding the 43 killed in the 1991 eruption of Mount Unzen in southern Japan.
Syria vaccine deaths
was an NGO 'mistake'
UNITED NATIONS (AP) — The
recent deaths of Syrian children after
receiving measles vaccinations was
the result of a "mistake" by a nongovernmental partner who mixed in a
muscle relaxant meant for anesthesia, a
spokesman for the U.N. secretary-general said Wednesday.
But Stephane Dujarric told reporters
the incident has nothing to do with the
quality of humanitarian aid now going
through U.N. channels into Syria. A
physician who administered the vaccinations in rebel-held parts of northwestern
Syria told The AP in mid-September that
at least 15 children, some of them just
babies, died. The physician, Abdullah
Ajaj, said the children exhibited signs of
"severe allergic shock," with many suffocating to death as their bodies swelled.
Syria's ambassador to the UN has
demanded a U.N. investigation into
whoever is responsible. In a letter to
U.N. Secretary-General Ban Ki-moon
and the president of the Security Council
last month, Bashar Ja'afari called the
deaths a "crime against humanity."
Continued from page 8
Respiratory virus seen in
four deaths; role unclear
NEW YORK (AP) — Four people
who were infected with a virus causing
severe respiratory illness across the
country have died, but what role the
virus played in the deaths is unclear,
health officials said Wednesday.
A 10-year-old Rhode Island girl died
last week after suffering both a bacterial infection and infection from enterovirus 68, Rhode Island health officials
said. The virus is behind a spike in
harsh respiratory illnesses in children
since early August.
The virus was also found in three
other patients who died in September,
according to the U.S. Centers for Disease Control and Prevention. The CDC
declined to release any other details
about those deaths.
It's not clear what role the virus may
have played in the four deaths, officials
from Rhode Island and the CDC say.
The Rhode Island child's death
was the result of a bacterial infection,
Staphylococcus aureus, that hit the girl
in tandem with the virus, Rhode Island
officials said in a statement.
Girl, 10, dies from complications of enterovirus
PROVIDENCE, R.I. (AP) — State
health officials say a 10-year-old Rhode
Island girl has died from complications
of an unusual respiratory virus that has
been affecting children across the U.S.
The Rhode Island Health Department announced Wednesday that the
child died last week of a staph infection
associated with enterovirus 68, which it
called "a very rare combination."
Health Director Michael Fine says
the girl was from Cumberland and was
taken to Hasbro Children's Hospital in
Providence when her parents noticed
she was having trouble breathing.
The Centers for Disease Control and
Prevention says the virus has been confirmed in 472 people in 41 states and
the District of Columbia. So far, no
deaths have been attributed to the virus.
The virus can cause mild to severe
illness. The strain isn't new but it's
rarely seen.
Pennsylvania infant hit
by bullet will be blind
CLUNE, Pa. (AP) — The family of
a 6-day-old Pennsylvania boy who was
wounded by a hunter's stray bullet said
the infant is expected to survive, but
will be blind.
Stefanie Iverson, 30, said her son
Shayne's life was spared when the
bullet exited through the eye socket of
his skull rather than hitting his brain.
"He's lost his vision, but that's probably what saved his life," Iverson told
the Indiana Gazette.
The boy's father, Jeremie Iverson,
42, was holding the baby on Sept. 25
when the bullet came through a window
of the family's Young Township home
near Saltsburg, about 35 miles east of
Pittsburgh, and struck the baby's skull.
Indiana County District Attorney
Pat Dougherty said the hunter had an
agricultural deer control permit.
The shooting was likely accidental,
but questions remain about whether
the hunter followed state regulations
and Dougherty said he could make a
decision about whether to file criminal
charges by the end of the week.
920 California chickens
killed with golf club
FRESNO, Calif. (AP) — Authorities
in central California are searching for
one or more suspects who broke into a
Foster Farms chicken ranch and killed
more than 900 birds with a golf club.
Fresno County sheriff's deputies
arrived at the facility in Caruthers, less
than 20 miles south of Fresno, on Sept.
20 and found hundreds of birds slaughtered, officials said Tuesday.
"Psychopathic behavior. It's sick
behavior," Deputy Chris Curtice told
KPIX-TV.
"You can't do that much damage
to animals and not have blood on your
clothing. We want to find out who they
are and get them off the street."
The suspects apparently pulled back
a fence to gain access to a chicken shed
and massacred 920 chickens with a golf
club and possibly another instrument,
officials said.
Investigators found a piece of a golf
club at the scene.
Foster Farms is offering a $5,000
reward for information leading to an
arrest and prosecution.
Mom accused of helping
son in drive-by shooting
SALT LAKE CITY (AP) — A
Utah woman is accused of driving her
teenage son by a convenience store to
shoot at rival gang members he had
been fighting with at school.
Prosecutors said Lisa Egersdorf
picked up her 17-year-old son from his
Salt Lake City school and was behind
the wheel when he fired several shots
at the group. Charging documents show
she asked, "Did you get them?" after he
fired at their car. No one was hurt in the
Sept. 22 drive-by shooting.
Police said Damian Garcia yelled
"Mom, they just jumped me," when and
he and his friends got into his mother's
car in the school parking lot after the
fight. She responded, "It's all right, we're
going to get them," according to charging
documents. One of the shots hit a woman's car after she stopped at the 7-Eleven
in the middle-class neighborhood.
Egersdorf later told investigators she
and her son are part of the same gang,
police said. She acknowledged driving
Garcia by the 7-Eleven, but denied the
shots came from her car, according
to jail records. Garcia was charged
with 10 felonies, including aggravated
assault and six counts of firing a gun.
His mother was charged with 10 felonies and three misdemeanor counts of
reckless endangerment.
15 feared dead in explosives factory blast
SOFIA, Bulgaria (AP) — Authorities say a blast at an explosives factory in northwestern Bulgaria may
have killed as many as 15 people. The
explosion, which also left three people
injured, occurred near the village of
Gorni Lom, some 120 kilometers (75
miles) north of the capital, Sofia, late on
Wednesday. Police said smaller explosions continued for several more hours.
Civil Defense chief Nikolai Nikolov
said Thursday that the site cannot be
inspected by rescue teams until at least
24 hours after the last blast and only
then he will he be able to give the exact
number of victims. The cause of the
explosions at the factory, owned by a
private Bulgarian company, is not immediately clear. In two previous accidents
at the site six people have been injured.
(Continued on page 14)
samoa news, Thursday, October 2, 2014 Page 13
California community reels after mayor shot dead
BELL GARDENS, Calif.
(AP) — She was his high school
sweetheart and wife of 28 years.
He was mayor of the modest
Los Angeles suburb where they
moved and had two kids just
after they were married.
Daniel Crespo, mayor of
Bell Gardens, is now dead from
a fatal gunshot wound that
authorities say was fired by his
wife, though she had not been
arrested and no charges had
been filed Wednesday.
Los Angeles County sheriff's officials who interviewed
both Crespo's wife and son said
Levette Crespo shot her husband
several times Tuesday afternoon after he got into a physical
altercation with their 19-yearold son. Crespo, 45, was pronounced dead at a hospital
A message left with Levette
Crespo's
attorney,
Eber
Bayona, was not immediately
returned, but he announced
plans to hold a news conference
on the case Thursday.
At the family's home
Wednesday, in a modern,
well-maintained neighborhood
of townhouses, a wreath had
been placed on the door of the
Crespo home.
"He was such an awesome person. He was forever
walking around, talking with
people, house to house," said
a neighbor, 63-year-old retiree
Florence Chavez.
Another neighbor, Margarita
Rios, said any problem she had
Crespo would help her solve.
"A very good person,
very friendly," the 54-yearold nursing assistant said in
Spanish, adding she barely
knew the mayor's 43-year-old
wife, Levette. "She'd leave
in the car from the garage. I
never saw her. I couldn't even
remember her," she said.
A biography on the Bell
Gardens website said the pair
were high school sweethearts
who married as teenagers in
1986. They also have a grown
daughter.
Sheriff's Deputy Crystal
Hernandez said authorities
believe the two were fighting
when their son, Daniel, tried to
intervene and got into a struggle
with his father. His mother then
got a gun and opened fire, Hernandez said.
Bell Gardens, a city of about
43,000, is one of a series of
nondescript suburbs located
just southeast of Los Angeles.
Carved out of what was originally a land grant awarded to a
Mexican soldier in the 1700s,
the 2.5-square mile city is bordered by several other small
towns. One is the city of Bell,
which became synonymous
with municipal corruption after
several former officials were
convicted of fleecing millions
from taxpayers and padding
their salaries.
Bell Gardens City Council
members serve part-time and
rotate the mayor's position
among themselves.
Crespo, who was elected to
the council in 2001, had been
a Los Angeles County deputy
probation officer for 15 years,
according to the city's website.
Los Angeles County CEO Bill
Fujioka said Crespo had been
with the department for more
than 20 years.
He had also served on
the Bell Gardens Planning
Commission.
"When not working or participating in the very time-consuming activities of being an
elected official, Mayor Crespo
enjoys spending time with his
family and being involved in
community events, especially
those that benefit the youth,"
his website biography said.
With the investigation into
shooting death of a suburban
Los Angeles mayor moving forward, area residents recalled the
victim as an outgoing neighbor
who was willing to lend a hand.
Bell Gardens Mayor Daniel
Crespo, 45, was killed Tuesday,
and authorities suspect his wife
of 28 years in his death.
Sheriff's officials said Levette
Crespo shot her husband several
times after he got into a physical
altercation with their 19-year-
old son. Crespo was pronounced
dead at a hospital.
No one was arrested. A message left with Levette Crespo's
attorney, Eber Bayona, was not
immediately returned.
At the family's home
Wednesday, in a modern,
well-maintained neighborhood
of townhouses, a wreath had
been placed on the door of the
Crespo home.
"He was such an awesome person. He was forever
walking around, talking with
people, house to house," said
a neighbor, 63-year-old retiree
Florence Chavez.
Another neighbor, Margarita
Rios, said any problem she had
Crespo would help her solve.
"A very good person,
very friendly," the 54-yearold nursing assistant said in
Spanish, adding she barely
knew the mayor's 43-year-old
wife, Levette.
"She'd leave in the car from
the garage. I never saw her. I
couldn't even remember her,"
she said.
A biography on the Bell
Gardens website said the pair
were high school sweethearts
who married as teenagers in
1986. They also have a grown
daughter.
Sheriff's Deputy Crystal
Hernandez said authorities
believe the two were fighting
when their son, Daniel, tried to
intervene and got into a struggle
with his father.
His mother then got a gun
and opened fire, Hernandez
said.
Bell Gardens, a city of about
43,000, is one of a series of
nondescript suburbs located
just southeast of Los Angeles.
Carved out of what was originally a land grant awarded to a
Mexican soldier in the 1700s,
the 2.5-square mile city is bordered by several other small
towns. One is the city of Bell,
which became synonymous
with municipal corruption after
several former officials were
convicted of fleecing millions
from taxpayers and padding
their salaries.
Bell Gardens City Council
members serve part-time and
rotate the mayor's position
among themselves.
Crespo, who was elected to
the council in 2001, had been
a Los Angeles County deputy
probation officer for 15 years,
according to the city's website. Los Angeles County CEO
Bill Fujioka said Crespo had
been with the department for
more than 20 years. He had
also served on the Bell Gardens
Planning Commission.
"When not working or participating in the very time-consuming activities of being an
elected official, Mayor Crespo
enjoys spending time with his
family and being involved in
community events, especially
those that benefit the youth,"
his website biography said.
Crespo's fellow council
members issued a statement
through the website offering
their
condolences.
"Our
thoughts and prayers should be
with Mayor Crespo's family at
this tragic time," it said.
AMERICAN SAMOA GOVERNMENT
DEPARTMENT OF HUMAN RESOURCES
PAGO PAGO, AMERICAN SAMOA 96799
EMPLOYMENT OPPORTUNITY
Job Title: SENIOR ENGINEER
Posting Date: September 3, 2014
Department/Division:
Public Works/Civil Highway
Closing Date: October 14, 2014
Type of Position:
Full Time/Permanent
Appointment
Posting Type:
Employment Opportunity/
Open to the Public
Serial No.: 210-14
Announcement No.: 210-14
Pay Range:
GS 16 $25,012 - $55,172
Note: This is exempted from the freeze as per the Governor's General Memorandum.
General Description:
The incumbent of this position is responsible for managing highly visible and sensitive projects and for supervising subordinate engineering staff performing
several projects. The individual will supervise and coordinate professional civil or structural engineering work in the field and office and to perform related work
as required.
The incumbent reports directly to the Deputy Treasurer and/or the Treasurer and is responsible for the daily management and administration of the
Government Financial System. Manage strategy and process to ensure the seamless integration of all the financial modules in order to provide sound and
accurate financial information for the government. Maintain the integrity of systems financial data essential for decision making at the top level with the Governor
and Legislature and throughout the middle management of government with the department heads.
Key Duties and Responsibilities:
• Plans, assigns, trains, instructs, assists, supervises, and evaluates the work of professional and technical staff
• Prepares technical and engineering correspondence and reports
• Provides technical expertise on matters pertaining to policies, procedures, practices, standards and departmental position on pending discretionary actions to
public and private agencies and individuals
• Recommends selection and fee negotiations to provide competent, cost effective consultants
• Plans, organizes, directs and controls resources assigned to best accomplish the assigned functions within budget and at maximum effectiveness
• Enforces the appropriate Departmental Policies and Directors Letters of Instructions
• Prepares engineering documents including structural drawings, contract proposals, material lists, reinforcements and structural specifications for a wide
variety of earthwork projects and structures
• Reviews and checks structural designs, calculations, contractors shop drawings, and engineering drawings for construction, repair, and maintenance projects
• Selects and uses computer software to develop engineering and mathematical analysis of design problems in hydraulics and hydrology, drainage and control
facilities, solid waste disposal operations, highway design, traffic control, water distribution and rehabilitation studies, air and water quality design standard
determinations
• Reviews proposed projects to ensure compliance with regulatory requirements
• Directs field crews engaged in a variety of engineering construction, maintenance, and repair activities on service contracts and projects
• Examines and checks building plans and specifications for compliance with various codes and regulations to assure good structural practices and to determine
errors in design or construction
• Establishes design requirements/standards for permit applications and assures proper structural engineering practices
• Provides guidance to technical or junior staff on code compliance matters
• Acts as a liaison between the construction industry and other governmental offices
• Supervise and evaluate the work performance of technical staff
• Provides responsive, high quality service to department employees, representatives of outside agencies and members of the public by providing accurate,
complete and up-to-date information, in a courteous, efficient and timely manner
• All other duties and responsibilities as assigned.
Knowledge Skill and Ability
• Modern civil engineering theories, procedures and methods to solve a wide range of engineering problems
• Identify and define technical and administrative problems, identify and evaluate alternative solutions and select and implement the best alternative
• Skills and abilities to serve as a group supervisor or project leader in planning, review proposed project to ensure compliance with regulatory requirements
• Ability to prepare and check engineering design, detail estimates, plans and specifications
Academic and Experience Requirements:
Applicant must have a Master Degree in related field from an accredited college/university plus 5 years of work related experience; 3 years of Supervisory
capacity OR Bachelor Degree plus 6 years; 4 years of Supervisory capacity. Years of progressively responsible working experience may be substituted for portion
of the academic requirement. Salary will be adjusted according to experience.
Complete information concerning this vacancy may be obtained from the Personnel Division of the Depa rtment of Human Resources, or
please contact the Recruitment unit at 633-4485/633-5357.
Page 14
samoa news, Thursday, October 2, 2014
➧ Overtime negotiations…
➧ NEWS IN BRIEF…
and advancement or promotion of employees within the Department. Other exempt employees are elected officials like the governor, lt. governor, or equivalent appointees, those who serve on a
policy making level, district representatives, and Senators — with
the exception of Legislative Research Bureau employees.
He said pre-approved overtime is required with every department.
During his presentation, he also pointed out that any work
required of the employee or permitted by an employer must be
compensated, including wait times, meal or rest periods and
time on premises (engaged in work benefiting the organization).
He explained there are two authorized (15 minute) paid
breaks and a meal which is 30 minutes. He also urged the directors to report all working hours to the Payroll Division.
Thompson also emphasized that the HR Director has primary
responsibility for establishing and administering procedures
for filling vacancies in compliance with appropriate federal
and ASG rules. However, all employees and supervisors share
responsibility for the successful operation of the system.
He explained that, in accordance with local statute, the official effective date of the recruitment and placement actions, as
well as other personnel actions, is established by the office of
Human Resources, except in the case of resignation, the date of
which is established by the employee who is resigning. Effective
dates are not made on a retroactive basis.
The DHR director stated that in no instance will a government official allow an employee to enter on duty unless he has
been assured by the Director of Human Resources or a designated member of his staff that the appointment action has been
approved. Violations expose ASG to employer liability and subject ASG to: payment of back wages, liquidated damages and
attorney fees. Thompson said ASG will carry the burden if the
directors do not heed the regulations and follow the rules.
In addition, he said that Directors cannot transfer or move a
permanent employee from one position to another in the same or
another class between agencies. It requires the prior approval of
the Director of Human Resources and in the case of the Judicial
Branch, the Chief Justice. He said existing positions without
funding will be suspended without pay, until a funding source
is secured through appropriation by the Legislature of American
Samoa — if it is deemed that these positions are critical to the
needs of the American Samoa Government.
The HR director said It would not be legal to use funds that
were earmarked for other activities to meet these unbudgeted
obligations. "Existing contracts will continued until their expiration, at which time they will not be renewed. Change Orders or
Contract Amendments will not be permitted unless thoroughly
justified to the governor, highlighting benefits to be accrued
resulting from the proposed change order or amendments.
"No new contracts will be rewarded without clear justification of the funding sources and availability of said funds is unrestricted," the director emphasized. He added, "It is the policy
of ASG to prohibit the use of Direct Payment Vouchers to pay
employees of the government," and concluded, "Failure to adhere
to these policy directives underscores our ability to ensure maximum accountability and transparency in the use of public funds."
Filipinos express support
for Hong Kong protest
MANILA, Philippines (AP) — Filipinos
opposed to Chinese claims in the South China
Sea expressed support Thursday for the prodemocracy movement in Hong Kong, saying
Beijing should not use force to stop the protests
in the global financial hub or in resolving its territorial disputes with the Philippines.
About 50 members of the Akbayan party carried yellow umbrellas to symbolize the "fight
for democracy" in Hong Kong and black ones
for the China's "undemocratic practices in the
region" during a picket at the Chinese consular
office in the Philippine capital. Many carried
placards saying "Be Strong Hong Kong" and
chanted the same message. Organizers called
on Filipinos to post "selfies" showing them
carrying umbrellas as a sign of support for the
Hong Kong protesters' demands for universal
suffrage and other electoral reforms.
Latest suicide attack
in Afghanistan kills 3
KABUL, Afghanistan (AP) — Officials say
that a suicide bomber has killed three army officers and wounded seven others in Kabul, a day
after two such attacks killed 11.
A district police chief, Hafeiz Khan, said
the suicide bomber blew himself up Thursday
morning in front of an army minibus that was
taking the soldiers to work. Taliban spokesman
Zabiullha Mhujahid sent a text message taking
responsibility for the attack. On Wednesday,
Taliban suicide bombers struck two buses
carrying Afghan soldiers in Kabul, killing 11
people and wounding about 20 others.
Tony Bennett sets mark as
oldest act with No. 1 LP
NEW YORK (AP) — Even at age 88, Tony
Bennett is still reaching No. 1 on the charts.
The singer is once again the oldest performer
with a No. 1 album on the Billboard 200 for
"Cheek to Cheek," his jazz duets collaboration
with Lady Gaga. "Cheek to Cheek" sold more
than 131,000 copies since its release last week,
according to Nielsen SoundScan, edging ahead
of new albums by Kenny Chesney and Barbra
Streisand. The placement gives Bennett his
second No. 1 overall and Gaga her third consecutive No. 1 album.
Bennett established the previous record of
85 years old with the 2011 release of "Duets II,"
an album that included a song with Lady Gaga.
"Cheek to Cheek" also landed at No. 1 on the
jazz albums and traditional jazz album charts.
Continued from page 1
Continued from page 12
Motorist charged with
Palos Verdes DUI rampage
TORRANCE, Calif. (AP) — The Los
Angeles County district attorney's office says a
66-year-old man accused of a drunken-driving
rampage in the Palos Verdes area last year has
pleaded not guilty to numerous charges.
William Thomas Kelly was arraigned
Tuesday on 10 felony counts of assault with a
deadly weapon, two felony counts of criminal
threats; and one felony count each of DUI
causing injury and vandalism over $400. He
also faces six misdemeanor counts of hit-andrun driving. Prosecutors allege that on Sept. 26,
2013, Kelly ran a cyclist off a road, and when
the cyclist yelled at him, Kelly backed his car
over the bike and nearly struck the victim.
Kelly is accused of then crashing into other cars
and aiming his vehicle at other victims before
crashing through several fences.
San Francisco expands
free public Wi-Fi access
SAN FRANCISCO (AP) — San Francisco
launched free Wi-Fi access at more than 30
public parks, plazas and recreation areas on
Wednesday, thanks to a grant from Google.
"Wi-Fi in our city's parks is another step toward
a larger vision of connectivity for our City as a
whole, bridging the digital divide and ensuring
that our diverse communities have access to
innovation," Mayor Ed Lee said in a statement.
Internet giant Google donated about
$600,000 to help the city buy and install Wi-Fi
equipment and cover maintenance cost for two
years, according to the San Francisco Chronicle.
Ex-state worker sentenced
in ID theft activities
SACRAMENTO, Calif. (AP) — A former
state employee has been sentenced to 210 days
in jail for using his work computers in pursuit of
ways to commit identity theft. The Sacramento
Bee reported Tuesday that 34-year-old Matthew
Shadle pleaded no contest to a felony charge of
unlawfully accessing and removing information
from government computers and a misdemeanor
charge of possessing identifying information of
more than 10 people with the intent to defraud.
Shadle, a former associate governmental program analyst with the California Correctional
Health Care Services, was arrested in August.
Authorities say an investigation revealed that
Shadle used his work computers to search for
ways to commit identity theft and that he duplicated files containing the identifying information of many of his former co-workers.
➧ LBJ Board violated law…
Continued from page 1
Mase told the Senators that they also sought the assistance of
an attorney on this, and the board was advised that the decision
lies with the board if they proceed with the additional monthly
compensation.
(Samoa News should point out that LBJ hospital no longer
has an attorney on staff, since 2013. Mase did not refer to the
attorney they asked for assistance by name, nor did the senators
ask for the lawyer's identity.)
The board chair further explained that it's not $200 a meeting,
rather if there are more than two meetings a month then they
receive the additional $200, but it's on a monthly basis.
"This would help with paying for the gas of the vehicles, and
as of now we are trying to hold only two meetings a month so
that way we don't have to be compensated," Mase explained.
Laolagi noted that if the board has sought the legal opinion
from an attorney and this is the end result, then there is still
the need to amend the statute, because [otherwise] this cannot
happen. The senator said if another committee comes in, they
too will move to make amendments.
"It's not just the hospital board, but there are other boards that
may circumvent ways that would be beneficial for them. That's
the reason behind my concern."
Laolagi, who seemed to continue disagreeing that the hospital
board had the right, under the law, to increase their stipends,
urged the board to look at changing the statute if the members
feel they need to receive more compensation for the additional
meetings.
However, he also told the LBJ board that if anything —
"that is your service to your people and your calling, but if you
want to increase your compensation then the statute needs to be
amended."
samoa news, Thursday, October 2, 2014 Page 15
➧ COMMUNITY BRIEFS…
Continued from page 6
FLARES FOR LOCAL FISHERMEN STILL NOT HERE
The free flares that were supposed to be issued to local fishermen under the subsidy program approved by Governor Lolo
M. Moliga for the Dept. of Marine and Wildlife Resources
(DMWR) are yet to arrive, as the items are Class 1 explosives
and require special permits and a ton of paperwork in order to
get them shipped to the territory.
Andy Wearing of Samoa Gases, charged with shipping the
items from California, told Samoa News yesterday that he is
trying to get the flares air-freighted and an estimated arrival date
is not yet known.
He said the special permits necessary to get the flares shipped
are similar to the ones required to ship explosives for blowing
up quarries.
Although a lot of paperwork is required, Wearing said of the
flares, "We need them."
The flares are the only items left to be issued to local fishermen who are registered with DMWR. Ropes were provided
earlier this year for 'alia boat owners, to promote and encourage
bottom fishing.
In late August, 20 registered boat owners were presented life
vests, throw ropes, ring buoys, fire extinguishers, and first aid
kits at the DMWR compound.
In addition, they also received "very expensive" personal
locater beacons (EPIRB), valued at $500 a piece. The beacons
are a US Coast Guard requirement. All the items for the fishermen are free of charge under the subsidy program.
There are certain qualifications that need to be met in order
for local boat owners to take advantage of the services offered
under the subsidy program. These include a valid registration for
the boat, valid licenses for all fishermen, and an official record
of the catch at the DMWR office for data purposes.
In addition to providing equipment and supplies, the subsidy
program also provides fuel at a rate of $1.75 per gallon, but only
for 'alia boat owners who produce the appropriate data.
The subsidy program also allowed DMWR to conduct workshops and training in small engine repair for boaters in both
Tutuila and the Manu'a Islands earlier this year.
More information on the subsidy program can be obtained by
calling the DMWR Boating Division directly at 633-4456.
Former President Jimmy Carter, right, waves after blowing out candles on a birthday cake as
wife Rosalynn looks on during his 90th birthday celebration, Wednesday, Oct. 1, 2014, in Atlanta.
(AP Photo/David Goldman)
GHC Reid & Company Ltd.
Tafuna Industrial Park
P.O. Box 1269, Pago Pago, American Samoa 96799
Tel # 684 699-1854; Fax # 684 699-2869
Email: [email protected]
EMPLOYMENT OPPORTUNITY
➧ COURT BRIEFS…
Continued from page 2
to view, hear and decide motion, what is not clear is whether the
subpoenas, which were issued on September 18, 2014 have been
officially quashed, as they were issued prior to the date on which
the order was issued — September 19, 2014.
"The subpoenas are inappropriate and inapplicable before
the Appellate Court as the standard of review of the Chief Election officer's decisions is not "de novo."
(De novo means it is deciding the issues without reference to
the legal conclusions)
Saulo's attorneys further point out that these two subpoenas
are still within the control of petitioner and may still be used to
receive documents that she has no legal right to.
The motion to quash was granted.
MAN FROM SAMOA BROUGHT PACKAGE
CONTAINING MARIJUANA into airport
The Department of Public Safety, Vice and Narcotics Division arrested a man on Monday, after K9 Grace alerted near a
man from Samoa who had just arrived at the airport.
According to police, the marijuana was found inside the suspect's belongings as it was packed inside bags of chips. Police
estimated the value at close to $7,000 USD.
Police told Samoa News the man told them that he was
approached by a woman at the airport in Samoa, asking if he
could bring a package from Samoa to the territory.
According to the police, a woman who was at the Tafuna
airport to pick up the package was also taken in for questioning.
➧ Tupe malo i ovataimi…
Mai itulau 9
Sa ia fautuaina le kapeneta, e le toe totogiina e le malo ni
ova taimi e faaputuputu i le laulau a le Fa'atonusili, ae tatau
ona ripoti ova taimi i le taimi lava e maua ai, ma fa'amanino le
mafua'aga na ala ai ona maua mai nei ova taimi.
Na taua e le afioga i le ali'i kovana ia Lolo Matalasi Moliga
ina ua saunoa i le mataupu o ova taimi e fa'apea, e ui o le tele o
itula o ova taimi na fautuaina e le DOL le faigamalo e totogi, o
itula na tauave mai i le nofoaiga ua mavae, peita'i e le i manatu
le malo e taofi le totogiina atu o nei itula, ona o le manatu, o tupe
nei e tatau ona maua e tagata faigaluega e tusa ai o le latou tautua
sa faia. Na fa'atepa e Lolo lana kapeneta i le isi faafitauli o lo o
tau ave e le malo i le taimi nei, ona o le 95% o tupe fa'aalu a le
malo o lo o alu i totogi o tagata faigaluega.
Fesootai mai i le tusitala ia [email protected]
SALES AND MARKETING MANAGER
Marketing and Sales Manager Job Purpose: Accomplishes business development activities by researching and developing
marketing opportunities and plans; implementing sales plans; managing staff.
Marketing and Sales Manager Job Duties:
Accomplishes marketing and sales human resource objectives by recruiting, selecting, orienting, training, assigning,
scheduling, coaching, counseling, and disciplining employees; communicating job expectations; planning, monitoring,
appraising, and reviewing job contributions; planning and reviewing compensation actions; enforcing policies and
procedures.
Achieves marketing and sales operational objectives by contributing marketing and sales information and recommendations
to strategic plans and reviews; preparing and completing action plans; implementing production, productivity, quality, and
customer-service standards; resolving problems; completing audits; identifying trends; determining system improvements;
implementing change.
Meets marketing and sales financial objectives by forecasting requirements; preparing an annual budget; scheduling
expenditures; analyzing variances; initiating corrective actions.
Determines annual and gross-profit plans by forecasting and developing annual sales quotas; projecting expected sales
volume and profit for existing and new products; analyzing trends and results; establishing pricing strategies; recommending
selling prices; monitoring costs, competition, supply, and demand.
Accomplishes marketing and sales objectives by planning, developing, implementing, and evaluating advertising,
merchandising, and trade promotion programs; developing field sales action plans.
Identifies marketing opportunities by identifying consumer requirements; defining market, competitor's share, and
competitor's strengths and weaknesses; forecasting projected business; establishing targeted market share.
Improves product marketability and profitability by researching, identifying, and capitalizing on market opportunities;
improving product packaging; coordinating new product development.
Sustains rapport with key accounts by making periodic visits; exploring specific needs; anticipating new opportunities.
Provides information by collecting, analyzing, and summarizing data and trends.
Protects organization's value by keeping information confidential.
Updates job knowledge by participating in educational opportunities; reading professional publications; maintaining
personal networks; participating in professional organizations.
Accomplishes marketing and organization mission by completing related results as needed.
Skills: Financial Planning and Strategy, Marketing Concepts, Positioning, People Management, Territory Management, Sales
Planning, Competitive Analysis, Understanding the Customer, Product Development, Client Relationships, Creative Services
Qualifications: A university degree in marketing or business studies is preferred; or a minimum of seven years of related
experience or training in sales and marketing; or the equivalent combination of formal education and experience. Problemsolving and analytical skills to interpret sales and performance and market trend information. Proven ability to motivate and
lead the sales team. Experience in developing marketing and sales strategies. Excellent oral and written communication skills,
plus a good working knowledge of Microsoft Office Suite is required. A valid local driver's license is mandatory.
Salary Package:
Commensurate with experience
Closing Date: October 13, 2014
Applicants may pick up applications and/or drop off their resumes at the GHC Reid office in Tafuna, or email [email protected]
.
Page 16
samoa news, Thursday, October 2, 2014
C
M
Y
K
C
M
Y
K
Brendan Dirks, 26, of Dana Point carries the 15lb 9oz California spiny lobster he caught Monday night to release it back to the ocean off Dana Point Headlands,
(AP Photo/The Orange County Register, Leonard Ortiz)
the location where he caught it. The lobster was about 1/2-pound short of the state record.
➧ Tu'uaia Komiti Fa'afoe LBJ…
Mai itulau 1
O ni isi o ia suiga e aofia ai le fa'aitiitia o le tupe e totogi
e vaai ai le foma'i i le $5, atoa ai ma le tele o tupe o lo o nofo
aitalafu ai ni isi i le falema'i e le o mafai ona ao.
"E leai se mea faapena o le le mafai lea ona ao tupe o lo
o nofo aitalafu ai le atunuu i le falema'i", o le saunoaga lea a
Nuanuaolefeagaiga ma lona si'ufofoga ua matua leoleoa lava i
luga, lea na mafua ai loa ona aga'i atu ni isi o tagata faigaluega a
le fono e fia fa'alogologo po o le se mataupu matuia o lo o vavao
ai le senate ma le komiti fa'afoe a le falema'i.
"Faitau miliona ma miliona tupe o lo o la'u atu e fesoasoani
ai i le falema'i, ao lea lava e matagi togaina lo tatou Sa ona o le
tele o fa'afitauli o lo o tula'i mai i le falema'i. O le fesili la ua
tula'i mai, o ai e mafua ai fa'aletonu nei? O le tali, o le tautai. Ae
afai e fesili po o ai le tautai, o le tali, o oe (Mase) le tautai o le
falema'i", o le saunoaga lea a Nuanuaolefeagaiga.
"Afai e saili le mafua'aga o le aami soo o outou e le fono ma
fesiligia i le tele o le mau fa'afitauli o lo o tutupu i le falema'i, e
mafua ona o outou le Komiti Fa'afoe, ae i lo'u talitonuga, afai e
toe tula'i mai ni fa'aletonu i ni foma'i, tutuli ese na foma'i", o le
isi lea saunoaga a Nuanuaolefeagaiga, ma ia talosaga atu ai loa i
le alii senatoa ia Mauga, o le a fa'amuta ana fesili ona ua tau oso
lona toto maualuga.
Ina ua fesiligia e le afioga a Laolagi Fonoti Savali Vaeao le
Komiti Fa'afoe, e faamanino le mataupu e faatatau i tupe ia ua
latou fa'aopoopo i tupe o lo o totogi ai latou o sui o le Komiti
Fa'afoe, na taua ai e Leilua e faapea, o se fautuaga sa tuuina atu e
le Pulesili a le LBJ na faatoa mavae atu nei, ina ia i ai se vaega tupe
e fa'aopoopo i tupe fa'ameaalofa o lo o latou maua, ona o le tele o
galuega o lo o fa'atino e le Komiti Fa'afoe mo ana fonotaga.
Mo se fa'ataitaiga e pei ona saunoa Leilua, o le ta'i $5,000 i le
tausaga lea e maua e sui o le komiti faafoe, atoa ai ma le $6,000
mo le taitaifono, o lo o aofia i lalo o le tulafono le fa'atasi ona
fono le komiti i le masina, peita'i talu ona latou tula'i mai, toeitiiti lava o aso uma latou te fono ai, ona o le tau sailia o ni auala
e foia ai fa'afitauli o lo o tula'i mai i le falemai, ma mafua ai loa
ona avatu le fautuaga a le CEO ua mavae, e faaopoopo sina ta'i
$200 i le masina mo totino o le komiti, pe afai e ova atu ma le
fa'atolu ona fono le komiti i le masina.
Na taua e Mase, e na o le masina na te'a nei na totogi ai le tupe
fa'aopoopo lea e pei ona taua ina ua talia e le komiti le fautuaga,
fa'atasi ai ma le fautuaga, o le a lava le ta'i lua o a latou fonotaga
i le masina, ina ia taofia le totogiina o le tupe e pei ona fesiligia.
Ae na saunoa Laolagi, i lona talitonuga, o ni isi galuega e
sili atu i lo galuega o lo o fa'atulafono mo le komiti fa'afoe, o
taulaga na ma le galuega ua valaauina ai e le Atua ta'ita'i e faia
e tautua ai le atunuu.
Sa ia talosagaina foi le komiti faafoe ina ia toe tagai i le tulafono, lea e faatulafono atu ai lenei mataupu, ae le o le nonofo
lava o le komiti faafoe ma fa'aopoopo tupe latou te maua.
Fesootai mai i le tusitala ia [email protected]
A surfer loses arm in shark
attack in Western Australia
SYDNEY (AP) — A man had part of his
arm torn off by a suspected great white shark
while surfing off the coast of Western Australia on Thursday, officials said. The man was
surfing at Wylie Bay in the town of Esperance
on Western Australia's remote southern coast
when he was attacked by what is believed to
be a 4-meter (13-foot) great white, Esperance
Shire President Malcolm Heasman said.
A fellow surfer managed to get the victim to
shore and to a nearby parking lot where there
was an off-duty ambulance officer, Heasman
said. The ambulance officer gave the man first
aid while they waited for help to arrive.
The victim lost one arm below the elbow and
had extensive injuries on his other arm, likely
from trying to fend off the shark, Heasman said.
The man, who was a visitor to the area, also had
lacerations to his legs. He was in stable condi-
tion and was being flown to a hospital in Perth
for treatment. Police had retrieved the man's
surfboard, which was covered in bite marks.
Beaches in the area were closed and fisheries
officials were trying to catch the shark, state
fisheries department spokeswoman Donna Cole
said. It was the second attack by a suspected
great white shark in the waters off Esperance
in a year. Last October, a man was seriously
injured by what officials believe was a great
white while diving for abalone off Poison
Creek, an area near the town.
There had been a few shark sightings in the
Wylie Bay area in recent weeks, though that's
not considered unusual for the area during the
Australian spring, Heasman said.
Although sharks are common in Australian
waters, the country has averaged fewer than two
fatal attacks per year in recent decades.
Ex-cop pleads guilty in drugstore killings
RUTLEDGE, Tenn. (AP) — A former police officer pleaded guilty Wednesday to murdering two people while robbing a pharmacy in the town he was once sworn to protect.
District Attorney General Jimmy Dunn said in a phone interview that 38-year-old Jason Holt
on Wednesday was sentenced to life in prison without the possibility of parole for the murders
in the small town of Bean Station, with a population of about 3,000.
According to records, Holt walked into the Down Home Pharmacy around 11:15 a.m.
on May 23, 2013, armed with a .22-caliber revolver and wearing gloves and a hoodie pulled up
over his face.
He ordered everyone in the shop to get behind the counter and then demanded drugs.
After he was given nine bottles of oxycodone, Holt shot pharmacy owner Stephen Lovell,
customer Richard Sommerville and two employees.
Lovell and Sommerville died, while the two employees survived, although Dunn said the
survivors continue to suffer from their injuries.
Dunn said he believes Holt shot everyone to eliminate witnesses in the town where he used
to police the streets.
"He was a regular customer there," Dunn said. "They knew him and he knew them."
Holt was captured within minutes in a wooded area behind the pharmacy.
Dunn said he could have pursued a death penalty case but decided to allow the plea after
consulting with the victims and their relatives.
The plea means the victims and their relatives will not have to endure years of legal proceedings, Dunn said. And the sentence of life without the possibility of parole allayed their concerns
that Holt could get out of prison.
Besides working as Bean Station officer, Holt was a deputy for Grainger County until he was
placed on medical leave in 2004.