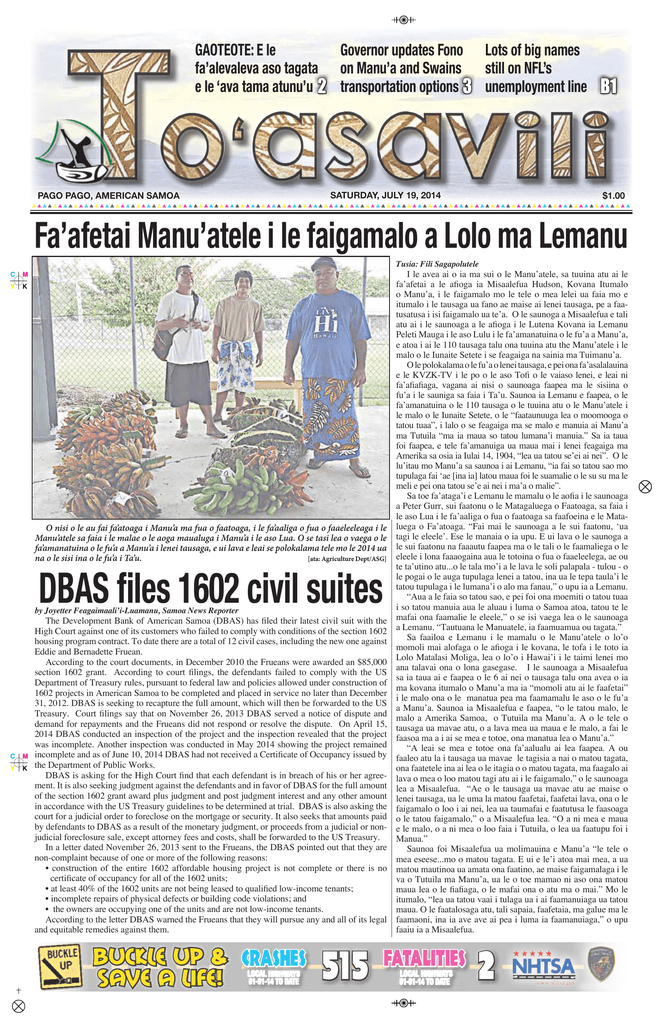 GAOTEOTE: E le
Governor updates Fono Lots of big names
fa'alevaleva aso tagata on Manu'a and Swains still on NFL's
e le 'ava tama atunu'u 2 transportation options 3 unemployment line B1
PAGO PAGO, AMERICAN SAMOA
Saturday, July 19, 2014
$1.00
▼▼▼▼▼▼▼▼▼▼▼▼▼▼▼▼▼▼▼▼▼▼▼▼▼▼▼▼▼▼▼▼▼▼▼▼▼▼▼▼▼▼▼▼▼▼▼▼▼▼▼▼▼▼▼▼▼▼▼▼▼▼▼▼▼▼▼▼▼▼▼▼▼▼▼▼▼▼▼▼▼▼▼▼▼▼▼▼▼▼▼▼▼▼▼▼▼▼▼▼▼▼▼▼▼▼▼▼▼▼▼▼▼▼▼
Fa'afetai Manu'atele i le faigamalo a Lolo ma Lemanu
Tusia: Fili Sagapolutele
C
M
Y
K
O nisi o le au fai fa'atoaga i Manu'a ma fua o faatoaga, i le fa'aaliga o fua o faaeleeleaga i le
Manu'atele sa faia i le malae o le aoga maualuga i Manu'a i le aso Lua. O se tasi lea o vaega o le
fa'amanatuina o le fu'a a Manu'a i lenei tausaga, e ui lava e leai se polokalama tele mo le 2014 ua
[ata: Agriculture Dept/ASG]
na o le sisi ina o le fu'a i Ta'u. DBAS files 1602 civil suites
by Joyetter Feagaimaali'i-Luamanu, Samoa News Reporter
C
M
Y
K
The Development Bank of American Samoa (DBAS) has filed their latest civil suit with the
High Court against one of its customers who failed to comply with conditions of the section 1602
housing program contract. To date there are a total of 12 civil cases, including the new one against
Eddie and Bernadette Fruean.
According to the court documents, in December 2010 the Frueans were awarded an $85,000
section 1602 grant. According to court filings, the defendants failed to comply with the US
Department of Treasury rules, pursuant to federal law and policies allowed under construction of
1602 projects in American Samoa to be completed and placed in service no later than December
31, 2012. DBAS is seeking to recapture the full amount, which will then be forwarded to the US
Treasury. Court filings say that on November 26, 2013 DBAS served a notice of dispute and
demand for repayments and the Frueans did not respond or resolve the dispute. On April 15,
2014 DBAS conducted an inspection of the project and the inspection revealed that the project
was incomplete. Another inspection was conducted in May 2014 showing the project remained
incomplete and as of June 10, 2014 DBAS had not received a Certificate of Occupancy issued by
the Department of Public Works.
DBAS is asking for the High Court find that each defendant is in breach of his or her agreement. It is also seeking judgment against the defendants and in favor of DBAS for the full amount
of the section 1602 grant award plus judgment and post judgment interest and any other amount
in accordance with the US Treasury guidelines to be determined at trial. DBAS is also asking the
court for a judicial order to foreclose on the mortgage or security. It also seeks that amounts paid
by defendants to DBAS as a result of the monetary judgment, or proceeds from a judicial or nonjudicial foreclosure sale, except attorney fees and costs, shall be forwarded to the US Treasury.
In a letter dated November 26, 2013 sent to the Frueans, the DBAS pointed out that they are
non-complaint because of one or more of the following reasons:
• construction of the entire 1602 affordable housing project is not complete or there is no
certificate of occupancy for all of the 1602 units;
• at least 40% of the 1602 units are not being leased to qualified low-income tenants;
• incomplete repairs of physical defects or building code violations; and
• the owners are occupying one of the units and are not low-income tenants.
According to the letter DBAS warned the Frueans that they will pursue any and all of its legal
and equitable remedies against them.
Buckle up & CRASHES
Save a Life!
LOCAL HIGHWAYS
01-01-14 to date
515
I le avea ai o ia ma sui o le Manu'atele, sa tuuina atu ai le
fa'afetai a le afioga ia Misaalefua Hudson, Kovana Itumalo
o Manu'a, i le faigamalo mo le tele o mea lelei ua faia mo e
itumalo i le tausaga ua fano ae maise ai lenei tausaga, pe a faatusatusa i isi faigamalo ua te'a. O le saunoga a Misaalefua e tali
atu ai i le saunoaga a le afioga i le Lutena Kovana ia Lemanu
Peleti Mauga i le aso Lulu i le fa'amanatuina o le fu'a a Manu'a,
e atoa i ai le 110 tausaga talu ona tuuina atu the Manu'atele i le
malo o le Iunaite Setete i se feagaiga na sainia ma Tuimanu'a.
O le polokalama o le fu'a o lenei tausaga, e pei ona fa'asalalauina
e le KVZK-TV i le po o le aso Tofi o le vaiaso lenei, e leai ni
fa'afiafiaga, vagana ai nisi o saunoaga faapea ma le sisiina o
fu'a i le sauniga sa faia i Ta'u. Saunoa ia Lemanu e faapea, o le
fa'amanatuina o le 110 tausaga o le tuuina atu o le Manu'atele i
le malo o le Iunaite Setete, o le "faataunuuga lea o moomooga o
tatou tuaa", i lalo o se feagaiga ma se malo e manuia ai Manu'a
ma Tutuila "ma ia maua so tatou lumana'i manuia." Sa ia taua
foi faapea, e tele fa'amanuiga ua maua mai i lenei feagaiga ma
Amerika sa osia ia Iulai 14, 1904, "lea ua tatou se'ei ai nei". O le
lu'itau mo Manu'a sa saunoa i ai Lemanu, "ia fai so tatou sao mo
tupulaga fai 'ae [ina ia] latou maua foi le suamalie o le su su ma le
meli e pei ona tatou se'e ai nei i ma'a o malie".
Sa toe fa'ataga'i e Lemanu le mamalu o le aofia i le saunoaga
a Peter Gurr, sui faatonu o le Matagaluega o Faatoaga, sa faia i
le aso Lua i le fa'aaliga o fua o faatoaga sa faafoeina e le Mataluega o Fa'atoaga. "Fai mai le saunoaga a le sui faatonu, 'ua
tagi le eleele'. Ese le manaia o ia upu. E ui lava o le saunoga a
le sui faatonu na faaautu faapea ma o le tali o le faamaliega o le
eleele i lona faaaogaina aua le totoina o fua o faaeleelega, ae ou
te ta'utino atu...o le tala mo'i a le lava le soli palapala - tulou - o
le pogai o le auga tupulaga lenei a tatou, ina ua le tepa taula'i le
tatou tupulaga i le lumana'i o alo ma fanau," o upu ia a Lemanu.
"Aua a le faia so tatou sao, e pei foi ona moemiti o tatou tuaa
i so tatou manuia aua le aluau i luma o Samoa atoa, tatou te le
mafai ona faamalie le eleele," o se isi vaega lea o le saunoaga
a Lemanu. "Tautuana le Manuatele, ia faamuamua ou tagata."
Sa faailoa e Lemanu i le mamalu o le Manu'atele o lo'o
momoli mai alofaga o le afioga i le kovana, le tofa i le toto ia
Lolo Matalasi Moliga, lea o lo'o i Hawai'i i le taimi lenei mo
ana talavai ona o lona gasegase. I le saunoaga a Misaalefua
sa ia taua ai e faapea o le 6 ai nei o tausaga talu ona avea o ia
ma kovana itumalo o Manu'a ma ia "momoli atu ai le faafetai"
i le malo ona o le manatua pea ma faamamalu le aso o le fu'a
a Manu'a. Saunoa ia Misaalefua e faapea, "o le tatou malo, le
malo a Amerika Samoa, o Tutuila ma Manu'a. A o le tele o
tausaga ua mavae atu, o a lava mea ua maua e le malo, a fai le
faasoa ma a i ai se mea e totoe, ona manatua lea o Manu'a."
"A leai se mea e totoe ona fa'aalualu ai lea faapea. A ou
faaleo atu la i tausaga ua mavae le tagisia a nai o matou tagata,
ona faatetele ina ai lea o le itagia o o matou tagata, ma faagalo ai
lava o mea o loo matou tagi atu ai i le faigamalo," o le saunoaga
lea a Misaalefua. "Ae o le tausaga ua mavae atu ae maise o
lenei tausaga, ua le uma la matou faafetai, faafetai lava, ona o le
faigamalo o loo i ai nei, lea ua taumafai e faatutusa le faasoaga
o le tatou faigamalo," o a Misaalefua lea. "O a ni mea e maua
e le malo, o a ni mea o loo faia i Tutuila, o lea ua faatupu foi i
Manua."
Saunoa foi Misaalefua ua molimauina e Manu'a "le tele o
mea eseese...mo o matou tagata. E ui e le'i atoa mai mea, a ua
matou mautinoa ua amata ona faatino, ae maise faigamalaga i le
va o Tutuila ma Manu'a, ua le o toe mamao ni aso ona matou
maua lea o le fiafiaga, o le mafai ona o atu ma o mai." Mo le
itumalo, "lea ua tatou vaai i tulaga ua i ai faamanuiaga ua tatou
maua. O le faatalosaga atu, tali sapaia, faafetaia, ma galue ma le
faamaoni, ina ia ave ave ai pea i luma ia faamanuiaga," o upu
faaiu ia a Misaalefua.
FATALITIES
LOCAL HIGHWAYS
01-01-14 to date
2
office of highway safety
NEWS IN BRIEF
Page 2
samoa news, Saturday, July 19, 2014
Executions rise
worldwide in 2013
MILAN (AP) — The
number of executions worldwide rose last year despite a
general global trend toward
capital punishment abolition,
according to a report released
Friday by an Italian anti-death
penalty group.
The organization Hands
off Cain, based in Rome,
said Friday that at least 4,106
people were executed in 2013,
up from 3,967 in 2012, due
to increases in Iran, which
recorded the highest number
of executions in 15 years, and
Iraq, which had the highest
number since the 2003 fall of
Saddam Hussein.
China remains the world's
top executioner, with more
than 3,000 executions carried
out last year, about equal to
2012. Still, the report noted
that executions in China have
halved since 2007 -- largely
due to a legal reform requiring
a high court review of death
penalty sentences.
Hands off Cain said 12
states were considered to have
abolished the death penalty in
2013 or so far in 2014, either
through a moratorium or de
facto by not carrying out an
execution in a decade.
Emma Bonino, one of
the group's founders and a
former Italian foreign minister,
expressed concern about hundreds of death sentences that
have been imposed this year
against supporters of deposed
Islamist President Mohamed
Morsi in Egypt, though still
pending legal appeals.
"The fact that there are hundreds sentenced to death after
completely summary trials
does not help," Bonino said by
telephone from Rome.
In the United States, the
botched execution of Clayton
Lockett in Oklahoma last April
has helped galvanize public
opinion against capital punishment, Bonino said.
Robber who hit
same bank, teller
twice sentenced
BREMERTON,
Wash.
(AP) — A 24-year-old man
who a month after being
released from prison for a bank
robbery held up the same bank
and teller has been sentenced
to more than 10 years behind
bars.
Joshua James Driskell was
arrested for robbing a Key
Bank branch in Bremerton,
Washington in October. He
had just completed his prison
sentence for the 2010 robbery.
The Kitsap Sun says court
documents show Driskell
went into the bank on Oct.
23 and gave the teller a note
demanding $10,000.
A detective recognized him
from security footage, and
the teller gave police a partial
license plate number of the getaway vehicle.
Driskell told police he spent
some of the $2,000 he got from
the robbery on marijuana. He
was sentenced last week to 129
months in prison.
German church exits
spike amid bling
bishop furor
BERLIN (AP) — The
German Bishops' Conference
says the number of Germans
leaving the Roman Catholic
church jumped sharply last
year, an apparent result of an
uproar over a bishop's lavish
new residence.
The conference said Friday
that 178,805 people formally
left the church in 2013, compared with 118,335 the previous year. The figure was just
short of the 181,000 people
who quit the church in 2010
amid a scandal over sexual
abuse by clergy.
Pope Francis permanently
removed Franz-Peter Tebartzvan Elst as Limburg bishop in
March, months after an outcry
erupted over his residence's
31 million-euro ($42-million)
price tag.
Cardinal Reinhard Marx,
who heads the bishops' conference, said "the second half of
2013 evidently led to a loss of
confidence and credibility."
Germany's Catholic church
had nearly 24.2 million members last year.
TSA screener:
Man had 'artfully
concealed knife'
DETROIT (AP) — A man
arrested after Detroit airport
security agents found a knife
inside a shoe in his carryon luggage told police he
believed he wasn't breaking
the law because the weapon
had already passed through
screening at an airport in Alabama, according to an investigative report.
The 38-year-old man's
statement is contained in a
Wayne County airport police
report obtained by The Associated Press via a Freedom of
Information Act request.
An X-ray operator for
the Transportation Security
Administration noticed the
knife during an initial screening
July 6 at Detroit Metropolitan
Airport in Romulus, the report
said. She then asked for a col-
Department of Youth and Women's Affairs
Skills Training
SEWING TRAINING FOR
WORKING WOMEN
CULINARY/COOKING
TRAINING
Commencing July 21, 2014,
Commencing July 21, 2014, 9:00am to 1:00pm
5:00 pm to 8:00 pm
Three sessions; Mondays/Wednesdays/Fridays
Two sessions; Mondays/Wednesdays
(Choose One)
or Tuesdays/Thursdays
Location: Ausage & Associates Training Center Location: DYWA Office Lepuapua, Leone
Executive Office Building (EOB) 2nd floor
60 slots; 20 per session
30 slots; 15 per session, first come first served basis
REGISTER WITH LORETTA
MISIAITA AT 633-2835 OR
EMAIL PA'U ROY AUSAGE AT
[email protected]
Matagaluega o Mataupu Tau
Tupulaga, Tina ma Tama'ita'i
FLOWER ARRANGEMENT
TRAINING
Commencing July 22, 2014, 9:00am to 1:00pm
Two sessions per week; Tuesdays or Thursdays
Location: Old Election Office - Utulei
40 slots; 20 per session
league to check the man's bag.
That TSA screener said in
a written statement that he discovered the "artfully concealed
knife" in the lining of the left
shoe. The passenger said "he
was told that if he put the knife
under the insole that it would
not be seen on the X-ray," the
TSA agent wrote.
The man told police the
stainless steel Kershaw folding
knife, similarly concealed, had
not been "discovered or confiscated by the TSA" at the airport in Huntsville, Alabama,
three days earlier.
As a result, police said, the
man said he "did not think it
was a criminal violation of
law to have the knife in his
luggage."
Rare blue-colored
Police: Fla father
beats accused child
abuser
DAYTONA BEACH, Fla.
(AP) — Police say a Daytona
Beach father beat an 18-yearold man unconscious after
finding him sexually abusing
his 11-year-old son.
Authorities say the father
called 911 early Friday after
he walked in on the alleged
abuse. When asked by the
911 dispatcher if any weapons
were involved, the father said
"my foot and my fist." The
father has not been charged
with any crime. When officers
arrived they found Raymond
Frolander motionless on the
living room floor. He had several knots on his face and was
bleeding from the mouth. The
Daytona Beach News-Journal
reports the father — who was
not identified by police — told
investigators he walked in as
Frolander was abusing the boy.
Frolander is charged with
sexual battery on a child under
12.
W.Va. reporter heard
backfiring truck,
not gunfire
BECKLEY, W.Va. (AP)
— Police say a West Virginia
reporter who ducked for cover
after she heard gunfire at the
scene of a killing actually heard
an aging pickup truck backfire.
Beckley police detective
Morgan Bragg said Friday the
driver of the truck was passing
by the crime scene on Monday
when his vehicle backfired, as
he said it is prone to do.
WVVA-TV says reporter
Annie Moore was recording
video when she believed
someone in a passing vehicle
fired a shot at her. She took
cover behind a station vehicle.
Moore wasn't alone. Bragg
tells media outlets officers on
(Continued on page 5)
GAOTEOTE: E le
fa'alevaleva aso tagata
e le 'ava tama atunu'u
tusia Ausage Fausia
Na pei e fa'aataata lafoga saunoaga ma lafoga a afioga i
Senatoa i le aso Gafua na te'a nei, ina ua maua le avanoa e
felafolafoa'i ai tama o le atunu'u i le taua o le usita'i o tagata
uma i le tulafono, atoa ai ma le tagata na te fa'autagia fautuaga a
tama o le atunu'u. Saunoa le peresetene o le Senate ia Gaoteote
Palaie Tofau e fa'apea, e le mafai ona sese upu a le Tusi Paia e
fa'atatau i le tagata e 'ava i lona tama ma lona tina.
"Fai mai le Tusi Paia, so o se tagata e ava i lona tama ma lona
tina, e fa'alevaleva ona aso e ola ai i le eleele, lona uiga lava, o
le tagata na te le faautagia mai fautuaga a tama o le atunuu, e le
fa'alavelave aso o lona olaga", o le saunoaga lea a Gaoteote na
alu ai le tali e a afioga i senatoa.
"Ou te iloa o a outou saunoaga ia sa lafo i si Teutupe ua
mafua ai ona mamafatu i lona finagalo mea sa atugalu i ai a
outou afioaga, se fa'amolemole sei tau faamama mai a outou
saunoaga ma le mamafatu i le atunuu", o le isi lea saunoaga a
Gaoteote.
Ae na saunoa le afioga i le senetoa ia Soliai Tuipine Fuimaono e fa'apea, e taua tele le amanaia e so o se molimau o ni
fautuaga e fautua atu ai tama o le atunuu, aua o le maota maualuga o lo o taoto ai le tofa ma le faautautaga loloto mai tapaau
ma faasuaga o le atunuu.
Ae na saunoa le afioga i le alii senatoa ia Galea'i Tu'ufuli e
fa'apea, e taua tele i so o se tagata ona usita'i i le fautuaga e tuu
atu i ai.
"Tusa lava po o ai oe, afai loa e tuu atu se fautuaga e se tagata
matua po o se taitai ia te ia, o lou tiute o le usita'i ma fa'aaoga
le fautuaga, ae aua e te le usita'i", o le saunoaga lea a Galea'i.
O se tasi o mataupu na matua vavao ai le senate ma le
Teutupe a le malo ua tuumalo, o le mataupu i tupe a le malo,
aemaise lava i tupe o lo o totogi atu i le falema'i, lea sa fesiligia
e le maota pe aisea ua taofi ai e le malo ae le totogi sa'o tupe i le
falema'i e pei ona fai mai ai le tulafono.
Ua sauni le senate e galulue ma le sui teutupe o lo o i ai nei
mo le faamautuina o tulaga uma e faatatau i tupe a le malo e
tatau ona totogi atu i le falema'i o le LBJ.
Governor updates Fono on Manu'a
and Swains transportation options
by Fili Sagapolutele
Samoa News Correspondent
The
new
government
owned catamaran purchased to
provide transport between the
Manu'a islands is now expected
to arrive later this month, while
efforts are ongoing to secure a
second larger vessel for ocean
transportation between Tutuila
and the Manu'a islands.
This was the update provided by Gov. Lolo Matalasi
Moliga in his fiscal year 2015
budget cover letter to the Fono
leaders this week. The governor shared with the Fono an
update on transportation services for the Manu'a islands,
when he discussed economic
development for the island
group.
"Our efforts to develop
the Manu'a Islands are progressing well with many of
the government agencies now
having physical presence on
Ta'u and Ofu," he wrote.
"The small vessel servicing
Ta'u and Ofu will arrive on the
29th of this month," he said
referring to the catamaran built
by Armstrong Marine, based
in Washington State, for a
contract amount of $802,944.
The vessel that was initially
scheduled to arrive in the territory just in time for this year's
Manu'a Cession Day on July
16 was delayed.
The boat can carry about
25 passengers. Boat speed
is about 20-25 knots and in
good weather, a trip from Ofu
to Faleasao (on Ta'u island)
would take about 15 minutes.
In his budget letter, Lolo
said a bigger vessel to supplement ocean transportation service between Tutuila, Ta'u,
and Ofu is expected to be operational by the end of 2015.
Lolo didn't provide any
other details about this vessel,
but Samoa News understands
that it will cost around $5 million and Lolo has submitted
revisions to the U.S. Department of Interior for approval to
FYs 2014 and 2015 allocations
to ASG's capital improvement project funding, which
includes just over $3 million
towards the cost of the boat.
(See Samoa News edition July
17 for more details)
As to air transportation,
Lolo told Fono leaders that
air transport is "marred by
the multitude" of U.S. Federal Aviation Administration
requirements and additional
investments the government
had to make to the old Segaula
plane to pass FAA inspections.
Additionally, "Aggressive
support is being provided to
Inter-Island Airways to expedite the repair of the Dornier
228 so it can resume its flights
to Ta'u," he said.
The old Segaula plane
has been leased by ASG to
Inter Island Air to operate
as Manu'a Air while Inter
Island's Dornier has been
down for several weeks due to
mechanical problems.
SPECIAL PROGRAMS
Under the Special Programs budget category for FY
2015, the Lolo administration is allocating $350,000 for
Manu'a transportation with
the governor saying that it can
no longer be the practice to
ignore the needs of American
Samoans living in Manu'a as
they are "entitled to the same
quality of services taken for
granted by American Samoans
living on Tutuila and Aunu'u."
"Accordingly, these funds
will finance voyages by the
MV Sili between Tutuila and
the Manu'a Islands. With
increased social and economic activities planned for
the Manu'a Islands, it might
be necessary during the year to
add more funds to accommodate additional trips by the MV
Sili," he said.
Also under the Special Programs is $50,000 for Swains
Island transportation. Lolo
says these funds will defray
the cost of MV Sili's voyages
to Swains at least on a quarterly basis or as many times
as necessary to accommodate
the needs of these American
Samoans on Swains.
samoa news, Saturday, July 19, 2014 Page 3
Jet Skis for sale
Owner leaving island
Call 256-1391
ASCC STUDENTS
COME AND LEARN ABOUT
"HOSA (Health Occupations Students of
America) FUTURE HEALTH PROFESSIONALS"
A student organization, founded in 1976.
JOIN US, SO YOU DO NOT MISS
THE BENEFITS FOR YOUR CAREER!
DATE: JULY 31, 2014 • TIME: 10:00 AM
ASCC BUILDING M-10 (Nursing 2 Building)
CONTACT ASAHEC: 699-1587 or [email protected]
Deja Phew: Plane lands on
NY highway for 2nd time
Tausala fa'a Tutuila Café
EAST MORICHES, N.Y. (AP) — A New York pilot who
landed his disabled plane on a highway for the second time in
eight days said Friday he's lucky to have escaped unhurt and
thankful he didn't hit anyone. Frank Fierro, 75, said he was
"shaking" as he glided the single-engine Challenger ultralight
plane to a landing on the eastbound lanes of Sunrise Highway
just before 1 p.m.
Fierro landed the same plane in a nearby median on July 10.
Police said Fierro was flying the plane for the first time since
last week's incident. Both times it developed engine trouble,
forcing Fierro to find a makeshift runway before he could get
back to Spadaro Airport in East Moriches. "I was hoping to
stop in the same spot, but on the median there was a truck,"
Fierro said. "I was hoping they would move when they didn't I
snapped the controls and moved over to the right and went on
the highway."
Fierro said he hesitated to land on the highway, a heavily
traveled east-west thoroughfare from the New York suburbs to
the Hamptons on the south shore of Long Island.
"The last thing I would want to do is hit a family in a car,"
he said. "A beautiful family with children stopped right behind
me." Fierro said despite the close calls he'll keep flying. He
cited Chesley Sullenberger, the pilot who landed a passenger
jet on New York's Hudson River after a bird struck an engine,
as inspiration. Plus, he said, he's got luck on his side and, possibly, a higher power for a co-pilot.
"I think someone up there is paying attention to me," Fierro
said. "And that means a lot."
Tausala fa'a Tutuila Café offers a wonderful selection of dishes
for breakfast and lunch on
Saturdays and Sundays.
Sunday Toanai - Samoan Plate, Bottom Fish & Povi Masima
For this weekend only, we will validate your parking.
Come and meet our wonderful staff & try our delicious food.
Our hours are from 7am to 6pm.
Fa'afetai tele,
Tausala fa'a Tutuila Café Management & Staff
Pago Pago International Airport
Tafuna • 699-7007
Page 4
samoa news, Saturday, July 19, 2014
THE BOB FRANKEN COLUMN
The Ties That Unbind
By Bob Franken
That recent Pew Research Center poll is pretty jarring. We
are so politically polarized in this country that nearly one in
three "consistently conservative" Americans would be upset if
one of his or her children wed a Democrat. For the "consistently liberal" respondents, it was nearly one in four for the
opposite wedding.
Imagine the new remake of "Guess Who's Coming to
Dinner." How many would be protesting they weren't really
closed-minded, saying, "Some of my best friends are (right
wingers/left wingers), but would you want your daughter to
marry one?"
And here's a tough question for those on the right: Would
you be against your kid tying the knot with a Democrat more
than if he or she married a Republican of the same sex?
Pew documents that large segments of our population have
become so rigid in their beliefs that they prefer being exclusively with their own ideological kind.
By the way, 49 percent of all Americans say they'd be distressed if the new in-law was an atheist. Maybe that's because a
church ceremony probably would be out of the question.
Sadly, the idea that we're all in this together is dissolving.
Usually, we're not; the very political process that's supposed
to bind us together is driving us apart. We've drifted from
the "one nation, indivisible" promise to a country that is very
divided. Our flag is one of the few places where red and blue
get together.
There seems to be little common purpose. Partisan disputes
defy resolution. If anyone dares to flirt with compromise, he is
treated within his camp, on both the right and left sides of the
barrier, as if he has committed a crime against nature and is
literally shunned, tossed out of the community. It's a ritual we
call the primary.
Who benefits from this? Certainly those who get rich and
stay rich by gaming the system do. If the bulk of us spend our
time refusing to even deal with each other, then nothing can
get done, obvious inequities and abuses are unchallenged, and
those who benefit continue to while everyone else gets hosed.
It's classic "divide and conquer," and it explains why certain
mega-wealthy individuals, like the infamous Koch brothers,
spray a little of their wealth on efforts to exploit ignorance,
inflame cultural passions, inhibit reform and make sure that, as
a result, nothing stands between them and their greed.
Those of us in the media certainly aren't helping. Far too
many have abandoned the tradition of nonalignment and staked
our professional fortunes to one side or the other. The result is
that most Americans get a slanted view of any issue, as they
gravitate to the reporters and commentators who reinforce their
predispositions. Management has decided that this approach is
the new way to attract viewers.
The Founding Fathers envisioned a land bound by common
principles, where we would argue issues with respect, but
debate has been replaced by baiting, and no one listens to anything but his or her own voice. Sadly, the name of our country
is becoming obsolete. More and more, we are no longer the
United States.
(c) 2014 Bob Franken
Distributed by King Features Synd., Inc.
Scooters rule Taiwan, family style. [Photo: Barry Markowitz]
Cool Stuff: Uila Afi Taiwan
By Barry Markowitz
Taiwan's roads are good, the people are
happy; food is high quality as well as a real
low priced value. Taiwan is a proud nation
that honors family, its military, and its unique
ethnicity of Taiwanese and Chinese heritage
— with some of the older folks still fluent in
Japanese.
China lost the first Sino-Japanese War which
led to the ceding of Taiwan (Formosa) to Japan
in the Treaty of Shimonoseki on April 17, 1895
…Tutuila's Flag Day? From 1895 to 1945
Taiwan was intended to be Japan's model territory for imperial domination of Southeast Asia.
We know how that all worked out, with a lot of
brave US Military transiting through Samoa's
shores to change Japanese aspirations.
Visiting Samoans should embrace Taiwan's
traditions and their commitment to youth.
I visited several elementary, middle and high
schools walking away in awe. I saw elementary
schools that looked like the University of California at Berkeley, impressive structures and
made to last. Everywhere I meander here, all
are outwardly friendly and helpful
Just mucking around general stores that
seemed to be a cross between old Spencer's
Store Pago Pago and Tasi Ah Yek's Matautu
Tai shop, I saw an incredible array of exceptional high quality household goods and tools
made in Taiwan. If cost effectiveness dictates
Asian products be sold in the Territory, go Taiwanese all the way Coolios.
For instance, the Porby Microwave Rice
Cooker ($10 USD) is the perfect travelers companion, or just for yourself at lunch or school.
Wash your rice; soak it for 30 minutes, pop it in
the microwave for 8-10 minutes and you have
perfect rice. I have tried several other brands
from New Zealand and China, but none work
like this little beauty available at "BL Mart"
Xinfeng, next to the prominent "Welcome
Mart" Supermarket. Proprietress Chris Sun is now our new fa'a
aiga cousin. She speaks English well, has time
to share a coffee while running the store, and
one of her daughters is a cute little princess that
we are going to have to teach how to siva and
hula. Chris' store has everything, from typical
low-end Asian general store knickknacks, to
high-end coffee roasters and trendy Japanese
coffee siphon machines. Imagine a store that
has hardware, household goods, flashlights,
batteries, camp stoves, cosmetics, stationery
goods.... all reflective of the Taiwan nation's
commitment to quality. But, as Coolios everywhere know, any
shopping expedition requires a few shots of
the locally made spectacular Kavalan Scotch
Whiskey, and several bottles of TsingTao or
Taiwan Beer. If it ain't Vailima, it's whatever
is ice cold and close at hand. Right Mates?
Samoa's residents will also embrace local
beer as an electrolyte as the heat and humidity
is Pago style to da max. Any justification helps
in explaining why Vailima or its substitutes
are essential for a healthy journey in search of
"Cool Stuff."
© Osini Faleatasi Inc. reserves all rights.
dba Samoa News is published Monday through Saturday,
except for some local and federal holidays.
Please send correspondences to: OF, dba Samoa News,
Box 909, Pago Pago, American Samoa 96799.
Contact us by Telephone at (684) 633-5599
Contact us by Fax at (684) 633-4864
Contact us by Email at [email protected]
Normal business hours are Mon. thru Fri. 8am to 5pm.
Permission to reproduce editorial and/or advertisements,
in whole or in part, is required. Please address such requests
to the Publisher at the address provided above.
The Porby Microwave Rice Cooker ($10 USD) is the perfect travelers companion.
[photo: Barry Markowitz]
Uaealesi
mosooi a le
samoa news, Saturday, July 19, 2014 Page 5
In Our Hearts Forever
VAOSA TOFA
Sunrise: May 23, 1964 • Sunset: July 12, 2014
FAFIGE FAIKAKALA
tusia SAM
FACEBOOK FAIKAKAKLA
Te'i le Fafige Faikakala ina ua tago e tatala atu lana 'Facebook page' i le isi afiafi, ae tau atu ai i muimuiga a isi maula e
faigaluega i isi matagaluega a le malo, o lo o tali e ma fai tala ula
e fa'atatau i le suega a le Matagaluega o Aoga e taua o le 'Praxis
test' ea po o le a, lea fai mai e ova i le 700 le aofai o faiaoga na
su'e i le suega lea i le masina o Iuni na te'a nei, ae na o le 140
ma ona tupu faiaoga na pasi.
E le'i toe faatali le Fafige Faikakala ae na aapa atu loa i lana
telefoni 'touch screen' ma omiomi loa le numera a le isi ana uo
toeaina e faigaluega foi i le Ofisa o Aoga, i lona fia maua o le
au o le paipa pe moni muimuiga a le au kuoli lea na tau ai i luga
o le 'facebook'. Na tau malepe totonu o le ofisa a le Fafige Faikakala i le ata ee i luga ina ua fesili atu i lana uo toeaina ae tali
mai lana uo, e matua sa'o lava muimuiga ma talanoaga a tagata
e faatatau i le faaiuga o le suega a faiaoga. O le isi la mea e malie
ai, o le toatele o faiaoga na su'e i le suega, e le pasi uma latou i
vaega e tolu o le suega, ma ua atagia mai ai, o le isi lea faafitauli
o lo o tulai mai i le taimi nei, e le gata i le o tau autago o nai
tamaiti aoga, ae oo lava fo'i i faiaoga o lea fo'i e o tau autago i
le aoaoina o nai fanau, lona uiga ua moni ai ma le lauga a le isi
faifeau ua maliu, ua ta'ita'i e le isi tauaso le isi tauaso. Fai aku
ai fo'i.
AMATA FOI ONA PISI LE PALOTA
Ataata oomi lava le Fafige Faikakalka ma fa'alogologo i talanoaga a le isi aualii o le latou nuu i totonu o le pasi, po o ai se
sui o le latou itumalo e tatau ona latou palota i ai i le palota lea
ua loma nei ia Novema. Kailo fo'i i le vaa e alu i luga o le sami
ae sou i le alu i luga pau i lalo pe maua faiga a le au alii ia, i le
fekogiaiga o le faipule o le ikumalo o lo o gofo mai nei, e fai o le
kogi i luga ae o le ako foi i lalo e le kele lava i se piko.
Ina ua tatala le Fono Faitulafono i le aso Gafua na te'a nei,
na faalogo ai le Fafige Faikakala o talasua isi alii faipule ma
faapea a la tala ula, "ua oo mai foi le kaimi e lulu ai ma le fiafia le
auauga lelei, ae foi ai ma loimaka ma auauga le faamaogi". Vaai
lau ekisi Amerika Samoa aua le faataua i se pusa moa po o se
taaiga ie, ae filifili ma le toto'a i se tasi e tula'i mai ma le alofa i
le itumalo. O upu ua masani ai Samoa i aso fa'apenei, ia fili lava
i le tai se agava'a. Pe sa'o ea a'u pe leai.
TALOFA E IA MANU'A
Fa'alogo ma le loto momomo si Fafige Faikakala i talanoaga
a isi olomatutua Manu'a i luga o le uafu i le vaiaso nei, ao pisi i
le tau faapusaina o a latou faamomoli e ave i le malaga a le MV
Sili i Manu'a i le aso Gafua na te'a nei, i le latou muimuia lea o
le faigamalo i le faatamala ma le le manatu mamafa ia Manu'a,
i le leua ane lava ma leaga le MV Sili, leua ane lava ma leaga le
va'a, ae o le a faafefea la tagata Manu'a.
"Talofa e ia Manu'a, a ea". Fai mai le tomumu a le isi olomatua i le latou talanoaga sa fai, "Aga le kaoko le kovana i le
falema'i i Hawaii kakou ke le pologa faapea, legei ua koe fo'i
lava i le ipu ki ma le faalifu le kele o afiafi kalu ai ua leai se va'a
e avaku ai se pusa moe mo gai kamaiki." Na motu faafuasei le
tomumumu a nai loomatutua ina ua savali atu le isi alii Manu'a
e faigaluega i luga o le va'a ma fai atu ia i latou, "Se'iloga lava
e pasia e le Ofisa o le Coast Guard a le malo kele le va'a oga
fa'akoa mafai lea oga alu i Magu'a". Te'i sei tama o le va'a i le
fa'apea atu o le isi olomatua, "E sa'o a la si a'u kama lea e aoga
i le Kolisi, fai mai e le o le kovana e pule e pule lava kama o le
ofisa a le Koso Kale ea po o le a". Talofa e ia Manu'a.
FEOA'I MA OFU MAFANAFANA LE TO'ATELE O TAGATA
E le iloa e si Fafige Faikakala pe ata pe igoigo i le vaaiga
lea sa ia maitauina i nisi o le atunuu i le faaiuga o le vaiaso na
te'a nei ma ona tua atu, i le toatele o fafine e taaalo Bingo ua
feofeoa'i solo ma ofu mafanafana lima uumi i le afiafi ao tau
faatali pasi o le Bingo. Fesili atu i ai le Fafige Faikakala i le isi
olomatua pe aisea ua ofu mafanafana lima uumi ai ae sau le tali,
"leaga ua winter Samoa".
Na faailoa e le Fafige Faikakala i si olomatua lea, ua mafua
ona malulu afiafi ona o lea ua oo i le vaitau e agi malosi mai ai
le savili o le Tuaoloa mai le itu i Toga, o le tau lava ua masani
ai Samoa mai aso anamua, fai mai loomatutua ma toeaiina i aso
la, a oo loa i le taimi e agi agi mai ai le Tuaoloa, ona vaaia loa
lea ua ola fiafia meaola ma manu ae laufa'ia ai tagata soifua, ma,
atonu o le mafua'aga lea ua feofeoa'i solo ai nai fafine Bingo ma
ofu mafanafana ae o lo o susulu malosi le la i le afiafi, ua amata
ona laufa'ia atu ai ma o latou mafaufau, ua moni ai loa ma le
tomumu a le isi olomatua i le fafine nofotane a le latou aiga, e
leua ane lava si tama'i tala ma ata, fai mai "a le vasti e ma'i".
Fai mai le uo a le Fafige Faikakala i le Ofisa Vaaitau, o le
'temperature' i le fa'aiuga o le vaiaso na te'a nei na oo lava i lalo
i le 66 tikeri.
Athough you are not with us physically, your spirit and light will always remain and shine; not
only within our hearts but in the lives of many others whom you have touched and greatly
influenced. You have been, are, and always will be remembered for your warm and glowing
smile, humble spirit, outgoing personality and strong determination. You are the best
Grandfather, Father, Husband, Brother and Uncle and can never be replaced.
FAMILY SERVICE
Sat, July 19, 2014 • 6:00pm • LBJ Chapel
Vaosa will be taken to Apia, Samoa
on Thursday, July 24, 2014 to his final resting place.
➧ News In Breif…
the scene of the slaying initially mistook the
sound of the backfiring truck for a gunshot.
US funds political groups in
Venezuela despite ban
CARACAS, Venezuela (AP) — Almost four
years after Venezuela enacted a law to bar the
U.S. from funding groups frequently critical of
the socialist government, millions of the American dollars the administration tried to ban still
flow to these organizations, an analysis by The
Associated Press shows. Much more U.S. support is under consideration. The State Department and the National
Endowment for Democracy, a governmentfunded nonprofit organization, together budgeted about $7.6 million to support Venezuelan
groups last year alone, according to public documents reviewed by AP.
That was 15 percent more than they collectively authorized in 2009, the year before
then-President Hugo Chavez pushed Venezuela's Congress to ban such funding in the name
of protecting the country's sovereignty from
groups it views as the opposition.
In Washington, the Senate is considering
a bill to boost State Department aid to prodemocracy groups in Venezuela from about $5
million to $15 million amid calls for a tougher
line against Venezuela after current President
Nicolas Maduro cracked down on anti-government protests. A similar version cleared by the
House would maintain current funding levels.
Staffer for Pa. congressman
arrested on gun charge
WASHINGTON (AP) — A staff member
for a Pennsylvania congressman was arrested
Friday after carrying a handgun and magazine
into the Cannon House Office building, U.S.
Capitol Police said.
Ryan Shucard, press secretary for Republican
Rep. Tom Marino, was arrested Friday morning.
Marino is in his second term representing north-
Continued from page 2
eastern Pennsylvania. A spokesman for Capitol
Police said Shucard entered the Cannon building
Friday morning with a Smith & Wesson 9mm
handgun and magazine that was discovered by
a metal detector. Shucard is charged with a carrying a pistol without a license, a felony.
Bill Tighe, the congressman's chief of staff,
said Shucard has been placed on unpaid leave.
Shucard started with Marino's office in May.
According to his LinkedIn profile, Shucard
is a University of Northern Colorado graduate
and previously worked for former Sen. Joseph
Lieberman, I-Conn.
Forbes sells majority stake to
group of investors
NEW YORK (AP) — Forbes said Friday it
will sell a majority stake in the family owned
magazine publisher to a Hong Kong-based
investor group. Financial terms of the deal were
not disclosed. The New York company said in
November it was putting itself up for sale.
The buyers are led by Integrated Asset Management Ltd., a Hong Kong investment firm
that invests in telecommunications, finance and
technology companies.
The Forbes family will keep a "significant"
ownership stake and stay actively involved
with the company, Forbes said. Steve Forbes
will stay on in his role as chairman and editorin-chief, the company said, while president and
CEO Mike Perlis will continue to lead the company's management team.
IRS says hard drive that lost
emails destroyed
WASHINGTON (AP) — The IRS said
Friday that Lois Lerner's computer hard drive
was destroyed three years ago, ending any
chance of retrieving her lost emails.
In court papers, the IRS said the hard drive
was destroyed after two sets of trained technicians tried to retrieve the data. The tax agency
(Continued on page 11)
Page 6
samoa news, Saturday, July 19, 2014
by Joyetter Feagaimaali'i-Luamanu
Samoa News Reporter
A home and a burned-out car and golf cart remain from a wildfire the night before, Friday,
July 18, 2014, in Pateros, Wash. A fire racing through rural north-central Washington destroyed
about 100 homes, leaving behind smoldering rubble, solitary brick chimneys and burned-out
(AP Photo/Elaine Thompson)
automobiles as it blackened hundreds of square miles. Teen's death puts focus on
caffeine powder dangers
COLUMBUS, Ohio (AP) — The sudden
death of a healthy high school senior has ramped
up attention on unregulated caffeine powder,
leading federal health authorities to warn consumers to stay away from the substance.
A recent autopsy found that Logan Stiner,
18, had a lethal amount of caffeine in his system
when he died May 27 at his home in LaGrange,
Ohio, southwest of Cleveland. The county coroner said Stiner had more than 70 micrograms
of caffeine per milliliter of blood in his system,
as much as 23 times the amount of a typical
coffee or soda drinker.
His mother has said she was unaware her son
took caffeine powder. The prom king and wrestler was days away from graduation. He had
planned to study at the University of Toledo.
"I don't think any of us really knew that this
stuff was out there," said Jay Arbaugh, the Keystone Local Schools superintendent.
The U.S. Food and Drug Administration said
Friday that it's investigating caffeine powder
and will "consider taking regulatory action."
The agency said it was aware of the teen's death
and cautioned parents that young people could
be drawn to it.
Caffeine powder is sold as a dietary supplement, so it's not subject to the same federal regulations as certain caffeinated foods. Users add
it to drinks for a pick-me-up before workouts or
to control weight gain.
A minuscule amount of caffeine powder
packs a punch.
Merely 1/16th of a teaspoon can contain
about 200 milligrams of caffeine, roughly the
equivalent found in two large cups of coffee.
That means a heaping teaspoon could kill, said
Dr. Robert Glatter, an emergency physician at
Lenox Hill ?Hospital in New York.
The powder is almost impossible to measure with common kitchen tools, the FDA said.
Volume measures like teaspoons aren't precise
enough and a scale may be needed.
"The difference between a safe amount and a
lethal dose of caffeine in these powdered products is very small," said FDA spokeswoman
Jennifer Dooren.
Glatter said he's seen several younger
patients experience complications from caffeine in the last few months. Some have arrived
at his hospital with high, rapid heart rates.
"They're starting to latch on to the powders
more because they see it as a more potent way
to lose weight," Glatter said.
Health officials worry about caffeine powder's potential popularity among exercise
enthusiasts and young people seeking an energy
boost.
Dr. Henry Spiller directs a poison control
center at Nationwide Children's Hospital in
Columbus, Ohio. Over a week or so this month,
the center took reports of three people hospitalized for misusing caffeine powder.
"I can't believe you can buy this," Spiller
said. "Honestly, I mean, it's frightening. It
makes no sense to me."
Federal investigations have recently
prompted some companies to pull products
with added caffeine.
Last year, Wrigley halted sales and marketing of Alert caffeinated gum after FDA discussions. In 2010, the federal agency forced
manufacturers of alcoholic caffeinated beverages to cease production of those drinks.
Authorities also have said they would take
action if they could link deaths to consumption
of energy drinks.
Hospitalizations from energy drinks have
been on the rise.
The number of emergency department
visits involving energy drinks doubled — from
10,068 visits in 2007 to 20,783 visits in 2011,
according to the federal Substance Abuse and
Mental Health Services Administration. Most
of the cases involved teens or young adults.
A full teaspoon of powder could contain
3,200 milligrams of caffeine.
In that concentrated amount, a person can
experience adverse effects in a matter of minutes, said Dr. Bob Hoffman, a New York University medical toxicologist.
The brain becomes alert, then agitated and
confused. The heartbeat picks up and can
become dangerously irregular. A consumer
can feel nauseous, vomit and potentially have
a seizure.
"The thing about caffeine is just because
you see it every day, just because it's naturally
occurring — it comes from a plant — doesn't
mean that it's safe," Hoffman said.
Three weeks before Stiner's death, students
at Keystone Local Schools attended an assembly
on heroin overdoses and painkillers, Arbaugh,
the superintendent, said. "We were addressing
things we thought we should be addressing."
Next year, he said, the dangers of caffeine
powder will be added to the district's drug and
alcohol awareness programs.
DPS OFFICER ENTERS PLEA OF NOT GUILTY
Senior police officer Poe Leapai, yesterday entered a plea of
not guilty to three charges of stealing filed against him on allegations that while in uniform he allegedly placed dead cockroaches
in the food he would buy from certain stores run by Asians, and
then ask the store owners for money in return for not contacting
the Department of Health.
Leapa'i who's been with the Department of Public Safety for
some 17 years, waived his rights on Thursday to a preliminary
examination in the District Court.
Deputy Attorney General Mitzie Jessop is prosecuting this
matter while defense counsel is Assistant Public Defender Matthew Trick.
Leapai is charged with three counts of stealing, two of which
are Class C felonies, punishable with up to seven years in jail, a
fine of up to $5,000 or both fine and jail time. The third stealing
count is a misdemeanor, which carries a sentence of up to one
year in jail, a fine of up to $1,000 or both.
According to the government's case, there were three stores in
the police affidavit supporting the arrest warrant, which are Coco
Mart Happy Mart in Nu'uuli and Mandarin store in Malaeimi —
that "were victimized by Leapai employing the same method
to appropriate money," say court documents. According to the
government's case, the defendant allegedly collected a total of
$240 from the three stores.
Leapai is out on bail of $5,000 which was reduced from his
original bail of $10,000 on the condition that he remain a law
abiding citizen, remain in contact with his attorney, appear at all
court hearings and have no contact with the stores in question,
directly or indirectly.
MAN IN HOMICIDE CASE ENTERS GUITLY PLEA
Associate Justice Lyle L Richmond has taken under advisement a plea agreement between the government and Eric Naiuli
of Afonoa in connection with an incident that occurred in Afono
last year, which resulted in a man's death. Naiuli pleaded guilt to criminally negligent homicide.
According to the government's case, the defendant was in a
drinking session and a fight broke out. The victim, who intervened to stop the fight, was struck on the head. The victim was
transported to the hospital where he later died as a result of the
incident.
The High Court is awaiting a pre-sentence report and the
autopsy report on the deceased in this case.
President Barack Obama pauses while speaking about the
situation in Ukraine, Friday, July 18, 2014, in the Brady Press
Briefing Room of the White House in Washington. The president said one American was killed on the plane over Ukraine,
and the airliner was shot down by a surface-to-air missile in an
area controlled by Russian-backed separatists.
(AP Photo/J. Scott Applewhite)
samoa news, Saturday, July 19, 2014 Page 7
American Samoa Government
DEPARTMENT OF PUBLIC SAFETY
"POLICE ENTRANCE EXAMINATION NOTICE"
The Commissioner of Public Safety, William E. Haleck, would like to acknowledge the Entrance Examination for New Recruits for the next
Police Academy. This announcement is for all applicants who applied at the Department of Human Resources for the position of Police Officer
Cadet (that did not show up for the original exam date). An additional exam date is set for Tuesday, July 22, 2014 at the Department of
Agriculture Conference room in Tafuna. There will be three sessions by alphabetical order, please show up according to the listing below:
7:30 - 10:30 AM • AFOA-LEPAU
11:00 AM - 2:00PM • LEUMA-SEGA
2:30 - 5:30 PM • SEIULI-VOIGT
The following applicants must be at the venue of the exam at least one hour before the starting time. Please bring a photo ID to register.
Last Name
Afoa
Afoa
Ah Foon
Anoai
Asiata
Aupaau
Autele
Boone
Cameron
Chan Sau
Choo
Collins
Esekia
Faagata
Fakaua
Fakaofo
Farani
Fatu
Faumuina
Filipo
Fua
Fuamatu
Fuiava
Galeai-Muhu
Gutu
Heather
Heilala
Huakau
Hunkin
Iakopo
Ili
Ioane
Isaako
Jungblut
Kelemete-Maa
Knowles
Kome
Laolagi
Latu
Lauoletolo
Lauoletolo
Leatualevao
Lee
Leiato
Leifi
Leifi
Leituala
Leotele
First Name
Josephine
Kosetatino
Jr. Falaniko
Naomi
Iopu Emanuelu
Faasii
Ben
Felix
Kalala
Kau
Kelly
Nixon
Fialogo
Katrina
Elaine
Aneli
Farani
Faitu
James
Opeta
Pii
Samuelu
Matthew
Misipeka
Charmaine
Tolfie
Lagilagi
Tulei
William
Liutai
Vitale
Tasha
Kirsten
Courtney
Flora
Adrian
Daniel
Shaun
Heamasi
Moses
Poumona
Roteliko
Ronald
August
Messenger
Risatisone
Jason
Ropeti
Last Name
Lepau
Leuma
Leuma Jr.
Leupolu
Levaoalii
Liu
Maalona
Mageo
Maileoi
Maina
Matagi
Matai
Matamua
Matautia III
Mauga
Mayer
Mekuli
Mika
Mikaele
Misipeka
Neemia
Ofagalilo
Oneone
Paepule-Moananu
Pale
Palu
Patane
Patu
Pauga
Peapea
Pelesasa
Peters
Potasi
Poyer
Reid-Sagato
Sagote
Saifoloi
Saifoloi
Sala
Sala
Salanoa
Salanoa
Salavea
Samatua
Samuelu
Samuelu
Sao
Savali
First Name
Kilita
Christine
Paul Peau
Simon
Eteline
Tapuni
Tiuli Rocky
Ielome
Galueituavaa
Leu
Ieremia
Lolesio
Tapu
Kereti
Solofua
Tavita
Aaron
Maria
Michael
Kea
Vitale
Simati
Foou
Lemusu
Hall
Tausaga
Barry
Faaitu
Senosa
Matauaina
Aiga
Anothony
Marcus
Jerry
Ciara
Andrew
Faaiuga
Siaosi
Miracle
Nuumotu
Marcus
Tuluiga
Shaun
Jonathan
Poyer
Rhine
Angela
Thor
Last Name
Sega
Seiuli
Senefili
Siaosi
Silva
Sipili
Sivia
Sua
Sualoa
Sunia-McMoore
Tafaoga-Misa
Tago
Taito
Tan
Tanoa
Tanoa
Taofi
Taoipu
Tauave
Tauinaola
Taula
Taumoepeau
Tautolo
Tilo Jr.
Toele
Toleafoa
Toluao
Too
Tootoo
Torres
Tua
Tualaulelei
Tuese
Tufi
Tuitasi
Tuli
Tupito
Tupua Jr.
Tupuola
Uhrle
Uli
Vaa
Vaitoa
Valoaga
Vasai
Veavea
Viliamu
Voigt
First Name
Alex
Mainifo
Alfred
Filisitia
Debra
Fania
Farentino
Toi
Eloi
Mollyanna
Tafaoga
Natia
Sinatala
William
George Jr.
Siaosi
Chalena
Polesi
Samuelu
Salvation
Jonathan
Makerita
Phillip
Rudolph
Falefasa
Pavillion
Fotu
Iona
Anita
Curtis
Talaialo
Ailao
Uilisone
Roselyn
Sialei
Tovia
Vince
Aifai
Robert
Frederick
Mona
Valu
Jeffery Luti
Zorrow
Tanner
Maugalei
Oloaluga
Andrew
Page 8
samoa news, Saturday, July 19, 2014
TALA mai SAMOA
brought to you by
tanoa tusitala hotel, apia, samoa
Saunia: L.A.F./Naenae Productions
SUI TAUVA A LE HRPP MO
LE FAIGA PALOTA LAITITI
O le aso Faraile na sei mavae atu nei na faalauiloa aloaia ai e le vaega faaupufai o le HRPP
ana sui faatutu mo le faiga palota laititi lea o lo o
loma nei mo le masina o Aukuso mo le itumalo
o Gagaifomauga Numera 1, e saili ai se tasi e
suia le alii faipule ua faiilagi le folauga, le tofa
Tuilo'a Anetelea Tuilo'a. E toafa sui faatutu a
le HRPP mo lea faiga palota laititi. O i latou ia
e aofia ai Ga'ina Tino lea sa tulai muamua mai
i le tofi o le itumalo i tausaga uav tuanai ma sa
avea foi ma sui o le Kapeneta. O le isi toatolu e
aofia Lavea Ieti, Taito Vaeatanu ma le tamaitai
o Faimalotoa Kika Stowers. Ua uma ona faamaonia e le komiti o pulega a le HRPP ia sui
faapea le Ofisa o Faiga Palota.
FO'I MAI MAHONRI
SCHWALGER I SAMOA
O le faaiuga o le taamilosaga lakapi o le Super
15 o lo o faagasolo nei e maea ai le konekarate
a le alii sa avea muamua ma kapeteni o le Manu
Samoa, le susuga Mahonri Schwalger, ma ua ia
faaalia lana fuafuaga e toe foi mai i Samoa e
manfuta ma lona aiga.
"Ua tolu nei tausaga o matou valavala ma
lou aiga," o le saunoaga lea a Schwalger. "Ma
o le mafuaaga lea o le a toe foi a ii Samoa e
mafuta ma si ou aiga aemaise si ou afafine lea o
le a atoa lona 14 tausaga."
O le tausaga mulimuli lenei o le konekarate
e tolu tausaga a le susuga Mahonri ma le kalapu
lakapi o le Chiefs ma ua lua tausaga sosoo o lo
o siamupini pea le Chiefs i le taamilosaga o le
Super 15.
O le vaiaso na tea nei na maitauina ai le
mataalia o le taalo a le alii o Mahonri ma le au
a Aukilani e ui na see le ponaivi o lona tauau.
Faatoa sui o ia a u ape a me le toe 15 minute o le
taaloga o lo o totoe. Na manumalo le Chiefs i lea
taaloga ma ua toe taumafai atu nei le Chiefs mo
sona nofoaga i au e sailia le siamupini o le nei
tausaga. Na ia faaalia, e leiloa aluga o le olaga
i le tausaga fou pe toe taalo lakapi faapolofesa
i atunuu i fafo pe nofo ai pea i Samoa e fesoasoani i le atinaeina o le taaloga o le lakapi. E pei
ona lipotia muamua i a tatou tala, o lo o toatele
pea i latou o lo o fesiligia le le toe filiofilia o lea
alii i le au a le Manu Samoa e ui o lo o maualuga
le tulaga o lo o i ai lana taalo i lenei vaitau.
TAAALO LE OLOPELEKI
MA LE MANU I LE 2015
Ua faamaonia mai e le taitaifono ole Iuni
Lakapi a Samoa, o ia foi le alii palemia, le
susuga Tuilaepa Lupesoliai Sailele Malielegaoi, le maea o fesootaiga aloaia ma le Iuni
Lakapi a Niu Sila ma ua faamautu nei le malaga
mai o le Olopeleki i Samoa e taaalo ai ma le
Manu Samoa i le Apia Park i le masina o Iulai o
le 2015. O lea tulaga na faailoa e le susuga Tuilaepa i le polokalama o le 2AP ma le Palemia
i le aso Tofi na sei mavae atu nei. Fai mai a
ia, e tele tapenaga a le iuni a le atunuu mo lea
faamoemoe ma e aofia ai le toe faafouina o le
malae taalo i le Apia Park, lea ua malie mai le
malo Saina latou te faatinoina. O ia galuega o
le a aofia ai foi le toe faaleleia o le uati e fua
ai le taimi o le taaloga ua tele tausaga o leaga,
faapea le faapipiiina o se TV tele e pei ona vaaia
i malae i atunuu i fafo. E le gata i lea, o le a
faatupe e le iuni lakapi a le atunuu le malaga
mai o sui o le Manu o lo o taaalo faakonekarate
i atunuu i fafo mo lea taaloga. "E le taugofie le
talimalo i le Olopeleki," o a Tuilaepa lea. "Ae o
se taaloga o le a faamauina i le tala faasolopito
o le taaloga lakapi i Samoa, aemaise o le a fesoasoani tele i le faasaunia o au e lua mo le ipu o
le lalolagi i le tausaga fou."
SOLOATOA I LE TOESE
FASIOTI LONA USO
Ua faasalaina nei i le solo atoa i le falepuipui
se alii mai le afioaga o Nofoalii na ia fasiotia
lona lava uso moni, ona ia tanuina faanana ai
lea o lona tino maliu i se nofoaga i le fanua o
lona aiga i Nofoalii lava.
O lea faasalaga na tuuina atu e le afioga Faamasino Sili Patu Tiavaasue Falefatu Sapolu i le
amataga o le vaiaso nei. O le ua faasalaina o
Levitiko Afoa Fitu, e 40 tausaga ma sa ioe o ia i
le moliaga o le fasioti tagata faamoemoeina. Na
taua i le faamatalaga a le ua faasalaina e faapea,
sa fai se la inugapia ma lona uso matua e 57
tausaga i le fanua a lo latou aiga, ma sa tulai mai
ai se feeseeseaiga na iu ina la fusu ai. Ina ua oo
i le taeao na sosoo ai, sa ia maua atu lona uso o
taatia mai i le nofoaga sa la fusu ai, ma ua maliu
o ia. Sa faapea loa ona ia tanuina faanana lona
tino i se vaega o lew fanua. O lea faalavelave na
tulai ma ii le faaiuga o Mati o le 2013, ae faatoa
ia ta'uina i lona aiga i le vaitaimi o le aso o Tina
o le tausaga nei.
C
M
Y
K
C
M
Y
K
Dwayne Johnson walks off stage at the Kids' Choice Sports
Awards at UCLA's Pauley Pavilion on Thursday, July 17, 2014,
(Photo by John Shearer/Invision/AP)
in Los Angeles. People arrange candles to offer prayers for the victims of the Malaysia Airlines Flight 17, at a shopping mall in Petaling Jaya, near Kuala Lumpur, Malaysia,
Friday, July 18, 2014. The Malaysia Airlines jetliner was carrying 298 people when it was shot down over eastern Ukraine on Thursday in eastern Ukraine, sending
(AP Photo/Joshua Paul)
shockwaves around the world from Malaysia to the Netherlands. samoa news, Saturday, July 19, 2014 Page 9
ANOTHER
FA'ALAVELAVE?
C
M
Y
K
C
M
Y
K
KEEP
AND
CARRY ON
Page 10
samoa news, Saturday, July 19, 2014
E te fia
O LE TAUASO MA LANA TAIFAU
O le tamaloa e tauaso ma lana maile e ta'ita'ia tagata tauaso,
ua oo i luma o le fale fogafalelima a le NPF, na oo mai loa iina le
maile, ua tete'i lava taavale o la e feoai masau atu lava le maile
ma alu loa a, i le taufai fei'i mai o pa'u o taavale. Ae la e matamata atu i le itu ala lava e tasi le isi tamaloa na pei o se Lawyer,
na 'emo mai loa le saini e faatu taavale, masau loa le Lawyer lea
i le tauaso lea e i luma o le Fale a Amau, ma lana maile. E oo
atu le Lawyer o la e tago le toeaina ma ave i le maile le 'chips'
e fafaga ai le maile, fai atu loa le Lawyer, "Sole oute ofo lava ia
oe, i lou tuu fua o lena 'chips' i le lou maile, e te le'i faalogo i
le fei'i o pa'u o taavale ananei ?." Ua fai mai le tala a le toeaina,
"A 'o se a lau mea lea e fai, o lea e tau su'e poo fea lana gutu, ae
se'i tau lau kiki i le muli."
SEI OU LAFI ATU LAVA I LAU SEKEKE
Tei a i le sau laatoa o le isi tama na fai i se Taupou Sa, "Se'i
lafi atu lava i totonu o lou sekeke." fai mai le Taupou Sa, "Ia alu
i lalo." ae tutu loa Leoleo o le Army MP's tilotilo solo e le iloa
poo fea ua alu i 'au le Army lea, fesili loa i le Taupou Sa, "E te
le'i tagai mai lava o fea o alu i ai fitafita lea na 'oso mai i ai." Fai
atu loa Taupou Sa, "E leai, na o le tamoe mai lava iina, ou le iloa
loa poo fea na alu i ai." ia fai atu loa MP's e toalua, "Ia faafetai
lava ia oe le tamaitai Sa." Ia sa tago loa Taupou Sa, ma 'eu'eu le
ulaleaga lea, "Le la ua o atu MPs, sau loa i fafo ma le sekeke."
ae fai mai le 'ulaleaga lea, "Ua manatu o le a le anamai lou tala o
le fai atu ia te oe, e 'ese le manaia o ou vae." Fai mai le Taupou
Sa, "Ana e tilotilo agai i luga, ona e iloa lea o 'au a le tama, o lea
foi ou lafi foi 'au ia, oute le fia alu i Iraq."
O KATI LE LEOLEO NANA
[Sosoo ane loa lau faitau i le tatou tala faasolo mo lenei vaiaso, lea na gata mai i le vaiaso
na tea nei i le taimi lea ua faateia ai le taitai o
Leoleo nana a Italia ina ua ia maua le telefoni
mai ia Kati, ua le iloa po o fea ua ave i ai le
ulugalii lea sa nonofo i le faletalimalo.]
Na toeititi lava nofo le ta ta o le fatu o le
ta'ita'i o Leoleo nana a le malo o Italia ina ua
ia maua le tala, ua leai le ulugalii mai Enelagi
lea na nonofo i le faletali malo, ae o lo o i ai pea
uma i totonu o le potu a la ato ma meatotino
uma na o atu ma laua.
O le te'i tele o le Ta'ita'i na ia talosagaina
ai loa Kati ina ia fa'avave atu i le Ofisa sei la
talanoa, ma avatu le tamaitai o Mena sei fai
sana faamatalaga e tusa ai o ni tagata e ono
masalomia lo latou ave faamalosia o ona matua.
Na ona uma lava ona tu'i fesili e Kati o le
tama'ita'i faigaluega sa la talanoa, tu loa i luga
ma savali atu i le isi laulau i luma o le fale talimalo, ma nofonofo ai mo ni nai minute, ma faasolo ona mafaufauga i se auala e mafai ai ona
ia maua matua o le tama'ita'i o Mena lea ua le
iloa nei po o fea ua o aga'i i ai, ae na motu faafuasei ona mafaufauga ina ua valaau mai i ai le
tamaitai lea sa la talanoa, e i ai le tagata o lo o i
luga o le telefoni e fia talanoa atu ia te ia, o lea
na savali faanatinati atu ai loa Kati i luga o le
laulau ma uu le telefoni ae talanoa i ai, ae na te'i
ina ua ia faalogo atu o faapea upu a le tagata i
luga o le telefoni, "E sili pe a e tuu muli ese mai
totonu o le faletalimalo, manu e lei fana tutu'i e
se isi lou ulu ma le puipui o le fale".
Na tu Kati ua le mautonu lona mafaufau mo
ni nai sekone, ona tago lea ua toe tuu le telefoni
i le tamaitai faigaluega ma fesili atu i ai, "O ai
lea na lua talanoa i le telefoni?", ae na tali le
tamaitai faigaluega, "Ou te le iloa, pau lava le
tala a le tagata sa fai mai ia te a'u, e tu'u atu le
telefoni i le tagata o lo o nofonofo i luma o le
potu malolo, o le mafuaaga lena na ou valaau
atu ai loa ia te oe e te sau i le telefoni, e a? e i
ai se mea ua tupu?", o le toe fesili atu lea a le
tamaitai ia Kati, ae ua faataga le ano i ai le tama
ma tali atu i ai, "E leai, o lo o lelei mea uma,
ae faafetali mo le avanoa .." e fai lava tala a le
tama ma fuli mai lona tua ua savali aga'i atu
i le faitoto'a, ma aga'i atu ai i le vaega o lo o
paka mai ai lana ta'avale, ma oso ai loa ma alu
ese, e lei umi ona i luga o le auala Kati ae tatagi
lana telefoni, ma le vaai atu o lona ta'ita'i, ona
fa'atafa lea i le isi tulimanu o le auala ae tali le
telefoni.
"Kati, o lea ua maua mai le ripoti mai le isi
vaega o Leoleo nana i le taulaga, e i ai le tino
maliu na maua o tafetafea i le sami i lalo tonu o
le auala laupapa o lo o kolosi ai nofoa afi e aga'i
atu i le taulaga, ae o lo o tau saili po o ai le ana
le tino, ua tatau ona e aga'i atu loa i le nofoaga
lea e fesoasoani i isi leoleo nana o lo o i ai mo le
suesueina o le mataupu .."
alofa e oo i le oti
[E fa'atalofa atu i le mamalu o le aufaitau i lenei vaiaso, malo le onosa'i, malo fo'i le soifua
laulelei, ae alo maia, o le toe faaauauina lenei o le tatou tala fa'asolo, lea na gata mai i le
vaiaso na te'a nei ina ua tagi talatala ai le tamaloa o Veli ma tuu fesili lona mafaufau, pe aisea
na la masani ai ma Tania.]
Talu lava ona taunuu le tama'ita'i o Tania ma lona to'alua o Veli i lona aiga, toeititi le misi
po uma ma le tagi talatala o le tamaloa, ma ua pei ai o se mea malie i pola sisi o le faleoo lea
o lo o faamautu ai le ulugalii, i le leua ane lava ma tagi Veli. O isi taimi ua tau faatiga taliga
ai foi le tagi a le tamaloa ia Tania, ona pei ai lava lea o le tagi a le pepe i le fia moe, e tiga lava
ona tagi masusu ae faasasa'o lava le moe a Tania o nisi o taimi. "Sole Veli!", o le oso atu lea
a Tania, "Se'i kau vasa'i lou kagi soo, ua koeikiiki kua leaga lou makagaga soo, ua pei lava
o le a ave oe e susugu i se kaloge ga'o ma lou kagi soo, e ke le'i masagi lava i le faku aiga i
lou aiga i Savaii, ou ke ofo, se'i vaai ga o le saka ma le oke a le olomakua i afiafi ao legei ua
e kagi kalakala ai ma lalau legei ma le lega ..." o le ote lea a Tania na faafuasei ai ona sui uiga
matanana o le tamaloa, ma te'i ai lava i le faagau lua atu i le isi tulimanu o le la faleoo ma moe
faasau ai e leai se aluga po o se ie afu.
O tuafale o le nuu o Palisi e alu ai le auala aga'i i mauga o Moamoa ma fa'asolo atu ai i
Lalovaea ma Sinamoga, o iina lea o lo o galulue ai tagata o le nuu, ma o se nofoaga e faigata
ona aea ona o le mauga toe mamao, peita'i, pau lea o le nofoaga e mautinoa e maua ai sina
meaai mo le aiga, ao se upu i tuafale, e fai o le putu putu o fale ae na o le ta'i kuata eka le
tetele o fanua o lo o lisi e aiga mai fanua o le Ekalesia. Ua aga'i atu i le vaiaso lona fa o Tania
ma Veli i le aiga o le fafine, ae o lea lava e nofo le olomatua ma maitau mai gaioiga uma a le
tamaloa o lo o fai, a leai se ato fa'i i le umukuka ua viga ia Tania e faatau mai se pepa alaisa e
tunu ma tamaiti mo le afiafi, a leai fo'i ua alu sana toli ga ulu i togaulu Maafale o le Fesoasoani
lea latou te faafesaga'i, fai mai o le tausoga o lona itu mai le Itu o Tane i Savaii le Fesoasoani.
E malu loa le afiafi o le isi aso Toona'i ae fetaui ma le taunuu ane o Veli i le fale ma ona
seevae lakapi sa fa'aafu i le malae. "Eh Veli!", o amioga ga a ai, kafefe i lou fia kamaikiiki o
le kaulaga ma lou fealua'i mai ma ga seevae lakapi e fai a se kakou umu o le aso Sa, ae ua e le
kiagi age e kapega se umu mo kaeao, augasa ga ai alaisa mai lava i le aso Gafua o legei lava ua
aso Kooga'i o ai lava gei alaisa, ua koeikiiki kukupu gi fagu alaisa i magava o kagaka, alu age
gei lava e kuu ou seevae lakapi ga i fafo i ole ae kiage age ou vae mimiki e ululu le ogaumu e
fai ai se umu kaeao, aga faapea uma le mimiki o vaemoa mai Giu Sila ka ke le koe fia ai kaika
ia i se vaemoa ...".
Tala i Vavau o Samoa
O LE ASO NAI TUMUA - 3
Soso'o ane loa lau silasila
i le vaega fa'ai'u o le tatou
Vavau lenei, i le talanoaga a le
i'a ma le tamaitiiti o Velova'a
lea ua fai nei i luga o le sami.
Fai mai le tala e talanoa atu
lava le i'a i le tamaitiiti, ae o
le tamaititi i le taimi lea o lo o
tagi pea lava ma popole lona
mafaufau, ona o le mea ua faia
e lona tama o Tuiatua ia te ia.
Sa toe fesili le i'a i le tamaititi
po o fea e fia alu i ai ao fea fo'i
lona aiga, na tali le tamaititi, o
ia e sau mai Savai'i e fia alu fo'i
i Savai'i i lona aiga, ona fai atu
loa lea o le i'a i le tamaititi, "ia,
oso mai loa la e ti'eti'e i lo'u
tua, o le a ou alu e momoli oe
i lou aiga i Savai'i, aua o lo'u
tama fo'i o le Salemuliaga".
E le i toe fa'atali le tamaititi o Velova'a ae ua oso loa i
luga o le papatua o le i'a ma alu
loa le la malaga, peita'i sa toe
fa'ailoa e le i'a i le tamaititi, a
latalata loa i uta i le mea e nofo
ai, ona vave lea ona oso i lalo
ma aau i uta, nei ona pa'ulia i
uta i le pa'u matu ma maua ai
le avanoa o tagata e 'ai ai lona
tino, ma sa usita'i fo'i le tamaititi i le talosaga a le i'a, ona
fa'aauau loa lea o le la malaga.
O le fa'aiuga lena o le tatou
Vavau sa faagasolo mai mo
le tolu vaiaso, ae alo mai i le
isi vaiaso fou mo le isi vaega
fou o le tatou Vavau o Samoa.
Soifua.
samoa news, Saturday, July 19, 2014 Page 11
1
Where
it's at in
American Samoa
In this photo taken July 4, 2014, and provided by the Alaska Dept. of Fish and Game, crab
fisherman Frank McFarland, left, holds up a rare blue-colored red king crab he caught in his commercial crabbing pots as Frank Kavairlook Jr., right, looks on in Nome, Alaska. The blue crab is
being kept alive at the Norton Sound Seafood Center until McFarland can have it mounted. The
rare colored crab has become a rock star of sorts, with people showing up at the center to have
(AP Photo/Alaska Dept. of Fish and Game)
their photos taken with it. ➧ News In Brief…
said it was standard procedure to destroy old
data storage equipment that may have contained
confidential taxpayer information. The IRS says
Lerner's computer crashed in 2011, destroying
an untold number of emails. At the time, Lerner
headed the division that handles applications
for tax-exempt status.
Lerner is a central figure in congressional
investigations into the handling of applications
by tea party and other conservative groups.
IRS Commissioner John Koskinen had told
Congress that Lerner's hard drive was recycled
and presumably destroyed. Friday's court filings confirmed it. As part of a lawsuit, U.S.
District Judge Reggie B. Walton ordered the
IRS last week to explain what happened to the
hard drive.
White House party
crasher fails to make ballot
RICHMOND, Va. (AP) — One-time White
House party crasher and former reality television figure Tareq Salahi has failed to submit
enough valid signatures to qualify for the ballot
as an Independent Green Party candidate for
outgoing U.S. House Majority Leader Eric
Cantor's seat in Congress.
The Virginia State Board of Elections sent
Salahi an email earlier this month saying Salahi
submitted 2,051 signatures. But only 480 of
them were from individuals who live in the 7th
Congressional District in the Richmond area
that Cantor currently represents. Salahi needed
to submit 1,000 valid signatures. A copy of the
email was provided to The Associated Press.
Salahi's campaign spokeswoman, CC Harris,
says Salahi did not receive the email and was
unaware that he did not qualify for the ballot.
Police: 9 killed, 40 injured in Germany bus
crash
Destructive Washington fire
empties another town
PATEROS, Wash. (AP) — A massive wildfire that has destroyed at least 100 homes has
forced the residents of a second north-central
Washington town to leave their homes, and
prompted a partial evacuation of a third community, a sheriff said Friday night.
"We basically evacuated the whole town" of
Malott, Okanogan County Sheriff Frank Rogers
said. Those living in outlying areas of Brewster
were also told to leave. Several hours later,
Rogers said one home had burned in Malott but
the fire threat in Brewster had eased.
Malott is home to about 500 people, while
the population of Brewster is about 2,400.
No injuries have been reported, the sheriff
said, adding he knew the damage toll has grown
but he didn't have an updated number.
"We know we've lost more homes," he said.
Rare blue-colored red king
Continued from page 5
crab caught in Alaska
NOME, Alaska (AP) — A rare blue-colored
red king crab was part of a fisherman's catch
earlier this month in Nome, Alaska.
KNOM reports Frank McFarland found the
blue crab in his pot when fishing on July Fourth
off Nome. The blue crab is being kept alive at
the Norton Sound Seafood Center until McFarland can have it mounted.
The rare crab has become a rock star of sorts,
with people showing up at the center to have
their photos taken with it.
Scott Kent, with the Alaska Department of
Fish and Game in Nome, says he has no idea
why the red king crab is blue, but suspects it's
just a mutation.
Kent says a blue crab "turns up once in a
blue moon."
Lawyer: Unclear where Casey
Kasem's body is
SEATTLE (AP) — A judge has granted
Casey Kasem's daughter a temporary
restraining order preventing the famous radio
host's wife from cremating his remains, but
it's unclear where those remains are or whether
they've already been disposed of.
A lawyer for Kasem's daughter Kerri Kasem
said Friday that when he went to give a Tacoma
funeral home a copy of the restraining order, he
was informed it no longer had the remains.
"They said they could not disclose where he
had gone or where he would end up," said the
lawyer, Scott Winship.
Tim Grant, funeral director at Gaffney
Funeral Home & Cremation Services, confirmed Friday that Kasem's body was no longer
there.
"I cannot discuss the actual arrangements
themselves, but he's no longer in our care," he
said.
Kasem's wife of the past 34 years, Jean
Kasem, filled out a death certificate dated
July 15 listing an address in Jerusalem, Israel,
according to a copy filed in Pierce County
Superior Court. The document listed "removal
from state" as the intended means of disposing
the remains, the Urgel Bourgie funeral home in
Montreal as the place of disposition, and July
14 as the date of disposition.
Contempt charge for saggy
pants in court dismissed
ALLENTOWN, Pa. (AP) — An eastern
Pennsylvania judge has dismissed a contemptof-court citation against a man who was fined
$50 for wearing saggy pants in court.
The (Easton) Express-Times reports that
Lehigh County Common Pleas Judge William
Ford on Thursday dismissed the charge against
18-year-old Adam Dennis of Macungie.
(Continued on page 14)
Salon Sophia
Mon - Fri : 9am - 5pm Sat: 9am - 2pm
699-4091 • 258-6188
Summer Special 20%
Off all Chemicals.
Barber Cuts by Cece
$10 Adults
$8 Kids
We accept ALL major credit cards.
How much will my Classified Ad cost?
PERSONAL &
HELP WANTED
$ 6
ONE DAY
$12
Two Days
$18
Three Days
$20 ($5 each day)
FOUR DAYS
$25
Five Days
$24 ($4 each day)
SIX DAYS
All additional days after 6 runs:
$ 4 each day
BUSINESS &
FOR RENT
$ 8
$16
$24
$28 ($7 each day)
$35
$36 ($6 each day)
$ 6 each day
We're here for you! • 633-5599
HOPE HOUSE THRIFT SHOP
FatuoaigaR oad
NOW OPEN
Monday-Saturday • 10am - 4pm
Great Selection of Men, Women, & Children's Clothes, Shoes,
Books, Misc. Kitchen Utensils, and a whole lot more.
Great Bargains, Quality Items.
Donations Appreciated.
For more information please call Sister Fausitina 254-5534
THIS SPACE IS
AVAILABLE!
ISLAND
RENTALS
Tents, Tables, Chairs
OPEN 24 HOURS
Located in Nu'uuli (Island Funeral)
699-2384 • 733-3201
Page 12
samoa news, Saturday, July 19, 2014
Talosaga Lolo suiga
faasoasoa tupe CIP
Tusia: Fili Sagapolutele
Ua tuuina atu i le Matagaluega a le Initeria i le malo tele
se talosaga mai le afioga i le kovana, Lolo Matalasi Moliga, e
fa'amaonia suiga i le atofaina o tupe mo Amerika Samoa i lalo o
le polokalama o Galeuga Tetele (CIP).
O lea suiga e mo le tausaga tupe 2014 ma le tausaga tupe fou
2015, lea e amata ia Oketopa 1, 2014. E pei ona i ai i tulafono a
le fetarale, e tatau ona faatulagaina atu e Amerika Samoa vaega
eseese e alu i ai tupe o le CIP, ma e tatau ona fa'amonia e le
Initeria.
Mo le tausaga tupe lenei o le 2014, o le CIP mo Amerika
Samoa e $10.04 miliona ma ua talosaga le kovana e fa'amonia
e le Initeria nisi nei o suiga, e aofia ai le $1.5 miliona mo le
faaleleia o uafu; $1.54 miliona mo le faatupeina o le va'a o
Manu'a; $2.50 million e faaleleia ai le vaega o le falema'i mo
tina failele ma pepe fou.
Taua e le afioga i le kovana, o lo'o tumau pea le faapopole
ina o le vaega o le Coast Guard ona o tulaga faaletonu o uafu i
totonu o le teritori. O le mea lea e mana'omia ai le vaega tupe
lenei mo le faaleleia o uafu.
Mo le talosaga e tuuina atu i le falema'i, saunoa le kovana o
lea vaega tupe e faamaea lelei ai galuega e tatau ona faaleleia
mo ia vaega o le tautua a le LBJ.
Mo le tausaga tupe fou 2015, lea o lo'o faatulagaina ai le
$9.05 miliona, ua talosaga Lolo ina ia faatulaga le $1.93 miliona mo le va'a o Manu'a; $1 milliona e vaevae mo le falema'i
i le toe faalelei o le ICU ma falema'i itumalo o lo'o i lalo o le
vaavaiga a le Matagaluega o le Soifua Maloloina; $3.5 miliona
mo le Matagaluega o Aoga; $1 miliona e fesoasoani i le fausia o
se fale puipui fou; ma le isi $1 miliona i le Puleaga o le Eletise
ma le Suavai Taumafa mo le lelei o le suavai ma le suavai lafoai.
O le tupe lea o lo'o talosagaina mo le Matagaluega o Aoga
e aofia ai le $1 miliona mo le fa'atauina o pasi aoga fou ae o le
$1.2 miliona e amata ai ona tu'ufaatasi aoga e le toatele ni fanau
aoga o lo'o aooga ai.
Saunoa le kovana, o aoga muamua lava o le a tuufaatasi o
aoga tulaga lua i Manu'a i Fitiuta ma Faleasao, ona faasolo ai
lea i isi aoga i Tutuila.
I le faaiuga o lana tusi i le Matagaluega o le Initeria, sa faafetaia ai e Lolo le lagolago sua o le matagaluega i taumafaiga
a le faimalo ae maise ai le fesoasoani mai pea i tulaga o lo'o
manomia e Amerika Samoa.
Ae peitai, sa taua e Lolo e tatau foi ia Amerika Samoa ona
taumafai lana pito laau i lenei vaitau o lo'o tau fasoasoa tupe a
le fetarale.
E le'i maua se faamatalaga lata mai pe ua talia e le Matagaluega a le Initeria le talosaga mo suiga i le CIP e pei ona faataoto
e le afioga i le kovana.
Gaza official: Palestinian
death toll tops 300
Beyonce and JAY Z perform during the On The Run tour at Minute Maid Park on Friday, July
18, 2014 in Houston, Texas.
(Photo by Aaron M. Sprecher/Invision for Parkwood Entertainment/AP Images)
GAZA CITY, Gaza Strip (AP) — Israeli troops battled
Hamas militants in Gaza on the second day of a ground operation Saturday, as the Palestinian death toll from the 12-day
offensive topped 300, a Gaza health official said. Health Ministry spokesman Ashraf al-Kidra said overnight airstrikes killed
12 people, raising the death toll from the offensive to 310 Palestinians. An Israeli soldier was killed after the start of the ground
operation, and an Israeli civilian was killed earlier this week.
The sound of tank fire and heavy machine guns mixed with
the mosques' morning call to prayer along the Gaza-Israel
border. The Israeli military said three soldiers were wounded
in overnight fighting, one seriously. Israeli troops were staying
close to the border and have yet to enter heavily populated
areas. Israel launched the ground operation late Thursday after
hundreds of airstrikes on the Hamas-ruled territory failed to
halt unrelenting rocket fire that has increasingly targeted major
Israeli cities.
An Egyptian truce proposal was rejected by the Islamic militant group Hamas, which has ruled the strip since 2007 and has
demanded the lifting of an Israeli and Egyptian blockade as part
of any cease-fire agreement. Israeli officials say the offensive is
aimed at destroying both rocket launchers and Hamas tunnels
dug into Israel, and that it could last up to two weeks. The military reported making steady progress, uncovered 13 tunnels,
but said dozens remain and would not give a time frame for its
operation. Israel's military chief, Lt. Gen. Benny Gantz, visited
troops on the Gaza border early Saturday and said "a strategic
national patience is necessary" to complete the mission.
Gaza militants have fired more than 1,500 rockets at Israel
over the past 11 days, and rocket fire continued overnight.
Israel has launched more than 2,000 airstrikes over the same
period.Gaza militants have remained defiant despite the rising
death toll.
samoa news, Saturday, July 19, 2014 Page 13
Tafaoga i Matafaga?
EAST:
A pro-Russian fighter inspects the site of a crashed Malaysia Airlines passenger plane near the
village of Hrabove, Ukraine, eastern Ukraine Friday, July 18, 2014. Rescue workers, policemen
and even off-duty coal miners were combing a sprawling area in eastern Ukraine near the Russian
border where the Malaysian plane ended up in burning pieces Thursday, killing all 298 aboard.
(AP Photo/Dmitry Lovetsky)
Unlike 1st, Malaysia's 2nd
disaster brings closure
KUALA LUMPUR, Malaysia (AP) — Less
than five months ago, they had rushed to Kuala
Lumpur International Airport — anxious relatives with a hope in their hearts, however faint,
that a missing jumbo jet with their loved ones
had not crashed, and would eventually be found.
This week, throngs of relatives came again
with no hope, just a chilling certainty that
everyone on board another Malaysia Airlines
had perished.
They shed tears, sobbed and looked for
comfort to ease the all-too-familiar pain of loss
that's visited a nation dealing with the second
air disaster this year.
But the crash of Malaysia Airlines Flight 17
that was downed over rebel-controlled eastern
Ukraine is playing out in starkly different mood
compared to the anguish surrounding Flight
370 that disappeared March 8.
CHAOS AND ANGER OF MH370:
In March, it took about four hours for
Malaysia Airlines to announce that the Boeing
777 was missing while traveling from Kuala
Lumpur to Beijing with 239 people on board.
The airport was soon overwhelmed with
angry relatives screaming and begging for
answers — and holding out hope that the plane
had landed somewhere or their loved ones were
still alive.
But the answers would not come. Not that
day, and for many, not up until now.
Most of the passengers were from China, and
the first batch of kin had arrived from Beijing
on the third day of what has become the biggest
aviation mystery in the world. Investigators
announced that the plane had vanished from
radar screens, flying for hours to the southern
Indian Ocean where it was last traced by satellite pings.
That did little to calm the relatives, some of
whom accused the Malaysian government of
conspiracy, hiding the truth and ineptitude.
People were shouting. Crying hysterically.
Pointing fingers at officials only to be met with
blank stares.
DISORGANIZED OFFICIALS:
It took several days before the first news
conference was organized to address the mystery of Flight 370. Several false leads followed,
each punctured by high expectations then disappointment that turned into more anger and
frustration.
The Chinese relatives were escorted to an
airport hotel. Then transferred to another. They
were finally asked to leave and wait for news
at home.
Briefings by Malaysian officials were getting uglier by day. The Chinese families were
storming out, accusing officials of not sharing
relevant information.
Malaysian families, too, complained the
briefings were useless and were being told
what's already been reported in the news.
A Chinese mother, crying "My son! My
son!" stormed a news conference by Malaysian
Prime Minister Najib Razak after he solemnly
read a statement that the plane had "ended in the
southern Indian Ocean." She and others were
not ready to close the book without evidence of
wreckage.
MH17:
This Friday, and the airport was receiving
crying relatives again.
This time, they knew the outcome of the
disaster. The wreckage of the Boeing 777 was
found, scattered over a Ukrainian field after
a suspected missile shot it down. Most of the
casualties were Dutch with 44 Malaysians,
including 15 crew and two infants.
No one is wailing. No one is making a scene.
There is no hope of anyone being found alive.
Counseling is set up immediately. The government addresses a stunned nation and the
world without hours, at 4 a.m.
The relatives are briefed by a government minister. There is no storming out of the
meeting.
The Malaysian government is not taking the
blame. It falls on those responsible for shooting
down the aircraft.
RELATIVES' ADVICE:
A social media account run by families of
Flight 370 passengers posted 10 tips for relatives of those on Flight 17.
The tips include warnings to refrain from
immediately contracting lawyers seeking business and to speak carefully to the media. It also
advised the relatives to stick together and support each other.
"The most important thing is to stay with
family members and friends, and with the relatives of other passengers," said the message on
Chinese social network WeChat. "Doing that
will bring you comfort, and we hope you'll
suffer less than did the family members of 370."
WEST:
Fagasa-Fagalea Stream
Afono Stream
Aua Stream
Aua (Pouesi)
Aua (A&M)
Alega Stream
Fagaitua Stream
Alofau Stream
Amouli Beach
Aoa Stream
Utumea East
Alao Beach
Amanave
Utumea West
Central:
Nu'uuli Pala Lagoon
Nu'uuli Pala Spring
Faga'alu Beach
Utulei Beach
For more information: http//portal.epa.as.gov/beaches/
Lapata'iga mo Matafaga: Iulai 15, 2014
Ofisa o le Puipuia o le Si'osi'omaga
i Amerika Samoa (AS-EPA)
633-2304
Talofa Video
"KOREAN,
FILIPINO,
MEXICAN
DRAMA
SERIES NOW
FOR RENT"
NEW ARRIVALS
• HEAVEN IS FOR REAL • SABOTAGE • GMO GMO •
• TRANSCENDENCE • ANGRIEST MAN IN BROOKLYN •
Pavaiai 699-7206 • Nuuuli 699-1888 • Fagatogo 633-2239
AUTO NATION
Brake Pads & Ball Joints Now in Stock. WINDSHIELD
IN STOCK
250.00
$
Hundreds of
RADIATOR
IN STOCK
We carry Genuine Aftermarket and Used Parts
All
All PPG
PPG Paints
Paints
10%
10%
OFF
OFF
Auto Nation in Nu'uuli next to Talofa Video.
699-7168
699-7168
Page 14
samoa news, Saturday, July 19, 2014
Firefighters attempt to find a way out from the terrace of a building on fire in Mumbai, India, Friday, July 18, 2014. One fireman was killed and several others
injured in a fire that broke out in a commercial building Friday, according to a news agency. (AP Photo/Rajanish Kakade)
➧ News In Brief…
District Judge Wayne Maura had fined Dennis
$50 for his attire at a May hearing. Defense attorneys
appealed, saying a criminal contempt charge was
inappropriate in this case. Attorney Kimberly Makoul
cited a previous Pennsylvania Supreme Court ruling
that failure to stand when a judge enters doesn't support a criminal contempt conviction.
Maura's office door bears a sign directing people
to "pull your pants up" and showing a cartoon of three
people wearing baggy pants. He declined to comment
on the ruling.
Highway collision in China kills 38
BEIJING (AP) — A truck loaded with flammable
liquid collided with a bus on a highway in southern
China on Saturday, killing at least 38 people.
The state-run Xinhua News Agency said the
truck rear-ended the bus around 3 a.m. on the Hukun
Expressway in Hunan province, with the truck's
driver and passenger among the dead. Five people
were also injured. Xinhua said the flames destroyed
a total of five vehicles before being extinguished five
hours later. Images broadcast on Chinese state television showed both vehicles severely burned and what
appeared to be passenger belongings scattered on the
road.
Officials: US drone
strike kills 8 in NW Pakistan
PESHAWAR, Pakistan (AP) — A U.S. drone
fired two missiles at a compound in a northwestern
tribal region bordering Afghanistan on Saturday,
killing eight militants, two Pakistani intelligence officials said.
The officials said the strike happened in Datta
Khel, a town in North Waziristan, where the Pakistani military has been carrying out a major offensive
against militants since last month. They said the identity and nationality of those killed was not immediately known and agents were trying to get details.
The officials spoke on condition of anonymity
because they are not authorized to talk to media.
North Waziristan is home to local and foreign militants suspected of attacking American and NATO
troops across the border in Afghanistan.
U.S. drone strikes are a serious source of tension
between Washington and Islamabad. The Pakistan
government denounces the strikes as a violation of
the country's sovereignty. A government spokesman
was not immediately available to comment on the
latest strike, which was the second this week.
Police: Md. woman charged
after leaving son in car
GAITHERSBURG, Md. (AP) — Police say a
Maryland woman has been charged after leaving
her 7-year-old son and puppy in a car while shopping. Television station WJLA-TV reports 30-yearold Joshalin Evans of Rockville is now facing three
felony counts. The station says a shopper noticed the
Continued from page 11
child and dog in the car Monday at Lakeforest Mall in
Gaithersburg and called 911.
Charging documents say the child was "very
sweaty" and "seated in direct sunlight" while the
puppy had signs of heat exhaustion. The boy told
police that his mother left water for the dog but not
for him and that she regularly leaves him alone in
vehicles. Police say Evans had been shopping for at
least 90 minutes before she was located. An online
court record did not list a lawyer for Evans.
Australia: Russia must
cooperate in jet inquiry
SYDNEY (AP) — Australian Prime Minister
Tony Abbott on Saturday called for an independent,
international investigation into the downing of a
Malaysian jetliner in Ukraine and demanded Russia's
full cooperation. Abbott repeated his assertion that
all evidence suggests that the missile that shot down
Malaysia Airlines Flight 17 came from an area controlled by Russian-backed separatists, using equipment likely supplied by Russia. Thursday's crash
killed all 298 aboard, including 28 Australians.
"This is a problem — a very serious problem,"
Abbott said. "Australia takes a very dim view of
countries which facilitate the killing of Australians.
The idea that Russia can wash its hands of responsibility because this happened in Ukrainian airspace
just does not stand up to serious scrutiny. We all
know what's happening in the Ukraine."
He warned that any party that tries to block access
to or contaminate the crash site is "no friend of justice" and "no friend of peace." Earlier Saturday,
opposition leader Bill Shorten said that if Russia fails
to cooperate, it should not be allowed to participate in
this year's G-20 summit, being held in the Australian
city of Brisbane in November.
'Ninja Warrior' competitor wants
to inspire others
SAN ANTONIO (AP) — A YouTube video that
shows Kacy Catanzaro, a 5-foot, 100-pound gymnast,
breezing through an obstacle course where others
twice her size often fail has garnered more than 6
million views since she competed in the "American
Ninja Warriors" TV show. But being the first woman
to complete one of the show's most grueling courses
is not enough for her. Catanzaro tells The Associated
Press she wants to inspire women and young people
to get off the couch and start getting fit.
The show, a remake of a Japanese program called
"Sasuke," airs on Mondays on NBC and is repeated
the next day on Esquire Network. NBC has picked up
the show for a seventh season. Catanzaro qualified
earlier this week in Dallas for the final round in Las
Vegas. That's set to air in August.
For her, being strong enough to effortlessly scale
the 14-foot-high curved "warp wall" has meant a
lifetime of sacrifice. "I grew up doing gymnastics.
It requires discipline, eating right, getting sleep, lots
of sacrifice. But the pros outweigh the sacrifice," she
said. Catanzaro said she will submit a new application and video to be considered for next season as she
did this year. "But I'm pretty sure they'll let me back
in," she said.
Sri Lankan politician jailed for
killing Briton
COLOMBO, Sri Lanka (AP) — A Sri Lankan
court sentenced a ruling party politician to 20 years in
prison with hard labor on Friday for killing a British
tourist and raping his Russian girlfriend more than
two years ago. Three others were given the same sentence as Sampath Vidanapathirana by a High Court.
It found them guilty of murdering Khuram Shaikh,
a Red Cross aid worker, and raping his girlfriend at
a southern tourist resort on Christmas Day in 2011.
The case attracted international attention amid allegations that Vidanapathirana was enjoying immunity
because of his connections to the family of President
Mahinda Rajapaksa.
The case was discussed in Britain's Parliament, and
British politicians and the victim's family visited Sri
Lanka to personally demand justice. Amid increasing
scrutiny and pressure over Sri Lanka's human rights
record, charges were filed against Vidanapathirana
and five other suspects. The court discharged two of
them on Friday.
US appeals court tosses Oklahoma
gay marriage ban
OKLAHOMA CITY (AP) — A federal appeals
court ruling Friday that Oklahoma's ban on gay marriage is unconstitutional spurred celebration among
gay rights activists but sparked sharp anger among
Republican leaders in a conservative state that prides
itself on being the buckle of the nation's Bible Belt.
The decision by a three-judge panel of the 10th
U.S. Circuit Court of Appeals in Denver upholding
a federal judge's ruling is the latest in a decade-long
legal battle. That fight was launched by two couples
— Sharon Baldwin and Mary Bishop, and Gay Phillips and Susan Barton — shortly after 76 percent of
Oklahoma voters backed the ban in 2004. "There are
so many gay and lesbian Oklahomans who are celebrating, and they have every right to, because this
is a victory for all of us," Baldwin said. "We may
be the people at the front of the line holding the flag,
but never think for one minute that there's not a huge
army behind us. We are far from alone in this."
Friday's decision marks the second time the federal appeals court has found the U.S. Constitution
protects same-sex marriage, after its June ruling in a
Utah case. As in the Utah case, the court put its 2-1
ruling on hold pending an appeal, meaning same-sex
couples won't be allowed to marry in Oklahoma for
now.
samoa news, Saturday, July 19, 2014 Page 15
Rallies planned after incustody death of NYC man
NEW YORK (AP) — The
Rev. Al Sharpton has planned
two separate rallies Saturday
following the death of a New
York City man who died
during an arrest in which partial video of the struggle shows
an officer placing him in what
the police commissioner said
appeared to be a choke hold —
a tactic prohibited by departmental policy.
Mayor Bill de Blasio, who
called Eric Garner's Thursday
death "very troubling," even
postponed his much-discussed
family vacation to Italy, aides
said, in order to meet with
community leaders and city
officials throughout the night
Friday. Garner, 43, suffered a
heart attack during a confrontation with police who were
attempting to arrest him on
suspicions of selling untaxed
cigarettes outside a beauty
parlor on Staten Island near the
ferry terminal, authorities said.
Two plain-clothes officers
confront the 6-foot-3-inch
tall, 350-pound man who in
turn becomes irate, denying
the charges and refusing to be
handcuffed when one of the
officers places him in what
appears to be the choke hold
from behind, according video
obtained by the New York
Daily News.
Garner can be heard complaining repeatedly that he
can't breathe as at least four
other officers bring him down.
He then apparently loses consciousness. The video shows
the officer who apparently
choked Garner using his hands
to push Garner's face into the
sidewalk. Staten Island prosecutors and detectives from the
internal affairs division have
opened probes, the mayor said.
More tests are needed to
determine Garner's cause and
manner of death, a spokeswoman for the medical examiner's office said.
Twenty years ago, police
officer Francis Livoti was dismissed from the NYPD and
convicted by a federal jury for
violating the civil rights of a
Bronx man prosecutors said
died after Livoti used a choke
hold on him in 1994. Livoti has
denied he used a choke hold,
insisting Anthony Baez died
form an asthma attack. But the
case remained one of the most
high-profile allegations of
police brutality in city history.
On Friday, at a makeshift
vigil near the spot where
Garner died, friends and
neighbors gathered to pay their
respects — and to vent their
anger over what they described
as disrespectful and even abusive treatment by the police.
Ramsey Orta, 22, who shot
the video posted by the newspaper, told The Associated
Press on Friday that Garner
had just broken up a fight
between two other men when
the police approached him,
claiming they'd observed him
selling loose cigarettes.
"Before they even grabbed
him, he told them he wasn't
feeling good and that's why
I pulled the camera out and
started recording," said Orta,
adding that Garner was
asthmatic.
In the video, a clearly irate
Garner shouts that he hasn't
done anything wrong. "Every
time you see me, you want to
mess with me. I'm tired of it.
It stops today," Garner shouts.
"I'm minding my business
please just leave me alone."
Garner has been arrested 31
times since 1988 on charges
such as drug possession,
selling untaxed cigarettes and
assault, police said. He was
last arrested in May for selling
untaxed
cigarettes,
court
records show. Since 2009, he
was arrested nine different
times for selling such cigarettes, police said. Police Commissioner William Bratton and
the mayor have expressed their
desire to improve the relationship between officers and the
community.
Participants play in a mud pool during the Boryeong Mud Festival at Daecheon Beach in
Boryeong , South Korea, Friday, July 18, 2014. The 17th annual mud festival features mud wrestling and mud sliding.(AP Photo/Ahn Young-joon)
47
CHANNEL * (E) English Subtitles
* (L)-Live Programming/News
* (R)-Rerun
*Note: If you need this Schedule, e-mail <[email protected]>. and I will send it to you every week!"
"TRUTH of DOKDO!"
<http://www.truthofdokdo.com>
<http://www.forthenexgeneration.com>
NATIONAL PACIFIC
INSURANCE LIMITED
"Working with the Community"
TEL: 633-4266 • FAX: 633-2964
Page 16
samoa news, Saturday, July 19, 2014
TSM MART
r
u
O
t
u
O
k
Chec
SPECIALS!
Check out our variety of Albacore Tuna.
Great for faalavelave's and off-island gifts.
Locally produced in American Samoa
by StarKist Samoa.
C
M
Y
K
C
M
Y
K
Eatwell Chunk
Tuna in Oil
$15.99
a CASE - 12/5oz
Le ali'i o Kyle Jones, 31 tausaga ma lana uo o lo o la feofeoa'i i le taimi nei, le tina o Marjorie
McCool, 91 tausaga le matua.
Lalolagi
felanulanua'i
Maua so'o se Ituaiga pusa Albacore
Tuna. Aoga mo so'o se faalavelave
po'o se faamomoli i atunu'u i fafo.
Gaosia lava i totonu o Amerika Samoa
e le StarKist Samoa.
fa'aliliu AFM
E matua felanulanua'i lava foliga o le lalolagi o lo o vaaia i le taimi nei, pe afai e manino lau
silasila i tala i mea o lo o tutupu i atunuu eseese i le taimi nei.
O nisi o vaega i Sasa'e tutotonu, e na o le toto masa'a, taua ma fevaevaeaiga o lo o maitauina
ai i le taimi nei.
Fai mai ripoti na pa se ta'avale na tatao ai e se alii ni pomu ma maliu ai i Sasa'e o Afghanistan
i tafatafa tonu o se maketi pisi lava i le aso Lulu na te'a nei, ma maliliu ai tagata e to'a 89, ma le
silia i le to'a 40 tagata na manunu'a, e pei ona taua i ripoti mai leoleo.
I le taimi lava lea e tasi i le aai o Kabul i le itu i Sasa'e, na pa ai se pomu na tatao e le au faatupu
faalavelave i le auala, ina ua oso ai i luga se taavale ma maliliu ai ni tagata se to'alua sa i totonu o
le ta'avale, ae manunu'a le isi to'a 5.
Ae i le aai o Augusta i Georgia, ua faailoa mai ai le faalauiloa aloaia e le alii o Kyle Jones, 31
tausaga le matua le la faigauo ma se olomatua e 91 tausaga lona matua, le olomatua o Marjorie
McCool, o se tina ua fa'aigoaina e lana fanau ma fanau a lana fanau o le latou 'great grandmother'.
Fai mai ripoti, i totonu o le 5 tausaga ua tuana'i, ua silia i le to'a 10 loomatutua ua faauo i ai
le alii o Jones, e masani foi ona ia ave loomatutua nei e feiloa'i ma lona tina e 50 tausaga o lo o
fa'amuli mai i le fale. Na taua e le olomatua o McCool i tusitala e fa'apea, e pei lava Jones o sana
tama pe afai la te feofeoa'i i totonu o faleaiga ma le taulaga, ae a oo loa i luga o le la moega, ona
ese ai loa lea iina o lana vaai ia Jones.
I totonu o le atunuu o Nigeria i le aso Lulu na te'a nei, na pu'e fa'apagota ai e leoleo le ali'i o
Mohammed Zakari, lea o lo o masalomia o ia lea o le ta'ita'i o se tasi o vaega fa'atupu fa'alavelave
i totonu o le atunuu ua faaigoaina o le 'Boko Haram'.
E tusa ai o ripoti mai le atunuu o Nigeria, o lo o taua ai le silia i le 2,053 le aofai o tagata o lo
o tuuaia le alii o Zakari ma lana vaega sa latou fasiotia i le tausaga lenei 2014, ae ese ai le silia i
le 300 tamaitai aoga na latou ave faamalosia mai totonu o aoga eseese i aai o nuu i tua, lea e oo
mai lava i le taimi nei e le o toe iloa po o fea ua ave i ai nei tamaitai aoga, e amata mai i le ta'i 15
tausaga le matutua e oo atu i le ta'i 21 tausaga.
Ae i totonu o Ausetalia, ua ripotia mai ai le aave o tala o le tama'ita'i o Bindi Irwin, le afafine
o le ali'i fai fa'aaliga i manu feai i totonu o pa manu (Zoo) o Steve Irwin ua maliu, ina ua ia faalauiloa lona fiafia e faaauau le taleni sa faia e lona tama, o le fiafia lea e saili le manu feai o le
'crocodile'. O le aso 24 Iulai 2014 ua faamoemoe e atoa i ai le 16 tausaga o Bindi, ae ua amata ona
fiafia o ia e galue i le galuega a lona tama.
StarKist
Solid White
Albacore Tuna in Oil
$28.95
a CASE - 24/5oz
They can be found at these local stores:
JIN MART ALOFAU
SKYVIEW
LEPUA MART
LYC
TUTUILA
SHINING STAR
™ INC
SONIA MART
ABC FAX
YOUNG MART
GOLD CONDA
AVEINA BROTHERS
OCEAN STAR
FAMILY MART
LIN MART
COCO MART
HAPPY MART
BELL MART
TMJ MART
PELENE
SUPERMARKET
GOLF CENTER
HEALTHY WORLD
KS MART
PACIFIC MINI MART
TAFUNA MINI MART
CANTON MART
JETI MART
CALIFORNIA MART
WEST MINI MART
TAPUTIMU MART
CANSON MART
ALATUA MART
J & S MART
L & T MART
LEE ENTERPRISE
KRISTOFFER STORE
BAO STORE
ZY MART
S & H MART
US MART
SAMOA TASTY 1 & 2
Check out our weekly specials in the Samoa News.
TSM 699-6312
Tafuna, Next to ASPA.