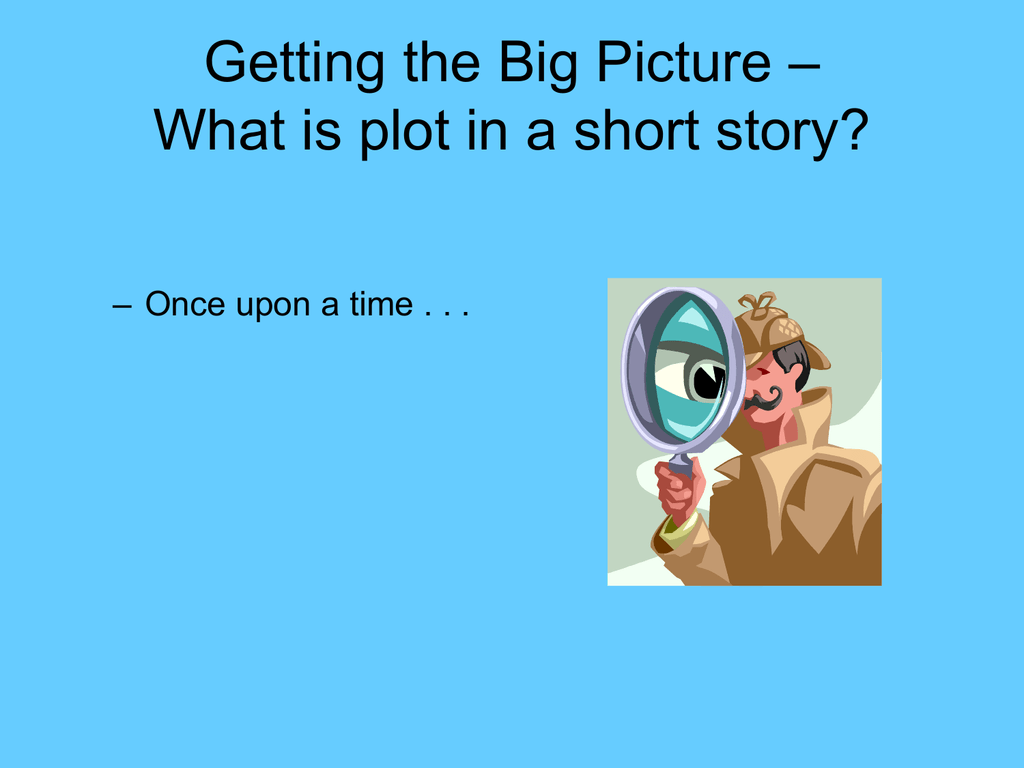 Getting the Big Picture –
What is plot in a short story?
– Once upon a time . . .
A short story is a type of literature
known as fiction.
• Fiction contains
imaginary characters
and events.
Plot is the sequence of events. It
contains the following:
– Introduction
– Conflict
– Climax
– Resolution
Introduction
• In the introduction the
basic situation is
explained. The main
characters are usually
introduced.
• The introduction also
presents the setting,
or time and place of
the action.
Main Characters
• Protagonist – the hero
of the story.
• Antagonist-the villain
or object of the
struggle.
Conflict
• The conflict is another name for a problem or
struggle.
• Many stories have several conflicts.
Types of Conflict
•
•
•
•
Man versus self
Man versus man
Man versus nature
Man versus society
Climax
• The climax is the
turning point of the
story.
• The conflict is
greatest at the climax
of the story.
Resolution
• The resolution is the
conclusion, or end of
the story.
• The conflict is
resolved in this part.
Theme
• The theme is a
general statement
about human beings
or life.
• Usually the author
does not write the
theme in words, but
implies it in the story
resolution.
• What general idea
about life did we
discuss after reading
"Zlateh the Goat"?
Matching
•
•
•
•
•
•
•
Turning point
Beginning of story
Greatest struggle
Way the story ends
Time and place
Person or animal
Problem
•
•
•
•
•
•
•
A conflict
Setting
Climax
Conflict
Resolution
Introduction
Character
Can you name the four types of
conflict?
Antagonist or Protagonist?
Match the theme to the story
• "The Monkey's Paw"
• "Dragon, Dragon"
• "The Circuit"
• Listen to older and
wiser people.
• Be careful what you
wish for, you might
get it.
• Life for migrant
workers is hard
because they are
constantly moving.