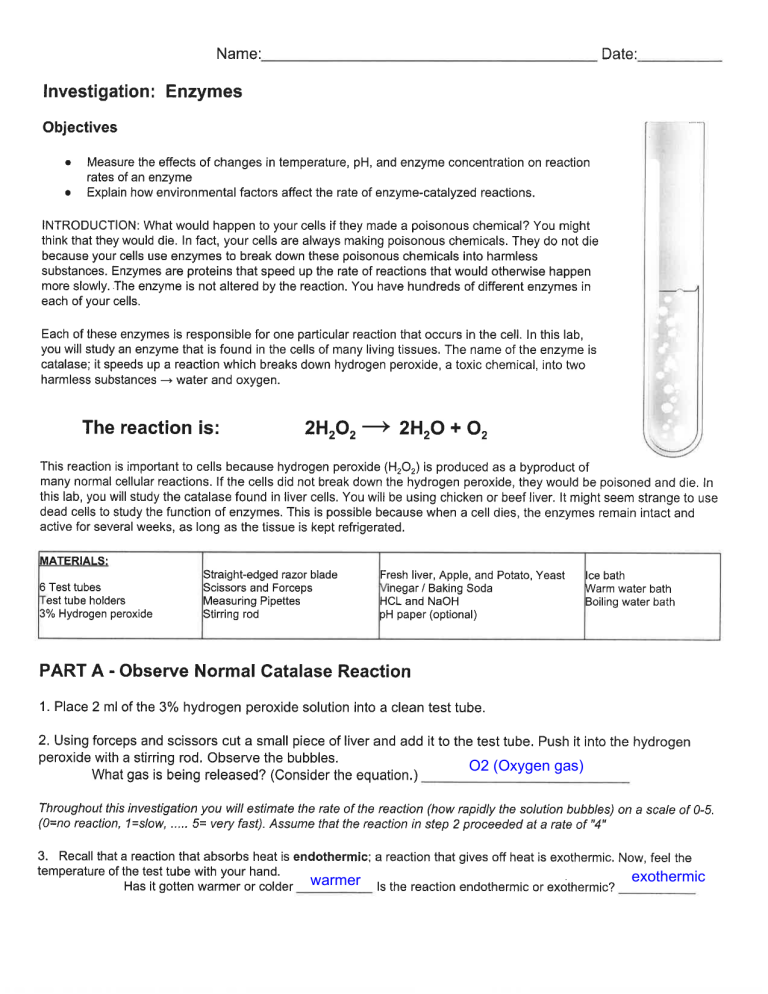 O2 (Oxygen gas)
warmer
exothermic
H2O
I think it might get warmer, since there could
be leftover reactants.
1
4
Yes, CatalASE is an enzyme and is therefore reusable so long as it doesn't denature
When the Hydrogen Peroxide was introduced to the first tube again, more bubbles formed
meaning the reaction could keep happening.
If the enzymes had been used up, it
wouldn't have worked that quickly.
1
3
2
Catalase, like all enzymes, have an optimal temperature.
As the temperature increases, the reaction gets more efiicient
but the catalase has a high chance of denaturing.
As the temperature decreases, the reaction will be slower. The
optimal temperature preserves efficiency and enzyme safety.
The boiled water and peroxide didn't have a reaction,
because we denatured the enzymes.
The only change in tubes was the temperature, so that must be why the reaction didn't occur.
no bubbles.
Medium reaction after 7 seconds, the bubbles filled the tube.
1
3
5
3
1
Being outside the optimal pH causes the caatalase to denature so no reaction can occur efficiently.
The experiment can be refined simply by trial and error, narrowing the pH range of your tubes as you go
An enzyme in its optimal pH will be the most
efficient. As the pH changes, the reaction rate
will decrease.
Each enzyme has a high point that falls as the pH strays from said point.
The point is the optimal pH and as the pH changes the reaction rate decreases.