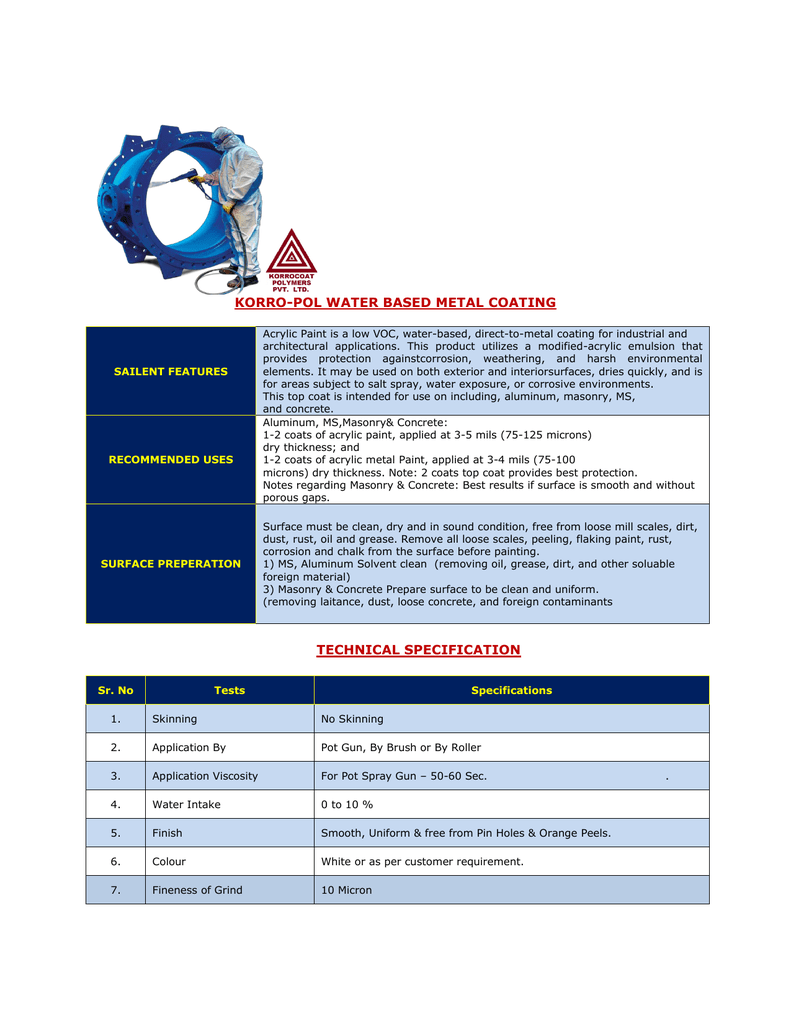 KORRO-POL WATER BASED METAL COATING
SAILENT FEATURES
RECOMMENDED USES
SURFACE PREPERATION
Acrylic Paint is a low VOC, water-based, direct-to-metal coating for industrial and
architectural applications. This product utilizes a modified-acrylic emulsion that
provides protection againstcorrosion, weathering, and harsh environmental
elements. It may be used on both exterior and interiorsurfaces, dries quickly, and is
for areas subject to salt spray, water exposure, or corrosive environments.
This top coat is intended for use on including, aluminum, masonry, MS,
and concrete.
Aluminum, MS,Masonry& Concrete:
1-2 coats of acrylic paint, applied at 3-5 mils (75-125 microns)
dry thickness; and
1-2 coats of acrylic metal Paint, applied at 3-4 mils (75-100
microns) dry thickness. Note: 2 coats top coat provides best protection.
Notes regarding Masonry & Concrete: Best results if surface is smooth and without
porous gaps.
Surface must be clean, dry and in sound condition, free from loose mill scales, dirt,
dust, rust, oil and grease. Remove all loose scales, peeling, flaking paint, rust,
corrosion and chalk from the surface before painting.
1) MS, Aluminum Solvent clean (removing oil, grease, dirt, and other soluable
foreign material)
3) Masonry & Concrete Prepare surface to be clean and uniform.
(removing laitance, dust, loose concrete, and foreign contaminants
TECHNICAL SPECIFICATION
Sr. No
Tests
Specifications
1.
Skinning
No Skinning
2.
Application By
Pot Gun, By Brush or By Roller
3.
Application Viscosity
For Pot Spray Gun – 50-60 Sec.
4.
Water Intake
0 to 10 %
5.
Finish
Smooth, Uniform & free from Pin Holes & Orange Peels.
6.
Colour
White or as per customer requirement.
7.
Fineness of Grind
10 Micron
.
8.
Drying Time
Surface Dry – 10 - 15 Min
Tack Free – 1 - 2 Hrs.
Hard Dry – 5-6Hrs
9.
Gloss
Matt to Full Glossy
10.
Specific Gravity
1.1+/- 0.1 Kg/Lit
11.
Solid Content
Min 45 %
12.
Dry Film Thickness
75-100Microns in Single Coat
13.
Theoretical Covering
10-12 M2/Lit
14.
Practical Covering
8-10 M2/Lit
15.
Flash Point
100 ⁰C
16.
Shelf Life
3years in a Sealed Condition from the date of Manufacturing, in Cooled
condition.
17.
Salt Spray
As per IS 101 (500 Hrs)
HEALTH & SAFETY


SAFETY
PRECAUTIONS





As a general rule, avoid skin and eye contact by wearing overalls, gloves,
goggles, and air mask etc.
Spillage on skin should immediately be removed by thorough washing with
water and soap or suitable cleaner.
Eye should be flushed with fresh water.
Avoid inhalation of vapors and paint mist by wearing suitable air mask.
In the event of ingestion and eye contact, seek medical attention
immediately.
Painting must be carried out in well-ventilated area.
This as industrial product contains flammable materials and should be kept
away from ignition sources; local safety regulations should be followed.
STORAGE & HANDLING
STORAGE
Store the paint in proper storage conditions as per the local regulations. Keep the
paint container in sealed conditions under shed, away from direct sunlight and
extreme temperature. Do not stock paint material near to any ignition sources. Do
not put back the half or unused material back in original container, containing the
supplied paint, to avoid contamination. Handle with care. Stir well before use.
NOTE:-The information in this data sheet is given to the best of our knowledge based on laboratory testing and
practical experience. However as the product can be used under condition beyond our control, we can only
guarantee the quality of the product itself.