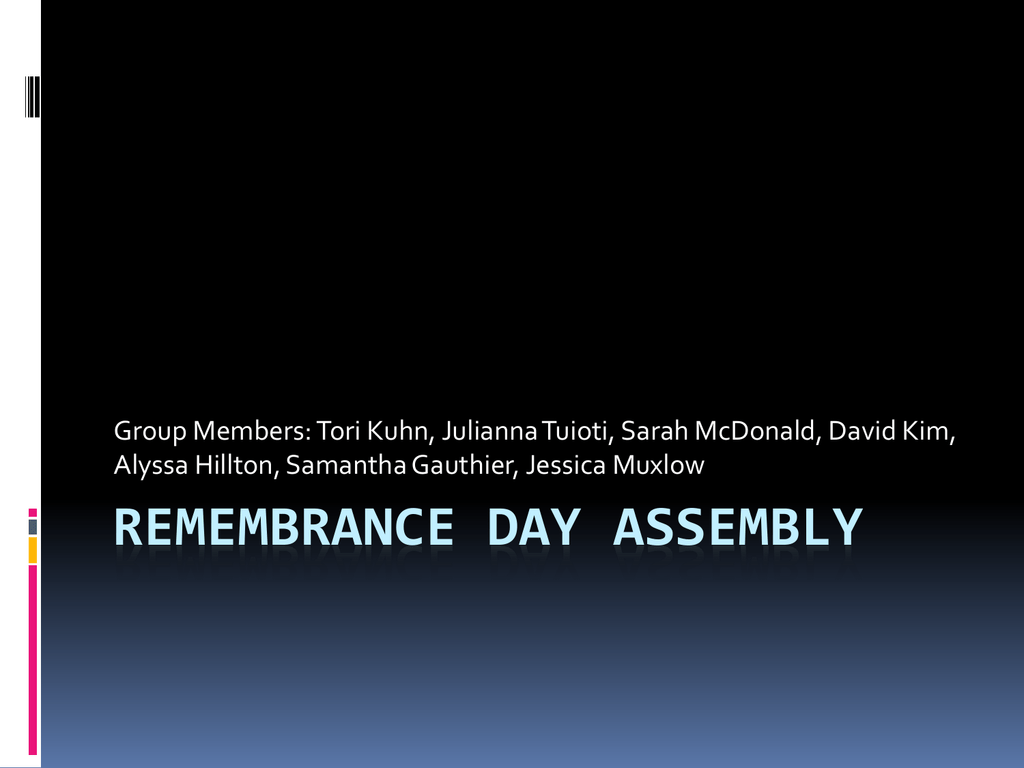 Group Members: Tori Kuhn, Julianna Tuioti, Sarah McDonald, David Kim,
Alyssa Hillton, Samantha Gauthier, Jessica Muxlow
REMEMBRANCE DAY ASSEMBLY
When
 November 8th after second block
 Set up:
 November 7th after school
Set up is basically only chairs and staging! Will not
take long at all.
Who
 Our speaker will be a former SSS graduate
who is currently in the military
Decorations
 Stage back drop will be black fabric, spray
painted with sparkle spray paint, white
christmas lights stuck through in the shape of
a cross
 On the stage will be two more white crosses
we will be asking the wood working class to
make
 We will be ordering/renting real flowers
Creative Twists
 For O'Canada we want to see about having a
guitar/piano player and a male and female
singing
 We will pick a selection of poetry and
someone to read it
 Asking Mark Pederson to play trumpet again
at the end of the two minutes of silence to
end the assembly
 Have the choir sing
Goals
 To have at least 1000 students in attendance
 To open students minds through creativity
without being offensive
 To involve different parts of the student body
who normally fall by the wayside.
Budget
 Wood:
 Paint:
 Flowers:
 Backdrop:
$100
$100
$200
+ $50
= $450
QUESTIONS,
COMMENTS, IDEAS,
OR CONCERNS?