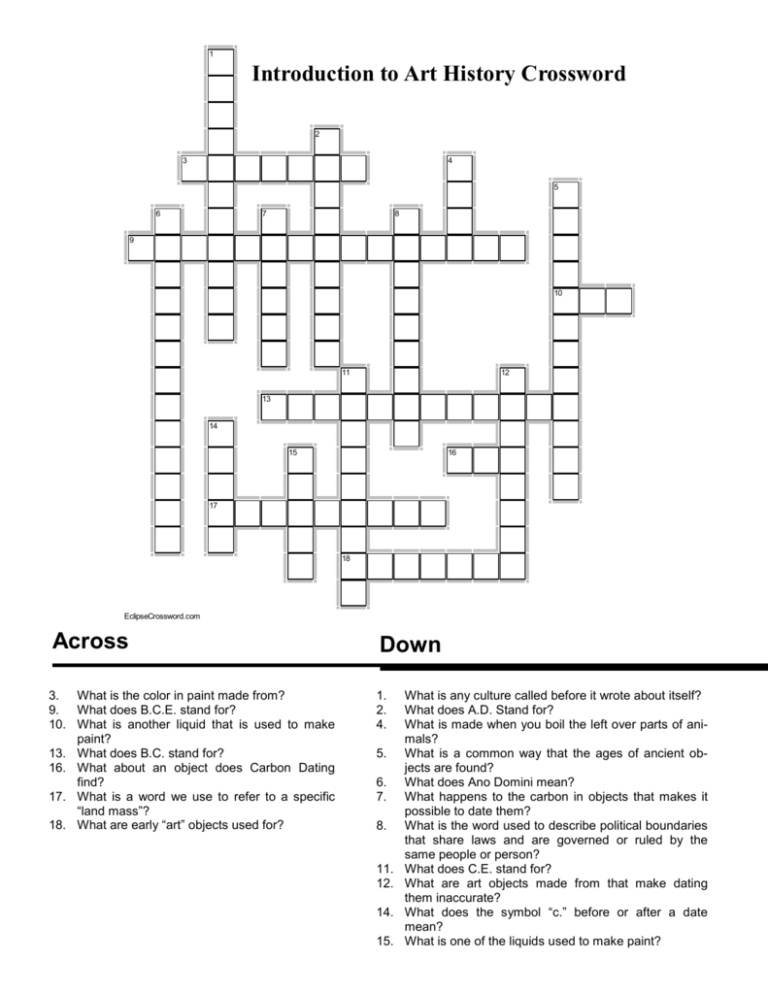 1
Introduction to Art History Crossword
2
3
4
5
6
7
8
9
10
11
12
13
14
15
16
17
18
EclipseCrossword.com
Across
Down
3. What is the color in paint made from?
9. What does B.C.E. stand for?
10. What is another liquid that is used to make
paint?
13. What does B.C. stand for?
16. What about an object does Carbon Dating
find?
17. What is a word we use to refer to a specific
"land mass"?
18. What are early "art" objects used for?
1.
2.
4.
5.
6.
7.
8.
11.
12.
14.
15.
What is any culture called before it wrote about itself?
What does A.D. Stand for?
What is made when you boil the left over parts of animals?
What is a common way that the ages of ancient objects are found?
What does Ano Domini mean?
What happens to the carbon in objects that makes it
possible to date them?
What is the word used to describe political boundaries
that share laws and are governed or ruled by the
same people or person?
What does C.E. stand for?
What are art objects made from that make dating
them inaccurate?
What does the symbol "c." before or after a date
mean?
What is one of the liquids used to make paint?