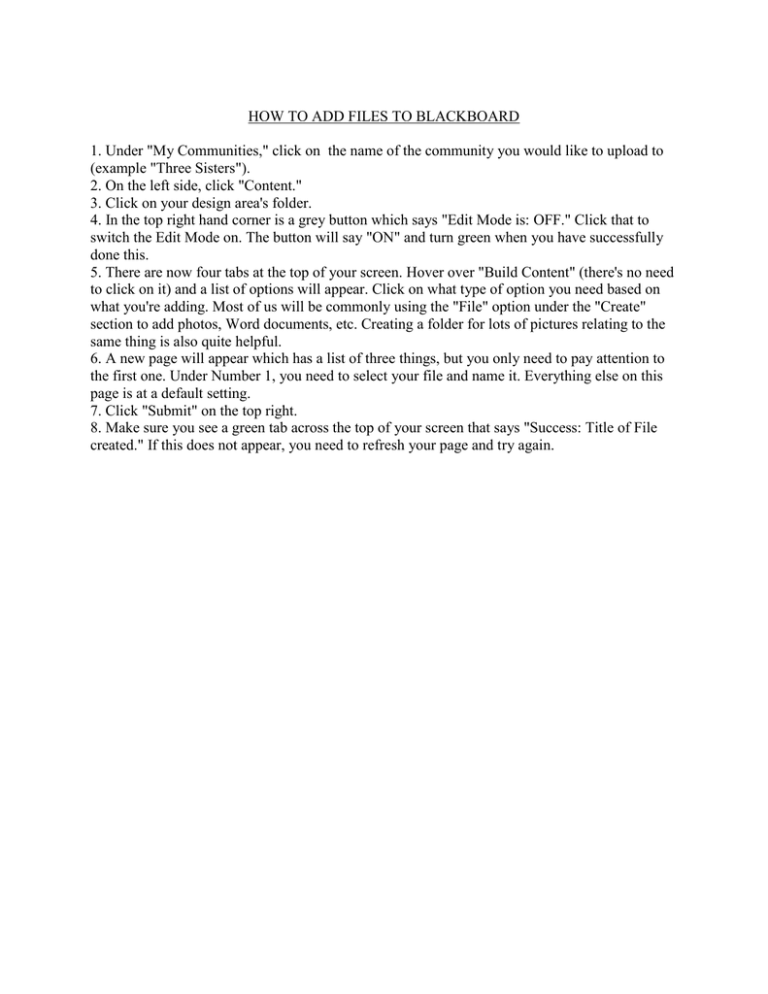 HOW TO ADD FILES TO BLACKBOARD
1. Under "My Communities," click on the name of the community you would like to upload to
(example "Three Sisters").
2. On the left side, click "Content."
3. Click on your design area's folder.
4. In the top right hand corner is a grey button which says "Edit Mode is: OFF." Click that to
switch the Edit Mode on. The button will say "ON" and turn green when you have successfully
done this.
5. There are now four tabs at the top of your screen. Hover over "Build Content" (there's no need
to click on it) and a list of options will appear. Click on what type of option you need based on
what you're adding. Most of us will be commonly using the "File" option under the "Create"
section to add photos, Word documents, etc. Creating a folder for lots of pictures relating to the
same thing is also quite helpful.
6. A new page will appear which has a list of three things, but you only need to pay attention to
the first one. Under Number 1, you need to select your file and name it. Everything else on this
page is at a default setting.
7. Click "Submit" on the top right.
8. Make sure you see a green tab across the top of your screen that says "Success: Title of File
created." If this does not appear, you need to refresh your page and try again.