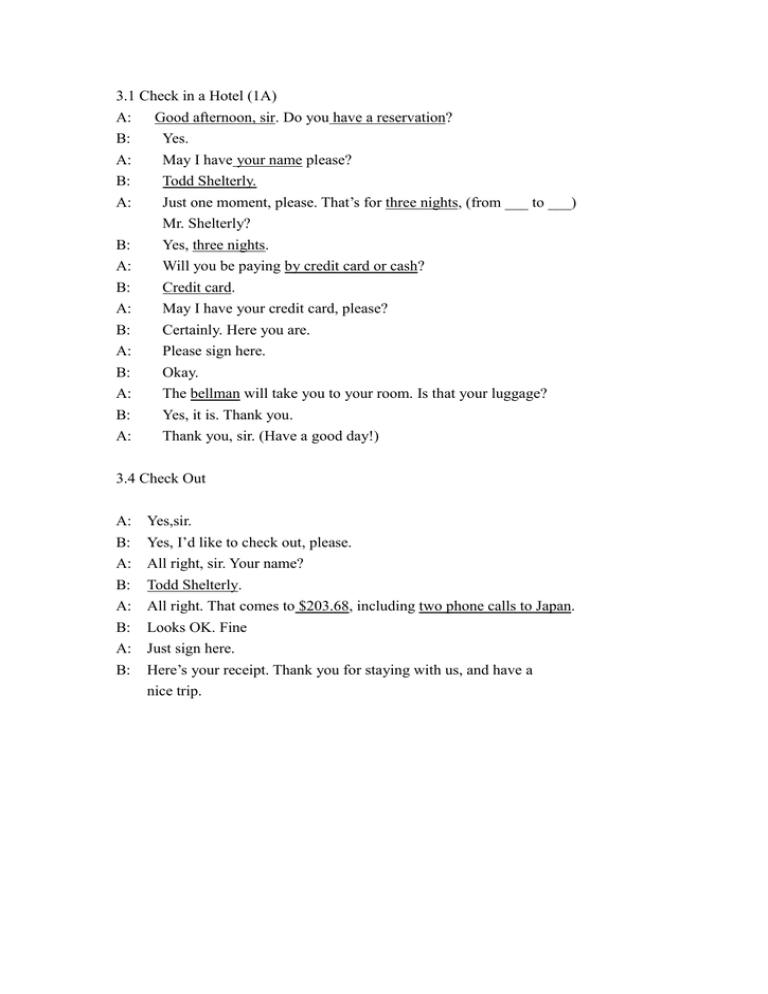 3.1 Check in a Hotel (1A)
A:
B:
A:
B:
A:
B:
A:
B:
A:
Good afternoon, sir. Do you have a reservation?
Yes.
May I have your name please?
Todd Shelterly.
Just one moment, please. That's for three nights, (from ___ to ___)
Mr. Shelterly?
Yes, three nights.
Will you be paying by credit card or cash?
Credit card.
May I have your credit card, please?
B:
A:
B:
Certainly. Here you are.
Please sign here.
Okay.
A:
B:
A:
The bellman will take you to your room. Is that your luggage?
Yes, it is. Thank you.
Thank you, sir. (Have a good day!)
3.4 Check Out
A:
Yes,sir.
B:
A:
B:
A:
B:
A:
B:
Yes, I'd like to check out, please.
All right, sir. Your name?
Todd Shelterly.
All right. That comes to $203.68, including two phone calls to Japan.
Looks OK. Fine
Just sign here.
Here's your receipt. Thank you for staying with us, and have a
nice trip.