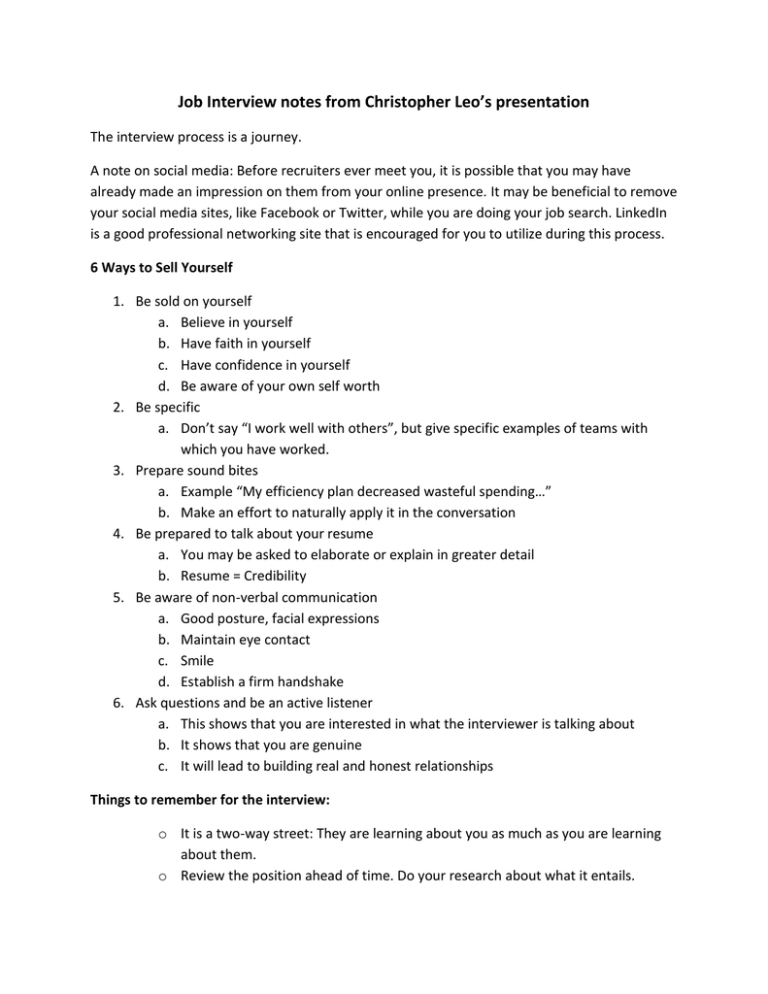 Job Interview notes from Christopher Leo's presentation
The interview process is a journey.
A note on social media: Before recruiters ever meet you, it is possible that you may have
already made an impression on them from your online presence. It may be beneficial to remove
your social media sites, like Facebook or Twitter, while you are doing your job search. LinkedIn
is a good professional networking site that is encouraged for you to utilize during this process.
6 Ways to Sell Yourself
1. Be sold on yourself
a. Believe in yourself
b. Have faith in yourself
c. Have confidence in yourself
d. Be aware of your own self worth
2. Be specific
a. Don't say "I work well with others", but give specific examples of teams with
which you have worked.
3. Prepare sound bites
a. Example "My efficiency plan decreased wasteful spending…"
b. Make an effort to naturally apply it in the conversation
4. Be prepared to talk about your resume
a. You may be asked to elaborate or explain in greater detail
b. Resume = Credibility
5. Be aware of non-verbal communication
a. Good posture, facial expressions
b. Maintain eye contact
c. Smile
d. Establish a firm handshake
6. Ask questions and be an active listener
a. This shows that you are interested in what the interviewer is talking about
b. It shows that you are genuine
c. It will lead to building real and honest relationships
Things to remember for the interview:
o It is a two-way street: They are learning about you as much as you are learning
about them.
o Review the position ahead of time. Do your research about what it entails.
o
o
o
o
o
Come with questions.
Come to the interview early, dress professionally.
Be nice to the receptionist.
Be yourself.
Highlight your competitive advantages.
Internal Recruitment:
Pros:
o
o
o
o
o
You are knowledgeable about the company.
You are well-known.
You are familiar with the organizational culture.
You are a safe bet (not a risk).
The company has already invested in you.
Cons:
o Someone within the company may fall into Groupthink, lacking innovation or
fresh ideas.