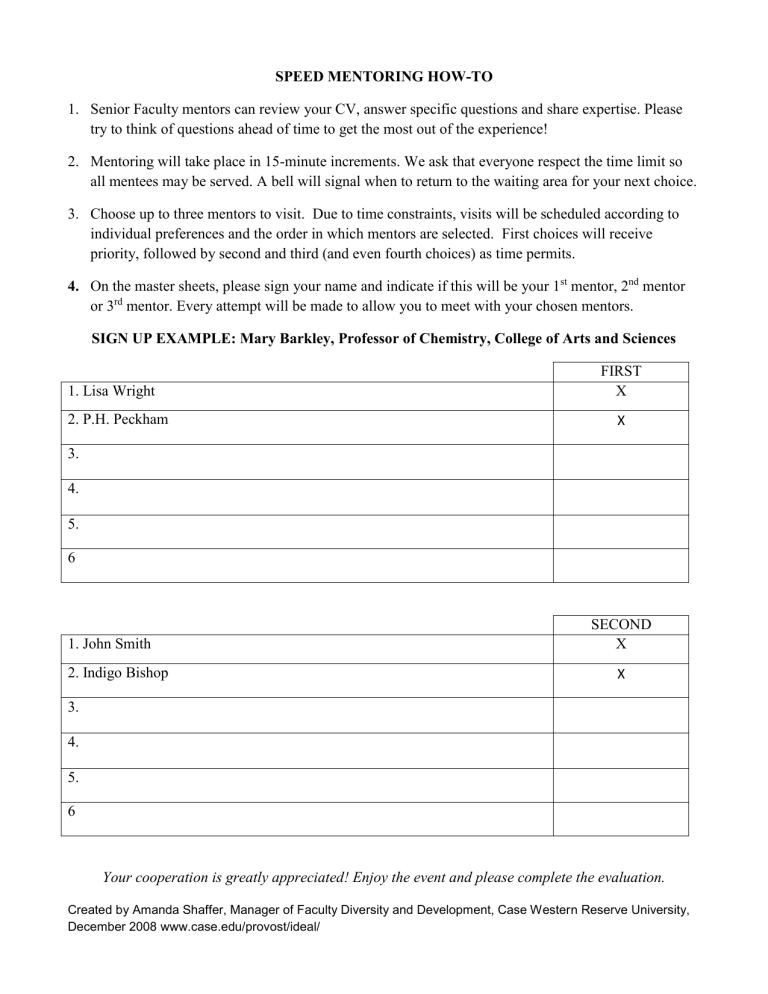 SPEED MENTORING HOW-TO
1.
Senior Faculty mentors can review your CV, answer specific questions and share expertise. Please try to think of questions ahead of time to get the most out of the experience!
2.
Mentoring will take place in 15-minute increments. We ask that everyone respect the time limit so all mentees may be served. A bell will signal when to return to the waiting area for your next choice.
3.
Choose up to three mentors to visit. Due to time constraints, visits will be scheduled according to individual preferences and the order in which mentors are selected. First choices will receive priority, followed by second and third (and even fourth choices) as time permits.
4.
On the master sheets, please sign your name and indicate if this will be your 1 st mentor, 2 nd mentor or 3 rd
mentor. Every attempt will be made to allow you to meet with your chosen mentors.
3.
4.
5.
6
3.
4.
5.
SIGN UP EXAMPLE: Mary Barkley, Professor of Chemistry, College of Arts and Sciences
1. Lisa Wright
2. P.H. Peckham
FIRST
X
X
6
1. John Smith
2. Indigo Bishop
SECOND
X
X
Your cooperation is greatly appreciated! Enjoy the event and please complete the evaluation.
Created by Amanda Shaffer, Manager of Faculty Diversity and Development, Case Western Reserve University,
December 2008 www.case.edu/provost/ideal/