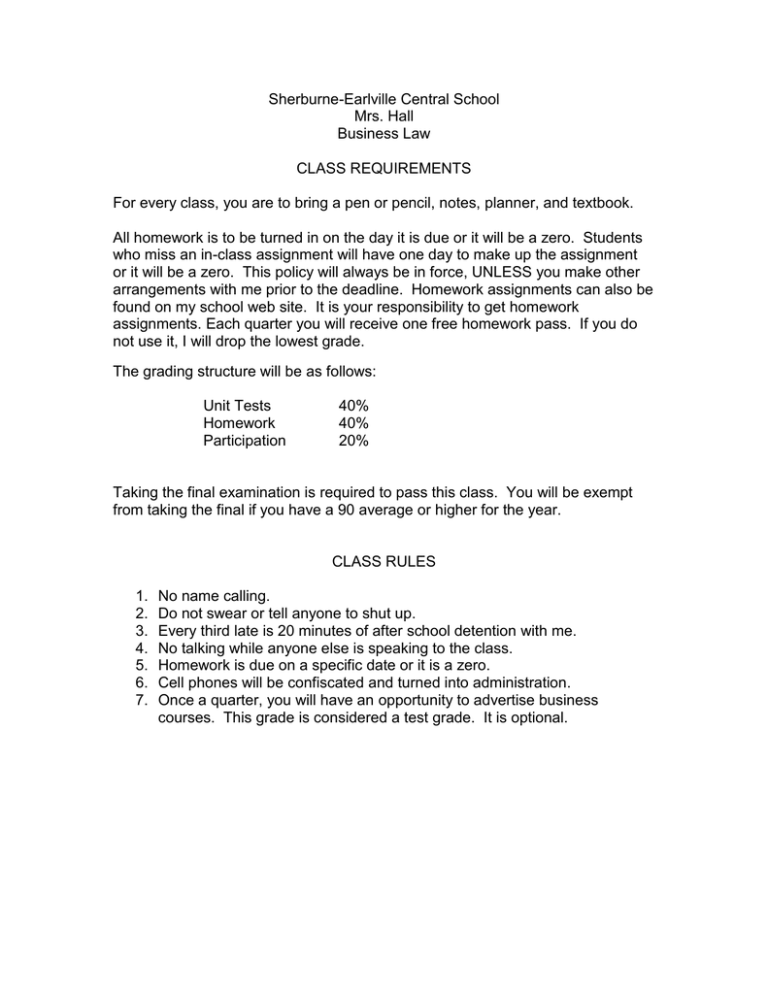 Sherburne-Earlville Central School
Mrs. Hall
Business Law
CLASS REQUIREMENTS
For every class, you are to bring a pen or pencil, notes, planner, and textbook.
All homework is to be turned in on the day it is due or it will be a zero. Students
who miss an in-class assignment will have one day to make up the assignment
or it will be a zero. This policy will always be in force, UNLESS you make other
arrangements with me prior to the deadline. Homework assignments can also be
found on my school web site. It is your responsibility to get homework
assignments. Each quarter you will receive one free homework pass. If you do
not use it, I will drop the lowest grade.
The grading structure will be as follows:
Unit Tests
Homework
Participation
40%
40%
20%
Taking the final examination is required to pass this class. You will be exempt
from taking the final if you have a 90 average or higher for the year.
CLASS RULES
1.
2.
3.
4.
5.
6.
7.
No name calling.
Do not swear or tell anyone to shut up.
Every third late is 20 minutes of after school detention with me.
No talking while anyone else is speaking to the class.
Homework is due on a specific date or it is a zero.
Cell phones will be confiscated and turned into administration.
Once a quarter, you will have an opportunity to advertise business
courses. This grade is considered a test grade. It is optional.