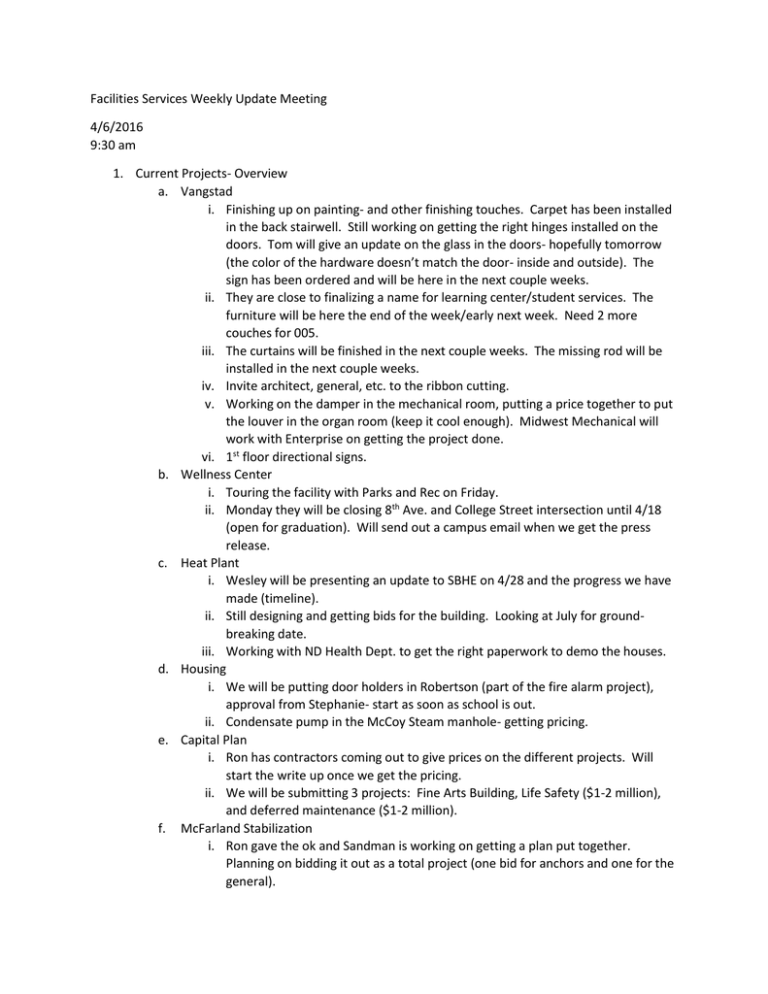 Facilities Services Weekly Update Meeting
4/6/2016
9:30 am
1. Current Projects- Overview
a. Vangstad
i. Finishing up on painting- and other finishing touches. Carpet has been installed
in the back stairwell. Still working on getting the right hinges installed on the
doors. Tom will give an update on the glass in the doors- hopefully tomorrow
(the color of the hardware doesn't match the door- inside and outside). The
sign has been ordered and will be here in the next couple weeks.
ii. They are close to finalizing a name for learning center/student services. The
furniture will be here the end of the week/early next week. Need 2 more
couches for 005.
iii. The curtains will be finished in the next couple weeks. The missing rod will be
installed in the next couple weeks.
iv. Invite architect, general, etc. to the ribbon cutting.
v. Working on the damper in the mechanical room, putting a price together to put
the louver in the organ room (keep it cool enough). Midwest Mechanical will
work with Enterprise on getting the project done.
vi. 1st floor directional signs.
b. Wellness Center
i. Touring the facility with Parks and Rec on Friday.
ii. Monday they will be closing 8th Ave. and College Street intersection until 4/18
(open for graduation). Will send out a campus email when we get the press
release.
c. Heat Plant
i. Wesley will be presenting an update to SBHE on 4/28 and the progress we have
made (timeline).
ii. Still designing and getting bids for the building. Looking at July for groundbreaking date.
iii. Working with ND Health Dept. to get the right paperwork to demo the houses.
d. Housing
i. We will be putting door holders in Robertson (part of the fire alarm project),
approval from Stephanie- start as soon as school is out.
ii. Condensate pump in the McCoy Steam manhole- getting pricing.
e. Capital Plan
i. Ron has contractors coming out to give prices on the different projects. Will
start the write up once we get the pricing.
ii. We will be submitting 3 projects: Fine Arts Building, Life Safety ($1-2 million),
and deferred maintenance ($1-2 million).
f. McFarland Stabilization
i. Ron gave the ok and Sandman is working on getting a plan put together.
Planning on bidding it out as a total project (one bid for anchors and one for the
general).
2.
3.
4.
5.
6.
g. Circle Hall Elevator Repairs (April '16)
i. Looking at the end of April. Will send campus email when they start.
h. Track Repairs
i. Done for now (remove from agenda).
i. Athletics' Project
i. Pat is working on getting bids for the different project priorities.
j. Back Alley (paving, shelter)
i. Received the final payment and will be paid soon.
ii. Pat is getting an estimate on black dirt and the cars will be moved after
graduation.
k. Flood Wall (Spring '16)
i. They are digging their last footing out on Viking Drive. Then they will start
pouring the wall.
ii. Forming up another footing College (one more section going NW).
1. They are putting up the decorative brick work on the College Street
wall.
iii. Will be digging up in front of Foss on May 16th.
l. Circle Hall Interior
i. Pat is getting estimates for the tile.
m. Fine Arts Building (funding)
i. Look at having someone come and do asbestos testing now so we can make
sure our budget is accurate. Ron will contact Mike to have him come and do the
testing.
Safety/Training
a. Another set of modules are due- an email will be sent to those who still need to
complete any modules.
FAMIS
a. Fred requested that Power House work orders go to him so he receives a notification.
b. Crew assigned work orders can be completed by any of the assignees- just wait for a day
to make sure everyone has their time entered.
Building Services: position is still open- will be closing on Friday- will be reviewing as soon as it
closes.
Maintenance: spring cleaning. Standards for grounds and maintenance.
Power House: Working on issues in Rhoades- might have to change out the entire damper in
the air handler. Drew might be able to make a piece to replace the plastic one that broke.
7. Other: Pat talk to Andre about throwing away specimens- right now they are sitting in the
garbage overnight.