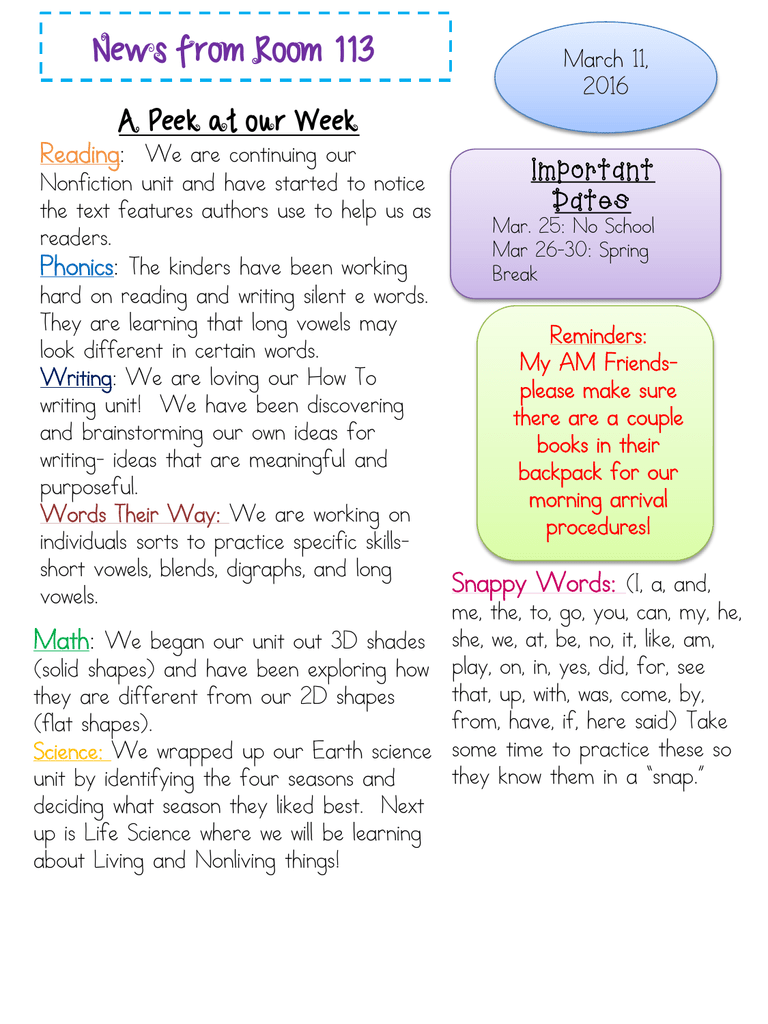 News from Room 113
March 11,
2016
A Peek at our Week
Reading: We are continuing our
Important
Nonfiction unit and have started to notice
Dates
the text features authors use to help us as
Mar. 25: No School
readers.
Mar 26-30: Spring
Phonics: The kinders have been working
Break
hard on reading and writing silent e words.
They are learning that long vowels may
Reminders:
look different in certain words.
My AM FriendsWriting: We are loving our How To
please make sure
writing unit! We have been discovering
there are a couple
and brainstorming our own ideas for
books in their
writing- ideas that are meaningful and
backpack for our
purposeful.
morning arrival
Words Their Way: We are working on
procedures!
individuals sorts to practice specific skillsshort vowels, blends, digraphs, and long
Snappy Words: (I, a, and,
vowels.
me, the, to, go, you, can, my, he,
Math: We began our unit out 3D shades she, we, at, be, no, it, like, am,
(solid shapes) and have been exploring how play, on, in, yes, did, for, see
that, up, with, was, come, by,
they are different from our 2D shapes
from, have, if, here said) Take
(flat shapes).
Science: We wrapped up our Earth science some time to practice these so
they know them in a "snap."
unit by identifying the four seasons and
deciding what season they liked best. Next
up is Life Science where we will be learning
about Living and Nonliving things!