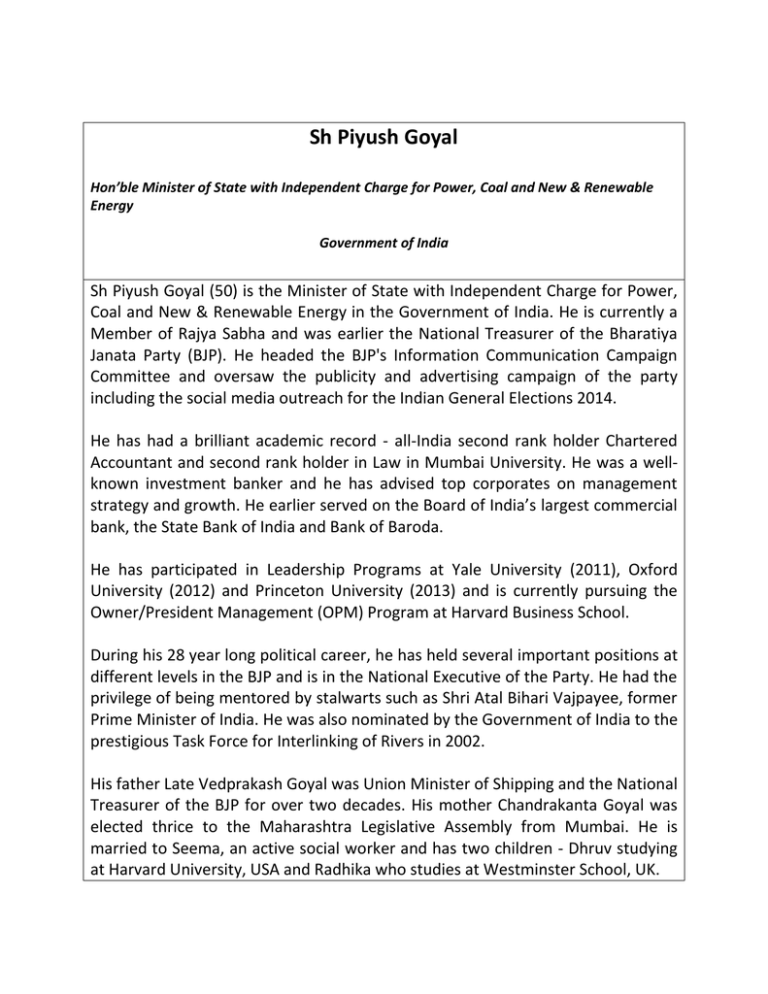 Sh Piyush Goyal
Hon'ble Minister of State with Independent Charge for Power, Coal and New & Renewable
Energy
Government of India
Sh Piyush Goyal (50) is the Minister of State with Independent Charge for Power,
Coal and New & Renewable Energy in the Government of India. He is currently a
Member of Rajya Sabha and was earlier the National Treasurer of the Bharatiya
Janata Party (BJP). He headed the BJP's Information Communication Campaign
Committee and oversaw the publicity and advertising campaign of the party
including the social media outreach for the Indian General Elections 2014.
He has had a brilliant academic record - all-India second rank holder Chartered
Accountant and second rank holder in Law in Mumbai University. He was a wellknown investment banker and he has advised top corporates on management
strategy and growth. He earlier served on the Board of India's largest commercial
bank, the State Bank of India and Bank of Baroda.
He has participated in Leadership Programs at Yale University (2011), Oxford
University (2012) and Princeton University (2013) and is currently pursuing the
Owner/President Management (OPM) Program at Harvard Business School.
During his 28 year long political career, he has held several important positions at
different levels in the BJP and is in the National Executive of the Party. He had the
privilege of being mentored by stalwarts such as Shri Atal Bihari Vajpayee, former
Prime Minister of India. He was also nominated by the Government of India to the
prestigious Task Force for Interlinking of Rivers in 2002.
His father Late Vedprakash Goyal was Union Minister of Shipping and the National
Treasurer of the BJP for over two decades. His mother Chandrakanta Goyal was
elected thrice to the Maharashtra Legislative Assembly from Mumbai. He is
married to Seema, an active social worker and has two children - Dhruv studying
at Harvard University, USA and Radhika who studies at Westminster School, UK.