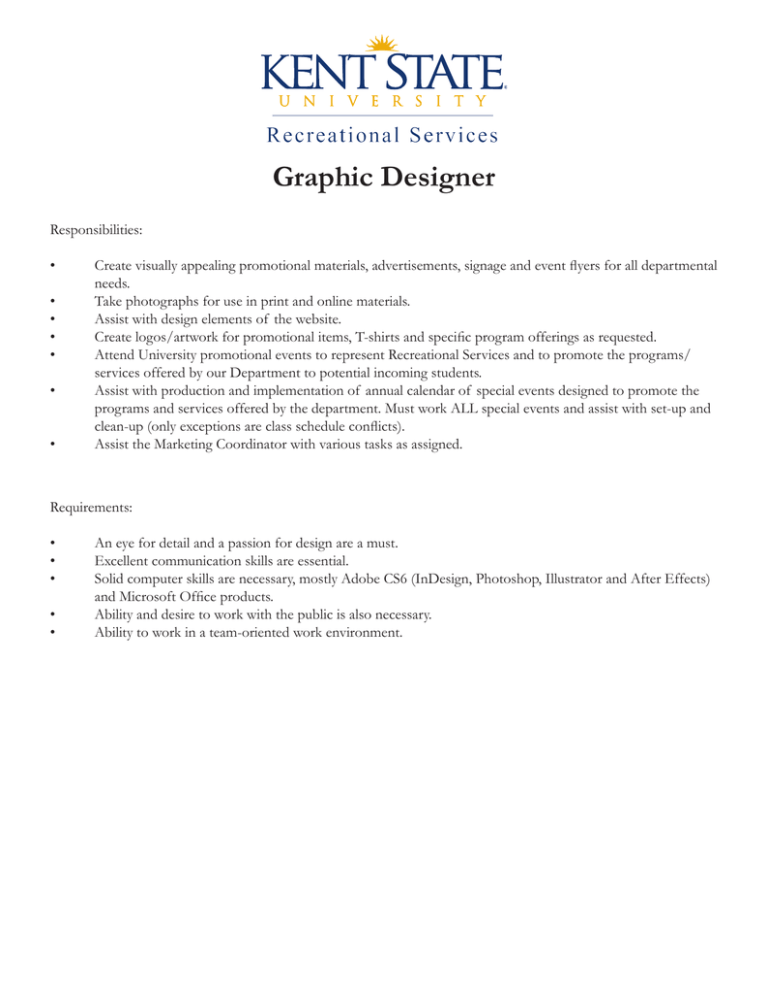 Graphic Designer
Responsibilities:
•
•
•
•
•
•
•
Create visually appealing promotional materials, advertisements, signage and event flyers for all departmental
needs.
Take photographs for use in print and online materials.
Assist with design elements of the website.
Create logos/artwork for promotional items, T-shirts and specific program offerings as requested.
Attend University promotional events to represent Recreational Services and to promote the programs/
services offered by our Department to potential incoming students.
Assist with production and implementation of annual calendar of special events designed to promote the
programs and services offered by the department. Must work ALL special events and assist with set-up and
clean-up (only exceptions are class schedule conflicts).
Assist the Marketing Coordinator with various tasks as assigned.
Requirements:
•
•
•
•
•
An eye for detail and a passion for design are a must.
Excellent communication skills are essential.
Solid computer skills are necessary, mostly Adobe CS6 (InDesign, Photoshop, Illustrator and After Effects)
and Microsoft Office products.
Ability and desire to work with the public is also necessary.
Ability to work in a team-oriented work environment.