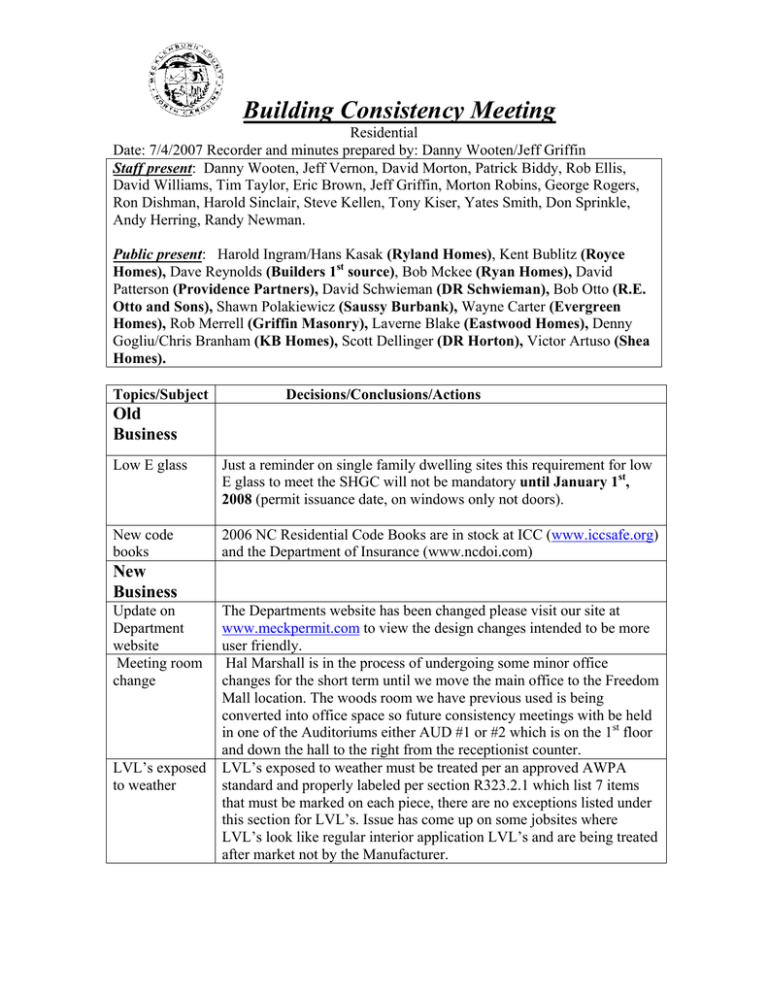 Building Consistency Meeting
Residential
Date: 7/4/2007 Recorder and minutes prepared by: Danny Wooten/Jeff Griffin
Staff present: Danny Wooten, Jeff Vernon, David Morton, Patrick Biddy, Rob Ellis,
David Williams, Tim Taylor, Eric Brown, Jeff Griffin, Morton Robins, George Rogers,
Ron Dishman, Harold Sinclair, Steve Kellen, Tony Kiser, Yates Smith, Don Sprinkle,
Andy Herring, Randy Newman.
Public present: Harold Ingram/Hans Kasak (Ryland Homes), Kent Bublitz (Royce
Homes), Dave Reynolds (Builders 1st source), Bob Mckee (Ryan Homes), David
Patterson (Providence Partners), David Schwieman (DR Schwieman), Bob Otto (R.E.
Otto and Sons), Shawn Polakiewicz (Saussy Burbank), Wayne Carter (Evergreen
Homes), Rob Merrell (Griffin Masonry), Laverne Blake (Eastwood Homes), Denny
Gogliu/Chris Branham (KB Homes), Scott Dellinger (DR Horton), Victor Artuso (Shea
Homes).
Topics/Subject
Decisions/Conclusions/Actions
Old
Business
Low E glass
Just a reminder on single family dwelling sites this requirement for low
E glass to meet the SHGC will not be mandatory until January 1st,
2008 (permit issuance date, on windows only not doors).
New code
books
2006 NC Residential Code Books are in stock at ICC (www.iccsafe.org)
and the Department of Insurance (www.ncdoi.com)
New
Business
Update on
Department
website
Meeting room
change
LVL's exposed
to weather
The Departments website has been changed please visit our site at
www.meckpermit.com to view the design changes intended to be more
user friendly.
Hal Marshall is in the process of undergoing some minor office
changes for the short term until we move the main office to the Freedom
Mall location. The woods room we have previous used is being
converted into office space so future consistency meetings with be held
in one of the Auditoriums either AUD #1 or #2 which is on the 1st floor
and down the hall to the right from the receptionist counter.
LVL's exposed to weather must be treated per an approved AWPA
standard and properly labeled per section R323.2.1 which list 7 items
that must be marked on each piece, there are no exceptions listed under
this section for LVL's. Issue has come up on some jobsites where
LVL's look like regular interior application LVL's and are being treated
after market not by the Manufacturer.
Rebar in
basement
footers
Issue has come up in regards to some crews installing vertical rebar
driven into the ground to support additional steel, typically the bent
dowels at the 1st horizontal bar in a poured foundation wall. Rebar
cannot be in contact with ground even being used as temporary support.
Issue discussed was if the footing crew cut this vertical temporary bar
out when footer was poured and before wall approval. This will be
allowed if bars to be removed are marked (at footer inspection) in such
a way that when viewing foundation wall between form panel it obvious
that bars are no longer present and temporary cannot touch permanent
horizontal bars in footer base. Ways discussed to mark are ribbons tied
to bars or bars spray painted to identify:
Firestopping
floor to attic
communication
Careful attention should be paid that a floor system (typically wood
floor trusses) does not communicate from floor system to attic area.
Firestopping should be applied per section R602.8. Example of a
specific condition is pictured below which is a porch roof line and 2nd
floor walls communicate directly with open web floor system that has
no solid band material:
Proper chairs
for required
rebar in footers
When steel (rebar) is installed it should be properly chaired for required
ground clearances, clay brick is not a suitable chair and contractor
should use either stainless steel chairs or concrete bricks.
Sealed crawl
space
We continue to have an issue with sealed crawl spaces being
completely sealed before a foundation inspection has been conducted.
Builders should hold off on any sealed crawl space liner material before
foundation passes. We are asking builders to hold off on backfilling
crawl area as well so footer projections can be seen at piers. If a builder
seals crawl space before a foundation inspection they will need to
remove liner so interior mortar joints and masonry condition can be
viewed by the inspector.
Concern has come up with regards to an approved plan or engineered
sealed plan where an I-joists system differs from the engineers design.
This is typically seen when an I-joist system including LVL sizes and
placement are given to a field inspector but are never sealed (it's an
engineered product but end use placement and suitability has not been
engineered/sealed). Many times these layout/placement sheets will state
something different than the engineer of record has designed for specific
locations throughout the structure. The engineer of record details must
be followed and a non-sealed I-joists system cannot replace that
engineers design. The engineer of record is responsible (where the Ijoists system is not) for design of all beams, their supports down to
foundation/footers or basically the entire load transferring components
to the soil.
There is a new requirement for townhouse soffit material that has
come out of the State and is attached below; the dates indicated are
based upon permit issuance dates:
Engineer's
design vs. Ijoists layout
Townhouse
noncombustible
soffit
Site access for
inspectors
Issue comes up from time to time as to site access for field inspectors.
Inspectors are encouraged to do what they can to safely access a
building site but sometimes roads can be cut off and not passable.
Typical rule of thumb for these conditions is that inspectors need to be
in fairly close site of their vehicles and equipment. This has become
more important this year a very high number (over 12) laptops that have
been stolen out of inspectors vehicles. Builders are encourage to do
everything possible to provide close access to their sites not just for
security reasons but so an inspector doesn't have to spend more time
finding and walking to a site than is reasonable needed.
Braced wall
Question asked about Table R602.10.3 wall bracing and the spacing of
line brace panel braced wall panels for method 3. This table is very specific in regards to
locations
placement of a panel which requires at every corner and 25 on center
method #3
spacing. There is an allowance to be able to start a panel within 12' per
reviewed
section R602.10.1 to allow for an opening within this corner area. There
is no information in this text section that modifies the table on the 25'
on center rule and the spacing for the second panel off a corner on the
brace wall line should still be based upon this table as if there was a 4'
panel in that corner. So example discussed is a 53' braced wall line
could not get by with 2 braced (osb) wall panels both moved in 12 off
the corners so as to reduce the requirement for panels (% rule still
applies also). A 53' braced wall line would have minimum 3 panels
based upon Table R602.10.3 spacing requirements.