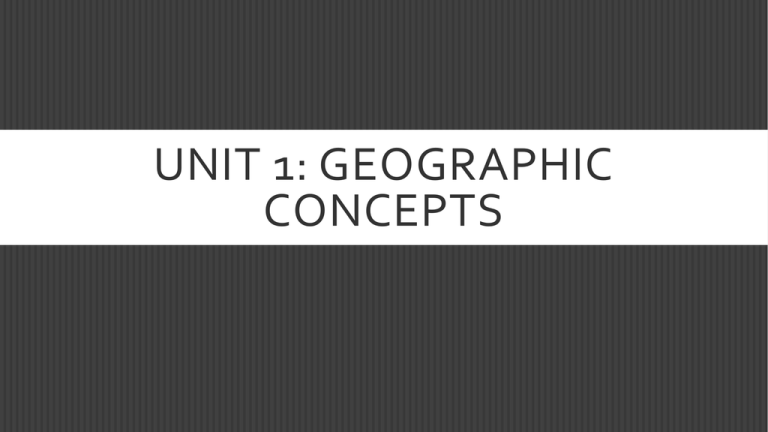 UNIT 1: GEOGRAPHIC
CONCEPTS
THE STUDENT WILL BE ABLE TO…
Understand and apply geographic terms and
concepts
Geographic concepts include location, place,
scale, space, pattern, nature and society,
networks, flows, regionalization, and
globalization.
SOME PRETTY IMPORTANT TERMS…
 Place is a specific point on the Earth. Your desk or your house is a place.
Every place can be identifies by it's absolute location (latitude and
longitude) or relative location (relation to other places).
 Site is the physical characteristics of a place. The soil, climate,
vegetation, topography, water sources, latitude and elevation of a
place. These factors make a place unique. The site of London is unique,
it has specific coordinates of longitude and latitude.
 Situation is the location of a place relative to other places. Could you
find Bob's house if I told you it was across the street from Keisha's
house and next to David's? You could if you knew where Keisha and
David live, but situations may vary from person to person.
Physically, Istanbul occupies a hilly site adjacent to a deep harbor and has grown
on both sides of the Bosporus Strait, a narrow and strategic waterway that
connects the Mediterranean and Black seas (Greiner, 2012) This image is of the
Hagia Sophia (also cultural succession).
These maps depict the situation of
Istanbul, Turkey's largest city, in
relation to the surrounding bodies of
water, the rest of the country and the
neighboring regions in Europe, the
Middle East, and North Africa.
Istanbul's situation is that it straddles
Europe and Asia (Greiner, 2012). Also
note the different scales, they
change perspective.
LOCATION…HOW DO WE DESCRIBE PLACES ON THE EARTH?
 Place name (toponym) is a name given to a place by
humans. Changing the toponym can change the
"sense of place" about a place; change "Swamp
city" to "Pleasantown" and the place seems to be
better. Toponyms are very important in our world.
 Spaces are considered areas (places are just
points). It is an area in which activities take place.
It can either be absolute (measurable) or relative
(defined less with precision and more based on
interactions)
 Sense of Place is the deep attachment humans
have to specific locations such as home and to
particularly distinctive places (Norton, 2012)
6
PATTERNS
Patterns: They are a type of
distribution or how things are
represented and/or located on a
surface or area
Distance: The spatial dimension of
separation
Distribution: The pattern of
geographic facts (for example, people
within an area).
SCALE…
The larger the scale, the smaller the area, but
the greater the detail.
Small scale ='s less detail
Large scale ='s more detail
Can change our perspectives
THINKING LIKE A GEOGRAPHER
 "What is where, why there, and why care?" (Norton, 2012).
Begin thinking about Geographic Levels
Level 1 - What? Where? When? Scale?
Level 2 - Pattern Identification
Level 3 -Why there?/How did it get there?
Level 4 (prediction)
So what?/What if?/Impacts?/ Effects?
LVL. 1 WHAT, WHERE, WHEN, & SCALE
LVL. 2 PATTERN IDENTIFICATION…..
LVL. 3 WHY THERE & HOW DID IT GET THERE?
LVL. 4 SO WHAT? WHAT IF…? IMPACTS?
SCALE CHANGES PERSPECTIVE
If a map depicts a
small territory it is
large scale.
This maps depiction
is smaller than the
world map, so it is
larger scaled than
the 1st map.