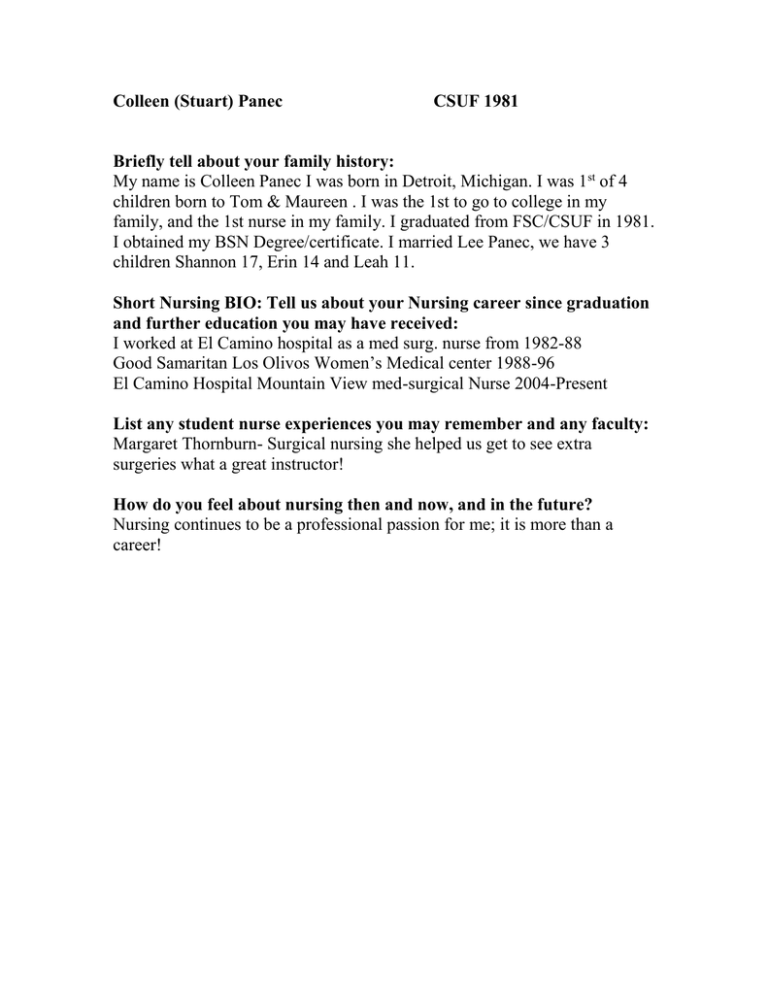 Colleen (Stuart) Panec
CSUF 1981
Briefly tell about your family history:
My name is Colleen Panec I was born in Detroit, Michigan. I was 1st of 4
children born to Tom & Maureen . I was the 1st to go to college in my
family, and the 1st nurse in my family. I graduated from FSC/CSUF in 1981.
I obtained my BSN Degree/certificate. I married Lee Panec, we have 3
children Shannon 17, Erin 14 and Leah 11.
Short Nursing BIO: Tell us about your Nursing career since graduation
and further education you may have received:
I worked at El Camino hospital as a med surg. nurse from 1982-88
Good Samaritan Los Olivos Women's Medical center 1988-96
El Camino Hospital Mountain View med-surgical Nurse 2004-Present
List any student nurse experiences you may remember and any faculty:
Margaret Thornburn- Surgical nursing she helped us get to see extra
surgeries what a great instructor!
How do you feel about nursing then and now, and in the future?
Nursing continues to be a professional passion for me; it is more than a
career!