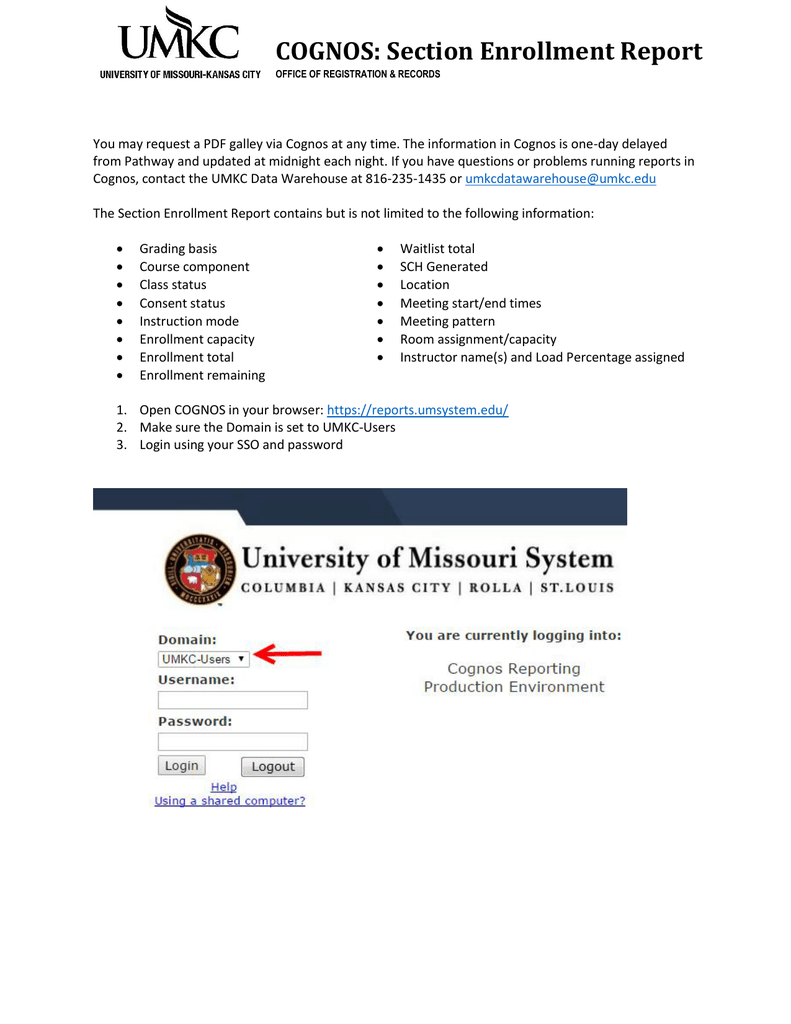 COGNOS: Section Enrollment Report
OFFICE OF REGISTRATION & RECORDS
You may request a PDF galley via Cognos at any time. The information in Cognos is one-day delayed
from Pathway and updated at midnight each night. If you have questions or problems running reports in
Cognos, contact the UMKC Data Warehouse at 816-235-1435 or [email protected]
The Section Enrollment Report contains but is not limited to the following information:








Grading basis
Course component
Class status
Consent status
Instruction mode
Enrollment capacity
Enrollment total
Enrollment remaining







Waitlist total
SCH Generated
Location
Meeting start/end times
Meeting pattern
Room assignment/capacity
Instructor name(s) and Load Percentage assigned
1. Open COGNOS in your browser: https://reports.umsystem.edu/
2. Make sure the Domain is set to UMKC-Users
3. Login using your SSO and password
4. Find the UMKC Reports folder and click on it.
5. Locate the galley report by clicking on
a. Student Administration Reports > Vice Chancellor of Student Affairs & Enrollment
Management > Registrar's Office > Scheduling Reports
6. To run the report, click on the report REGISTRAR-Section Enrollment Report
7. Use the prompts to select your data.
Step 4: Select Finish. At this step you have two options.
a. You will see a popup message that Your report is running. You can wait and let the report finish
processing and once complete the PDF will open in the window where you will have the option
to save or print the report. For this option you must stay logged into Cognos and leave the
window open to allow the report to finish running. Depending on how much data you requested
this process could take some time.
b. You can click in the Select a delivery method link > Email Report > OK to have the report
emailed to your UMKC email as a PDF once it is done running. For this option you do not need to
stay logged into Cognos.