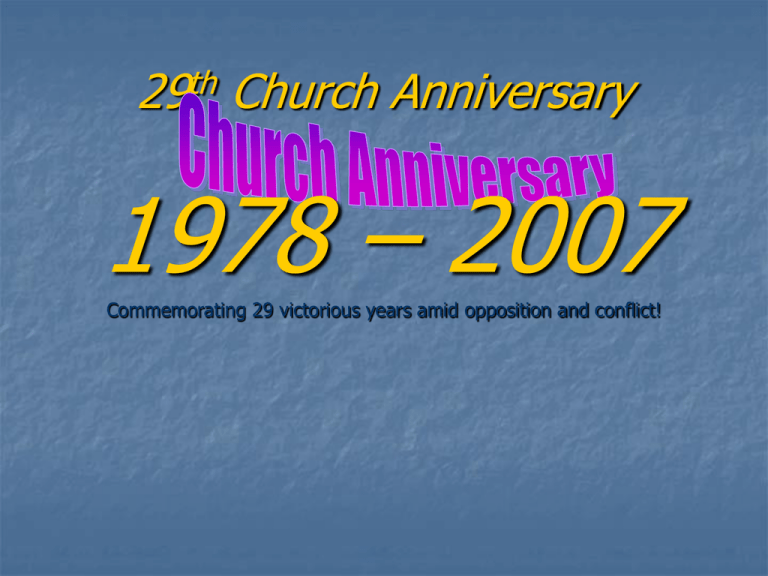 29th Church Anniversary
1978 – 2007
Commemorating 29 victorious years amid opposition and conflict!
Thursday October 26th & Sunday October 28th
7:00 p.m.
3:30 p.m.
Thursday Night
Sunday Afternoon
11955 Benham Road, St. Louis MO 63138
Phone: 314 355-1355
314 355-1990
TRUE GOSPEL MIRACLE CHURCH
Theme
The True Church Will Stand!
"And upon this Rock I will build my church and the gate
of Hell shall not prevail against it." (Matthews 16:18)
Who is left among you that saw this house in her first glory,
and how do ye see it now? Haggai 2:3
"Still Preaching Holiness Without Compromise"
Guest Speakers
Friday Speaker – October 26th 2007
District Elder Marion K. Greene
Pastgor of Full Gospel Assembly
St. Louis, MO
Sunday Speaker – October 28th, 2007
Senior District Elder A. John McCoy
Pastor of Grace Apostolic Family Worship Center
St. Louis, MO
. . . it pleased God by the foolishness of preaching to save
them that believe.
(1 Cor.1:21)
The present day in which we live is full of wickedness. And while
most people do not want to walk in the ways of God (according to His
Word), we believe there are still some people who hunger and thirst for
God; some are seeking God, but they don't know where to find Him. If you
are one of those hungry & thirsty seekers, we beg you to please visit True
Gospel services. Dr. B.L. Gregory and True Gospel Miracle Church is in
constant combat against the devil and his devices. God created man with a
soul—nothing can satisfy the longing in the heart of man but God. It is
through preaching that man is delivered and set free.
You are cordially invited to attend any and all of our services. Come and bring
a friend!
Come and hear dynamic preaching of deliverance.