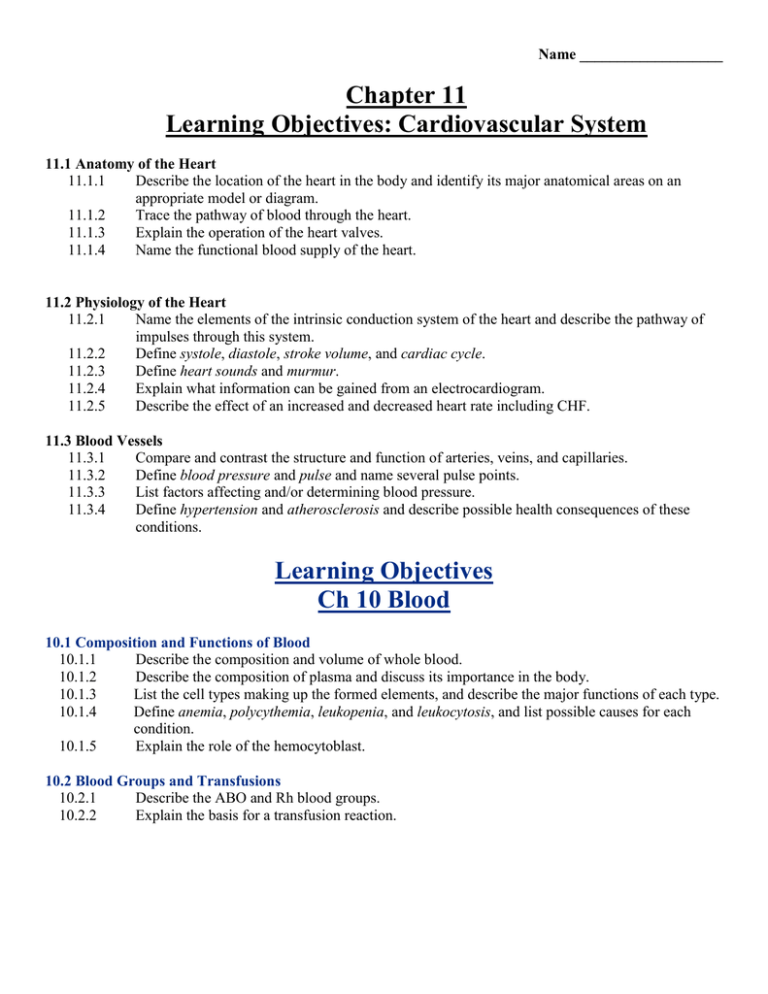 Name ___________________
Chapter 11
Learning Objectives: Cardiovascular System
11.1 Anatomy of the Heart
11.1.1
Describe the location of the heart in the body and identify its major anatomical areas on an
appropriate model or diagram.
11.1.2
Trace the pathway of blood through the heart.
11.1.3
Explain the operation of the heart valves.
11.1.4
Name the functional blood supply of the heart.
11.2 Physiology of the Heart
11.2.1
Name the elements of the intrinsic conduction system of the heart and describe the pathway of
impulses through this system.
11.2.2
Define systole, diastole, stroke volume, and cardiac cycle.
11.2.3
Define heart sounds and murmur.
11.2.4
Explain what information can be gained from an electrocardiogram.
11.2.5
Describe the effect of an increased and decreased heart rate including CHF.
11.3 Blood Vessels
11.3.1
Compare and contrast the structure and function of arteries, veins, and capillaries.
11.3.2
Define blood pressure and pulse and name several pulse points.
11.3.3
List factors affecting and/or determining blood pressure.
11.3.4
Define hypertension and atherosclerosis and describe possible health consequences of these
conditions.
Learning Objectives
Ch 10 Blood
10.1 Composition and Functions of Blood
10.1.1
Describe the composition and volume of whole blood.
10.1.2
Describe the composition of plasma and discuss its importance in the body.
10.1.3
List the cell types making up the formed elements, and describe the major functions of each type.
10.1.4
Define anemia, polycythemia, leukopenia, and leukocytosis, and list possible causes for each
condition.
10.1.5
Explain the role of the hemocytoblast.
10.2 Blood Groups and Transfusions
10.2.1
Describe the ABO and Rh blood groups.
10.2.2
Explain the basis for a transfusion reaction.