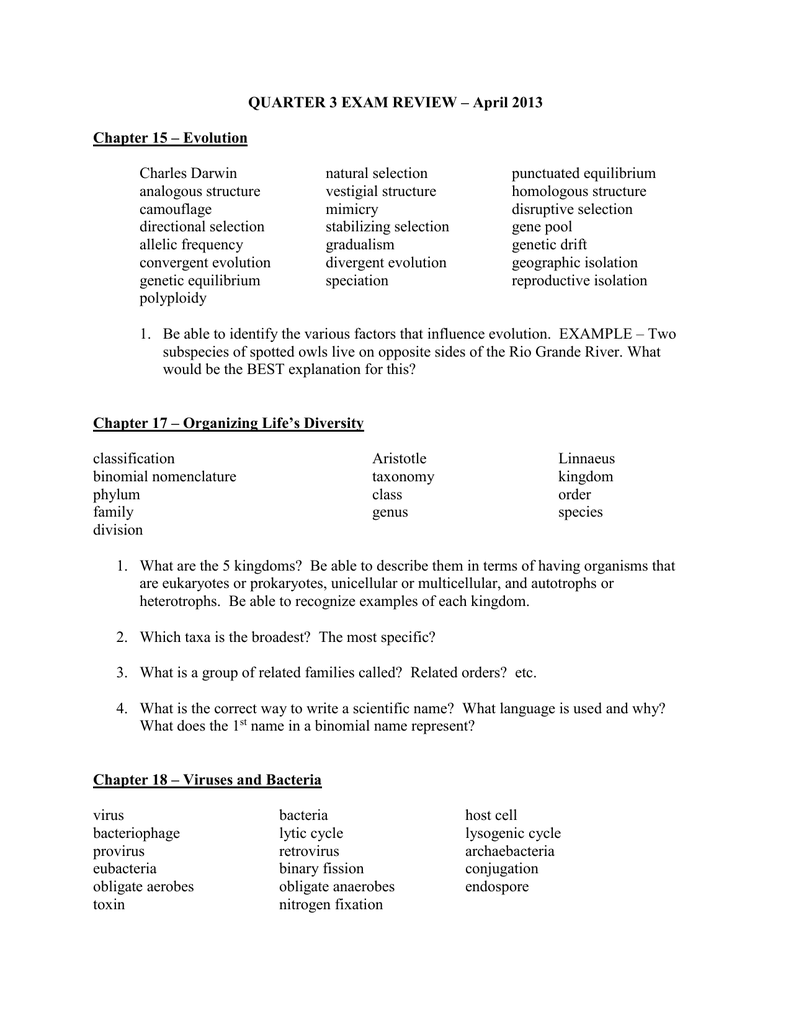 QUARTER 3 EXAM REVIEW – April 2013
Chapter 15 – Evolution
Charles Darwin
analogous structure
camouflage
directional selection
allelic frequency
convergent evolution
genetic equilibrium
polyploidy
natural selection
vestigial structure
mimicry
stabilizing selection
gradualism
divergent evolution
speciation
punctuated equilibrium
homologous structure
disruptive selection
gene pool
genetic drift
geographic isolation
reproductive isolation
1. Be able to identify the various factors that influence evolution. EXAMPLE – Two
subspecies of spotted owls live on opposite sides of the Rio Grande River. What
would be the BEST explanation for this?
Chapter 17 – Organizing Life's Diversity
classification
binomial nomenclature
phylum
family
division
Aristotle
taxonomy
class
genus
Linnaeus
kingdom
order
species
1. What are the 5 kingdoms? Be able to describe them in terms of having organisms that
are eukaryotes or prokaryotes, unicellular or multicellular, and autotrophs or
heterotrophs. Be able to recognize examples of each kingdom.
2. Which taxa is the broadest? The most specific?
3. What is a group of related families called? Related orders? etc.
4. What is the correct way to write a scientific name? What language is used and why?
What does the 1st name in a binomial name represent?
Chapter 18 – Viruses and Bacteria
virus
bacteriophage
provirus
eubacteria
obligate aerobes
toxin
bacteria
lytic cycle
retrovirus
binary fission
obligate anaerobes
nitrogen fixation
host cell
lysogenic cycle
archaebacteria
conjugation
endospore
1. What are the 3 basic shapes of bacteria? Describe them.
2. What are the basic groupings of bacteria? Describe them.
3. What is meant by the terms "Diplococcus"? "Streptobacillus"? "Staphylococcus"?
4. What nucleic acid is found in a virus?
5. Describe the lytic and lysogenic cycles of a virus.
6. Are viruses living or nonliving? Why?
7. Why do viruses not get scientific names?
8. How does penicillin work? Who discovered it and how was it discovered?
9. How does cellular respiration differ for obligate aerobes and obligate anaerobes?
10. Why do some bacteria form endospores?
11. Compare & contrast the work of Jonas Salk with that of Edward Jenner.
Chapter 32 – Protection, Support, and Locomotion
tendons
spongy bone
actin
sarcomere
ligaments
compact bone
myosin
bone marrow
bursae
sliding filament theory
1. Name and describe the 3 types of muscle. Where is each found? What are the
characteristic of each type of muscle? See the chart that was on your review sheet for
this chapter.
2. Name and describe the 3 types of burns.
3. Be able to label the skeletal system. See the diagram given out in class.
4. Name and describe the 4 types of joints. Give an example of each.
5. What are the main sections of the skin?
6. How does sweating help to regulate body temperature?
7. What are the functions of the skeletal and integumentary systems?
Chapter 33 – The Nervous system
1. What are the 3 types of neurons? Describe each.
2. What are the various branches of the nervous system? Describe each. See p. 971 &
graphic organizer in your notes.
3. What are the parts of a neuron? What does each part do? See p. 962.
4. How is a polarized neuron different from a depolarized neuron? What changes occur to
make a neuron depolarized?
5. What is the difference between white matter and gray matter?
6. What are the various parts of the brain and what does each part do? See diagram on
p. 969.
7. What is a synapse and how is a neurotransmitter related to it? What is a
neurotransmitter?
8. What parts of your nervous system are under your conscious control? Unconscious
control?
9. What are your 5 senses? How does each function? See diagrams of the eye & ear on the
handout given out in class and the diagrams on pp. 974 – 975.
NOTE: THIS IS A REVIEW SHEET ONLY, AND ANYTHING COVERED THIS
QUARTER COULD BE ON THE QUARTER 3 ASSESSMENT. YOU SHOULD BE
STUDYING THE CHAPTERS IN THE TEXTBOOK, YOUR NOTES, AND WORKSHEETS
WE HAVE DONE TO HELP YOU PREPARE FOR THIS TEST.