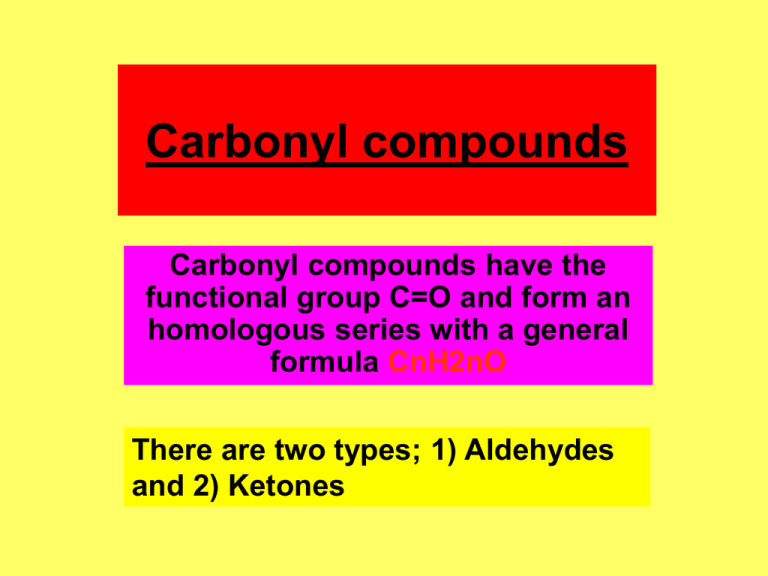 Carbonyl compounds
Carbonyl compounds have the
functional group C=O and form an
homologous series with a general
formula CnH2nO
There are two types; 1) Aldehydes
and 2) Ketones
Aldehydes vs Ketones
Aldehydes have a
carbonyl group C=O, at
one end.
Ketones also have a
carbonyl group, but in the
interior of the molecule.
Naming Carbonyl compounds
• Aldehydes and ketones are named
using the usual IUPAC rules with the
addition of an appropriate suffix to the
number of carbons.
For aldehydes -al
Eg; CH3(CH2)3CHO
is pentanal
For ketones -one
Eg; CH3(CH2)3COCH3
is hexanone
Eg; 3C molecule
with the carbonyl
group at one end. So
this is propanal.
3C molecule with the
carbonyl group in
the interior. So this is
propanone.
• Name the following compounds;
• CH3(CH2)8CHO
• Decanal
• C6H5CHO
• Benzaldehyde
• (aka benzenecarbaldehyde)
• CH3CO(CH2)3CH3
• Hexan 2 one
Testing for carbonyl compounds.
Both aldehydes and ketones give
an orange/red precipitate with 2,4
dinitro phenyl hydrazine.
Identifying organic compounds
2,4 DNPH precipitates have very sharp, easily
distinguishable melting points.
So organic compounds were once identified by
conversion to carbonyls and precipitation of
the 2,4 dinitrophenylhydrazones.
These were filtered, recrystalised and their
MPs determined and compared with text book
values.
Eg; An unknown carbonyl compound has
a MP of 123OC.
Methanal
Ethanal
Propanal
Butanal
Benzaldehyde
MP (OC)
167
164
156
123
237
• It must therefore have been Butanal.
Distinguishing between
aldehydes and ketones.
Aldehydes are
oxidised as
orange
chromium (vi) is
reduced to
green chromium
(iii) when heated
with acid.
Only one organic product is possible;
a Carboxylic Acids.
Half equations
Dichromate redution
Cr2O7 2- + 14H+ + 6e → 2Cr3+ + 7H20
Aldehyde oxidation;
CH3CHO + H2O→ CH3CO(OH) + 2H++ 2eEthanal
Ethanoic acid
•NB Instead of H+ [H] or 'H' can be used in writing half equations.
Distinguishing between aldehydes
and Ketones
Ketones cannot be
oxidised by acidified
potassium
dichromate.
To oxidise them a
much stronger
oxidising agent is
needed that can
break C/C bonds.
Reaction with Fehling's Solution
Aldehydes change
the colour of
Fehling's Reagent
upon heating from
blue to red.
Blue copper (ii) ions
are reduced to red
copper (i).
Cu 2+ + e- → Cu+
Ketones do not react
with Fehling's
Solution as they are
not oxidised by mild
oxidising agents.
Reaction with Tollen's Reagent
Aldehydes react with Tollen's Reagent (ammonical
silver solution [Ag(NH3)2]+(aq), ), depositing a silver
mirror on the side of the tube.
Silver ions are reduced to metallic silver.
Ag+(aq) + e- → Ag(s)
But Ketones do not
react with Tollen's
reagent as they are
not oxidised by mild
oxidising agents.
The exception has
a carbonyl group.
If this is an
aldehyde the
sugar is an
aldose.
If in the
ketone form
the sugar is a
ketose.
Sugars and
carbonyl
groups.
Sugars form
unbranched
chains in
which each
carbon atom,
bar one, has
an hydroxyl
group.
Eg; Glyceraldehyde
is an aldose
Dihydroxyacetone
is a ketose
Aldoses can be
oxidised like any
other aldehyde.
In the process
another chemical
is reduced.
So aldoses are
referred to as
reducing sugars.
Ketoses, like
ketones,
cannot be
easily
oxidised.
So they are
known as
nonreducing
sugars.
Reaction with Benedict's Reagent
Benedict's Reagent is similar
to Fehlings. So Aldoses
change its colour of Fehling's
blue to red.
Blue copper (ii) ions are
reduced by the reducing
sugar to red copper (i).
Cu 2+ + e- → Cu+
Ketones do not react
with Benedict's
Reagent as they are
not oxidised by mild
oxidising agents.