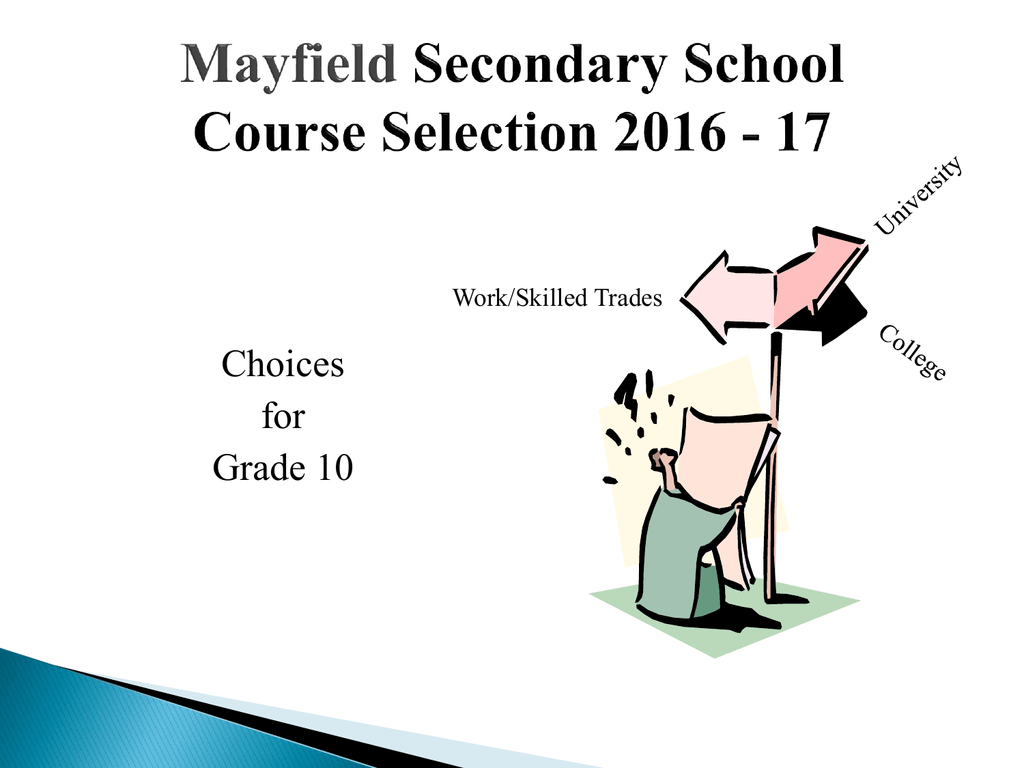 Work/Skilled Trades
Choices
for
Grade 10
•
•
•
•
•
Four Important Questions
Exploring Opportunities
Reviewing Diploma Requirements
Grade 10 Course Planning
ONLINE Course Selection Instructions
Exploring Opportunities
myBlueprint
TRY
Career
Spectrum
Peel
29000
Exploring Opportunities
Making My Way
30 Credits
18 compulsory credits
4 credits in English
3 credits in Mathematics
2 credits in Science
1 credit in Canadian History
1 credit in Canadian Geography
1 credit in the Arts
1 credit in Health and Physical Education
1 credit in French as a Second Language
0.5 credit in Career Studies
0.5 credit in Civics
3 additional credits (Group 1, 2, and 3)
40 Hours
12 optional
credits
OSSLT

Review:
◦ Diploma status (compulsory courses)
◦ www.peelschools.org
 "Chart Your Courses"

Ask Questions:

Gather Information

Make Decisions
◦ Counsellor
◦ On-call counsellor
◦ Subject teachers






English
Math
Science
Canadian History
Career Studies/Civics
Three optional courses - your choice
◦ (one choice if you are in the Regional Arts' Program)








The Arts (Dance, Drama, Music, Visual Arts)
Business Studies
Computer Studies
French as a Second Language
Health and Physical Education
International Languages
Social Science and Humanities
Technological Education
Course Types
Open
Locally
Developed
Applied
Academic
• Designed to prepare you for further study in certain subjects
• Physical Education/Health, Arts, Business, Tech
• Focus on essential skills
• Provides additional support to upgrade your knowledge and skills
through practical activities to develop literacy, numeracy and problem
solving skills
• More hands on and teacher guided
• Develop knowledge through practical and concrete applications with
some theoretical application
•More independent learning, faster pace, & higher level thinking
•Develop knowledge and skills by emphasizing theoretical and
abstract applications of essential concepts and explore related
concepts
Think about your:
 Commitment to academic success
 Grade 9 teachers' RECOMMENDATIONS
 Academic achievement – report card marks, comments,
and learning skills
 Course expectations
 Areas of interest and preferred learning style
 Possible destinations and requirements
GRADE 9
GRADE 10
Academic (1D0)
 Applied (1P0)


Academic (2D0)
 Applied (2P0)

Locally developed (1L0)

Locally Developed (2L0)

Open (1O0)

Open (2O0)

Review level of success in a grade 9 course(s).

Identify strengths/weaknesses. Did you struggle with
some courses?

Speak with your teachers, consider their
recommendations, and see your counsellor





Make up and New credits
Information is available mid to late April
Online registration begins early May
If taking a NEW credit - DO NOT choose this course as
part of your online course selection at Mayfield - select
the course you want to take in its place
For Stage Band and/or Vocal Jazz, please see a member
in the music department





Opens today, Jan. 6th and closes Feb. 12th.
Visit the 'Option Fair' in the Senior Study
(second half of your lunch) on Thursday
and/or Friday.
Choose early as the wait list is electronic and
selections are time and date stamped.
Choose wisely, only level change requests
permitted.
NO 'lunch period' and/or 'change teacher'
requests permitted.
Select
BYOD
Login
Select
Resources
BYOD
Select
myBlueprint
Click on the
gear and
change your
email address
to your BYOD
address and
choose a
password
Re-verify your
email
Select Your Courses
 Click
on
High School
Planner to
begin
choosing
your courses
This is where
you see course
requirements
for graduation.
This is where
you see your
post-secondary
opportunities
across Canada
based on your
course
selection.
This is where
you view other
graduation
requirements
and your
progress.
This is where you
can:
plan your courses
For multiple grades
And build your
graduation and
post-secondary
plan in advance.
submit your plan
for the upcoming
school year
You will see:
completed courses
and marks
compulsory
courses
Add a course to
your plan by
clicking on
'+ Course'.
Explore the subject
specific courses
available at your
school.
Select courses to
meet your
program, diploma,
and postsecondary
requirements.
1. Click on a subject folder to review courses available.
2. Click on a course to read course prerequisites and
description.
3. Click 'Add Course to Plan' in the bottom right corner.
Note: You can use the Grade dropdown or search filters to find
a course.
1. Place your
cursor over
the course
box (do not
click) and a
red 'X' will
appear. Then
click the 'X'
to remove
the course.
2. Add a course
to your plan
by clicking
on
'+ Course'.
1. A course selected for
which you do not have
the pre-requisite will
show as this.
2. Submitting a plan in
which you do not have
a prerequisite will
result in this error
message.
Note: Choose wisely, your
plan will not be approved by
your counsellor if you do not
have the required prerequisites!
You will see the
error message
shown if you
select a course
for which you do
not have the prerequisite.
Please review
your course prerequisites.
See your
guidance
counsellor to
develop a plan.
1. Submitting a plan
with a missing
pre-requisite will
result in this
error message.
2. Do not click
'confirm and
print'
3
3. Click 'Return to
Plan' and review
your course
selections.
1. If you clicked
'Submit' and do not
have a full course
load, then you will
get the error
message shown.
Click 'Cancel' and
return to course
selection.
2. If you ignore Step 1,
you will receive the
error messages
resulting in the
'Insufficient Credits'
error on the
Verification Form /
Sign-Off Sheet.
1. A plan that meets
all graduation
requirements will
result in the
checkmark
shown.
2. Submit your plan
by clicking
'Submit'
Note: Only your next
year grade courses will
be submitted even if
multiple years have
been planned.
1. Submit your
courses by
clicking 'Confirm
and Print'.
2. A pop-up window
may appear, click
'OK' to finalize the
submission of
your plan.
Note: Be sure to review
your course selections as
you will not be able to
change your selections in
myBlueprint once
submitted.
1. Please print
the Course
Verification
Form / SignOff Sheet in
myBlueprint.
2. Sign and have
your Parent/
Guardian sign
the form and
return the form
to the
Guidance
Office.
Choosing appropriate courses based on your
interests, skills, and future planning is essential to
your success.
Continue to use myBlueprint to plan, revise, and
make wise decisions for the future. Document your
plan on myBlueprint so that you can keep track of
experiences, achievements, volunteer work, and
future choices.
See your Guidance Counsellor to support you in
learning about program opportunities that may help
you to make decisions for yourself.