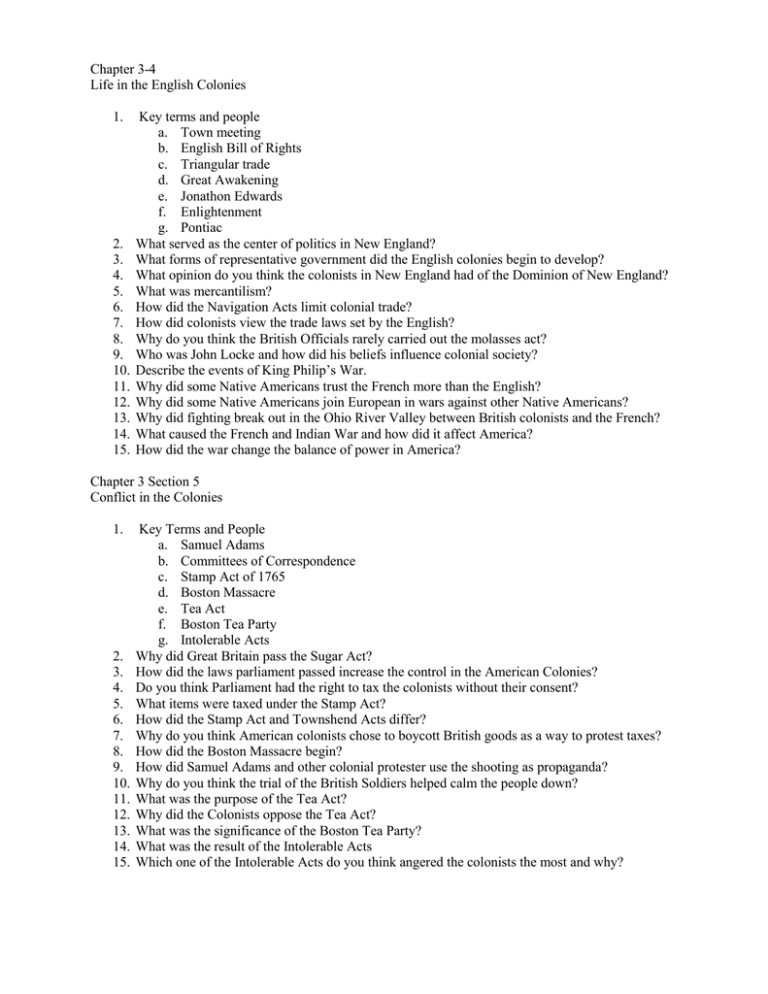 Chapter 3-4
Life in the English Colonies
1.
2.
3.
4.
5.
6.
7.
8.
9.
10.
11.
12.
13.
14.
15.
Key terms and people
a. Town meeting
b. English Bill of Rights
c. Triangular trade
d. Great Awakening
e. Jonathon Edwards
f. Enlightenment
g. Pontiac
What served as the center of politics in New England?
What forms of representative government did the English colonies begin to develop?
What opinion do you think the colonists in New England had of the Dominion of New England?
What was mercantilism?
How did the Navigation Acts limit colonial trade?
How did colonists view the trade laws set by the English?
Why do you think the British Officials rarely carried out the molasses act?
Who was John Locke and how did his beliefs influence colonial society?
Describe the events of King Philip's War.
Why did some Native Americans trust the French more than the English?
Why did some Native Americans join European in wars against other Native Americans?
Why did fighting break out in the Ohio River Valley between British colonists and the French?
What caused the French and Indian War and how did it affect America?
How did the war change the balance of power in America?
Chapter 3 Section 5
Conflict in the Colonies
1.
2.
3.
4.
5.
6.
7.
8.
9.
10.
11.
12.
13.
14.
15.
Key Terms and People
a. Samuel Adams
b. Committees of Correspondence
c. Stamp Act of 1765
d. Boston Massacre
e. Tea Act
f. Boston Tea Party
g. Intolerable Acts
Why did Great Britain pass the Sugar Act?
How did the laws parliament passed increase the control in the American Colonies?
Do you think Parliament had the right to tax the colonists without their consent?
What items were taxed under the Stamp Act?
How did the Stamp Act and Townshend Acts differ?
Why do you think American colonists chose to boycott British goods as a way to protest taxes?
How did the Boston Massacre begin?
How did Samuel Adams and other colonial protester use the shooting as propaganda?
Why do you think the trial of the British Soldiers helped calm the people down?
What was the purpose of the Tea Act?
Why did the Colonists oppose the Tea Act?
What was the significance of the Boston Tea Party?
What was the result of the Intolerable Acts
Which one of the Intolerable Acts do you think angered the colonists the most and why?