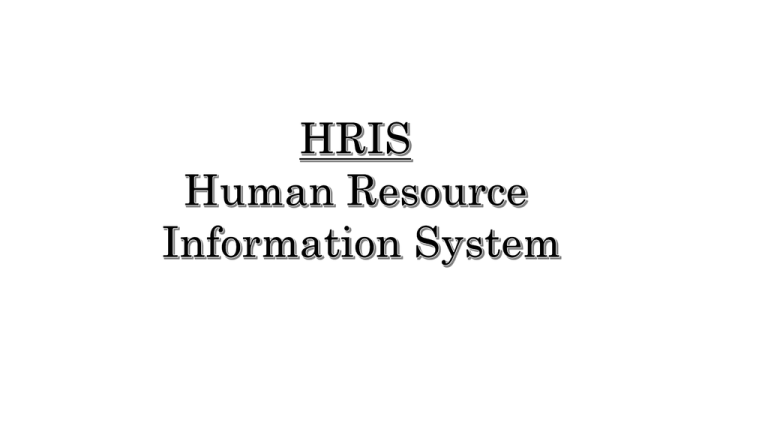 • The HRIS is a method by which an organisation
collects, analyses and reports information about people
and jobs.
• It includes macro & micro level information.
• HRIS is a database system(software) that offers
important information about employees in a central
location.
• When such information is needed, the data can be
retrieved and used to facilitate human resource
planning decisions.
HRIS provides
• Management of overall employees.
• Reporting and analysis of employee information.
• Company-related documents employee handbooks,
safety guidelines.
• Benefits administration  enrollment, status changes and
personal information.
• Complete integration with payroll and other company
financial software and accounting systems.
• Applicant and resume management.
Objectives:
• To offer an adequate, comprehensive and on-going
information system about people and jobs.
• To supply up-to-date information at a reasonable cost.
• To offer data security and personal privacy.
Need for HRIS
• Costly exercise(personnel records-daily basis)
• Inaccurate(error-confusion)
• Fragmentation (Records – not central, accessible)
• Difficult to analyse(not accurate, reliable)
Benefits
• Can process, store and retrieve enormous quantities of data in an
economical way.
• The records can be updated quickly.
• Improved accuracy.
• Reduces fragmentation and duplication of data.
• Information can be readily manipulated, merged and disaggregated for
special and complex demands.
Setting up HRIS
• Plan
• Design(System analyst)-flow of info
• Implement(training)
• Evaluate
Computerised HRIS(Join to leave)
Sub-systems
• Recruitment information
• Personnel administration information
• Manpower planning information
• Training information
• Health information
• Appraisal information
• Payroll information
• Personnel research information
Personnel inventory
• Name and address, SC/BC/ST/OBC data, Languages known, Current career
information, Training information, Salary, allowance and benefits, Increment
date, Grievances, Career interests, Date of superannuation, age, sex, marital
status, dependants, educational background, past experience, skills and
abilities, transfer, promotion details, leave, absence information, seniority,
rewards and distinctions, discipline, punishments, employee potential and
other aspects.