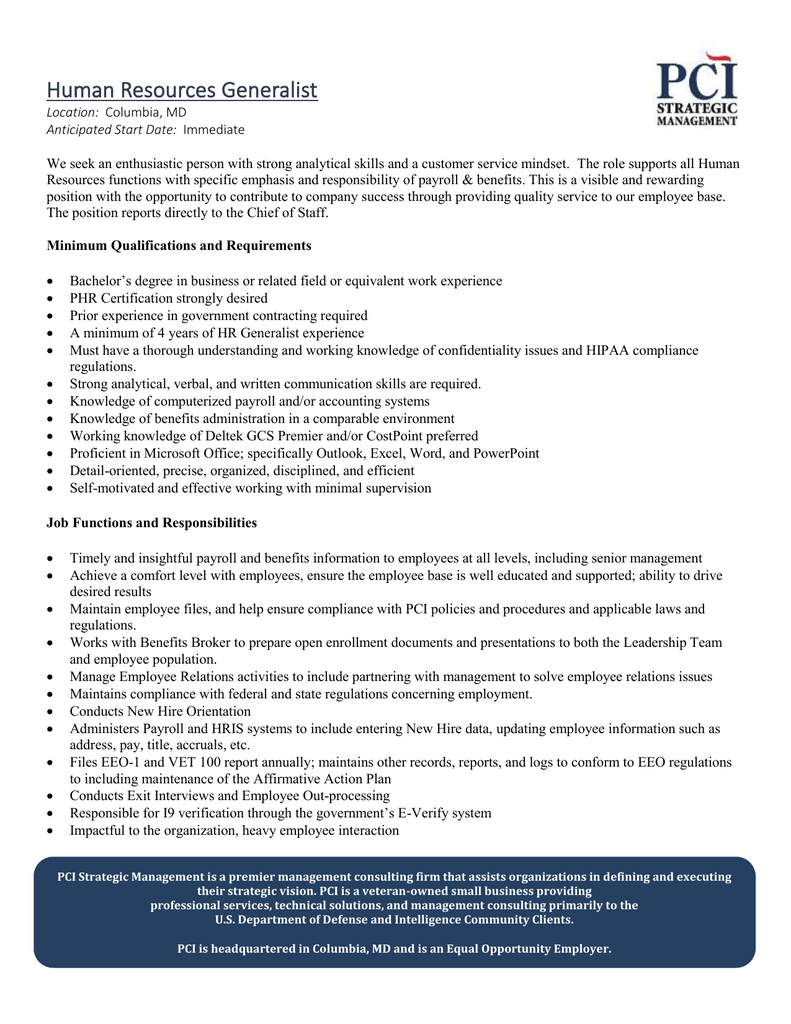 Human Resources Generalist
Location: Columbia, MD
Anticipated Start Date: Immediate
We seek an enthusiastic person with strong analytical skills and a customer service mindset. The role supports all Human
Resources functions with specific emphasis and responsibility of payroll & benefits. This is a visible and rewarding
position with the opportunity to contribute to company success through providing quality service to our employee base.
The position reports directly to the Chief of Staff.
Minimum Qualifications and Requirements












Bachelor's degree in business or related field or equivalent work experience
PHR Certification strongly desired
Prior experience in government contracting required
A minimum of 4 years of HR Generalist experience
Must have a thorough understanding and working knowledge of confidentiality issues and HIPAA compliance
regulations.
Strong analytical, verbal, and written communication skills are required.
Knowledge of computerized payroll and/or accounting systems
Knowledge of benefits administration in a comparable environment
Working knowledge of Deltek GCS Premier and/or CostPoint preferred
Proficient in Microsoft Office; specifically Outlook, Excel, Word, and PowerPoint
Detail-oriented, precise, organized, disciplined, and efficient
Self-motivated and effective working with minimal supervision
Job Functions and Responsibilities












Timely and insightful payroll and benefits information to employees at all levels, including senior management
Achieve a comfort level with employees, ensure the employee base is well educated and supported; ability to drive
desired results
Maintain employee files, and help ensure compliance with PCI policies and procedures and applicable laws and
regulations.
Works with Benefits Broker to prepare open enrollment documents and presentations to both the Leadership Team
and employee population.
Manage Employee Relations activities to include partnering with management to solve employee relations issues
Maintains compliance with federal and state regulations concerning employment.
Conducts New Hire Orientation
Administers Payroll and HRIS systems to include entering New Hire data, updating employee information such as
address, pay, title, accruals, etc.
Files EEO-1 and VET 100 report annually; maintains other records, reports, and logs to conform to EEO regulations
to including maintenance of the Affirmative Action Plan
Conducts Exit Interviews and Employee Out-processing
Responsible for I9 verification through the government's E-Verify system
Impactful to the organization, heavy employee interaction
PCI Strategic Management is a premier management consulting firm that assists organizations in defining and executing
their strategic vision. PCI is a veteran-owned small business providing
professional services, technical solutions, and management consulting primarily to the
U.S. Department of Defense and Intelligence Community Clients.
PCI is headquartered in Columbia, MD and is an Equal Opportunity Employer.