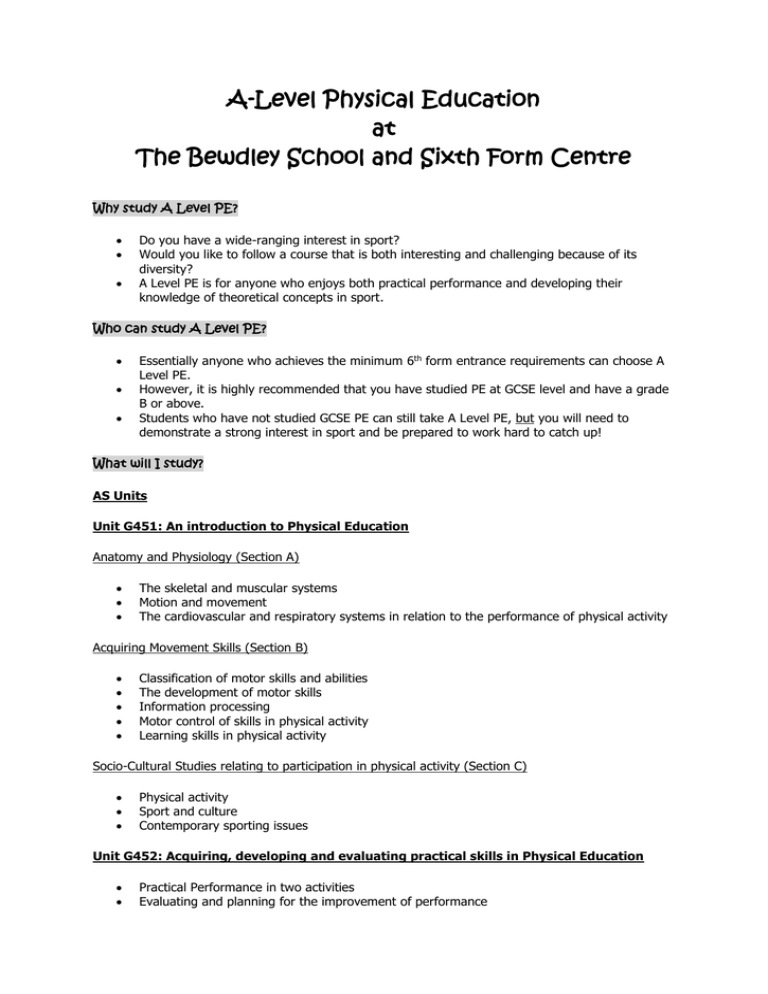 A-Level Physical Education
at
The Bewdley School and Sixth Form Centre
Why study A Level PE?



Do you have a wide-ranging interest in sport?
Would you like to follow a course that is both interesting and challenging because of its
diversity?
A Level PE is for anyone who enjoys both practical performance and developing their
knowledge of theoretical concepts in sport.
Who can study A Level PE?



Essentially anyone who achieves the minimum 6th form entrance requirements can choose A
Level PE.
However, it is highly recommended that you have studied PE at GCSE level and have a grade
B or above.
Students who have not studied GCSE PE can still take A Level PE, but you will need to
demonstrate a strong interest in sport and be prepared to work hard to catch up!
What will I study?
AS Units
Unit G451: An introduction to Physical Education
Anatomy and Physiology (Section A)



The skeletal and muscular systems
Motion and movement
The cardiovascular and respiratory systems in relation to the performance of physical activity
Acquiring Movement Skills (Section B)





Classification of motor skills and abilities
The development of motor skills
Information processing
Motor control of skills in physical activity
Learning skills in physical activity
Socio-Cultural Studies relating to participation in physical activity (Section C)



Physical activity
Sport and culture
Contemporary sporting issues
Unit G452: Acquiring, developing and evaluating practical skills in Physical Education


Practical Performance in two activities
Evaluating and planning for the improvement of performance
A2 Units
Unit G453: Principles and concepts across different areas of Physical Education
Section A: Socio-Cultural Options
Historical Studies (Option A1)






Popular recreation in pre-industrial Britain
Rational recreation in post-industrial Britain
19th-century public schools and their impact on the development of physical activities and
young people
The developmental stages of athleticism in 19th-century public schools
Case Studies
Drill, physical training and Physical Education in state schools
Comparative Studies (Option A2)



The United Kingdom (UK)
The United States of America (USA)
Australia
Section B: Scientific Options
Sports Psychology (Option B1)



Individual aspects of performance
Group dynamics of performance and audience effects
Mental preparation for physical activity
Exercise and Sport Physiology (Option B3)




Energy
Health components of physical fitness
Application of the principles of training
Performance enhancement
Unit G454: The Improvement of effective performance and the critical evaluation of
practical activities in Physical Education


Performance in one activity
Evaluation, appreciation and the improvement of performance
How will I learn?





Lessons are a mixture of practical and theory
There are a variety of teaching methods used
The PE teaching team has built up a strong reputation for delivering lessons which are
stimulating, challenging and exciting
Additional support sessions are available for students experiencing difficulties, and
opportunities to attend revision workshops are provided
You will be expected to complete independent study to extend your knowledge
How will my work be monitored?




You will have regular end of unit assessment tests in each discipline
The PE team meets regularly to discuss individual progress, attainment and effort. This
informs report writing, parents evening and estimated grades
You will have regular file checks to ensure your notes are in order and you are equipped with
the necessary information for the exam
You should also make sure you monitor and record your own progress using your A Level PE
Guide
How is A Level PE assessed?
AS Level


2 hour theoretical exam worth 60% of the total AS marks, and 30% of the total A Level
marks
Practical exam in two activities, and an oral exam testing your ability to observe, evaluate
and improve performance. Worth 40% of the total AS marks, and 20% of the total A Level
marks
A2 Level


2.5 hour theoretical exam worth 35% of the total A Level marks
Practical exam in one activity and an oral exam testing your ability to observe, evaluate and
improve performance. This is worth 15% of the total A Level marks
AS or
A2?
Module
Title
Method of
Assessment
Key Concepts
AS
G451
2 hour
Anatomy and Physiology
3 question
Acquiring Movement Skills
90 mark
Socio Cultural Studies
AS
G452
A2
G453
A2
G454
Exam Paper
Practical
2 activities from 2 activity profiles
Performance and
Oral response
2 hour 30min
Exercise + Sport Physiology
3 from 5 Qs
Sports Psychology
105 mark
Comparative or History
Exam Paper
Practical and
oral response
1 activity profile taken from AS
selection.
What is it What is
How much
worth at it worth
does it
AS?
at A2? contribute to a
full A Level?
60%
0
30%
40%
0
20%
0
70%
35%
0
30%
15%
Who will deliver the course?


There is a blend of youth and experience amongst the team; the current team consists of Mr
Rex, Mr Pigford and Mr Beech.
With the course delivered by experienced and specialist teachers, you know you are learning
from the best and you will never get bored!
What subjects go well with PE?



A Level PE can be taken alongside a variety of subjects
We have had students with all kinds of successful combinations and it depends on what you
want to pursue as a career
Common choices include Biology, Psychology, Sociology,
What can I do with my A Level qualification?



Studying PE at A Level can be a useful 'stepping stone' towards a variety of career options in
the sporting sector
This could be in the leisure industry, teaching, physiotherapy, coaching, sports psychology,
sports journalism and sports medicine, to name but a few
However, due to its diversity and well respected theoretical foundations, there are many
different career paths that the course can lead on to - not just sport related!