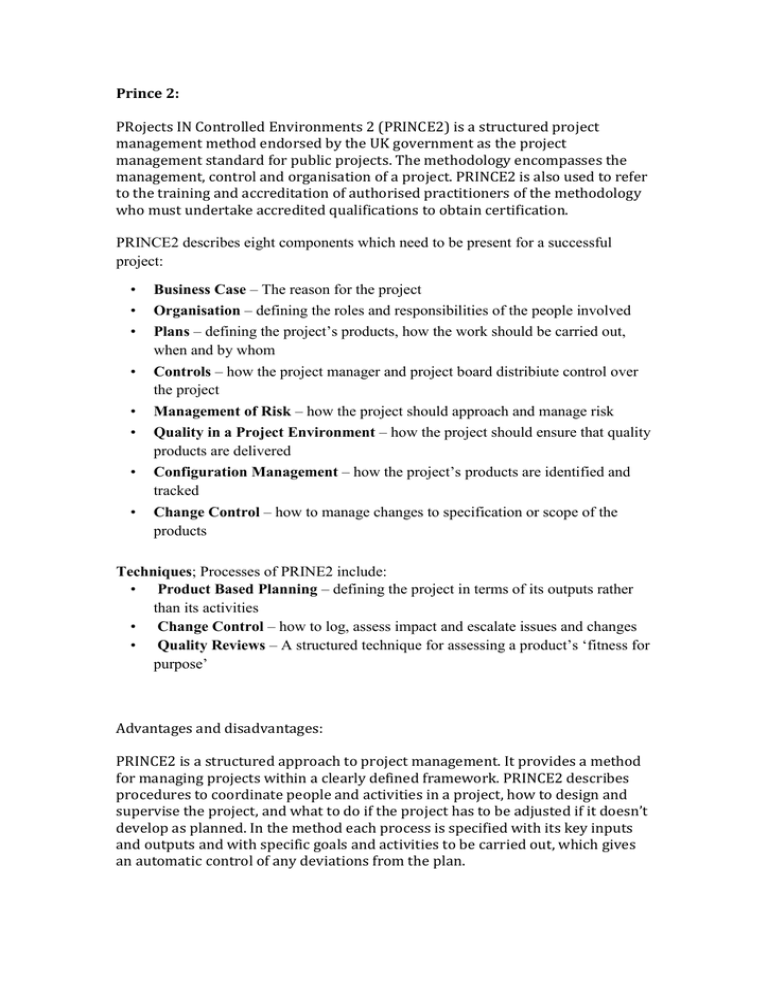 Prince 2:
PRojects IN Controlled Environments 2 (PRINCE2) is a structured project
management method endorsed by the UK government as the project
management standard for public projects. The methodology encompasses the
management, control and organisation of a project. PRINCE2 is also used to refer
to the training and accreditation of authorised practitioners of the methodology
who must undertake accredited qualifications to obtain certification.
PRINCE2 describes eight components which need to be present for a successful
project:
•
•
•
•
•
•
•
•
Business Case – The reason for the project
Organisation – defining the roles and responsibilities of the people involved
Plans – defining the project's products, how the work should be carried out,
when and by whom
Controls – how the project manager and project board distribiute control over
the project
Management of Risk – how the project should approach and manage risk
Quality in a Project Environment – how the project should ensure that quality
products are delivered
Configuration Management – how the project's products are identified and
tracked
Change Control – how to manage changes to specification or scope of the
products
Techniques; Processes of PRINE2 include:
• Product Based Planning – defining the project in terms of its outputs rather
than its activities
• Change Control – how to log, assess impact and escalate issues and changes
• Quality Reviews – A structured technique for assessing a product's 'fitness for
purpose'
Advantages and disadvantages:
PRINCE2 is a structured approach to project management. It provides a method
for managing projects within a clearly defined framework. PRINCE2 describes
procedures to coordinate people and activities in a project, how to design and
supervise the project, and what to do if the project has to be adjusted if it doesn't
develop as planned. In the method each process is specified with its key inputs
and outputs and with specific goals and activities to be carried out, which gives
an automatic control of any deviations from the plan.
Divided into manageable stages, the method enables an efficient control of
resources. On the basis of close monitoring the project can be carried out in a
controlled and organized way. Being a structured method widely recognized and
understood, PRINCE2 provides a common language for all participants in the
project. The various management roles and responsibilities involved in a project
are fully described and are adaptable to suit the complexity of the project and
skills of the organization.
PRINCE2 is sometimes considered inappropriate for small projects or where
requirements are expected to change, due to the work required in creating and
maintaining documents, logs and lists. However the OGC claim that the
methodology is scalable and can be tailored to suit the specific requirements and
constraints of the project and the environment.
http://www.youtube.com/watch?v=Rz4o-kR87ls
PMbok (Project management Body of Knolwedge)
PMBOK recognises 5 basic process groups and 9 knowledge areas typical of
almost all projects. The basic concepts are applicable to projects, programs and
operations. The five basic process groups are:
1. Initiating
2. Planning
3. Executing
4. Monitoring and Controlling
5. Closing
Processes overlap and interact throughout a project or phase. Processes are
described in terms of:

Inputs (documents, plans, designs, etc.)

Tools and Techniques (mechanisms applied to inputs)

Outputs (documents, products, etc.)
The nine knowledge areas are:
1. Project Integration Management
2. Project Scope Management
3. Project Time Management
4. Project Cost Management
5. Project Quality Management
6. Project Human Resource Management
7. Project Communications Management
8. Project Risk Management
9. Project Procurement Management
Each knowledge area contains some or all of the project management processes.
CMMI
CMMI (Capability Maturity Model Integration) is a process improvement
approach that provides organizations with the essential elements of effective
processes, which will improve their performance. CMMI-based process
improvement includes identifying your organization's process strengths and
weaknesses and making process changes to turn weaknesses into strengths.