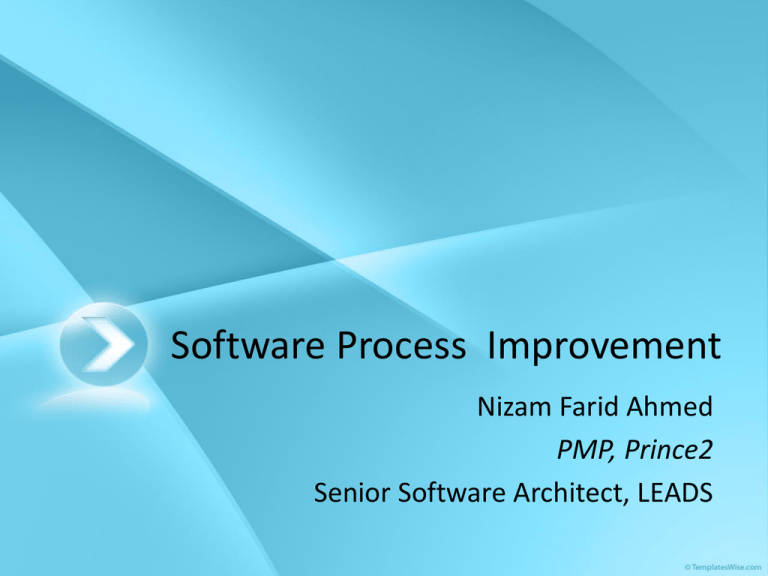 Software Process Improvement
Nizam Farid Ahmed
PMP, Prince2
Senior Software Architect, LEADS
We Will Talk About
• Software Process Improvement
• Software Process Improvement
• Software Process Improvement
We Will not Talk About
•
•
•
•
•
•
•
Software Engineering
Project Management
SDLC
CMMI
ISO
Agile
Technology
Process
Process is a set of interrelated and
interacting activities to transform
inputs into outputs.
Software Process
Software Process is a sequence of
organized activities required to
develop and maintain software
within technical and management
framework.
Software Process Improvement
Software process improvement is the
act of changing current software
development and maintenance
process to achieve basic business
goals.
Why Process Improvement?
•
•
•
•
Business Growth
More Customer Satisfaction
Improved Process
Continuous Learning
Process Improvement Readiness
•
•
•
•
•
•
•
Business Goal
Commitment
Participation
Capability
Concensus
Ready to Change
Working Team
Improvement Process
•
•
•
•
•
•
•
•
Assesment AS-IS
Where TO-BE
How TO-BE
Do what we say
Record what we do
Measure
Review
Continuous Improvement
Guideline
•
•
•
•
•
•
Start Small
Start with Good (not Best) Practices
Trial
Tailor
Practice, Practice, Practice
Learn not Control
Learning Organization
If we are not having fun, we are not
doing the right thing. And if we are
not learning as we go, we won't go
too far.
Thank You
Everything I talked about is subject to
change as I am still learning.