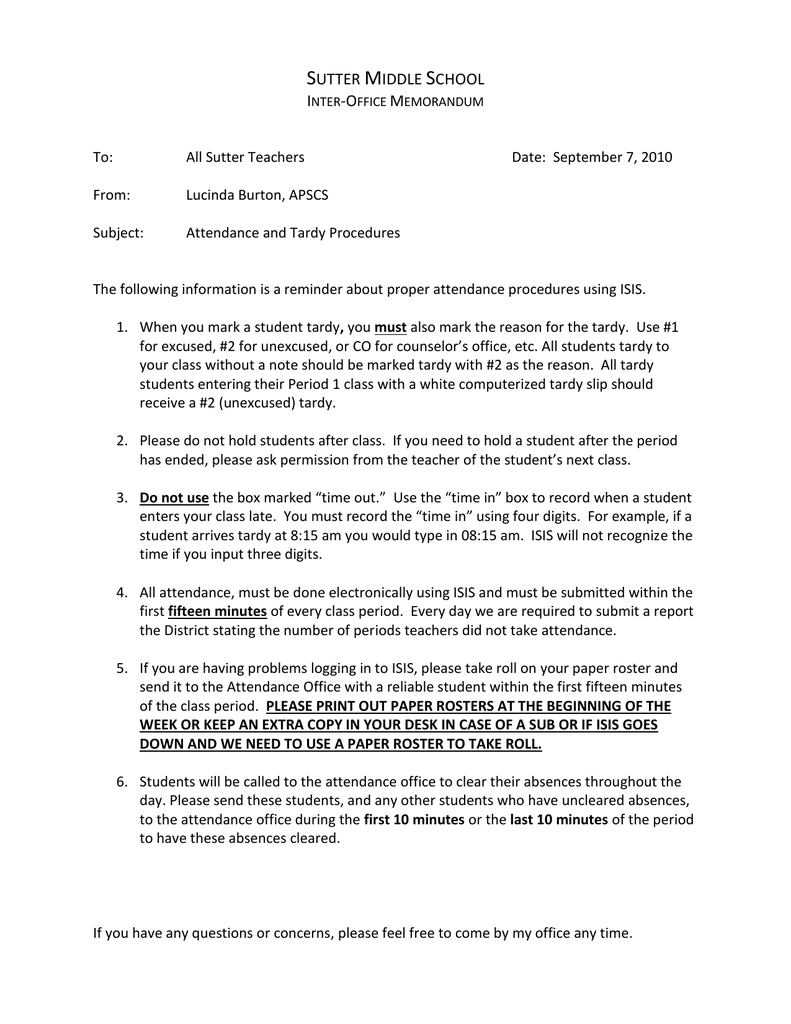 SUTTER MIDDLE SCHOOL
INTER-OFFICE MEMORANDUM
To:
All Sutter Teachers
From:
Lucinda Burton, APSCS
Subject:
Attendance and Tardy Procedures
Date: September 7, 2010
The following information is a reminder about proper attendance procedures using ISIS.
1. When you mark a student tardy, you must also mark the reason for the tardy. Use #1
for excused, #2 for unexcused, or CO for counselor's office, etc. All students tardy to
your class without a note should be marked tardy with #2 as the reason. All tardy
students entering their Period 1 class with a white computerized tardy slip should
receive a #2 (unexcused) tardy.
2. Please do not hold students after class. If you need to hold a student after the period
has ended, please ask permission from the teacher of the student's next class.
3. Do not use the box marked "time out." Use the "time in" box to record when a student
enters your class late. You must record the "time in" using four digits. For example, if a
student arrives tardy at 8:15 am you would type in 08:15 am. ISIS will not recognize the
time if you input three digits.
4. All attendance, must be done electronically using ISIS and must be submitted within the
first fifteen minutes of every class period. Every day we are required to submit a report
the District stating the number of periods teachers did not take attendance.
5. If you are having problems logging in to ISIS, please take roll on your paper roster and
send it to the Attendance Office with a reliable student within the first fifteen minutes
of the class period. PLEASE PRINT OUT PAPER ROSTERS AT THE BEGINNING OF THE
WEEK OR KEEP AN EXTRA COPY IN YOUR DESK IN CASE OF A SUB OR IF ISIS GOES
DOWN AND WE NEED TO USE A PAPER ROSTER TO TAKE ROLL.
6. Students will be called to the attendance office to clear their absences throughout the
day. Please send these students, and any other students who have uncleared absences,
to the attendance office during the first 10 minutes or the last 10 minutes of the period
to have these absences cleared.
If you have any questions or concerns, please feel free to come by my office any time.