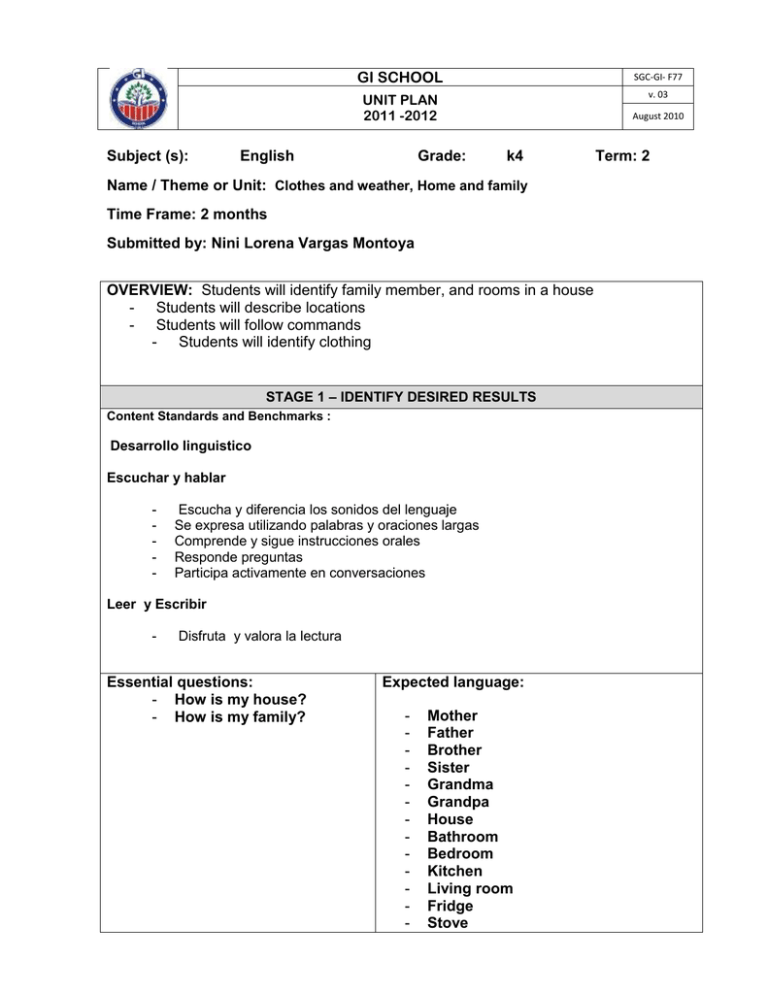 Subject (s):
GI SCHOOL
SGC-GI- F77
UNIT PLAN
2011 -2012
v. 03
English
Grade:
August 2010
k4
Name / Theme or Unit: Clothes and weather, Home and family
Time Frame: 2 months
Submitted by: Nini Lorena Vargas Montoya
OVERVIEW: Students will identify family member, and rooms in a house
- Students will describe locations
- Students will follow commands
- Students will identify clothing
STAGE 1 – IDENTIFY DESIRED RESULTS
Content Standards and Benchmarks :
Desarrollo linguistico
Escuchar y hablar
-
Escucha y diferencia los sonidos del lenguaje
Se expresa utilizando palabras y oraciones largas
Comprende y sigue instrucciones orales
Responde preguntas
Participa activamente en conversaciones
Leer y Escribir
-
Disfruta y valora la lectura
Essential questions:
- How is my house?
- How is my family?
Expected language:
-
Mother
Father
Brother
Sister
Grandma
Grandpa
House
Bathroom
Bedroom
Kitchen
Living room
Fridge
Stove
Term: 2
-
Table
Bed
Dresser
Toilet
Bathtub
Sofa
Closet
Sink
Tv
Rooms
Shoe
Old
Garden
Roof
Furniture
Clothes
Skirt
Dress
Shirt
Pants
Shoes
Socks
Shorts
Sweater
Cap
Colors
Sunny
Rainy
Sun
Rain
Raindrop
Cloud
Hot
Cold
Wet
Sandals
Raincoat
Boots
Umbrella
Swimsuit
STAGE 2 – ASSESSMENT EVIDENCE
List performance tasks or project, quizzes, graded assignments, prompts, etc. Include the rubrics you use
to evaluate the performance tasks.
-
Classes will be taught through videos, songs, finger plays and chants. The teacher will
observe how students participate in all the activities done in class.
STAGE 3 – LEARNING ACTIVITIES
Consider the type of knowledge (declarative or procedural) and the thinking skills students will use.
ACTIVITIES K4
-
Videos related to the topic
Songs: It is sunny, It is rainy, Eensy weensy spider, sally is wearing, where is
father?, I love you mommy, My family and me, family finger, rainbow song
Books: I love you Mom, I love you dad, I love you grandpa, I love you grandma
INSTRUCTIONAL MATERIALS AND RESOURCES
books, cds, flashcards, worksheets, tape recorder, computer, big posters
At the end of unit:
Grado: Kinder 3 y Kinder 4
Áreas: Ingles
Entregado por:Nini Lorena Vargas Montoya
CUBRIMIENTO CURRICULAR
TEMA /ACTIVIDADES
PLANEADA
Themes/Planned activities
School Objects
Colors and Shapes
Numbers
My face and my body
CUBRIMIENTO
(%)
COMENTARIOS
COMMENTS
COVERAGE (%)
100%
100%
Se trabajo todo el vocabulario
relacionado con el colegio
Los niños aprendieron los colores
básicos y las figuras geométricas.
Se
trabajaron
canciones
relacionadas con estos dos temas.
100
Los niños aprendieron a contar
hasta 5 en ingles a través de
canciones y chants.
100%
SE adiciono este tema a la
planeación ya que los niños
tuvieron una excelente respuesta a
los temas inicialmente propuestos.
Aprendieron a identificar partes
del cuerpo y de la cara.